It's the World Series, and all eyes are on baseball. We look at tips from MLB.com At Bat that any publisher can leverage.
The World Series is upon us, and with the Cleveland Indians and Chicago Cubs facing off, it's sure to be one of the most anticipated US sporting events of the past 100 years (108, if you're a Cubs fan).
The last time the Cubs were in the World Series, newspaper was the medium of choice. Now, sports fans can keep track of events in real time using mobile apps like the official Major League Baseball app, MLB.com At Bat.
World Series Coverage in 1908 and 2016.
The app launched in 2012 and has grown to be a leader among both sports apps and video streaming apps in general. We recently published a report on the growth of sports apps, Big Leagues on the Small Screen — Capturing Sports Fandom With Content Streaming, to examine how sports apps are working to drive usage and engagement. Among sports league apps, At Bat leads for time spent in app by a sizable amount. Compared to the other top five league apps, users spend more than 2.8 times as many minutes in At Bat.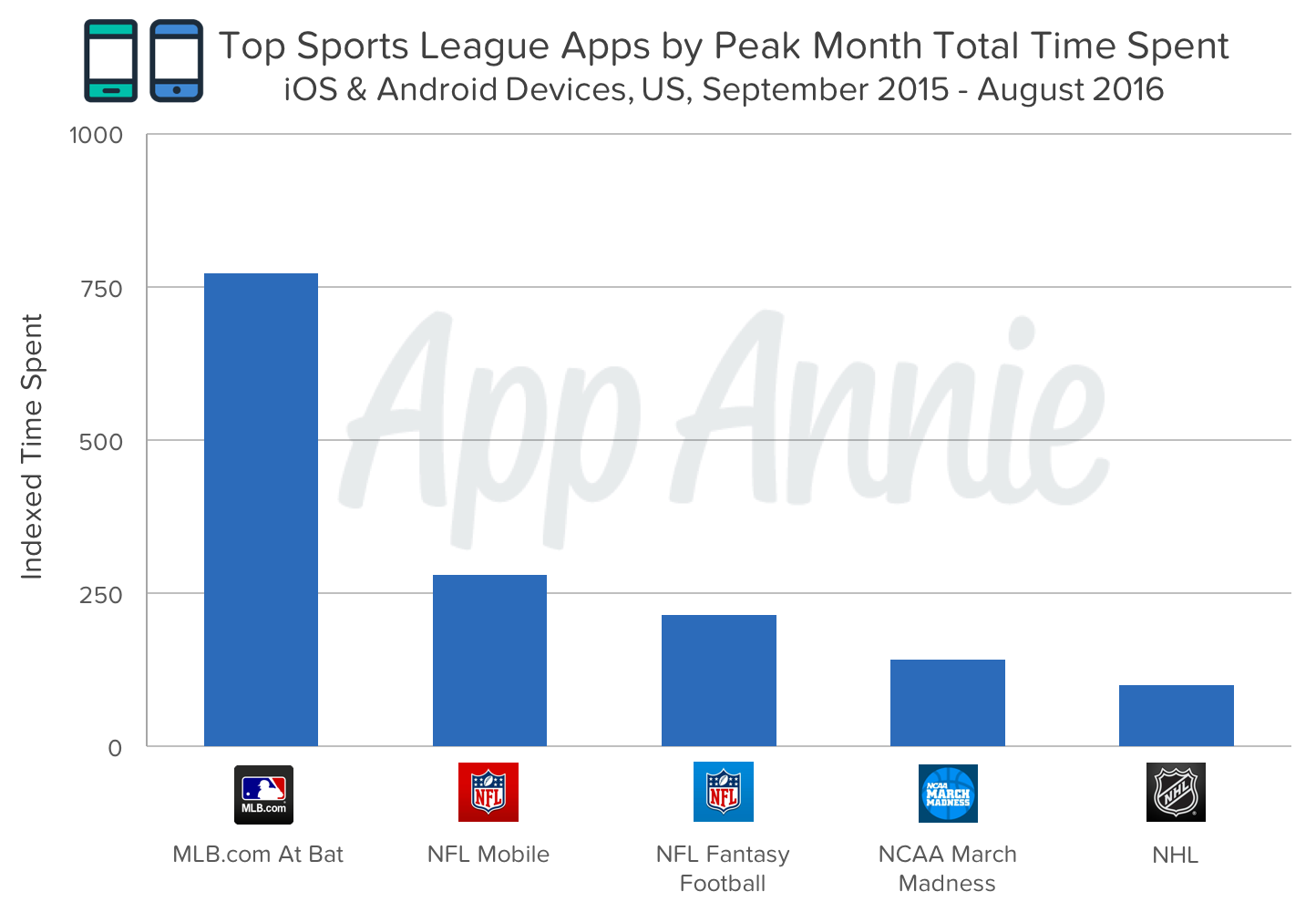 Naturally, one of the app's key draws is its live-streamed video. But there are other best practices the app employs that have helped it maintain its enviable level of engagement. Let's take a look at what At Bat has done to continuously deliver a best-in-class experience over the years.
Staying at the Forefront of App Innovation
The team behind At Bat frequently releases new updates to improve the end-user experience and drive engagement while taking advantage of new platform features. For instance, at the beginning of 2016 At Bat introduced multitasking and picture-in-picture streaming to iPads running iOS 9. According to MLB, the update resulted in a 20% increase in average minutes spent per day, per user, on live viewing compared to the 2015 season.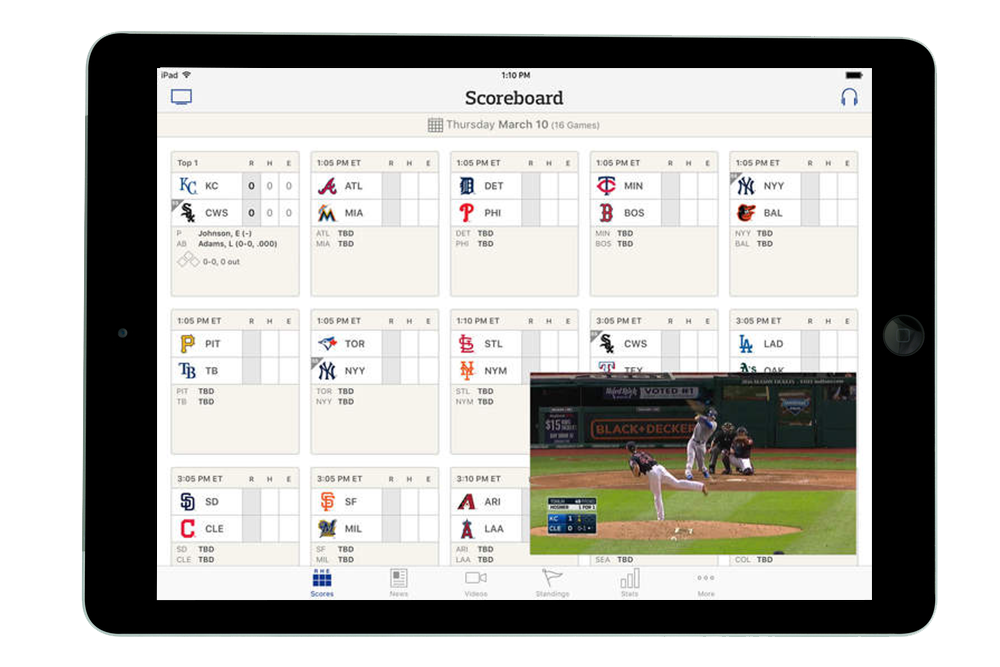 Similarly, when iOS 10 launched in September, within two weeks At Bat added 3D Touch-enabled video notifications on the lock screen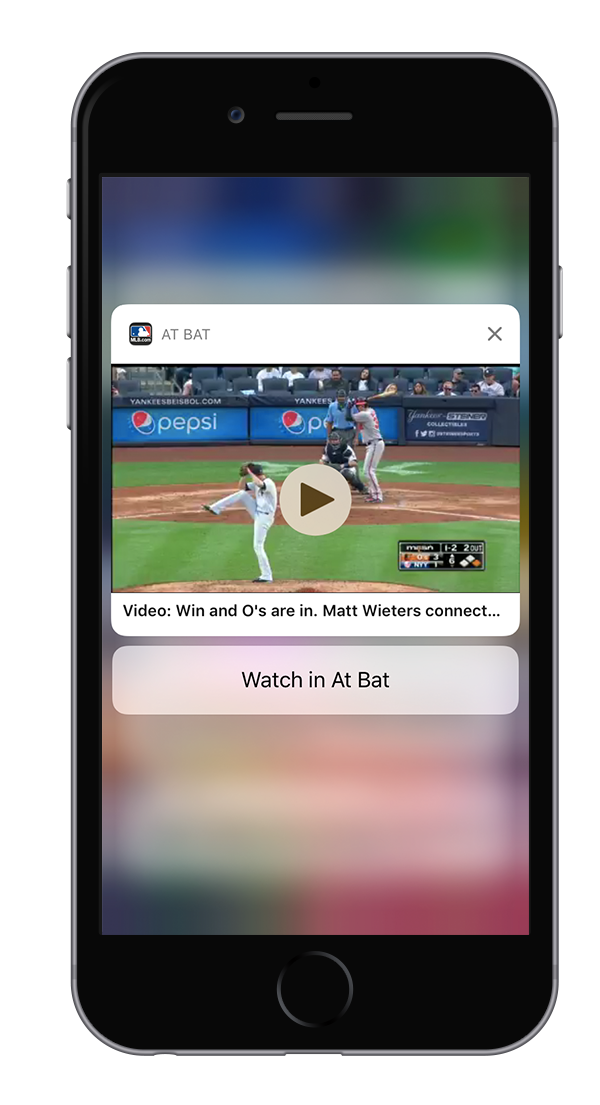 Treating App Store Optimization (ASO) as an Ongoing Exercise
As we mentioned in our ASO Playbook, ASO is something you must continually tend to. It's important to refresh your app store page assets often to accurately reflect your app's offerings and entice potential users to convert.
At Bat does this frequently, updating its description and screenshots to let page visitors know what content they can expect to receive through the app. For instance, the latest screenshots show news from October 8, when postseason games kicked off.
The latest screenshots emphasize the MLB postseason and show updates from National League Division Series (NLDS) and American League Division Series (ALDS) games.
The app also wisely leverages its app description to highlight the latest content available to both free and paid users. As a subscription-based app, At Bat's publishers understand that content is king. In the fast-moving world of sports, having exclusive, in-the-moment content is critical to growing a subscriber base.
In the lead-up to postseason, At Bat used its October 1 release notes to remind existing users that postseason game coverage would be available within the app.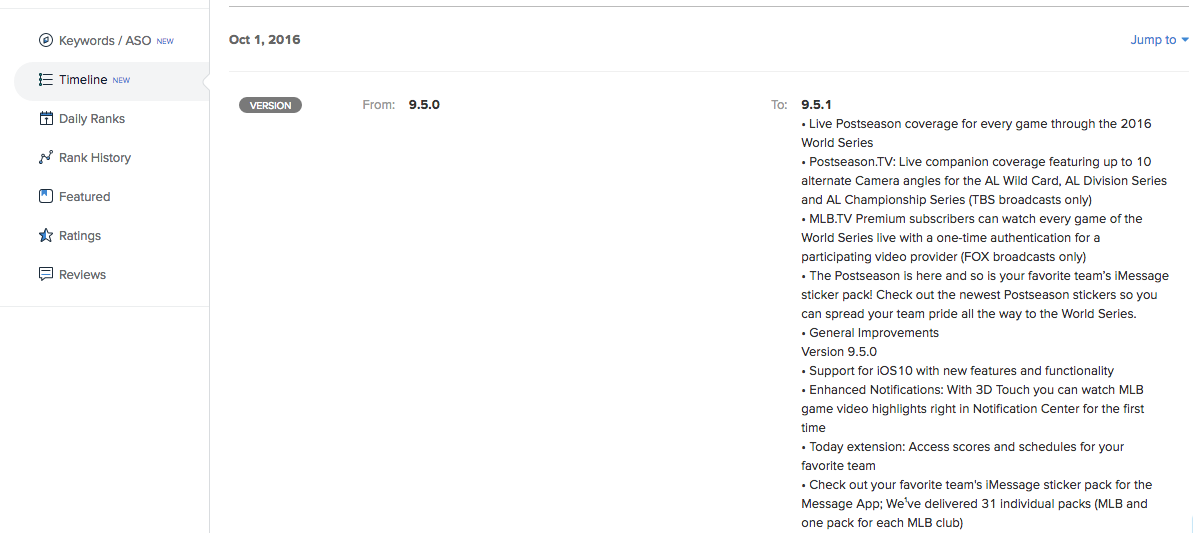 And on October 3, At Bat updated its description to focus on the ALDS and NLDS division games and the World Series. While this may not have a direct impact on keyword rankings, using this real estate to market an app's key value proposition — in this case, exclusive coverage of a major event — can be key in encouraging installs.

Takeaways for Publishers
Not every app has its own World Series or exclusive content desired by millions. But don't fret! There are simple steps you can take to keep users happy and engaged and attract new ones along the way.
Take advantage of platform features
.
At Bat focuses on maximizing the user experience across the iPhone and iPad, as well as on Android devices, by developing features that will shine on each platform and device. Keep this in mind and try to apply it to your business. It could be through 3D Touch integration, creating a complementary experience for iMessage on iOS 10 or incorporating leaderboards into your game.
Make sure your ASO strategy takes seasonality into account.
There are likely key events or points in the year where your app is especially relevant. For instance, if you have a retail app, you're probably already preparing your mobile Black Friday strategy. And of course, media and gambling apps may want to rally around larger sports events, like we saw with the UEFA European Football Championship. Get creative and think about what events you can weave your brand into and update your app store page and other marketing assets accordingly.
Learn more about the growth of sports apps in our latest report.
Perform analyses like this and deepen your understanding of the app market. Request a free demo of App Annie Intelligence.