Big goals, tight deadlines and limited resources - being a digital product manager is hard. Where should you focus? Mobile is the answer.
Why Mobile Apps are Mission Critical for Product Managers
Consumers have clearly gone mobile and are now spending nearly 3 hours each day in mobile apps on average. This is the first post in our Metrics That Matter series where we discuss the key metrics that businesses need to analyze for success in the app economy. In this edition, we cover the fundamental KPIs that are particularly critical for Digital Product Managers.
As a Product Manager, you have limited time and resources to devote to your digital products and are often asking yourself, "How much do I allocate to mobile apps?" App Annie is uniquely positioned to partner with you to answer this fundamental question. As the industry leader with the most robust and trusted app market data, we can help as you build the best product for your business.
Mobile apps create a massive opportunity that is vital to a Product Manager's success. Companies, even those from non-technology verticals, increasingly acknowledge that mobile apps are instrumental to their bottom line. For example, Starbucks CFO Scott Maw recently said, "Almost all of our same-store sales growth is from those customers that we have digital relationships with and those that are in our Starbucks Rewards program."
Notably, customers interact with retailers 2.8x more often in apps than mobile web. Every time a customer opens an app it is a potential purchase occasion – regardless of whether that individual is looking to book a flight, purchase a shirt or order their next meal. Mobile isn't just an optional, incremental opportunity, it is a mission critical channel for keeping customers engaged and for increasing pathways to monetization. Apps present massive opportunities for companies across verticals, both technology and non-technology related. However, not all companies with an app will benefit. Those with a well-designed and well-executed app strategy stand to gain a fortune, while the others risk getting left behind or worse.
Time: The Fundamental Currency of the App Economy
Time spent is a key metric for success in the app economy and for most categories it indicates the degree to which your customers are engaged and receiving value from your app. This metric can be broken down into two key components, the amount of users an app has and how long each user spends using the app. It is critical to continuously monitor time spent in your app to see how it's trending and compares to your competitors.

How to Analyze Time Spent In App
Let's take a look at a case study, from the perspective of Company C, which is analyzing its total time spent in app against those for its competitors. Time spent in Company C's app has grown over the course of a year, as shown in the chart below. In addition, Company C has been overtaken by Company D and its market share fell from 22% to 18% year over year.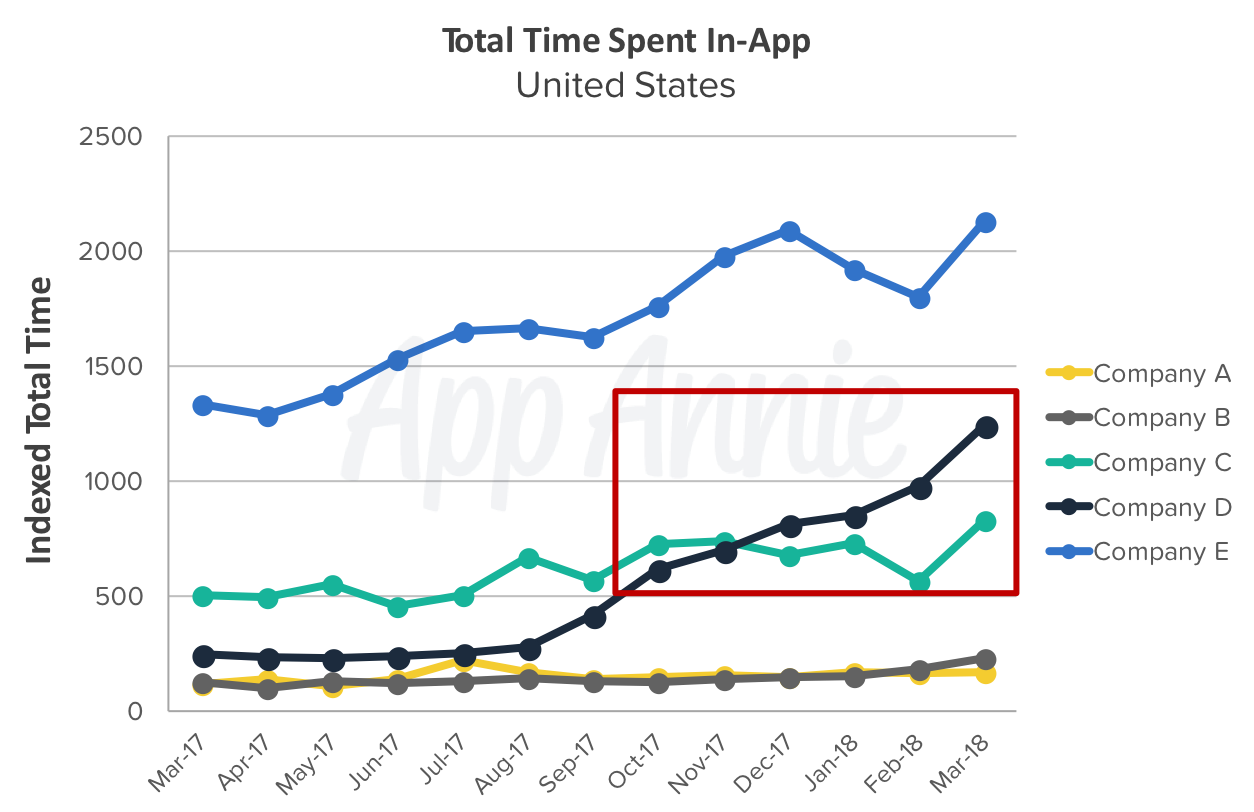 What has caused this? Let's take a look at Monthly Active Users (MAU), a commonly used metric to measure how many people engage with an app each month, which is the first part of the equation for calculating Total Time. As you can see below, Company C's MAU actually grew 35% year over year, but it still lost footing in the last 5 months to Company D which experienced much higher growth.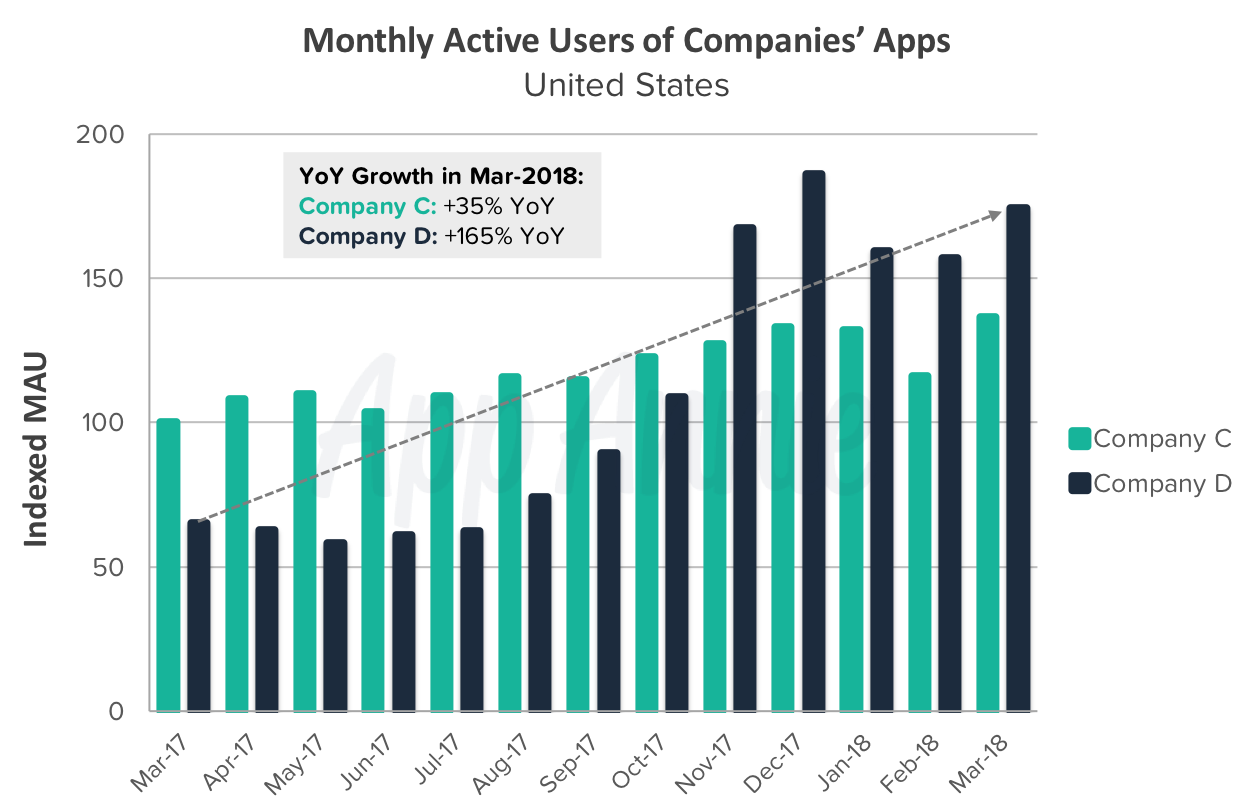 After MAU, it is also important to investigate Average Time Per User, the other key component of the Total Time equation. Company C's average time per user also increased 20% year over year in March 2018, as shown below. Its competitor, Company D, experienced lower growth over the same time period, and continued to lag behind Company C.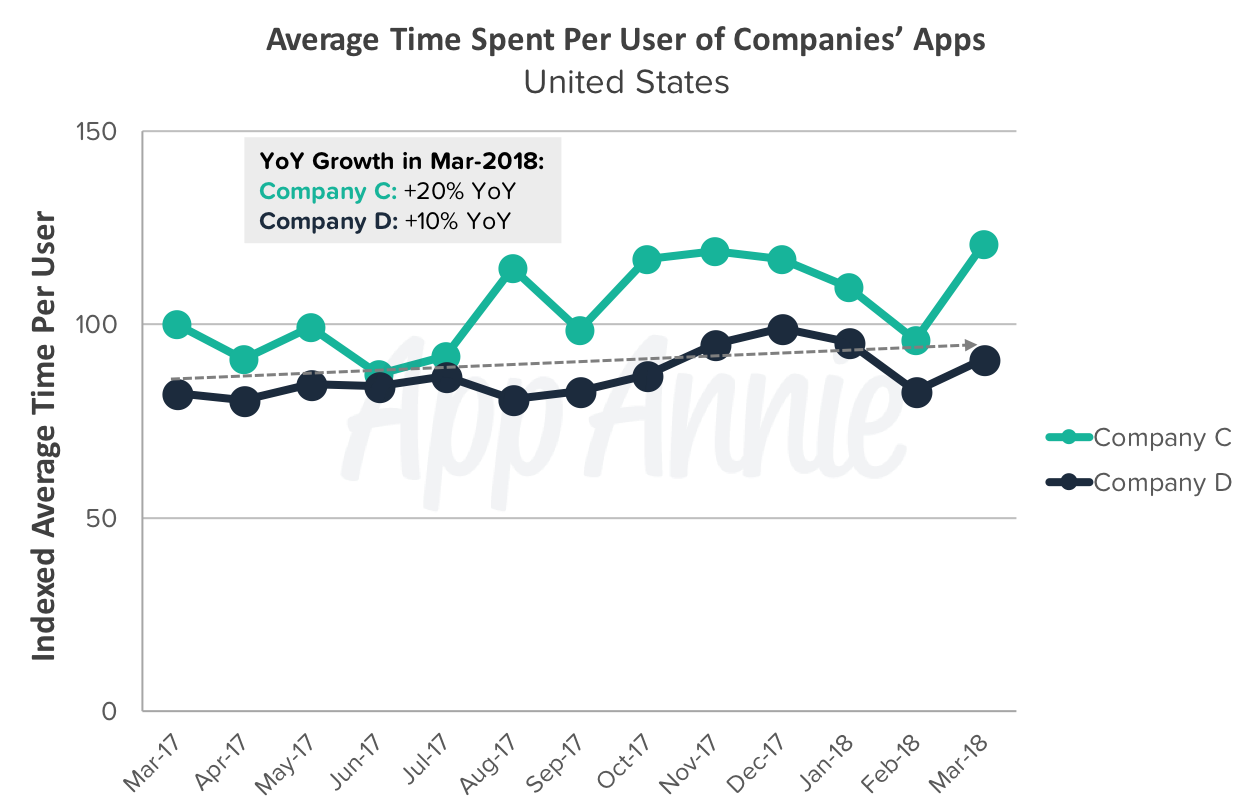 Even though Company C experienced growth in MAU and time spent per user, it should still be very concerned about its performance given that it was overtaken by Company D for overall time spent in app. By comparing itself to Company D on the two underlying components for this metric, Company C is able to zero in on MAU as an area that needs particular attention. Its app's lower growth rate in MAU could indicate a user acquisition or retention issue. Given limited resources, Company C should focus on allocating resources to increase total users of its app in order to regain market share.
Let's take a look at some proactive actions Product Managers can take if they encounter issues with overall time spent in their app.
What Actions Can You Take if Your App Is Losing Ground in Time Spent?
Losing or Getting Outpaced in Monthly Active Users:

Identify key features that your app is either missing or not delivering properly by mining its ratings and reviews, as well as those of your competitors, to compare user sentiment.
Benchmark your app's retention rate against the rest of your industry. If your app is not retaining new users well, this is a sign to its assess features, functionality and onboarding process for opportunities to increase stickiness.
Launch re-engagement and acquisition campaigns, including push notifications, referral incentives for friends and family and targeted advertising.

Decreasing or Getting Outpaced in Average Time Per User:

Encourage or reward habitual use of your app – through more frequent and/or longer sessions – by optimizing your app's features.
Provide more relevant content or products to your customers by optimizing your app's personalization functionality.

Losing Market Share to a Competitor:

Compare key metrics to your competitor, as we have done in the examples above. Evaluate time spent in app, MAU, average time per user and even dive further into session length and session frequency.
Mine competitors' rating and reviews data for positive sentiment around campaigns, features or promotions.
Analyze cross-app usage between your app and the competitor. Work with your marketing partner to target users that are similar to your competitor's.
Why App Annie is Your Trusted App Economy Partner
Over 1 million users rely on App Annie for the industry's most accurate, trusted and comprehensive app market data. Our data offers unique advantages:
Holistic Picture: When assessing your app's performance, it's about the holistic picture – not one metric in isolation. One metric invariably leads to another as a variety of different factors such as marketing, features and customer sentiment can all influence your app's success. App Annie offers the most comprehensive data set in the industry with unique metrics and complete category and country coverage. Use our extensive set of KPIs including downloads, revenue, retention, cross-app usage, sessions, open rate and active users, to get a complete mobile picture.
Robust Data: The breadth, depth and accuracy of app engagement metrics are crucial to making informed decisions that impact your bottom line. App Annie has robust engagement data across 150+ countries and our products support 7 languages. Our data sources include: anonymized and aggregated data from over 1 million apps, sizable consumer panels, top ad networks and more. With the highest volume of data points, a wide range of data sources, over 200+ people in R&D, and continuous refinement of our data science, we empower you to make the right decisions with unmatched data accuracy.
Automated and Accessible: As a Product Manager, you are busy and strapped for resources and App Annie is here to help. We have customizable Alerts — delivered via email or Slack — so you can be the first to know if there is a meaningful change in how apps and markets are performing. Our mobile app on iOS and Google Play gives you the power of App Annie on-the-go — so you can build, strategize and market the best apps for your business wherever you are. We also deliver app data and insights via web, mobile app, CSV export and API at scale. However you work, we have you covered.
Stay tuned for the next post in this series on the fundamental Metrics that Matter for Product Managers.