Messaging apps are an increasingly important part of the mobile app space. Facebook's WhatsApp Messenger and Facebook Messenger are particularly strong throughout the West, while local heavyweights such as WeChat, LINE and KakaoTalk lead in key markets across Asia.
In this report, we provide an overview of the messaging app landscape and highlight the leading apps and discuss their evolution into full-fledged platforms, which is expanding their revenue opportunities and increasing their influence in the overall app economy. (To see how we define messaging apps, please check the notes at the end of this report.)
Facebook Grabs the Globe, Local Players Dominate Asia
Through acquisition and strategic unbundling, Facebook expanded its presence into the messaging app space. The company acquired hugely popular WhatsApp Messenger in February 2014. Later that year, it made the decision to move all worldwide messaging functionality from Facebook to Facebook Messenger.
To put Facebook's success in context, there are three messaging apps among the Top 10 apps (outside of games) by all-time worldwide downloads on the iOS App Store. WhatsApp Messenger and Facebook Messenger account for two of them, and Microsoft's Skype is the other.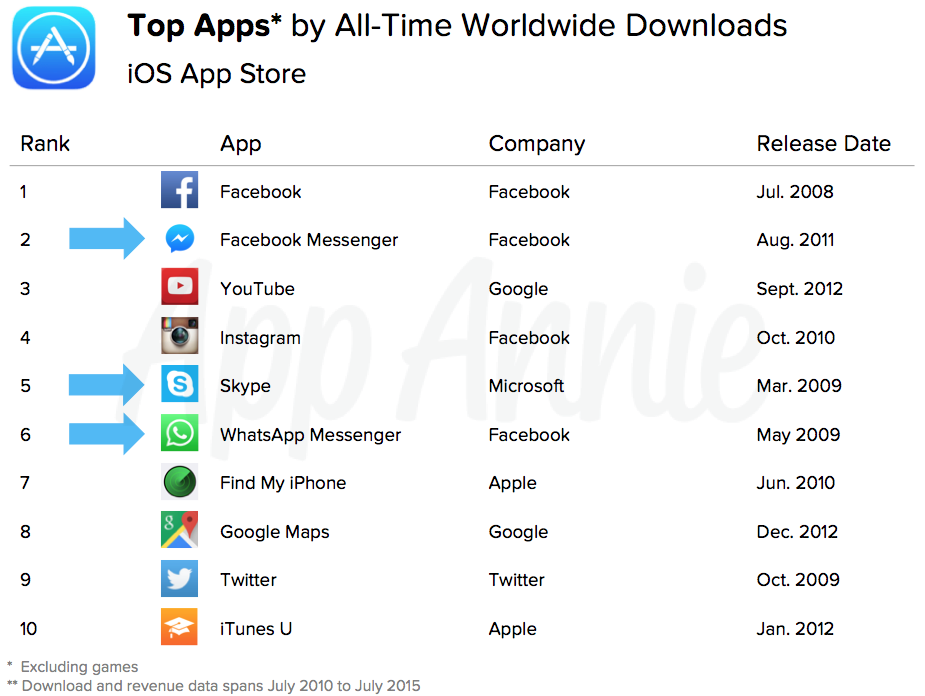 Facebook Messenger and WhatsApp Messenger are among the Top 10 all-time most-downloaded apps on the iOS App Store.
The strength of Facebook Messenger and WhatsApp Messenger is reflected in usage as well. Both are, in terms of Q3 2015 monthly active users (MAU), the top messaging apps in many key countries around the world. Facebook Messenger is particularly strong in North America, while WhatsApp Messenger leads in Latin America and Europe.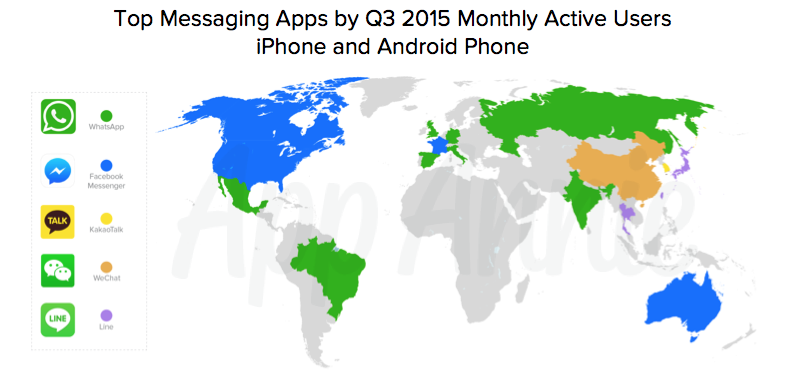 Facebook Messenger and WhatsApp Messenger were the top messaging apps by MAU in key countries, such as the United States and Brazil, in Q3 2015.
In Asia, heavyweight apps have built up a substantial user base and strong network effect in their local markets. For example, WeChat leads in China, LINE is dominant in Japan and KakaoTalk is top in South Korea.
The global landscape for MAU (as seen in the figure above) looks much different than that for revenue (in the figure below). For example, Skype and Viber expanded their successful business model of charging for credits from desktop to their mobile apps. In addition, Facebook Messenger does not currently directly monetize its users and WhatsApp Messenger only charges $0.99 per year (after a one-year free trial). As a result, Skype and Viber are Q3 2015's top revenue-generating messaging apps in many of the markets where Facebook's apps led by MAUs.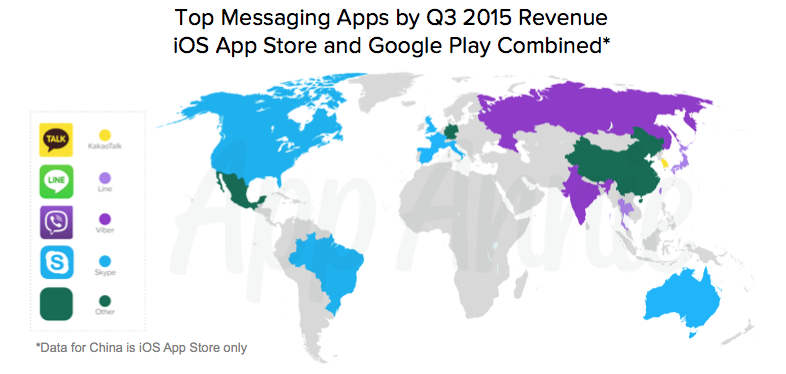 The top messaging apps by revenue are more fragmented than those by MAU in Q3 2015.
The massive number of messaging app users presents huge opportunities for those who can take advantage and convert app downloads into revenue. Successful monetization strategies vary greatly across platforms and regions as the messaging app space serves an extraordinarily diverse and global user base.
More Than Just Messaging: Apps Expand Functionality and Revenue Opportunity
The leading messaging apps in Asia, in particular, have expanded their reach by adding features that go beyond merely sending and receiving messages. This extra functionality ranges from voice and video calls to games, taxi hailing and even local government services.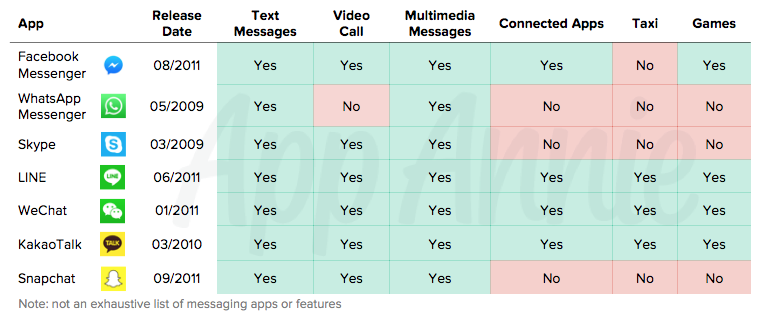 Messaging apps, particularly those from Asia, have evolved into platforms by adding features that go beyond just sending and receiving messages.
Through these extra features, these apps have evolved from messaging to full-featured app platforms. This is creating new revenue opportunities and opening up new battlegrounds in areas such as mobile payments and media content.
LINE leads messaging apps in iOS App Store revenue and is the second highest-grossing iOS app (outside of games) of all time. A significant portion of its revenue comes from digital sticker sales. In addition, games connected to messaging platforms earn huge revenue, especially in major APAC markets. This is true of games published on LINE in Japan, WeChat in China and KakaoTalk in South Korea.
Although games and messaging features such as stickers have been key to driving monetization to this point, publishers are experimenting with new ways to expand their revenue potential. For example, WeChat is leading the way in m-commerce. It has experienced huge success as a mobile payment platform with its users able to purchase movie tickets, taxis and even municipal services. Other messaging platforms in APAC have followed suit while the West has yet to scratch the surface of this type of functionality.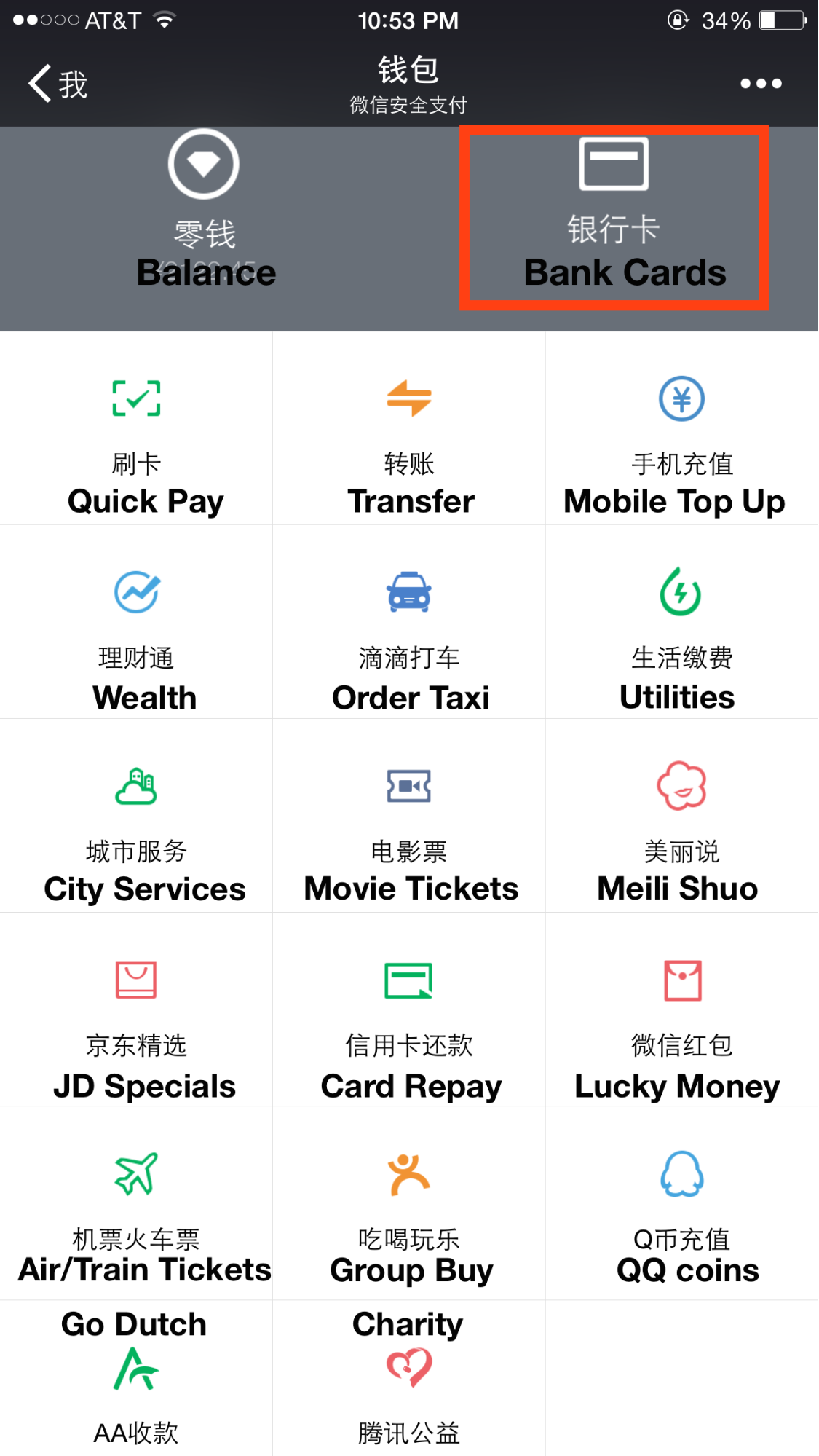 WeChat's mobile payment platform provides a wide range of options to users.
Messaging apps are also testing the waters with advertising. Their progress in this area has been slow but steady as publishers are understandably wary of alienating their user base with intrusive ads. WeChat, for example, has successfully integrated ads into its users' Moments timelines.
Innovative forms of advertising and brand promotion will be key moving forward. For example, Snapchat Discover, which allows media brands to directly engage with customers in innovative ways, pushes the boundaries of advertising on messaging platforms while sidestepping many of the issues of traditional advertising. We expect publishers to continue to find new ways to push this model further in the messaging app space.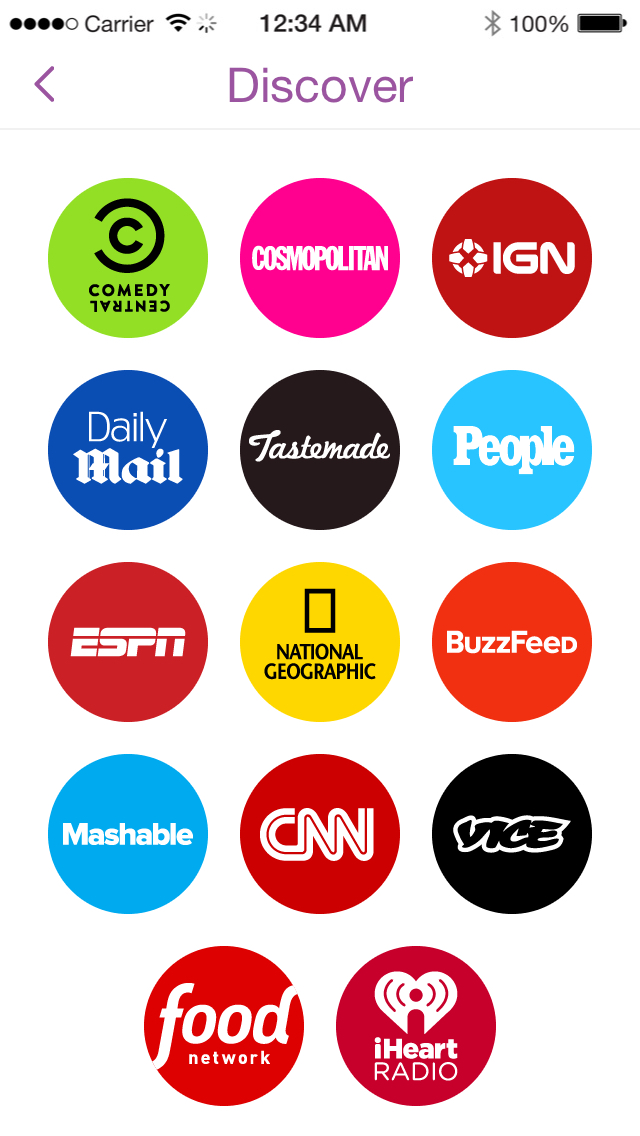 Snapchat Discover provides users with curated content from prominent media brands.
Looking ahead to the future, the messaging-app-as-platform paradigm is likely to continue to gain momentum, with APAC leading the way. As more services are added, an increasing amount of app time is likely to be spent within the messaging ecosystems, further raising their potential for marketers.
It's not yet clear the extent to which the Asian messaging platform paradigm will carry over to Western markets, but compelling services will likely stimulate growth. We expect that messaging app publishers will continue to explore new ways to monetize the apps, opening up further opportunities for content publishers and advertisers.
Want More? App Annie Has It
Subscribe to our blog to see more app industry reports, conference updates and product news. We love hearing from our readers, so share your questions and comments below or on Twitter.
Want to perform your own analysis? Create a free Store Stats account or request an Intelligence demo today.
Notes:
For this report, App Annie defines a messaging app as any app for which sending and receiving one-to-one or one-to-few messages (text, image or video) to known contacts over internet protocol is a primary function. This definition excludes apps designed for meeting new people and dating.

The app rankings in the report are based on the download and revenue estimates available through App Annie Intelligence. Revenue rankings in this report are based on revenue that the iOS App Store and Google Play earned from paid downloads and in-app purchases. They do not include revenue earned from in-app advertising.
App Annie Intelligence is currently available for the iOS App Store and Google Play. It does not currently provide estimates for other app stores, such as the Amazon Appstore. While iOS and Google Play represent a significant portion of the app market in many countries, that is not the case for some countries. For example, China has a number of sizable third-party Android app stores.
App Annie Usage Intelligence data was derived from mobile usage data collected from a large sample of real-world users.

App Annie tracks usage at the device level using a privacy-protective hashed device ID. Data is only reported to third parties in aggregated format.

For the purposes of this report, an active user is defined as a device having one or more sessions with an app in the time period. A single person may be active on multiple devices in any time period, and will therefore be counted as one user per device in the total active users.

Push notifications are not considered active use and, as a result, do not count towards estimates of users.

The apps in this report are ranked based on unified apps made possible by App Annie's exclusive DNA. In unified apps, similar versions of the same app with different names and on different platforms are unified. For example, LINE and LINE for iPad on iOS, and LINE Lite: Free Messages and LINE: Free Calls & Messages on Google Play are aggregated and ranked as a single LINE unified app.
App rankings in this report are based on the App Annie DNA relationships at the time of publication. App Annie DNA relationships are subject to change over time.

Certain trademarks and/or images used in this report may belong to third parties and are the property of their respective owners. App Annie claims no rights to such trademarks or images.