Meituan Waimai has reached the #1 spot in the Food and Drink Category in terms of daily iOS downloads across 52 countries since launch
Meituan Waimai, a food delivery app published by Sankuai Technology Company, has surpassed 100 million app downloads across iOS and Google Play worldwide. Meituan Waimai was released on Nov 19, 2013 on iOS and July 18, 2017 on Google Play. In addition to delivering international cuisines ranging from specific fast food partners such as Pizza Hut and KFC as well as local favorites such as barbecue and hot pot, Meituan Waimai also delivers soda drinks, fresh fruits, pharmacy items, and supermarket groceries.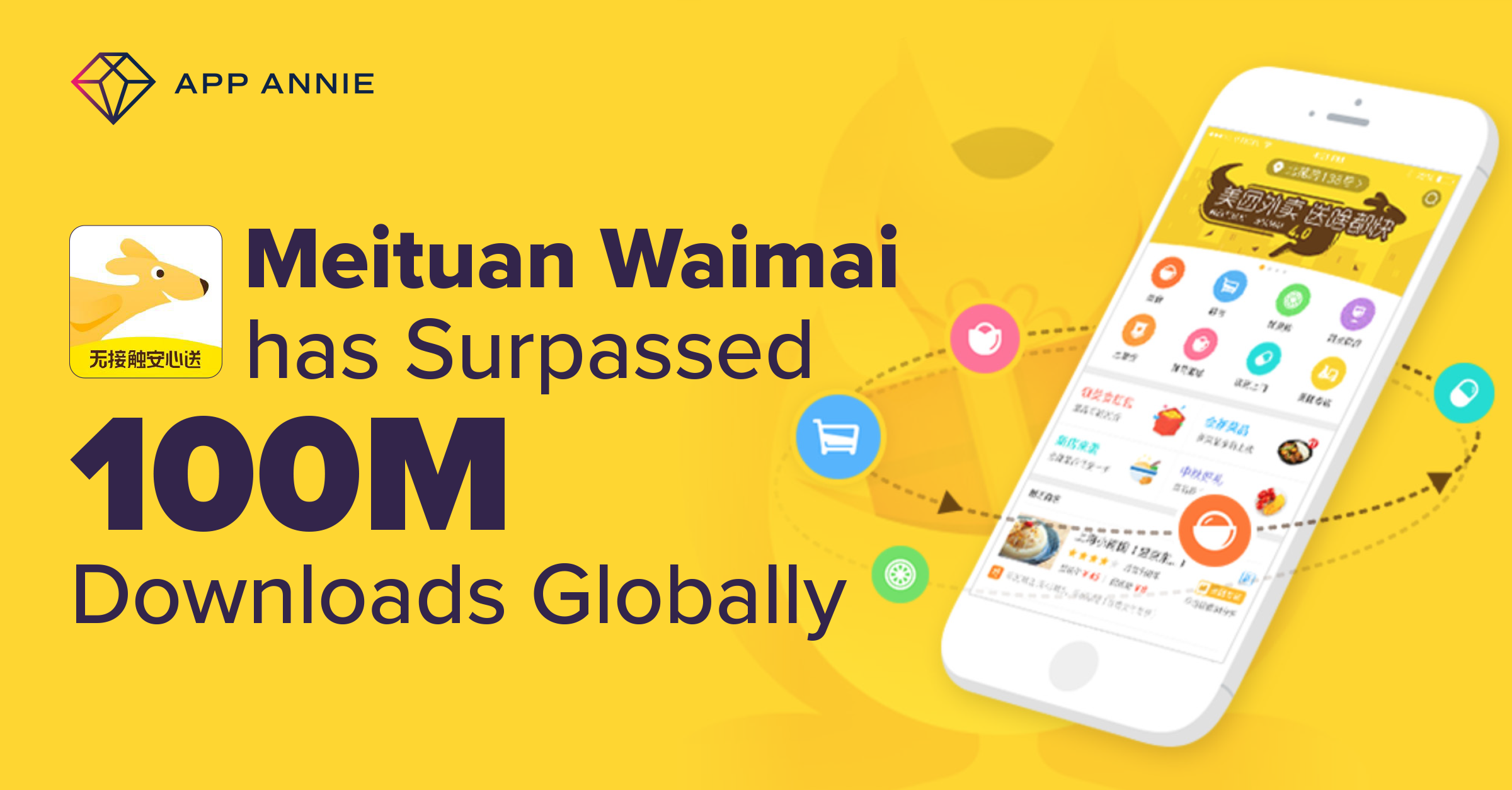 With an average rating of 4.81 across all versions of the app from more than 9 million ratings on iOS, it is clear the app has been well received among its user base. In fact, more than 90% of its ratings were 5-stars, citing the plethora of food choices, the convenience of enjoying food at home, and the fast delivery as among the reasons.
Since launch, its iPhone app has reached #1 in terms of daily downloads across 52 countries and has reached at least the top 10 in 100 countries in the Food and Drink category.
According to Meituan Waimai, its network of partners is massive, covering more than 50,000 restaurants and 5,000 chain restaurants across 250+ cities in the nation. With such wide coverage and limitless options at customers' fingertips, it is no surprise that over the past 12 months from October 2020 - September 2021, Meituan Waimai was the #1 most downloaded iOS app in the Food and Drink category overall as well as the #1 most downloaded iOS food delivery app in China. E Le Ma, Dingdong Shopping, KFC China, and McDonald's China rounded out the top 5 food delivery apps in China, although Dingdong Shopping focuses less on delivering prepared foods and more on delivering seafood, fruits, meats, and vegetables.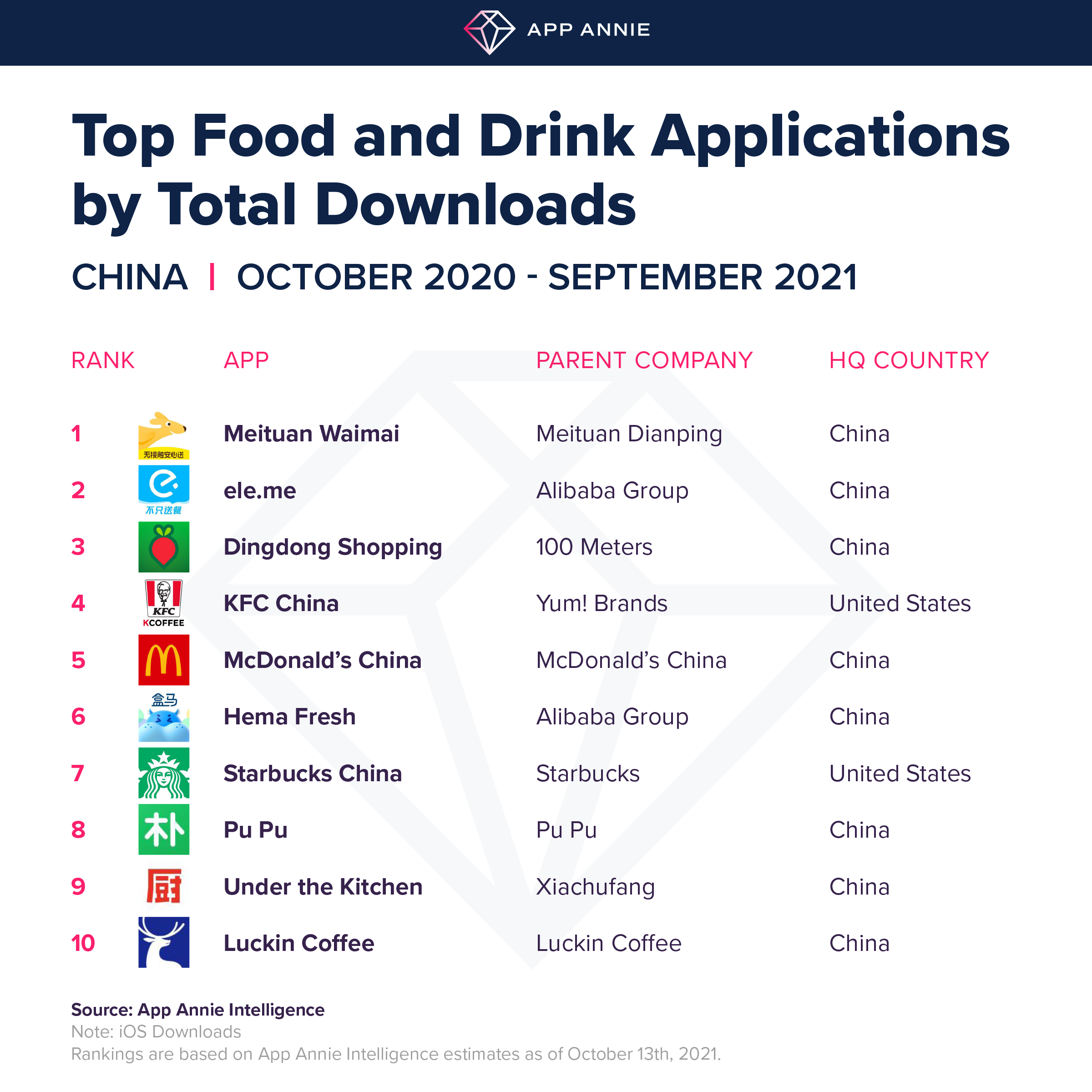 Globally, the top markets by download for Meituan Waimai are in China, Hong Kong, United States, Taiwan, South Korea, Japan, and Australia. With the demand for quality food delivered to consumers' doors ever increasing in recent years, it is particularly impressive to see Meituan Waimai's growth. Although international brands such as McDonald's remain popular in China, moving up the iOS Food & Drink apps downloads ranking chart 12 places year over year for the time period of October 2020 - September 2021, Meituan Waimai will likely hold the top spot for the foreseeable future.
Looking for more mobile insights? Download App Annie's industry-leading State of Mobile report, covering everything you need to know about how to win on mobile in 2021.
DISCLAIMER: 
App Annie is a mobile market estimate service provider. App Annie is not registered in any investment advisory capacity in any jurisdiction globally, and does not offer any legal, financial, investment or business advice. Nothing contained in this communication, or in any App Annie products, services, communications, or other offerings, should be construed as an offer, recommendation, or solicitation to buy or sell any security or investment, or to make any investment decisions. Any reference to past or potential performance is not, and should not, be construed as a recommendation or as a guarantee of any specific outcome. You should always consult your own professional legal, financial, investment and business advisors. Additionally, by providing the information herein, App Annie does not make any representations or warranties and does not undertake any legal or contractual obligations whatsoever. No liability may accrue to App Annie as a result of providing this information to you.