We take a look at how holiday seasons such as Lunar New Year fueled mobile apps consumption in China to record levels.
Lunar New Year is one of the most important holiday seasons in China and with millions making their way home to celebrate the festivities with their families it presents an incredible opportunity for app developers. In 2017, China secured its place as the largest mobile app market in the world, and holiday seasons in particular are driving significant engagement with apps. In fact, this year 768 million people participated in sending and receiving electronic red envelopes on WeChat — a digital take on the traditional red envelopes that are filled with cash and given as gifts. This was an increase of 10% compared to last year indicating that holiday interactions and activities are increasingly migrating to apps.
With users taking advantage of the free time brought by the extended Lunar New Year break, typically spanning more than a week, we've seen peak consumption in Games, Entertainment and other apps. In fact, during the week starting February 11, 2018, weekly consumer spend across all apps on the iOS App Store in China reached new heights surpassing $380 million, a staggering 190% increase compared to the same festive season in 2016. It is the highest weekly performance for iOS overall consumer spend in China to date and games made up 85% of store purchases — not surprising as mobile devices have become the primary platform for playing games in China's increasingly mobile-first population.
The Week of Lunar New Year 2018 saw the highest weekly performance for iOS overall consumer spend in China to date.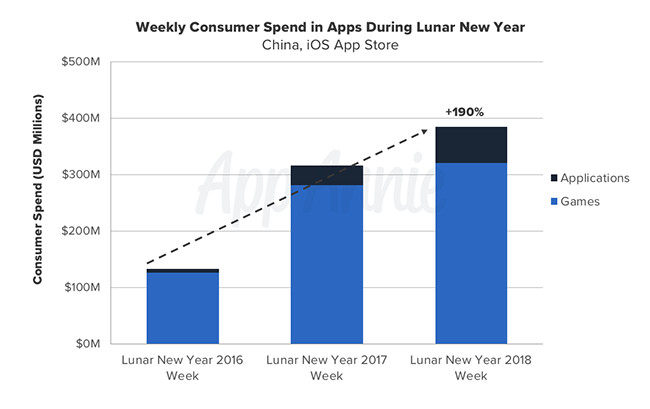 This increased spending on apps is typical for holiday seasons in China. In fact, prior to 2018's Lunar New Year, the next highest peak in consumer spend on the iOS App Store in China occurred during October 2017's Golden Week Celebrations. Continuing the trend, the Lunar New Year week in January 2017 shows the third highest week of iOS App Store consumer spend in China.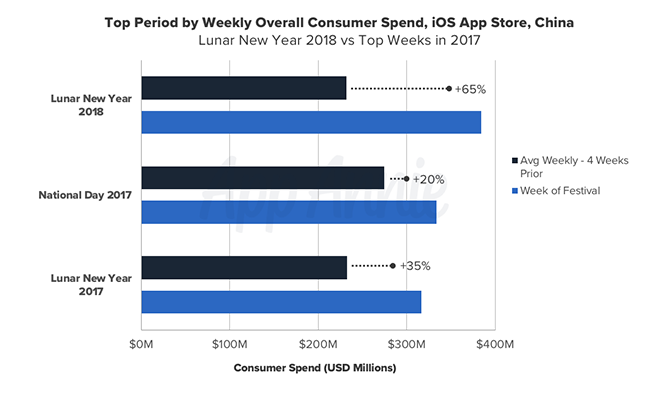 In addition, app publishers also saw a greater uplift in consumer spend during 2018's Lunar New Year period compared to the previous year's. Consumer spend increased by more than 65% on the iOS App Store in China during this year's Lunar New Year week compared to the average of the four prior weeks. This was nearly double the uplift seen the previous year, and this surge in consumer spend is growing with each successive holiday period.
Games and Video Streaming Apps Led the Charge
While Games continued to dominate the top 10 grossing chart during the Lunar New Year week, leading video streaming platforms Tencent Video and iQIYI were also among the top apps.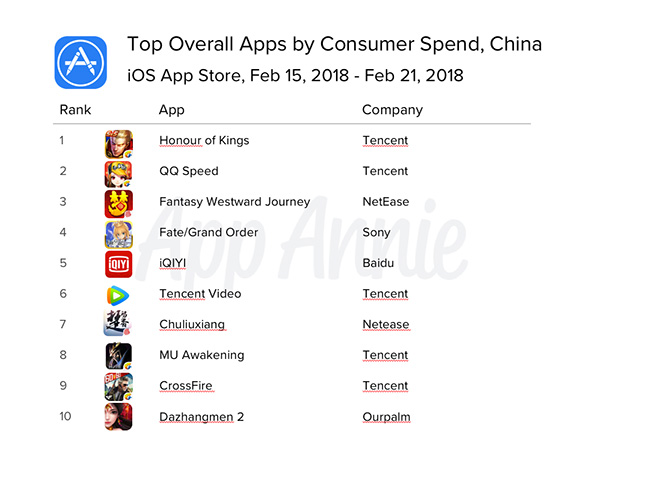 To capitalize on the festive season, many publishers offered content related to the Lunar New Year. Both Tencent Video and iQIYI offered the most watched television program of the year, the Spring Festival Gala. Produced by China Central Television (CCTV), this variety show airs during the Lunar New Year and features musical, dance, comedy and dramatic performances.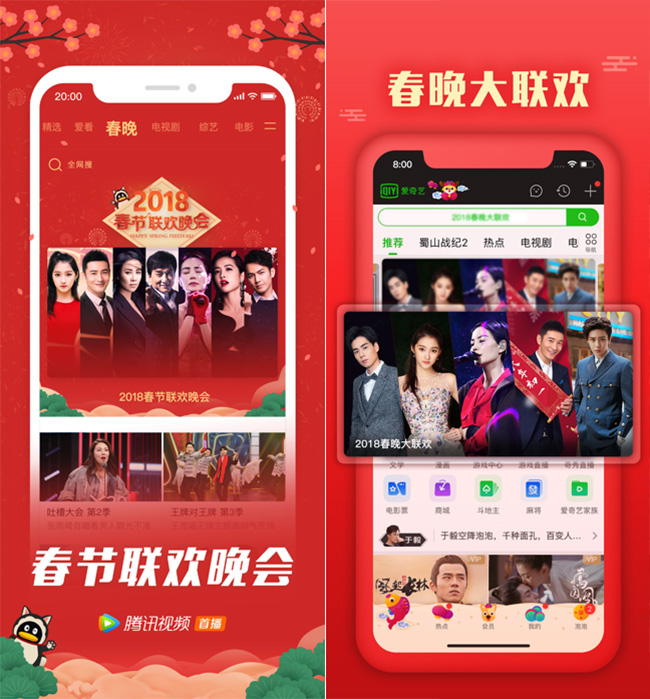 (Tencent Video and iQIYI app store screenshots featuring the country's most popular annual Spring Festival Gala Live Broadcast)
Game publishers also incorporated Lunar New Year themes to delight users. Top grossing games Honour of Kings included special events and modes where red-packets containing rare items could be obtained. Casual kart racing game QQ Speed by Tencent also offered Lunar New Year themed costumes, events and characters as part of their version update in early February. The game remained the second top grossing game during the week of Lunar New Year for grossing games in China on iOS.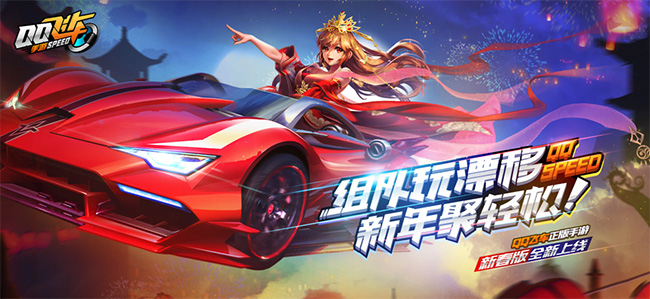 (QQ Speed by Tencent app store screenshot depicting festive themes and colors)
Holiday Season Increased Downloads Momentum for Major App Releases
During the Lunar New Year week starting February 11 2018, Games downloads on the iOS App Store in China saw a 27% increase compared to the average weekly downloads of the four prior weeks. Unsurprisingly, publishers timed new releases to capitalize on expected surges in app downloads. For example, the timing of the launches of PUBG: Exhilarating Battlefield and PUBG: Army Attack, mobile versions of the popular Battle Royale game, capitalized on the momentum generated from their pre-release promotion in December 2017. As a result, they remained the most downloaded games on iOS in China from their February 9 launch date throughout the holiday season.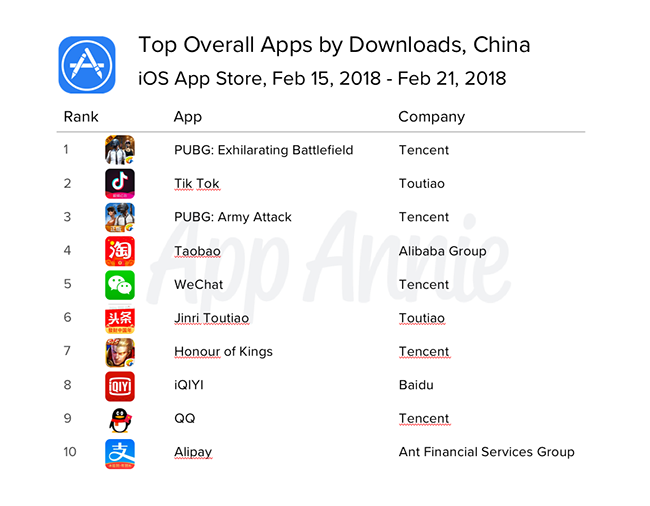 Tik Tok was another notable app that had been gaining momentum in China and was timed a release to capitalize on the Lunar New Year. This short video sharing platform also incorporated the popular red-packet gifting feature giving viewers the chance to win prizes.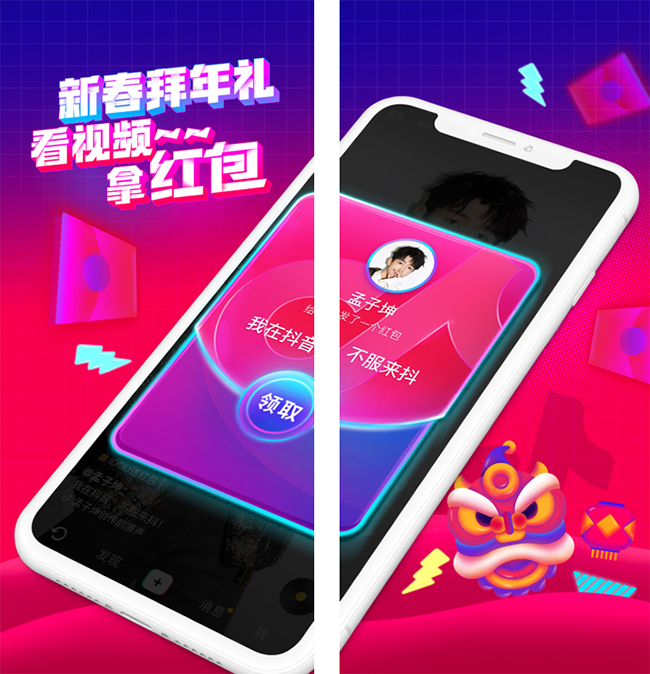 (Tik Tok by TouTiao app store screenshots promoting red-packet function during the Lunar New Year)
Lunar New Year Set Strong Pace for 2018
The Lunar New Year holiday season in China set new records for the app economy, which will significantly contribute to a monumental 2018. We are interested to see how app publishers around the world leverage similar techniques to capitalize on the holiday seasons to come in 2018.
If you're interested in looking into some of the data behind the app market yourself, sign up for our free product here.
In addition, download our 2017 Retrospective, the industry's largest and most trusted analysis of the state of the app economy, to unlock essential insights and data on video streaming, games and third-party Android stores in China.