Perhaps no two words describe the 2019 year for the mobile industry than "sustained growth."
At the start of 2019, it was clear that companies could no longer afford to ignore the impact of mobile. This year, our data is even more powerful, suggesting that mobile must be a core focus of businesses — no matter their vertical — in order to survive in 2020 and beyond. That's because this sustained growth of mobile marches on, across markets and around the globe.
Mobile Engagement Deepened in 2019 
We saw across the markets analyzed in our State of Mobile 2020 report that consumers spent 35% more time on mobile in 2019 than they did in 2017. The established markets of China (+60%), France (+25%), Japan (+15%), and the United States (+10%) all steadily increased the amount of hours spent per device on mobile. Emerging markets saw similar growth across Indonesia (+20%), India (+25%), and Brazil (+15%).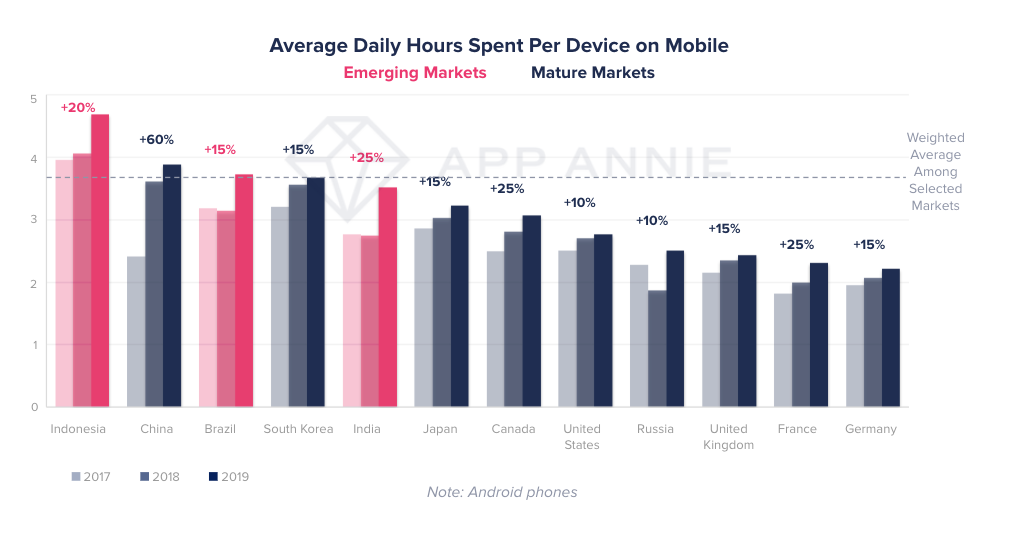 Overall, this added up to mobile users spending an average of 3 hours and 40 minutes per day on their smartphones. That's 35% higher than in 2017. Put another way, if a consumer sleeps for 8 hours a night, nearly 25% of their time awake is spent on mobile.
Mobile Drove the Top Line in 2019 
That increased time spent on mobile also correlated with higher consumer spend on smartphones. Consumer spend in app stores hit $120 billion in 2019, a 2.1x increase over 2016. That's also contributed to rise in mobile advertising — a $190 billion market in 2019 — as marketers try to tap into the unparalleled reach and engagement of mobile.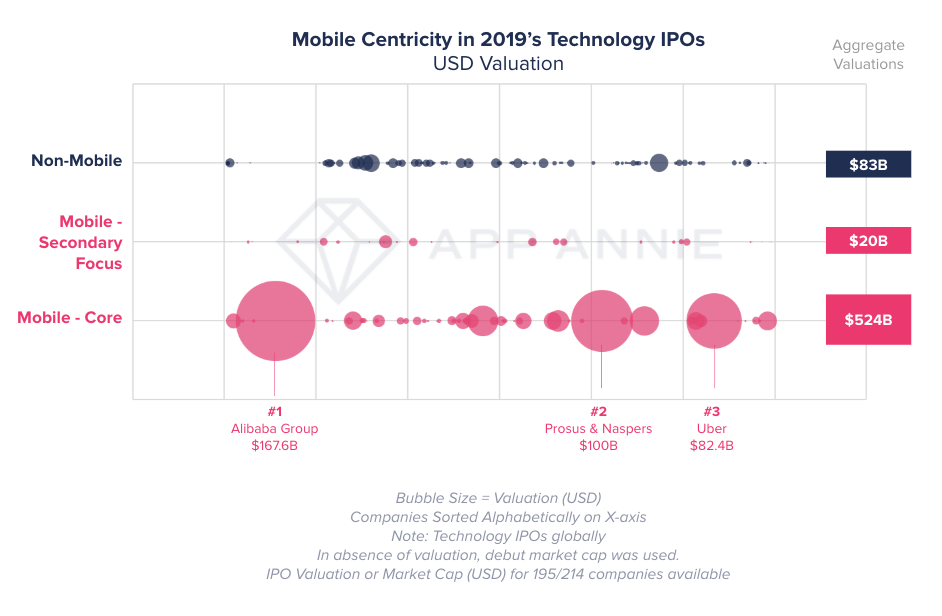 All of these factors have made mobile an immensely powerful channel for businesses. And it's clearly impacting the bottom lines of mobile first companies. The 3 largest IPOs in 2019 were companies with mobile as a core focus of their business — Alibaba Group, Prosus & Naspers, and Uber. In fact, mobile focused companies had a 6.5x higher valuation than companies without a mobile focus.
Mobile To Drive Digital Transformation in 2020
In 2020, mobile will continue to grow at a rapid rate. We would not be surprised to see the average time spent on smartphones per day eclipse the four hour mark. Mobile ads will continue to follow the money, as we predict brands to spend $240B on mobile marketing in 2020. And with Postmates, Airbnb, Robinhood and DoorDash as potential candidates for IPOs in the year ahead, it could be another banner year for mobile-first companies on the public markets.
As you chart out the year ahead, make a resolution to re-think your mobile experiences — as mobile is only going to continue this sustained growth in 2020 and beyond.
Ready to transform your mobile strategy?