The New Year naturally brings a time of reflection. But it also begs us to look ahead, to envision the upcoming year, resolve to improve ourselves and to map out our goals.
Yesterday, we released our State of Mobile in 2019 report, which reflected on the key indicators behind the booming mobile economy and outlined the market trends you need to watch in 2019. The results are stark and undeniable: when it comes to mobile, the future is truly now. There is no longer any industry or company that can afford to ignore mobile. In 2019, it is the vital thread that runs through the entire business world.
But how will mobile evolve in 2019? Well, it will continue to rapidly grow, for one. App store consumer spend will surpass $120 billion in 2019 — double the size of the global box office market and bigger than the global live and recorded music industry — which gives you a sense of the scale and opportunity for businesses looking to undertake mobile transformation.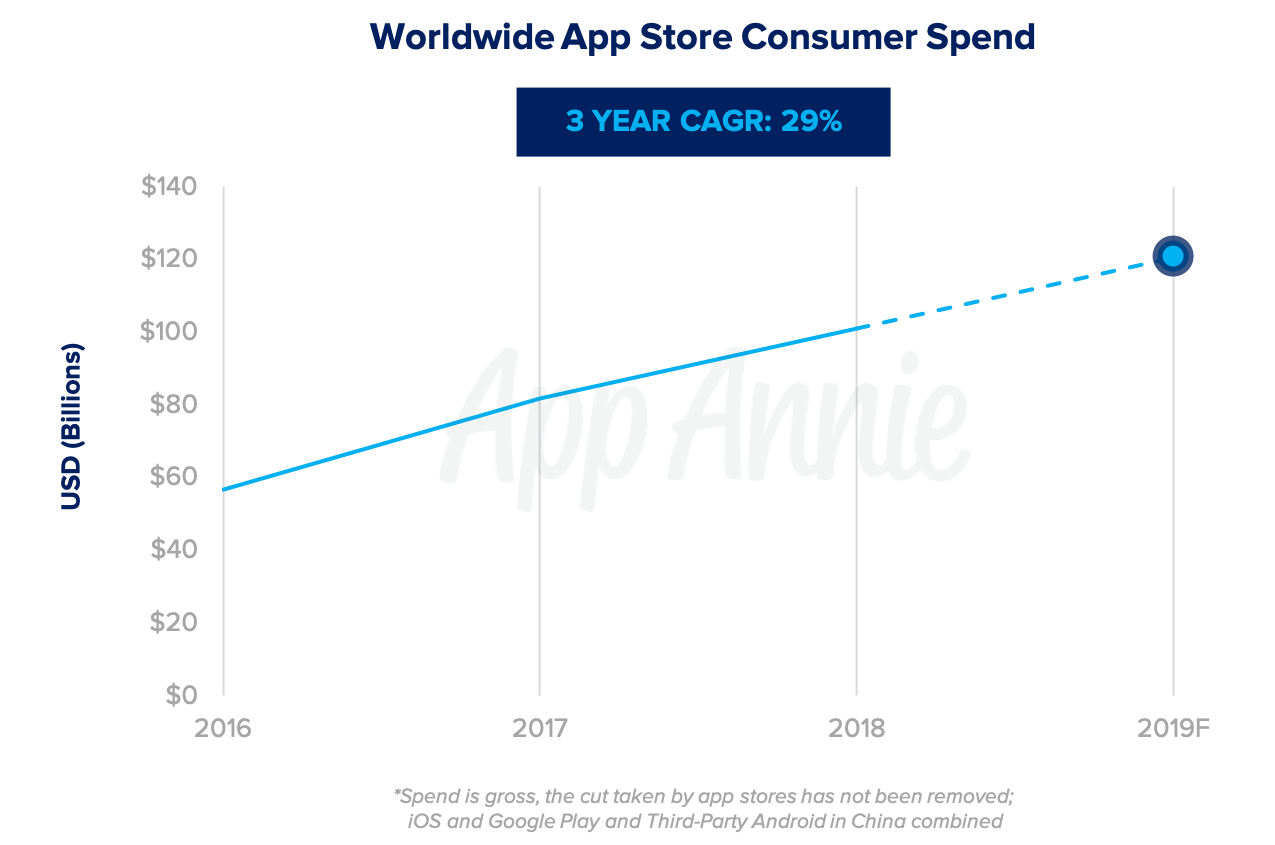 This growth is due to the unique role our phones play in our lives. No matter where you are, whether it's New York City, Berlin or Hanoi, it's likely you have a smartphone. For businesses, this is invaluable: how else could they live in their customers' pockets, no matter a consumer's demographic group, geographic region or socioeconomic status? Businesses on mobile are always within an arm's reach, 24 hours a day. Consumers are also engaging with their phones more than ever before: in Indonesia, an emerging market, smartphone users spent 17% of their time in apps, or roughly 4 hours per day. In mature markets like the U.S. and Canada, the average was 3 hours per day.
The trend toward mobile will have massive ramifications for every industry. The banking industry, for example, should know that consumers downloaded 3.4 billion finance and banking apps in 2018, up 75% since 2016, and that this could open up massive markets in emerging countries, as those who don't have a bank now do likely have a smartphone. Restaurant chains and privately-owned shops alike should understand how the rise of loyalty programs, text promotions and international expansion of food delivery can impact their business. Travel businesses should realize that while the top 5 car sharing apps in the United States grew a steady 25% year over year in 2018, bike and scooter sharing apps saw a remarkable 530% growth, albeit from a smaller user base.
App Annie can help you understand what's a flash in the pan, what's a trend, and what's a new world order in your industry. In the coming weeks on this blog, we'll break down everything you need to know about the State of Mobile in 2019 and tell you what you need to know to be successful in the year ahead. Whether your industry is video streaming, airlines, health and fitness or something else entirely, mobile in 2019 is guaranteed to be a transformative ride.