What's the best way to penetrate foreign app stores : There's a case for localization.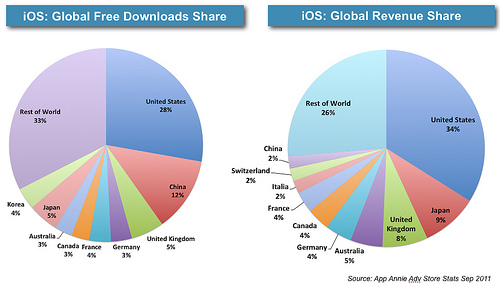 If you want to maximize your app's revenue on iOS, recent data shows that you're going to have to think bigger than just the U.S. market. According to our September statistics, the U.S. accounted for just 28% of the free download market and just 34% of global revenue from iPhone apps.
One point stuck out from this slide: language. In both cases of free download and revenue share, the number two spot behind the U.S. is occupied by an East Asian country with a non-Latin writing system (China and Japan). Also, 50% of the countries within the top 10 for downloads and revenue are non-English speaking countries from Europe and East Asia. The question is, if an app publisher wishes to gain traction in these countries in terms of downloads and revenues, how important is it to localize one's apps? We'll be looking at this in more detail over the coming weeks, but we thought we'd first show you some simple statistics generated from our free web product Store Stats. The graph below shows the extent to which localized apps dominate the top 25 in Asian and European countries. We decided to investigate a little further.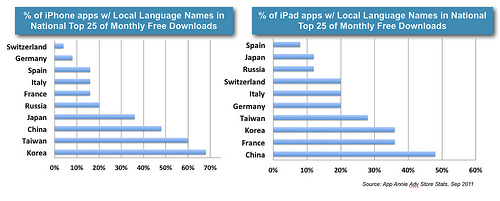 North of 60% of the top 25 iPhone apps in Korea have Korean names and the other East Asian countries Japan, Taiwan and China lie between 30% and 60%. Nearly 50% of the top 25 apps in China are Chinese language apps. Clearly the propensity of users in these countries to download and to spend money within English-language apps is much lower than in other countries. And understandably. If one really wants to break into the charts for East Asian countries, you really need to think about localization of your app into their native language to increase your chances.
Is localization less important in European countries? There does seem to be a greater prevalence of English language apps in these countries where the standard of English language understanding is much higher and where the culture is much closer. The iPhone free downloads charts for France, Italy, Germany and Spain all have close to 90% penetration by English language apps. However, we've seen in other platforms such as on Facebook that companies such as Zynga and 6waves have seen major success when they launched localized versions of their app (see Cityville's launch in French, Italian, German and Spanish which was the company's most successful game launch ever). The console games industry has been localizing games for decades with great commercial success. Many of these companies have also started localizing for iOS and expect to see the percentage of local language apps dominating national app store charts increase over the next year.
We speak to many app publishers globally, and the appetite to localize one's apps is strong indeed. When you weigh the cost-benefit ratio, you have to consider the incremental downloads and revenue you can gain from strategies like this. The preliminary evidence so far indicates that localization will go a long way to expanding your download and revenue funnel internationally. Expect to see more data insights from us in this area.
Thanks for reading, and we look forward to keeping you in the know.
-App Annie