Sports apps are dominating the battle for users' time and money. See what league and non-league apps are doing to drive success.
Mobile has opened up a way for leagues and broadcasters to connect with sports fans to learn more about their behavior and preferences — something traditional media has yet to accomplish. Sports app publishers are finding that they are not simply competing for users' dollars, but their time. One way top sports apps are differentiating themselves and driving usage is through exclusive content pushed as it happens, including live commentary, player updates and live video. Sports fans have a high demand for in-the-moment content, and apps offering live-streamed video and commentary have proven especially popular.
In our latest report, Big Leagues on the Small Screen — Capturing Sports Fandom With Content Streaming, we examine the unique climate sports fandom presents for live streaming on apps in the United States.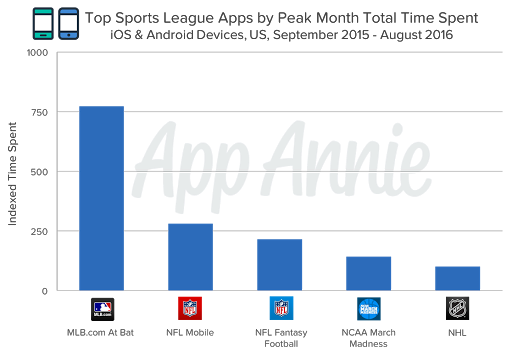 Compared to other leading league apps, users spend more than 2.8 times as many minutes in MLB.com At Bat.
Our report looks at leaders across league apps (e.g., MLB.com At Bat and NFL Mobile) and non-league apps (e.g., ESPN and CBS Sports) to look at trends in usage and revenue. We also examine some of the must-have features for apps to succeed in this space and how top apps have been able to establish recurring revenue through in-app subscriptions and high-quality content offerings.
Finally, we dig deeper into a best-in-class example of a league app: MLB.com At Bat. Discover why this app has been a standout success — commanding more than 2.8 times total time spent in app during its peak month than other leading league apps.
To get the full report, click the download button below:
Learn how to perform analyses like this and deepen your understanding of the app market. Request a free demo of App Annie Intelligence.