Shoppers flock to a social-first experience, ready to purchase.
US downloads of LTK (LIKEtoKNOW.it) grew 26% month-over-month in January 2023, landing the app at #3 on the list for break-out Shopping E-commerce (B2C) apps, according to data.ai's App IQ Taxonomy.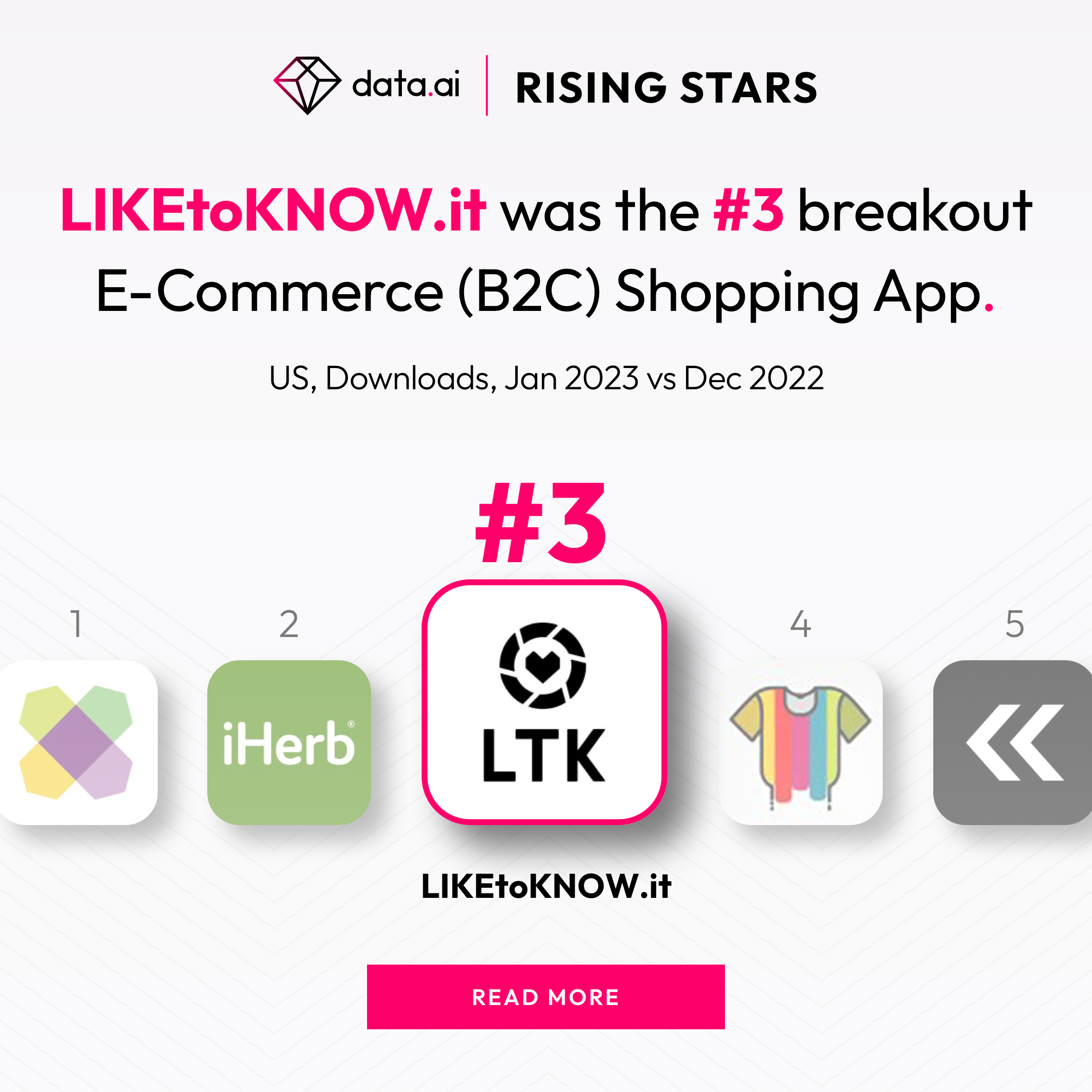 Instagram Meets Shopping: LTK Takes a Social-First Approach to Trends-Driven Shopping
LTK connects a community of fashion creators directly with shoppers through shoppable posts curated by creators and influencers. But what about that is different from the Instagram Shopping feature? Intent.
One of the features Instagram (a social platform) offers is a a shopping feature. And on Instagram, brands can list products for consumers to click on and then buy. This is all happening in the native social-first feed, however. Which means the user base aren't necessarily shoppers with high intent to purchase. Rather, given Instagram's core value proposition, their users are more likely in a browsing, connection, inspiration or social connection headspace.
On the other hand, LTK is specifically designed to help shoppers buy directly from creators and influencers. Meaning, the primary function of the app is to shop.
It all happens within a social user-generated content (UGC) context, with creators at the forefront. And the goal is to faciliate the relationship between users and UGCs so they can buy products recommended by the creators they follow in the app — and likely across other social platforms like YouTube, Instagram and TikTok. By being a go-to source of traffic from influencers' owned social accounts, LTK can benefit from social network effects.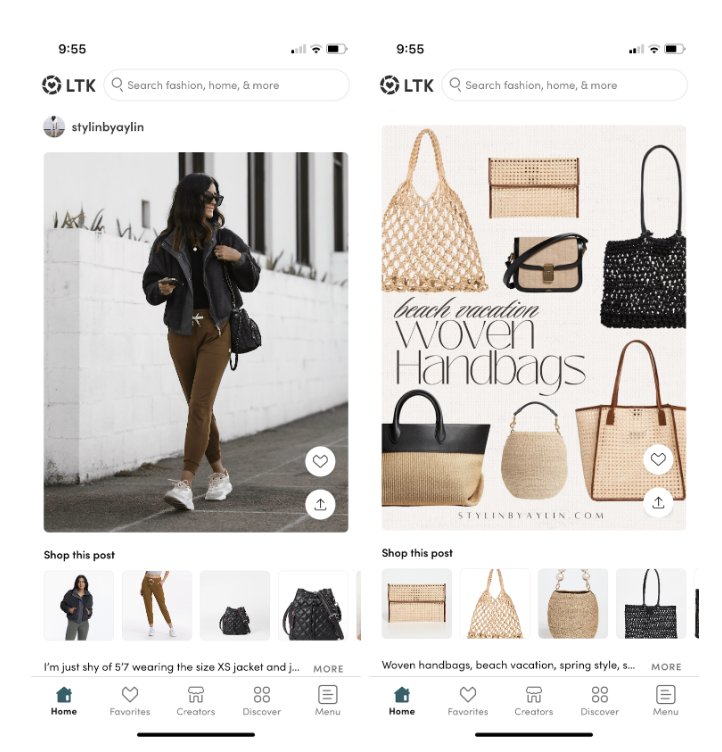 In LTK, every post is shoppable, with items curated by the creator.
Global Success: LTK Tops Breakout Charts in US, Canada, UK, Australia and the Netherlands
And it's not just a US trend, either. LTK ranked in the top 10 list for breakout apps among the five global markets analyzed. Which speaks to a growing demand for creator-curated shopping content for a global audience, as well as to the borderless nature of e-commerce today.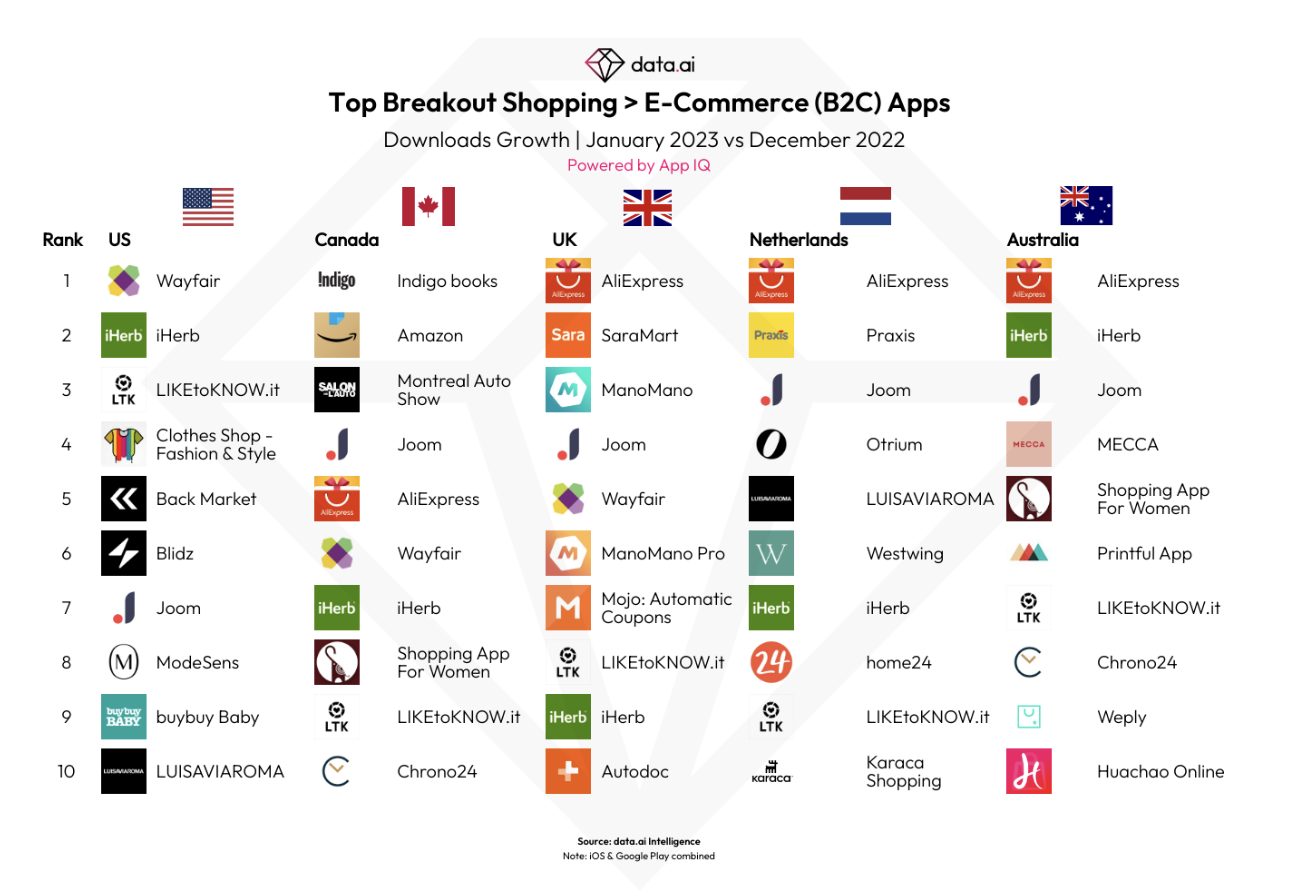 Only two other apps ranked in all markets: iHerb and Joom, highlighting other emerging trends in mobile commerce.
iHerb represents a a growing segment of consumers focused on buying natural and wellness products, aligning with the rise of the conscious consumer. And Joom offers a wide selection of products, including household goods, clothes and gadgets at a low price with free shipping.
Joom also includes two key features catering to consumer demand: 
Gamification:

Games where shoppers can win coupons. Rewarded gamification is a stand-out feature driving shopping app adoption in 2023 (as also noted in

Temu's standout growth

). 

Authenticity & Trust:

Joom

also emphasizes reviews from bloggers, as well as honest feedback from real buyers. 
Plan Your Mobile Strategy Leveraging the Latest Shopping Trends! 
At data.ai, we make sure your brand is at the center of I-want-to-know, I-want-to-go, I-want-to-do, I-want-to-buy moments. Drop us a note to get a free app assessment with our proprietary Mobile Performance Score (it's like a credit score … but for apps).
DISCLAIMER: 
data.ai is a mobile market estimate service provider. data.ai is not registered in any investment advisory capacity in any jurisdiction globally, and does not offer any legal, financial, investment or business advice. Nothing contained in this communication, or in any data.ai products, services, communications, or other offerings, should be construed as an offer, recommendation, or solicitation to buy or sell any security or investment, or to make any investment decisions. Any reference to past or potential performance is not, and should not, be construed as a recommendation or as a guarantee of any specific outcome. You should always consult your own professional legal, financial, investment and business advisors. Additionally, by providing the information herein, data.ai does not make any representations or warranties and does not undertake any legal or contractual obligations whatsoever. No liability may accrue to data.ai as a result of providing this information to you.