Japan is currently one of the three largest markets for smartphone apps. In the last decade, Japanese phone makers, carriers and service providers have collectively built an ecosystem providing various features far ahead of other markets, such as email, video streaming, live TV, ebook stores, GPS navigation and e-wallets. Unique feature phone experiences have shaped Japanese consumers' dependency on phones, which translates to opportunities for developers as they transition into the smartphone era.
App Annie is excited to announce the launch of the monthly Japan App Annie Index for Apps. This report will provide a detailed look at the major movers in one of the app economy's fastest-growing markets to help inform your business decisions in the region. To find out what's hot in Japan in Games, please check out the Japan App Annie Index for Games. For more information on global top apps and publishers, see the Worldwide, United States, United Kingdom, China and Russia charts for July.
TABLE OF CONTENTS
1. The Technology Behind the Index
The information contained in this report was compiled from App Annie Intelligence, the leading market data solution for the app store economy. To see how our app store download and revenue estimates can help guide your critical business decisions, take a tour or request a demo today.
---

---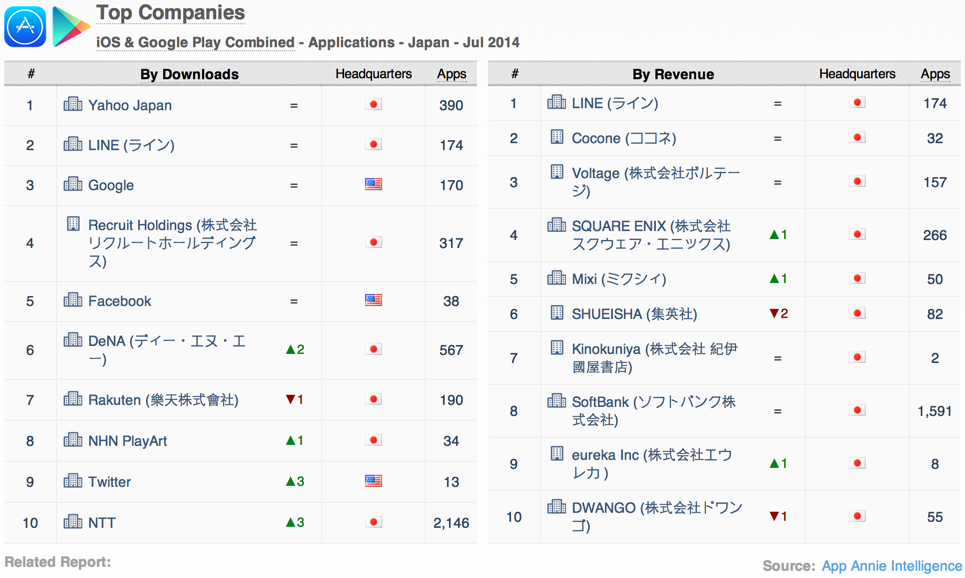 For the complete list of July's top apps and publishers in Japan, click the chart above.
2. This Month's Top Performers
Eat, Sleep, Read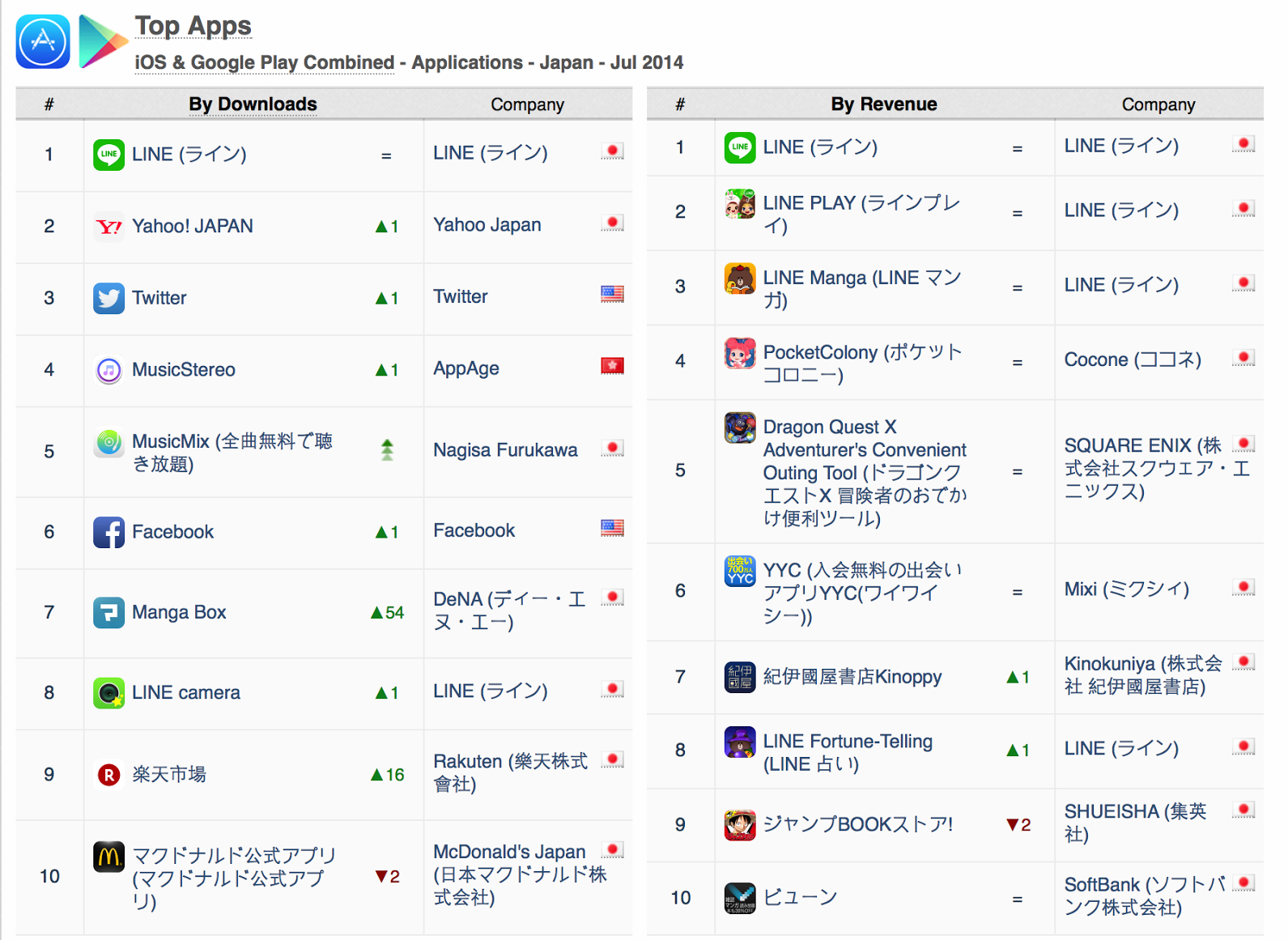 Among top 10 grossing apps excluding game, four are bookstore apps, ManagaBox is catching up.
Digital book publishing has grown steadily in Japan since its rapid rise during the feature phone era, reaching US$700M in 2010. Therefore, it should come to no surprise that one of the primary uses of smart devices is reading ebooks. On both iOS and Google Play, multiple book-related apps have remained within the top 10 rankings by downloads and revenue over the past months.

Jump Book Store!, Kinokuniya Kinoppy, Viewn and LINE Manga (from left to right) are the big four earners in Japan, while ManagBox is catching up.
There are three types of bookstore apps -- publishers, bookstore chains, and Internet/mobile companies -- in addition to ebook apps directly from content creators. The first and second types represent traditional book and magazine publishers, such as Shueisha (集英社), and bookstore chains, such as Kinokuniya (紀伊國屋書店). These publishers arrived on mobile devices with bookstores apps Jump Book Store! (ジャンプBOOKストア!) and Kinokuniya Kinoppy (紀伊國屋書店Kinoppy) to offer their loyal readers another channel to purchase, store and consume content.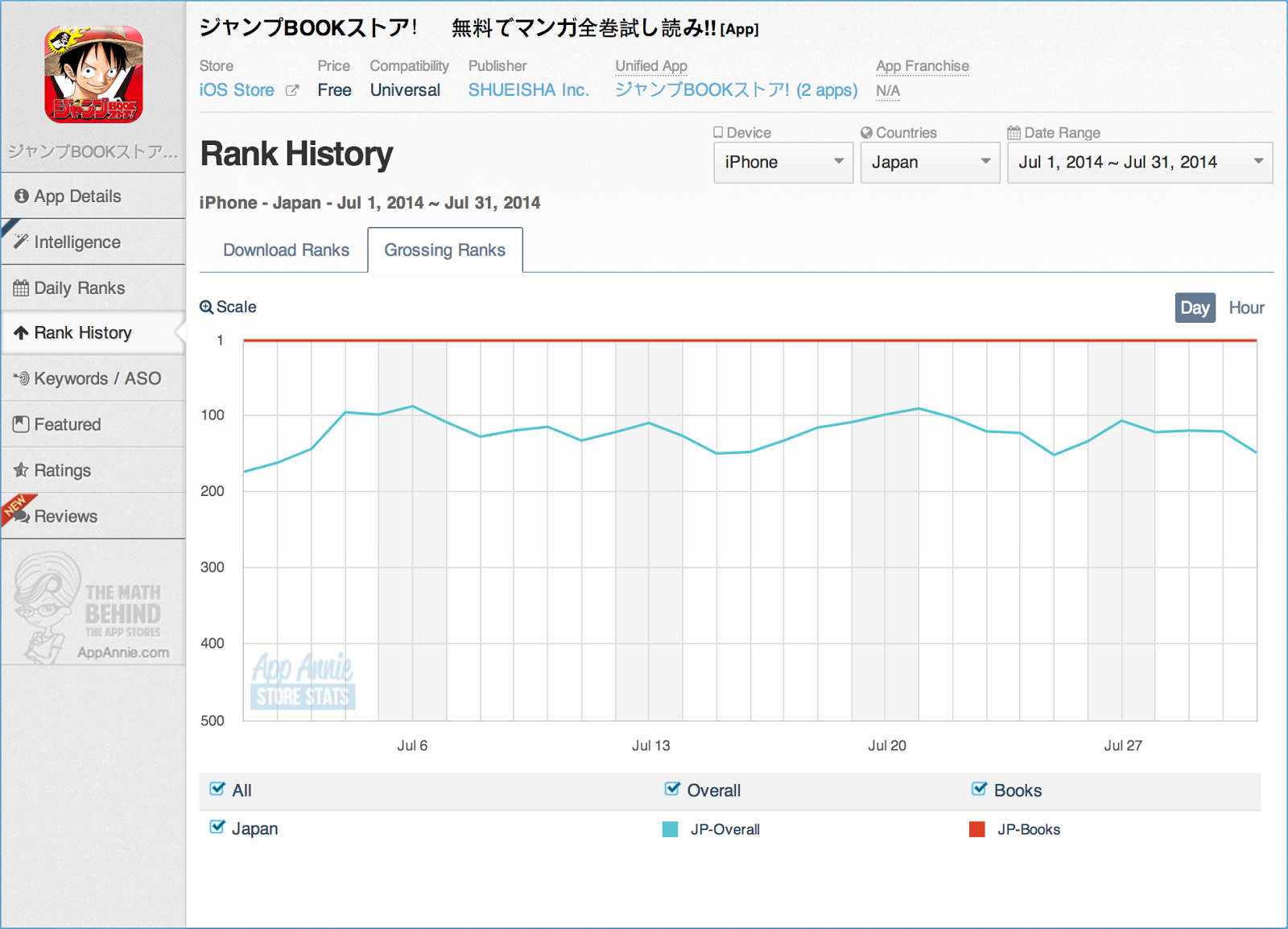 Manga giant Shueisha's bookstore app regularly ranked in the top 10 by revenue in Books on iOS and Comics on Google Play.
The third type of bookstore app consists of Internet/mobile companies that have accumulated large user bases through peripheral services, such as LINE (ライン), DeNA (ディー・エヌ・エー) and SoftBank (ソフトバンク株式会社) (through its subsidiary Viewn (ビューン)). They leverage their user base and deep pockets to obtain content from multiple print publishers and independent content creators for their one-stop shop bookstore apps, such as LINE Manga (LINE マンガ), MangaBox (マンガボックス) and Viewn (ビューン).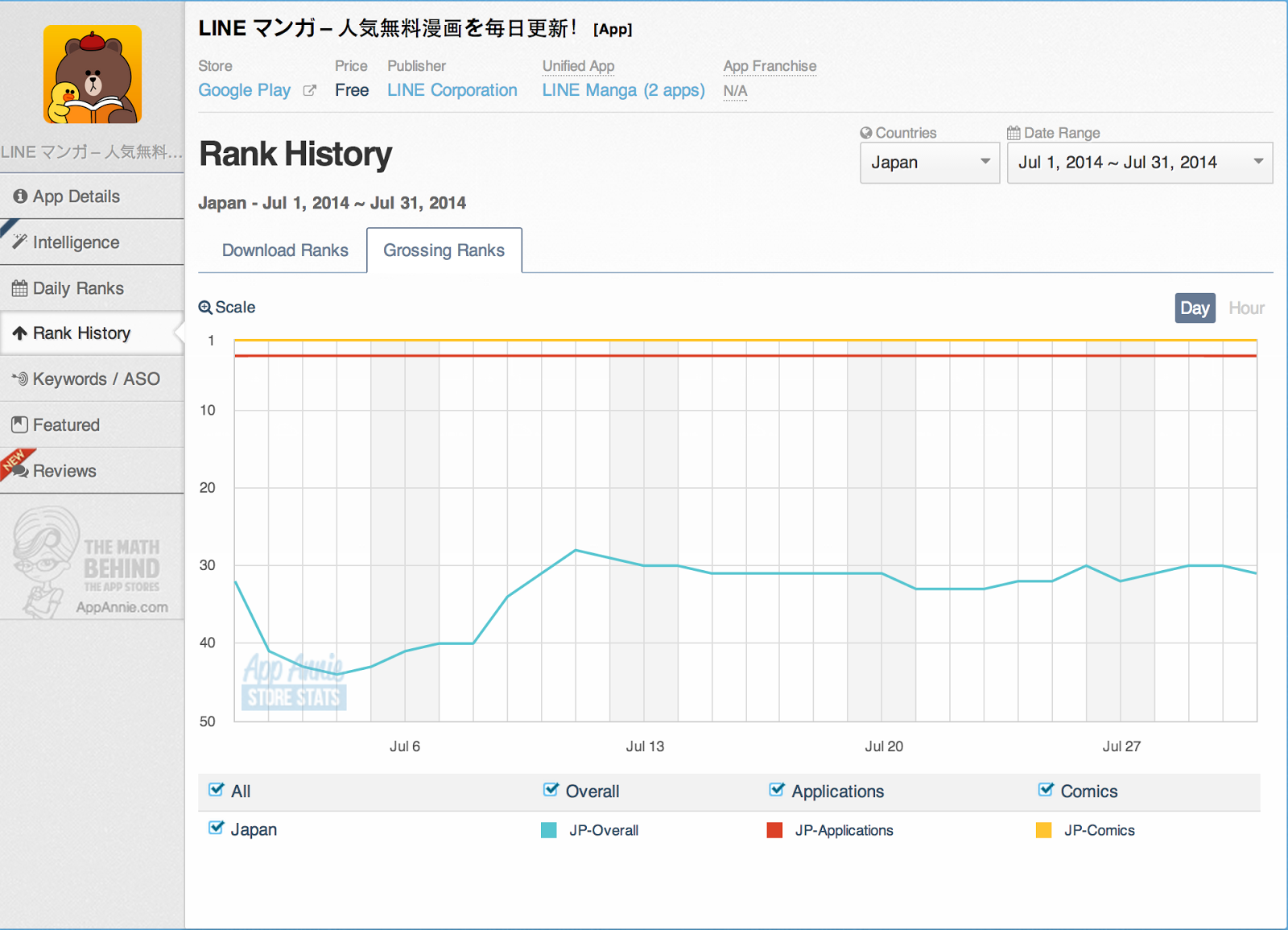 LINE Manga, a key monetization vehicle for LINE, has long kept its #1 spot among Comic apps.
Internet/mobile companies are posing a serious threat to traditionally publisher-dominated bookstores: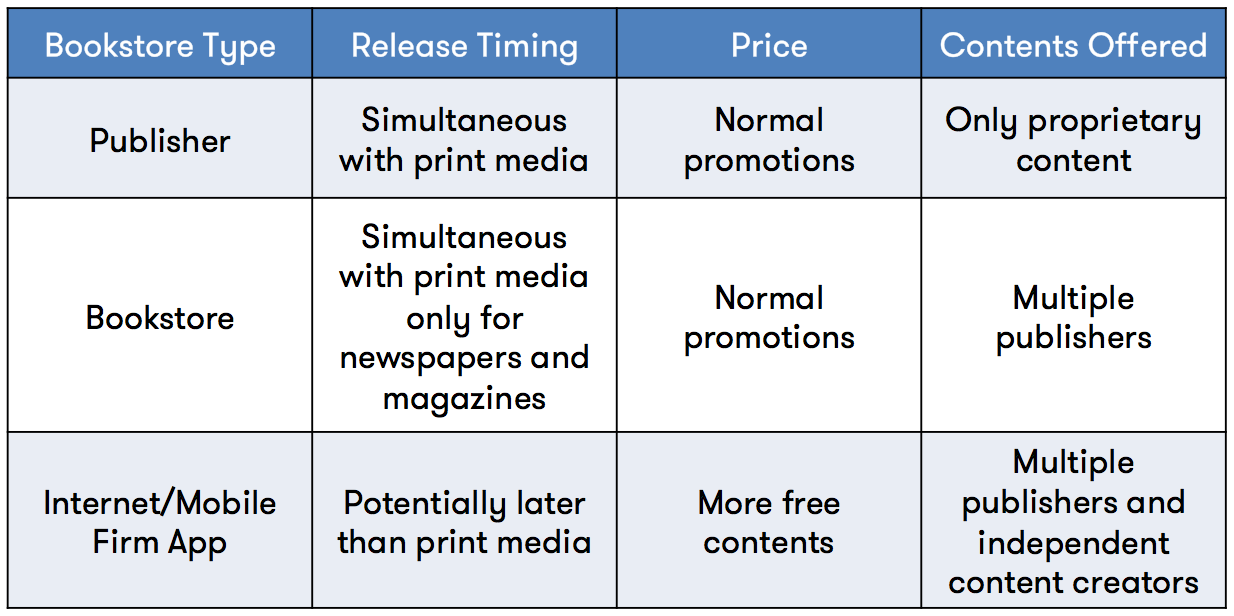 The fourth type is the interactive ebook app, such as ReLIFE, directly published by independent content creators. Its success further proves app stores provide a good platform for self-publishing high-quality content and bypassing traditional publishers. The technology has reduced the overall costs of publishing content.
Players Live a Second Life on LINE PLAY and PocketColony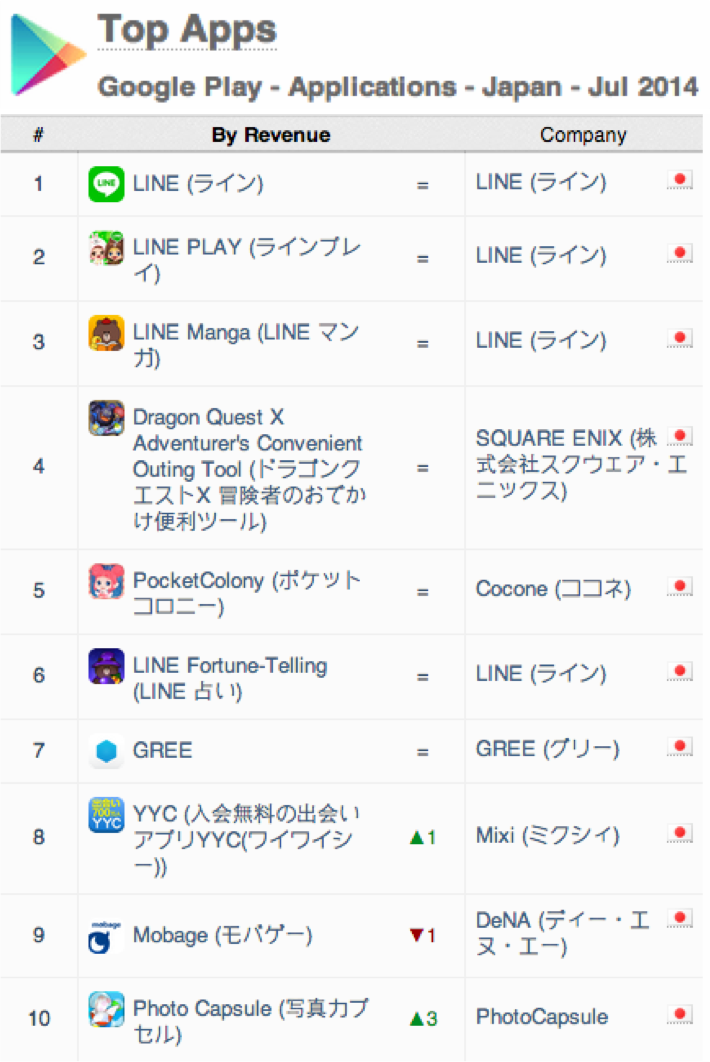 In his impactful interpersonal communication study, psychologist Miyahara explained that Japanese people "are low in self-disclosure, both verbally and nonverbally... Most of these attributes are ascribed to the Japanese people's collectivistic orientations." That theory seems to be less applicable to Japan's current generation, at least when referring to their online lives. LINE PLAY (ラインプレイ) and PocketColony (ポケットコロニー) are two social apps that let users live a second life online by crafting an avatar for themselves, spending real money on virtual clothes and houses, and socializing with others. These two apps have ranked among the top 10 apps excluding games by monthly revenue on iOS and Google Play since their release years ago.
LINE PLAY consistently ranks in the top 5 by revenue in the Social Networking category on the iOS App Store in Japan.
For Japanese people who need to conform to collectivist social norms in their real lives, these avatar apps add a distinct value by letting users build a "kawaii" virtual society allowing them to express their creativity and personality without revealing their real names.
Rakuten Market: Mobile Shoppers Love Marketplace Promotions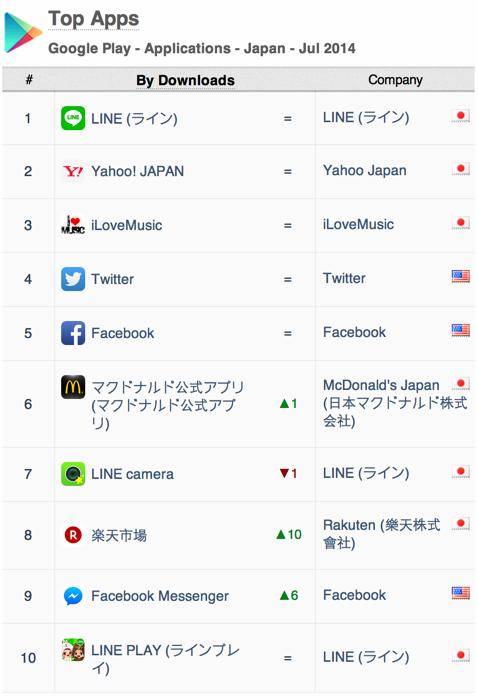 Rakuten Market (楽天市場), the mobile app of Japan's largest e-commerce website, found itself among Google Play's top 10 apps by downloads. Rakuten Market's app downloads appeared to spike around July 5-8. This might tie into Rakuten's aggressive "Shopping Marathon" promotion held that weekend. Different from Amazon's "daily low price" strategy to attract and retain shoppers, Rakuten Market designed its "Rakuten Super Points" rewards program to do so. Rakuten frequently runs promotions by giving extra bonus points to specific customer segments, merchandise categories and time periods. By adopting this strategy Rakuten is able to increase its control over purchasing behavior, adding revenue predictability, reducing risks of misallocated inventory and easing pressures on supply chains.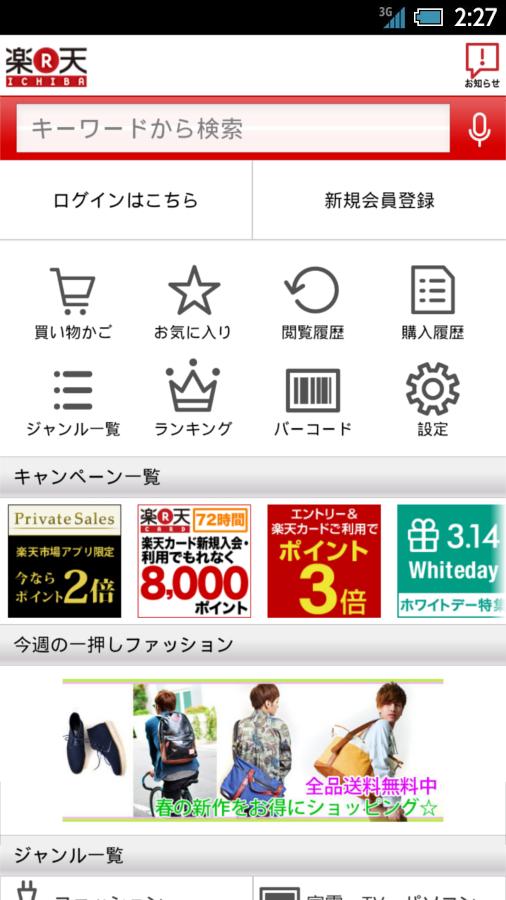 Rakuten Market frequently runs point-based promotions to guide consumer purchasing behavior.
3. More Movers and Shakers
Dating is Very Serious Business
Dating services YYC and Pairs (ペアーズ) found their apps among the top 10 on iOS by revenue, with YYC also finishing at #8 on Google Play by revenue. Both YYC and Pairs allow free registration, but monetize users' actions like profile views and user-to-user messages with their in-app currency. Originally a web service, YYC has 14 years of history with 7 million registered members; Conversely, Pairs is a relatively new app built on Facebook with 1.3 million current active users. Both apps are further developing their security and privacy mechanisms. Pairs has started expanding to other East Asian markets, leveraging cultural carry-over.
LINE UP for the Camera!
The Japanese enjoy taking pictures of events in their everyday lives, keeping a record of delicious food they've eaten, reunions with friends and beautiful scenery. This fact drove Sharp and J-Phone to introduce the world's first camera phone. Thus, it's quite natural to see LINE Camera, a camera with photo enhancement features, among top 10 apps on Google Play in Japan. In addition to taking photos, LINE's app allows users to add flavor to their photos with various stamps, style filters and frames. Moreover, the app even helps users appear prettier in selfies with its powerful facial recognition capabilities -- the killer feature that made this app #1 among apps in the Photo category.
---
| | |
| --- | --- |
| | Want to get even more advanced with your app store market analysis? Check out our enterprise product App Annie Intelligence. |
---
For those of you who also are looking for an update on top apps in gaming, please check out our Japan App Annie Index for Games. To keep up-to-date with all the changes at the top of the app and publisher charts, check out the complete set of App Annie Index tables.
Notes:
The company and app rankings reported in the App Annie Index are based on the download and revenue estimates available through App Annie

Intelligence

. The daily rank history charts and the home page feature app data are available to all users through App Annie's app tracker solution,

Store Stats

.

While the Index for Games covers games, the Index for Apps provides app tracking on everything but games. Note that the Top Company rankings in the Index for Games are based solely on the company's games downloads and revenue, while the Top Company rankings in the Index for Apps are based on the company's downloads and revenue from apps excluding games.

Through September 2013, similar versions of the same app with different names (e.g., The Sankei Shimbun (産経新聞) and The Sankei Shimbun HD (産経新聞HD) were ranked separately. Effective with October data, similar versions of the same app with different names will be unified (e.g., The Sankei Shimbun (産経新聞) and The Sankei Shimbun HD (産経新聞HD) are now aggregated and ranked as a single The Sankei Shimbun (産経新聞) unified app).

Company and unified app rankings in the App Annie Index for Games and Index for Apps are based on individual apps that ranked in the Top 1,000.

In the first month in which an app becomes unified, its rank change in the Index will compare the unified app that month vs. its highest-ranking individual app in the month prior. As a result, rank changes for newly unified apps may overstate ranking increases from June 2014 to July 2014.

In the iOS App Store, an app can be categorized under a Primary Category as well as an optional Secondary Category. If an app has a Primary Category of Entertainment and a Secondary Category of Games, it is a candidate to be included in this Index for Apps. If the app's Primary Category is Games and its Secondary Category is Entertainment, then it will not be included in this Index for Apps; it is a candidate for the Index for Games.

Note that the ranking approach used in the App Annie Index differs from that used in the iOS App Store. In the latter, app rankings for a given category will include all apps whose Primary Category or Secondary Category matches that given category. So an app can appear in the rankings for more than one category within the iOS App Store or in App Annie Store Stats rankings.

In Google Play, an app can be categorized under only one category, so there is no double-categorization.

Occasionally, a publisher may decide to shift an existing app from one category to another category. In these cases, the App Annie Index will rank that app based on how it is categorized in the subsequent month. Given that the App Annie Index has a Games report and an Apps report, the scenario where an app's recategorization could shift it from one Index to another is if its category changes from the Games category to a category other than Games or vice versa.
In the App Annie Index, all apps and publishers are reported under their parent company, where available; for example, the Viewn(ビューン) app is reported under its parent company SoftBank (ソフトバンク株式会社), rather than its direct publisher Viewn (ビューン). Note that if you view the SoftBank (ソフトバンク株式会社) parent company page on Store Stats, you will see the publishers under the parent company SoftBank, including Viewn. The Viewn(ビューン) app will be listed under the Viewn

publisher page.

Company and app rankings are based on the App Annie DNA relationships at the time of publications. App Annie DNA relationships are subject to change over time.

App Annie Index revenue rankings are based on revenue that the iOS App Store and Google Play earned from paid downloads and in-app purchases. They do not include revenue earned from in-app advertising.

Certain trademarks and/or images used in this report may belong to third parties and are the property of their respective owners. App Annie claims no rights in such trademarks or images.