Have you ever been tasked with finding fast-growing app publishers before they became huge? Anyone who's tried will tell you — it's no easy task given the sheer number of companies releasing apps.
Recognizing this, our analysts created a framework that makes identifying and tracking top-growing companies much easier. Whether you're putting together an app industry investment portfolio, deliberating your next partnership or acquisition, or simply building out a competitive analysis, our latest report will give you the tools to make informed decisions.
We're excited to announce the release of our newest report, The App Annie Matrix: A Tool to Identify Breakout Companies. You don't need to be a seasoned financial analyst or strategy consultant to get value from this report — we designed it with a large range of users in mind. Inside you can find our framework for identifying high-growth companies demonstrated through real examples and videos. You're about to get a lot savvier.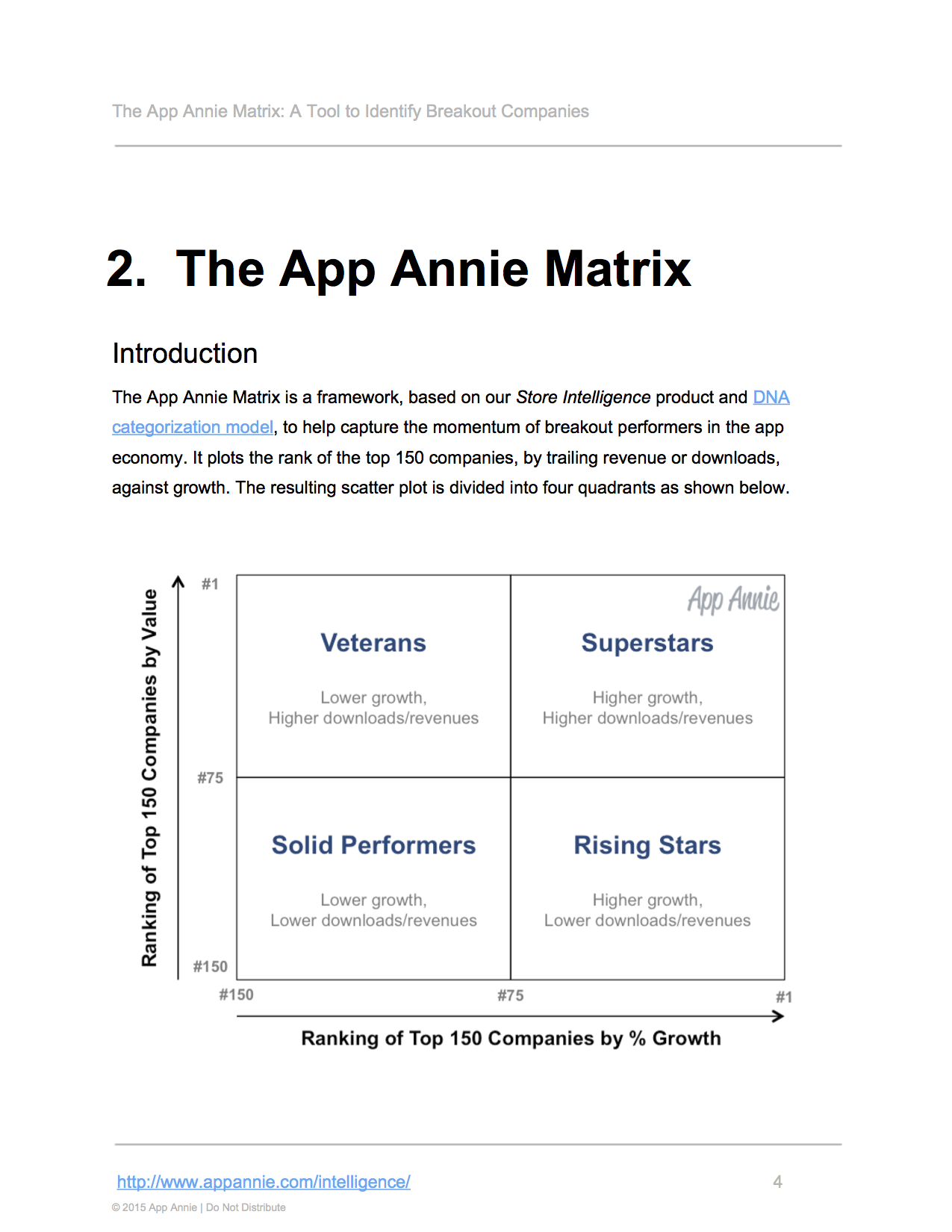 The App Annie Matrix, our tool for identifying high-potential companies before they hit it big.
Below is what you can learn from our free report:
How to use the App Annie Matrix framework to identify breakout app publishers before they become the next Uber
Real examples from Q1 2015 demonstrating how publishers (of both games and non-games) went from good to great
Case studies looking at companies over longer time periods, tracking changes that coincided with app store success and funding rounds
To gain access to the full report, click the download button below:
Want More? App Annie Has It
Subscribe to our blog to see more app industry reports, conference updates and product news. We love hearing from our readers, so share your questions and comments below or on Twitter.
Want to perform your own analysis? Create a free Store Stats account or request an Intelligence demo today.