New data from data.ai shines a spotlight on Indonesia's high-growth industries: +180% hours spent on retail apps and +93% hours spent on video streaming apps since 2019
Indonesia is among the fastest growing mobile markets in the world. In data.ai's latest spotlight report, we shine a light on this dynamic market to help publishers succeed on mobile. Overall, new app downloads in Indonesia surpassed 7.3 billion in 2021, a 33% increase from pre-pandemic levels in 2019. App store consumer spend also saw a 38% increase since 2019, exceeding $1K per minute in 2021. It is notable that daily time spent per user in Indonesia reached 5.4 hours, tying with Brazil as the most mobile-engaged market in the world in 2021. Download our latest report to find out what makes the Indonesian mobile market unique and how publishers can grow their mobile businesses in the rapidly expanding Indonesian market.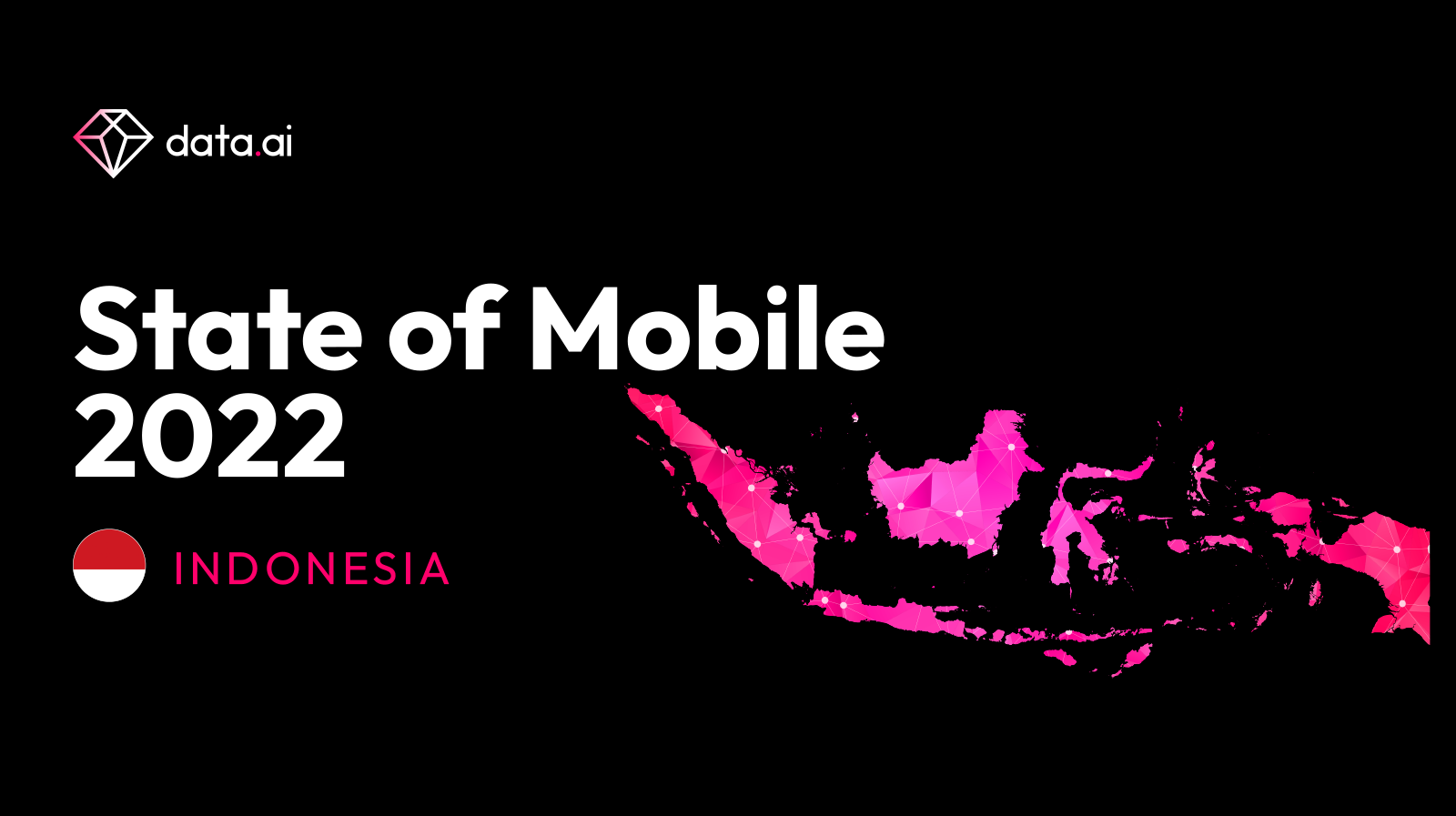 Indonesians Collectively Spent 156 Billion Hours on Mobile in 2021 — The Fifth Highest Globally and the Highest 2-Year Growth Rate in APAC
Indonesia shattered records in terms of growth in time spent on video streaming apps, as well. Total time spent among the top 20 video streaming apps surpassed 27 billion hours, up by 93% since 2019, the highest percent increase among all markets analyzed and nearly 3x the growth rate worldwide. Top apps included global brands such as YouTube, MX Player, Netflix, YouTube Kids and Viu. And for Indonesia-based Vidio, time spent surpassed 174 million hours, landing it at #8 in 2021.
Over the past two years, video apps such as MX Player, Vidio, and Mola TV held steady in terms of total time streamed, but newcomers such as bilibili and Nonton Anime Streaming Anime quickly climbed the ranks. The country's appetite for a range of different types of content — from bilibili (#11 by total time in 2021) to Twitch (#12) to Nonton Anime (#13) to CNN Indonesia (#20) — offers an opportunity for publishers across multiple genres to reach their target audience where they are spending time — on mobile.
Shopping Apps on the Rise: Indonesians Collectively Spent More Than 5.5 Billion Hours on Mobile Retail Apps in 2021, the 3rd Highest Globally After China and India
Shopping apps were another category that saw tremendous growth in total time spent in Indonesia. Since 2019, time spent on retail apps rose from 2 billion to nearly 5.6 billion in 2021, a 180% increase. The pandemic accelerated the momentum as the 2-year growth rate for Indonesia was the 6th highest in the world. In fact, even compared to 2020, time spent in retail apps in Indonesia saw a 52% increase YoY — growing 2.9x faster than the global market at 18% YoY. It is clear that Indonesia is a rapidly growing retail market, and publishers should take note of consumer trends, demographic preferences and cultural differences to succeed in this mobile-first market. Our latest report will help you do that.
Download the full report to see breakout apps in Indonesia across gaming, finance, dating and more!
Although the vast majority of shopping app downloads in 2021 were from overseas headquartered brands, some notable apps saw the highest increase in download volumes YoY. In fact, the top 4 shopping apps by breakout downloads (Akulaku, MyPoin, Tokopedia and Mitra Bukalapak) were all homegrown apps, signaling a potential opportunity for local app publishers as well as marketers looking to craft campaigns and partnerships relevant to their local audience.
Video streaming and shopping apps are just some of the industries covered in the 60-page report. For a comprehensive view of the state of the mobile economy to help you grow your mobile business in Indonesia in 2022, read the full spotlight report.
Download the Report Today to Uncover What Makes Indonesia Unique and How Publishers Can Succeed in this High-Growth Market:
Indonesia is one of the world's fastest growing mobile markets. To uncover deeper insights into what makes Indonesia unique, check out our latest report: State of Mobile 2022: Spotlight on Indonesia. Insights include:
Indonesia's rapidly growing mobile industries —

and where Indonesians spend a third of their waking hours on mobile

Where downloads, time spent and consumer spend are growing —

and how you can capitalize on this market growth

What industries are growing the fastest in Indonesia — gaming, video streaming, shopping, dating, and more —

and what strategic opportunities emerge

What keywords are in demand in Indonesia —

and how you can maximize your App Store Optimization strategy to drive organic growth

What apps and games are seeing breakout growth —

and how you can map early indicators of consumer behavior shifts to your product roadmap

And more!
DISCLAIMER:
data.ai is a mobile market estimate service provider. data.ai is not registered in any investment advisory capacity in any jurisdiction globally, and does not offer any legal, financial, investment or business advice. Nothing contained in this communication, or in any data.ai products, services, communications, or other offerings, should be construed as an offer, recommendation, or solicitation to buy or sell any security or investment, or to make any investment decisions. Any reference to past or potential performance is not, and should not, be construed as a recommendation or as a guarantee of any specific outcome. You should always consult your own professional legal, financial, investment and business advisors. Additionally, by providing the information herein, data.ai does not make any representations or warranties and does not undertake any legal or contractual obligations whatsoever. No liability may accrue to data.ai as a result of providing this information to you.