New data from App Annie confirms India's market-leading status; 24bn apps downloaded this year so far – and Indians download one in five of all mobile games.
According to the United Nations, India is expected to become the world's fastest growing economy next year. It will grow by 6.7% in 2022.
The number one tag also applies in the mobile context. New data from App Annie reveals India to be the 2nd largest market in the world for app downloads to date in 2021. This is building on an impressive 2020, in which Indian consumers installed 24 billion apps – up 28% year on year.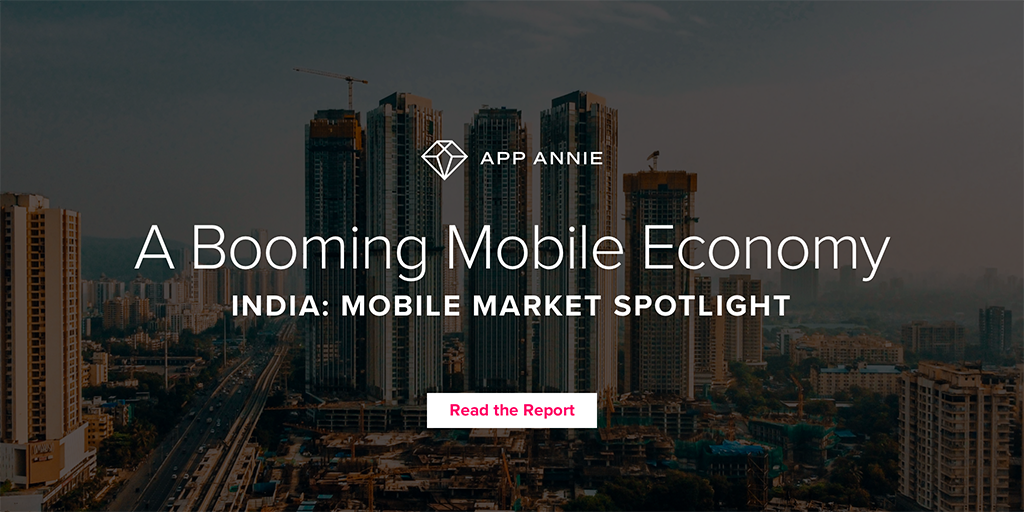 And this growth is reflected in app engagement too. 2020 was the year in which Indian consumers (on average) spent more than four hours a day in apps for the first time. In total, that added up to a collective 651 billion hours for the year.
Indeed, at 4.6 hours on average per day per person in Q3 2021, India now ranks among the most mobile-first consumers in the world.
India's Passion for Gaming Takes It To the Top
Just as impressive, India is also the world's top market for mobile gaming – at least in terms of downloads across iOS and Google Play. In H1 2021 Indian players installed 4.8 billion games. That's one for every five globally.
The top game for the period (by downloads and active users) was Ludo King, a free-to-play title developed by Indian studio Gametion Technologies. The game is a mobile riff on the board game, Ludo, which is actually based on the ancient Indian game of Pachisi.
Although Ludo King is locally developed, it is something of an anomaly. In fact, domestic titles barely figure in the India games charts; just 7.6% of the top 1000 are made by homegrown publishers. The situation is very different in other regions. In China, the home grown ratio is 60%.
Consumers and Merchants Embrace Digital Payments – and App Developers Respond
Another area in which India is a true pace-setter is mobile payments. In 2016, the government took the bold step of launching the Unified Payments Interface. UPI lets people link an alias (mobile number, fingerprint) to their bank account. They can then move money easily without disclosing bank details.
The move has accelerated the take-up of digital and mobile payments on and offline. Indeed, the volume of UPI transactions doubled in a year to reach nearly 8 billion in Q2 2021 alone.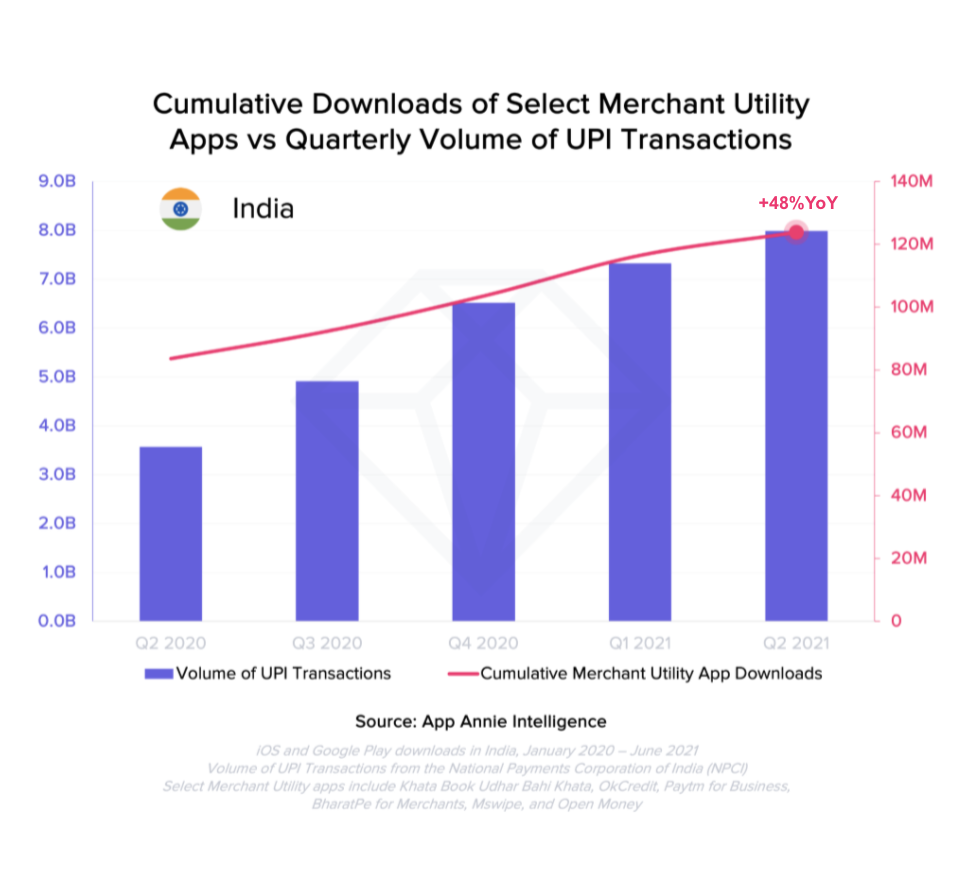 This growth has created a significant opportunity among developers to create apps for merchants. Vendors need products that make it easy to keep accounts, create sales reports and provide good customer care. According to our numbers, one of the market-leading products Khata Book had 14 million average smartphone monthly active users in India in Q2 2021.
A parallel opportunity created by the UPI-led digitization of payments has been in 'buy now pay later' and credit apps. Products such as StashFin, Dhani, Kissht and Slice Super Card make it possible for consumers to access near-instant credit.
Our numbers reveal rapid growth in this market sector. Downloads of Dhani, for example, passed 60m in Q2 2021.
Download the Report Today:
India is certainly one of the world's most dynamic mobile markets. To uncover deeper insights into what makes India unique check out our latest report: India: A Booming Mobile Economy. Chapters include:
Mobile Market Overview
Mobile Gaming Trends
Finance Trends 
Social Networking & Video Streaming
Shopping & Food 
Health & Fitness
Travel & Navigation
App Store Optimization