New data from data.ai confirms India's rapidly growing mobile economy; 27 billion apps downloaded in 2021 – or 800 thousand apps downloaded per minute – as verticals like Social, Finance, and Shopping apps saw remarkable growth.
Overall, India saw 26.7 billion apps downloaded in 2021, a 41% increase from pre-pandemic levels in 2019. App store consumer spend also continued to rise this past year, up 12% since 2019 to nearly $420 million annually. 
As the #2 market for downloads and #2 for total time spent, global app publishers should pay attention to India's skyrocketing mobile economy. Our latest spotlight report deep-dives into what makes the India mobile market unique.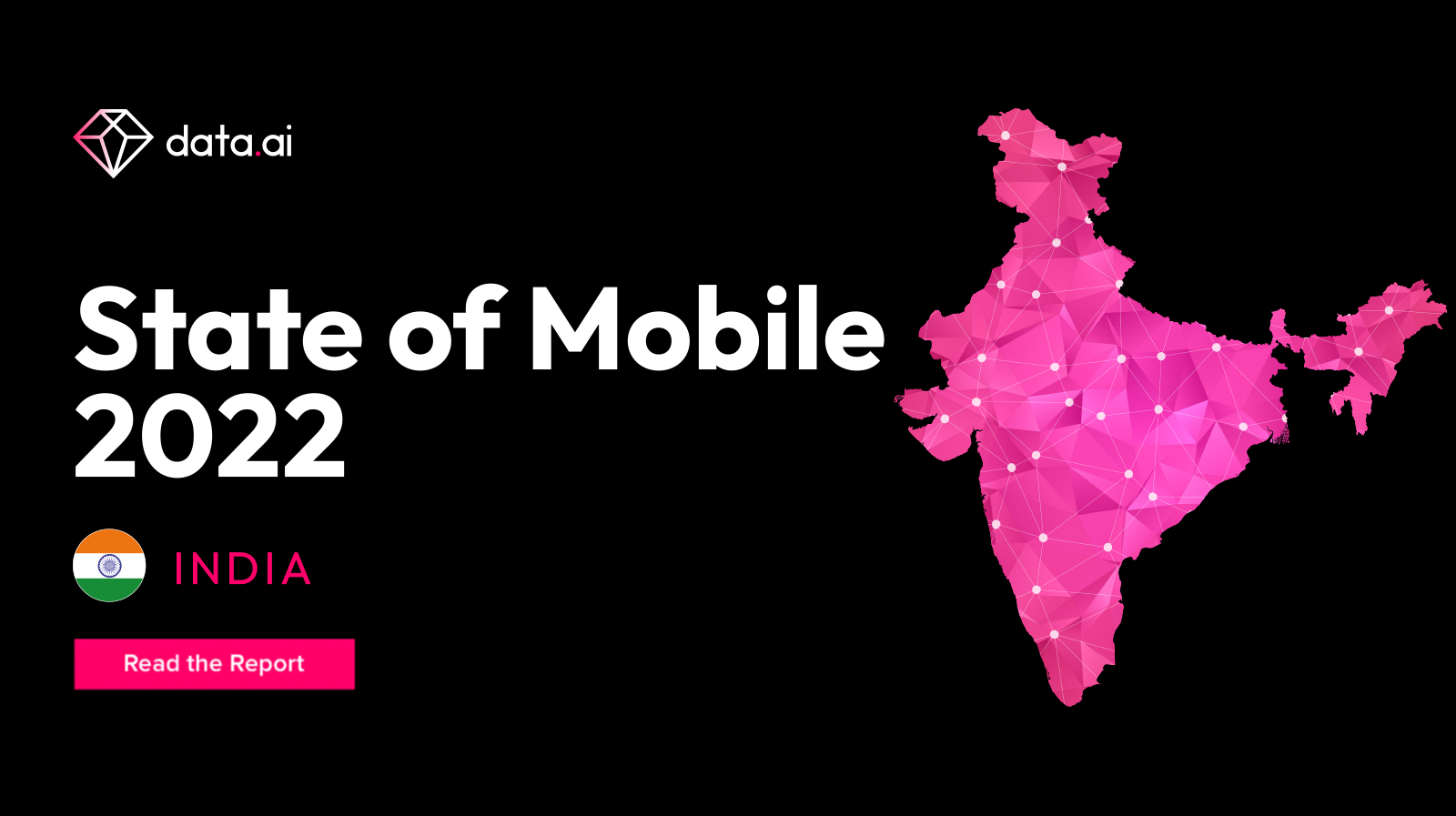 Remarkable Growth in Finance and Shopping Apps as Consumers In India Adopt a Mobile-First Finance and Shopping Lifestyle
2021 has been a record-breaking year for India's mobile finance market. Downloads of finance apps grew nearly 30% year-over-year to more than 1.1 billion in 2021. Globally, India contributed to 19% of all Finance app downloads last year — meaning 1 of every 5 Finance app downloads came from India.  
Several segments drove growth within the category, with especially strong growth among notable crypto and trading apps. In fact, several of the top finance apps by year-over-year downloads in the market were apps like CoinSwitch, Upstox Pro, CoinDCX Investment and WazirX.  
Shopping was another rapidly growing category in India. In 2022, users spent 16% more time in their favorite shopping apps compared to the year before. This equates to 7.6 billion hours — just in mobile apps. Driving growth in the market was fast fashion, social shopping, and mobile-savvy big-box players. 
Across the globe, overseas shopping apps grew their international footprint and grew market share in many countries. However, India was one region where the mobile shopping market saw an increasing share of downloads from native-HQ retail brands. More than 42% of all downloads were from India-HQ'd apps shopping apps. This is an 8% increase in native app downloads compared to the year before, where just 34% of downloads came from India-based publishers. In fact, 8 of the top 10 breakout Shopping apps by downloads in India came from India-HQ'd publishers with Meesho topping the list.
Download the Report Today to Uncover What Makes India Unique as an Emerging Region Across Multiple Industries:
India is one of the world's fastest growing mobile markets. To uncover deeper insights into what makes India unique, check out our latest report: State of Mobile 2022: Spotlight on India.
Insights include:
India's Mobile Market Overview

Mobile Gaming Trends

Finance Trends

Social Networking & Video Streaming

Shopping & Food

Health & Fitness

Travel & Navigation

App Store Optimization

And More!
DISCLAIMER:
data.ai is a mobile market estimate service provider. data.ai is not registered in any investment advisory capacity in any jurisdiction globally, and does not offer any legal, financial, investment or business advice. Nothing contained in this communication, or in any data.ai products, services, communications, or other offerings, should be construed as an offer, recommendation, or solicitation to buy or sell any security or investment, or to make any investment decisions. Any reference to past or potential performance is not, and should not, be construed as a recommendation or as a guarantee of any specific outcome. You should always consult your own professional legal, financial, investment and business advisors. Additionally, by providing the information herein, data.ai does not make any representations or warranties and does not undertake any legal or contractual obligations whatsoever. No liability may accrue to data.ai as a result of providing this information to you.