Introducing the App Annie Index top 52 publishers of 2012
This never-before-seen data is the basis of our App Annie Index playing cards. We hope you enjoy it as much as we did creating it for you.
Last year, we launched our App Annie All-Star collection trading cards, which provided stats on the top grossing 50 publishers of 2011, based on worldwide iOS revenue.
Using the advanced market data we have from App Annie Intelligence, and new Google Play data we collected in 2012, we've taken things further this year!
Based on total 2012 grossing revenue for iOS and Google Play worldwide, we present you with the movers and shakers of the app publishing world, in the form of a premium collection of App Annie Index branded playing cards that you can enjoy with all your friends!
For your reference, here is the exclusive list of the top 52 grossing publishers listed on the cards: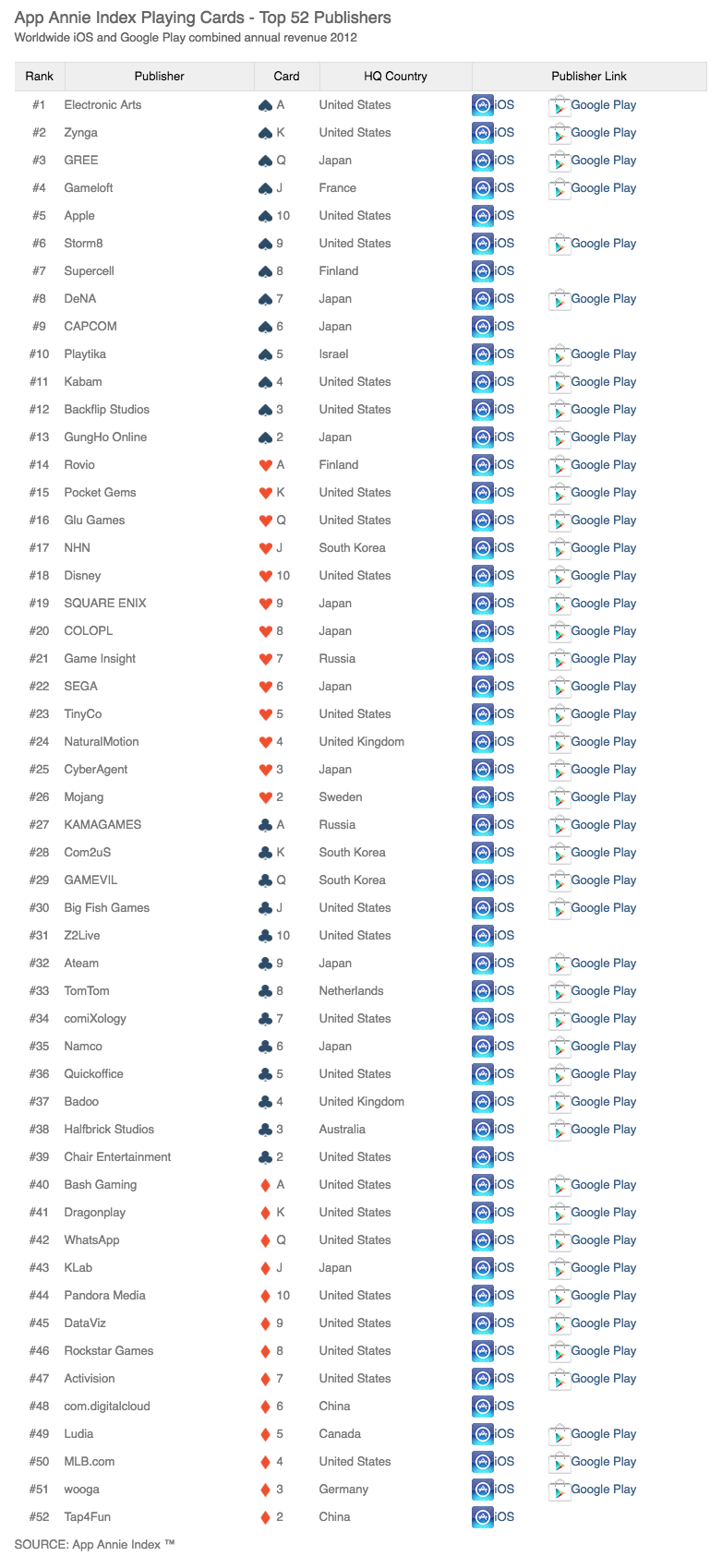 Top 52 app publishers? What data is this based on?
How do we know which app publishers earn the most money? Math, statistics and data.
Our premium service App Annie Intelligence uses advanced statistical models combined with anonymized datapoints to generate the most accurate market estimates available for app stores today. App Annie sits on the most comprehensive market data for Google Play and iOS app store ecosystems. We use this data to define the Top 52 in terms of total worldwide iOS and Google Play combined revenue from January to December 2012 inclusive.
Get this data behind your business decisions: learn more about App Annie Intelligence.
I really want these App Annie Index playing cards!
We'll be giving these away at conferences - so subscribe to the blog below by subscribing below to know where we'll be next.
With the number of conferences we'll be attending this year, chances are high that the cards may end up somewhere in your neighborhood, so keep your eyes peeled!