Average revenue per user is one of the most important metrics for mobile gaming publishers. Learn how ARPU varies across gaming categories and regions.
Average revenue per user (ARPU) is one of the most important metrics that mobile game publishers use to understand their current games, plan out their portfolio strategy, and gain greater insights into the state of the app market. Benchmarking this vital metric is critical, and can help you better understand your competitors' performance and how you stack up in comparison.
In our latest report, we examine how ARPU varies across country borders for iPhone games in China, Japan, South Korea, the United Kingdom and the United States.
Japan stole the show — its top 30 games by revenue averaged over twice the ARPU of those in China, the US, UK and South Korea. This can be credited to the dominance of role-playing games and the strong monetization of gamers in the country. China has also seen incredible growth, with monthly ARPU increasing 10x since Q1 2014, when smartphone penetration started to take off.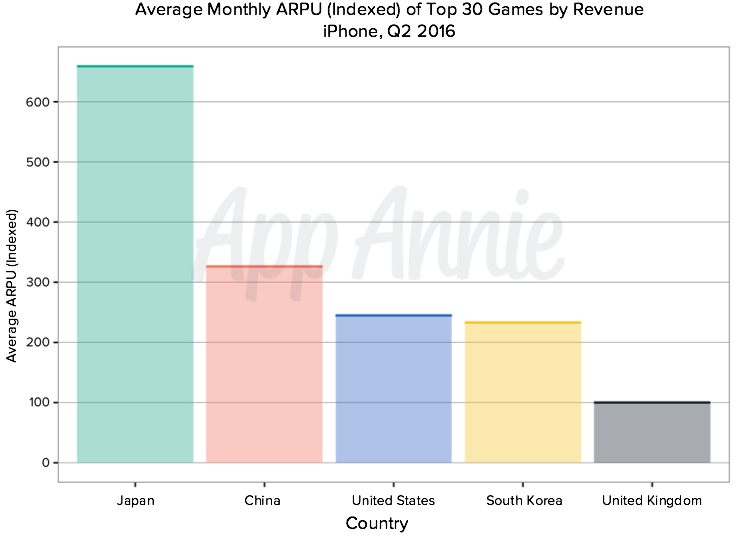 It's important to remember that, in addition to countries, ARPU varies across gaming subcategories. In the US, for instance, core games with highly engaged fan bases like Game of War - Fire Age drove the Strategy category to far exceed categories like Puzzle and Adventure in ARPU. This is why it's important to evaluate country- and category-level data while deciding which markets have the highest monetization potential.
Download our complimentary report to understand ARPU trends across countries and what this means for mobile games.
To get the full report, click the download button below:
Learn how to perform analyses like this and deepen your understanding of the app market. Request a free demo of App Annie Intelligence.