Mobile apps — from airlines to ride-sharing to booking sites — are playing an increasingly vital role in our entire travel experience. And they're just getting started.
In a few weeks in the US, college students, parents and their children, and even millennials in the workforce will travel for Spring Break. Many will head south with beach towels and bathing suits in hand. Another thing they'll have in hand: their smartphones and a collection of useful travel apps.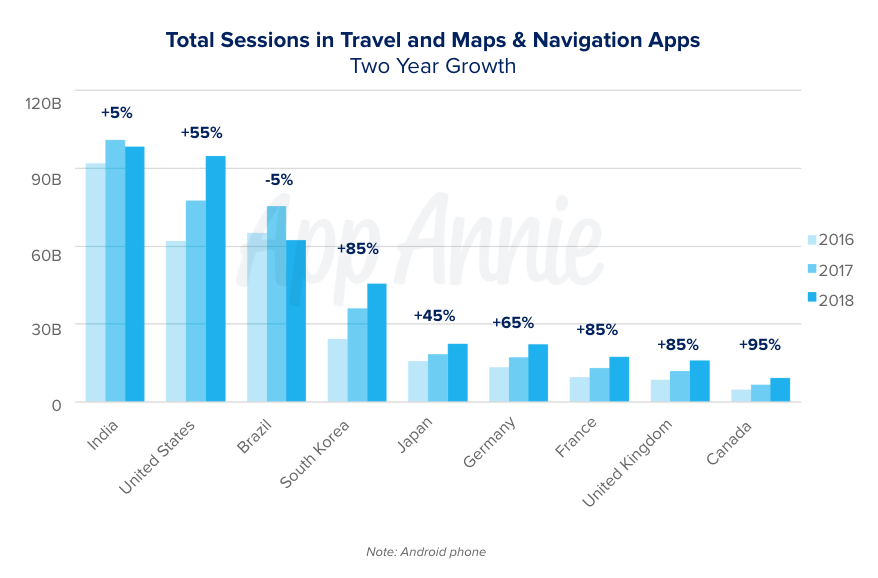 Our 2019 State of Mobile Report found that travel apps continue to gain significant traction in terms of total sessions and overall adoption. This growth is particularly poignant in established markets like France (85% increase in total sessions since 2016) South Korea (85%), the United Kingdom (85%) and Canada (95%), which led the way in growth of total sessions among markets analyzed.
This growth is in spite of a major obstacle the industry faces: people simply do not travel every day. In theory, they shouldn't be using these apps every day, either. In a world where stickiness is vital to mobile success, travel apps from Google Maps to Airbnb to airline apps have thrived nonetheless. Consumers use these apps not just to travel, but to research, book, and keep an eye on the best travel deals. Waze and Google Maps are used for daily commutes, and some even use certain apps for "staycations" — such as getting a hotel room on Hotels.com last minute or discovering new walking routes in your home city through City Walks.
Meanwhile, airline travel apps have come a long way in just a few years. In the past, they might have predominantly been used to scan your boarding pass. Now, these apps have become an integral part of airline travel. Travelers now turn to mobile to improve their flight experience, from booking to deplaning, and even in-flight entertainment. For frequent airline travelers, these apps operate as a central hub. They can use apps to research prices, book flights, deal with customer service, manage their rewards programs, watch live TV and track their flight while airborne. The airlines' investment in these apps have paid off: globally, the average MAU for the top 5 airlines apps grew 55% from 2016 to 2018. This helps airlines be more efficient and profitable by streamlining the check-in process, reducing costs for TV screens on every seat, and reducing customer service call centers.
Once travelers land at their destination, there are numerous travel apps to help them get around. Both ride-sharing apps and bicycle- and scooter-sharing apps saw encouraging signs from the market. In the US, where they both have gained initial traction, ride-sharing apps continued to sustain their massive user base. Bike and scooter sharing apps, such as Lime and Bird, however, were newer market entrants and grew a remarkable 530% year over year in monthly active users in the US, albeit from a much smaller user base.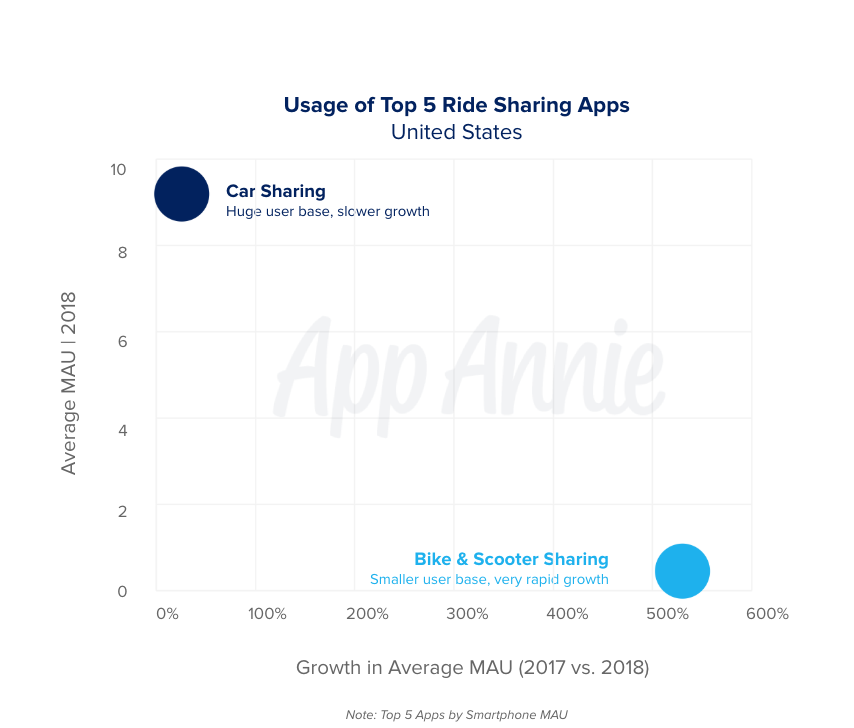 Whether by land, sea or air, mobile will play an increasing role in the entire future travel experience. TripAdvisor launched a new app in November that creates a social feed of friends and travel experts to get relevant recommendations. Already some airlines like easyJet are using augmented reality (AR) to help customers see if their luggage can be carried on, while American Airlines is testing AR features that will guide customers through unfamiliar airports and terminals. Airbus is developing its capabilities to improve the in-flight experience, such as a new app that identifies points of interest they're flying over.
So if you're one of the many Americans heading out on Spring Break this month, grab your phone and make sure you have the latest apps to help you navigate and enhance your travel experience.
To uncover more on the state of mobile for travel in 2019 download our latest report: