On November 17, Apple announced that UnionPay, China's largest bank card network, was added as a payment option for iOS App Store in China, joining VISA, MasterCard and American Express. While these credit cards are usually only owned by the middle- and upper-class, a significant number of Chinese citizens have at least one UnionPay credit or debit card. Instead of having to add money to their Apple ID account, this massive segment of Chinese consumers can now conveniently make direct one-tap purchases of apps.
Although media outlets recognized that this would drive a significant increase in revenue in the China iOS App Store, few could have expected the impact to be so immediate. Two days after the announcement, Apple began a promotion that offered more than 100 paid apps and games for just CN¥1.00 (approximately US$0.16), during which they pushed UnionPay as a payment method.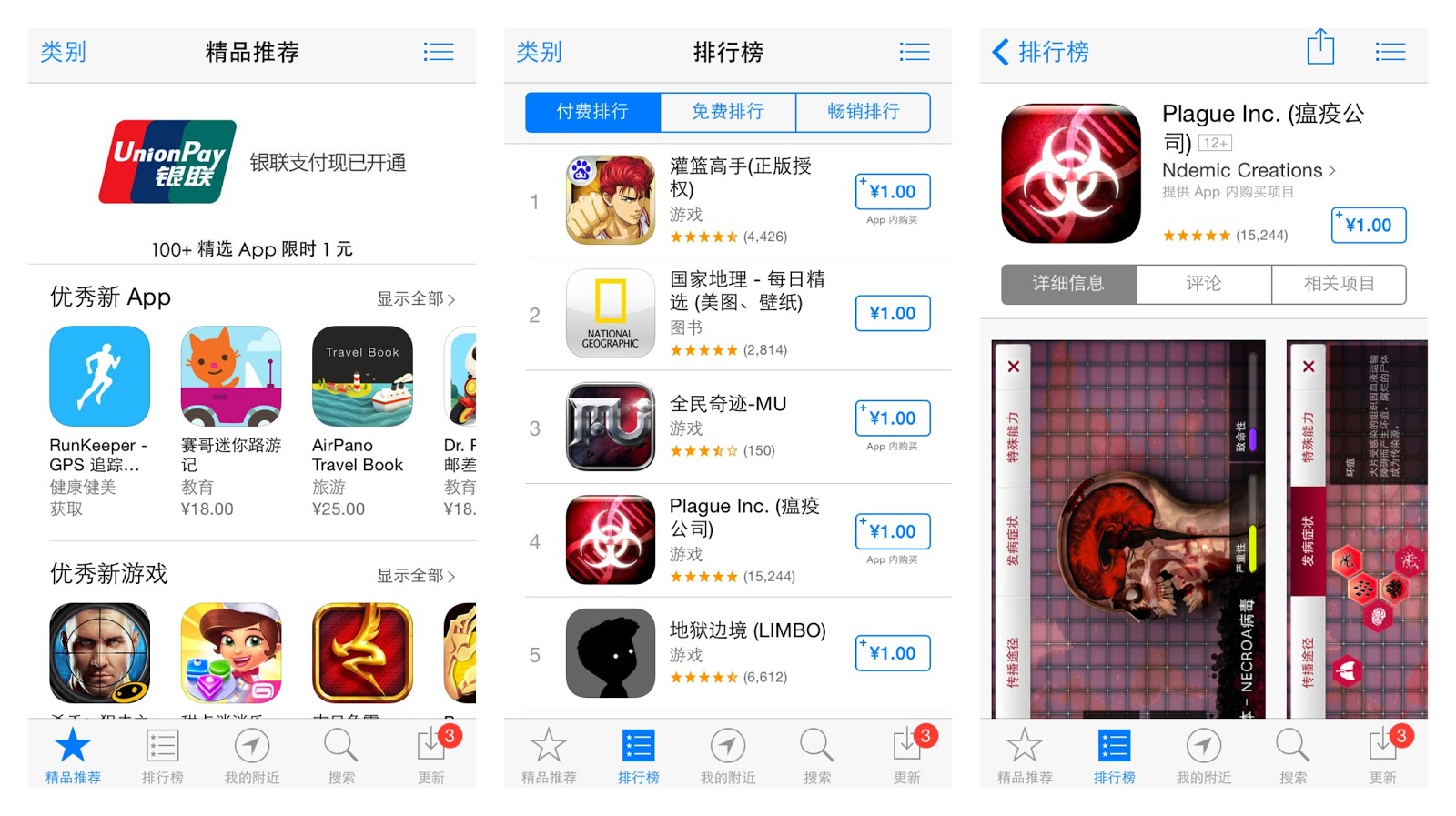 Two days after connecting with UnionPay, the China iOS App Store initiated a promotion on more than 100 paid apps, many of which were top-ranked.
The news of this promotion quickly spread, especially over the launch weekend. App Annie Intelligence shows that the total number of paid app* downloads in the China iOS App Store during the week of November 16-22 was more than 12x the previous week's. The download spike continued into the following week, with numbers returning to pre-promotion levels around November 26.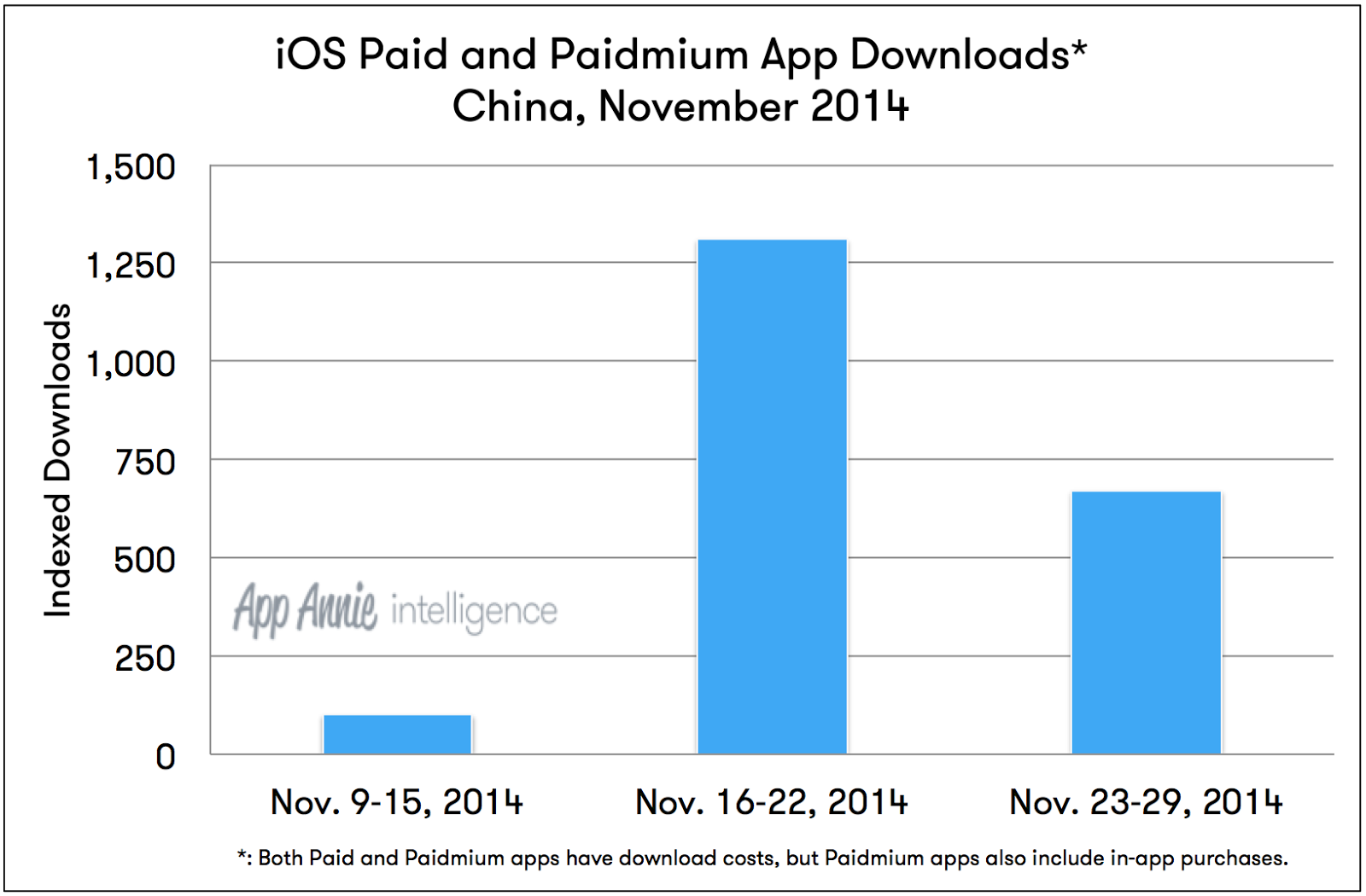 The promotion was followed by an increase in downloads of paid apps in the China iOS App Store, especially for games (Plague Inc., LIMBO Game) and productivity apps (GoodReader 4).
Even though more than 100 paid apps were included in the promotion and lowered their prices as much as 80%, the revenue generated from paid apps** still increased tremendously. Between November 16-22, paid app revenue in the China iOS App Store increased by more than 50% compared to the previous week.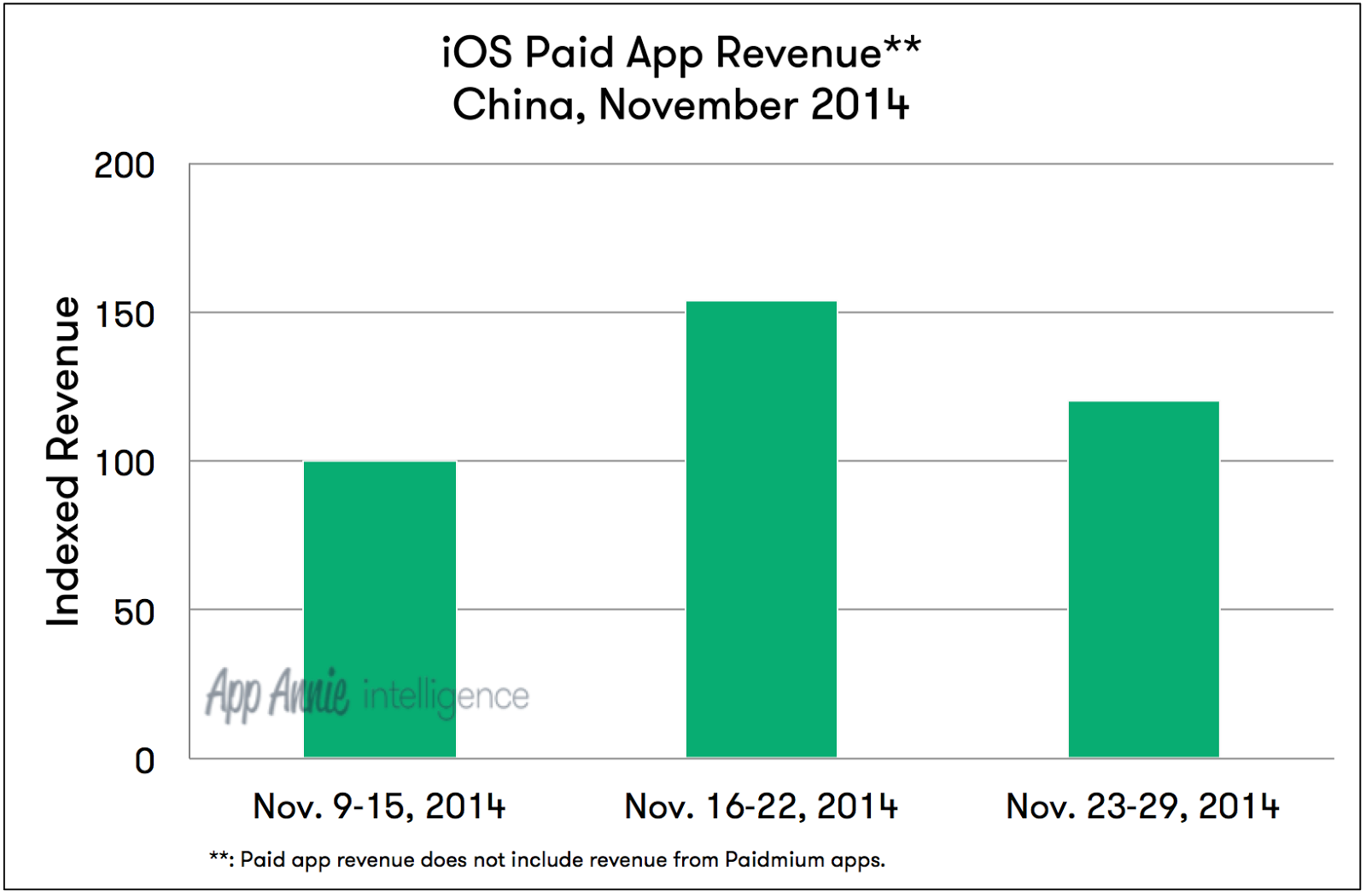 Although the prices of promoted apps were cut, the overall revenue generated by paid apps still increased.
Although the promotion ended on December 4, Apple kept two new alternative pricing tiers that allow developers to offer unique pricing in China. Originally, apps priced at US$0.99 in the United States were priced at CN¥6.00 in China. With the two new alternative tiers, developers can now provide these apps for CN¥1.00 or CN¥3.00.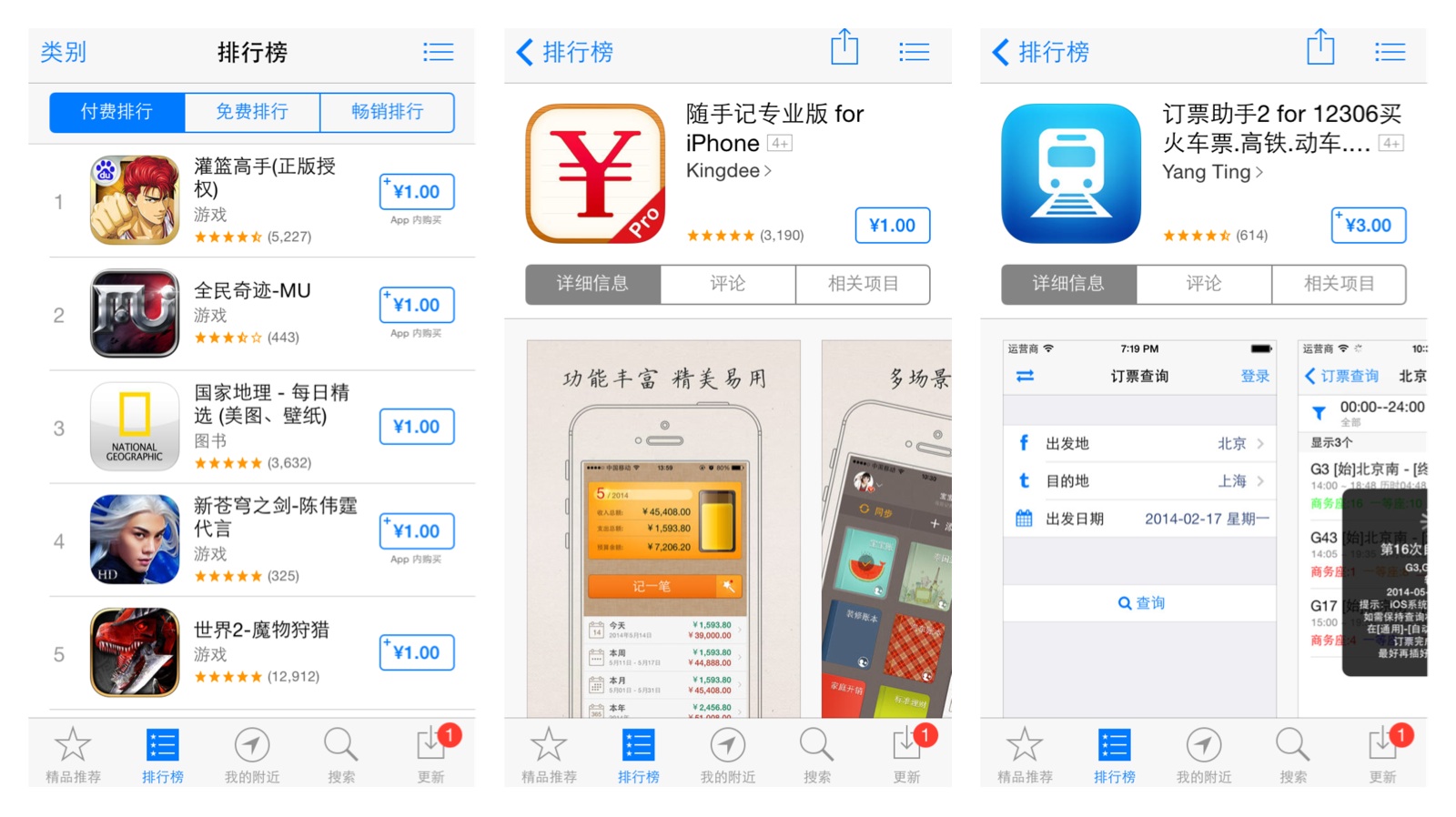 The CN¥1.00 and CN¥3.00 pricing tiers are now permanent additions in China.
Convenience, along with affordable and simple pricing, is a key driver of digital content sales, which was the way Apple reinvigorated the music industry. As Ed Nash of The New York Times illustrated in his story, "With iTunes, Jobs not only provided a legal alternative, but a more convenient alternative. He understood that people would pay 99 cents a song if it were easier than stealing, and of equal importance he understood that the vehicle -- the iTunes application itself -- would need to be free." During this promotion, many users downloaded their first paid game, or even their first piece of digital content. These lower price tiers could change the future of China's digital content industry.
More importantly, by boosting the population of paying customers on the China iOS App Store, Apple can grow sales of all iOS-hosted digital content, in turn expanding its ecosystem by attracting local app developers and service providers to bring additional apps and content to the iOS platform. This is critical to Apple's success in China. Local Chinese mobile phone makers like Xiaomi and Huawei are quickly adding localized cloud services, mobile payment solutions, wearable devices, smart home appliances and more to their portfolios -- striving to build ecosystems similar to what Apple offers. This helps set the stage for the next interesting trend as competition among these rival ecosystems for developers and resources is intensifying.
Notes:
The indexed app download and revenue estimates reported in this blog post are based on data available through App Annie Intelligence.

App Annie revenue estimations are based on revenue that the iOS App Store and Google Play earned from paid downloads and in-app purchases. They do not include revenue earned from in-app advertising.

Certain trademarks and/or images used in this report may belong to third parties and are the property of their respective owners. App Annie claims no rights in such trademarks or images.

* Both Paid and Paidmium apps have download costs, but Paidmium apps also include in-app purchases.

** Paid app revenue does not include revenue from Paidmium apps.