Huge demand for workout guides, contact tracers and wellness apps as consumers try to stay healthy – and safe – at home.
If you can guarantee one thing about the Health and Fitness app market it is this: downloads will explode in January, then taper during the rest of the year. Why January? Simple. It's when holiday excess and New Year resolutions inspire millions of people to get fit. 
But, as we know, last year was different. In 2020 it was April, not January, that saw the biggest spike in downloads of Health and Fitness apps globally at 276 million, up 80% year over year. We tend to see consumer spend spikes follow downloads shortly after, which was true in the months after April but spend hit a global high of $185 million in August 2020, up 45% year over year. 
March was, of course, the start of COVID-19 lockdown in most regions. With gyms closed, people looked for different ways to get active. Hence the sudden surge. Health and Fitness app downloads hit 59 million during the week of March 22, 2020 — up 40% on the weekly average for January and February 2020.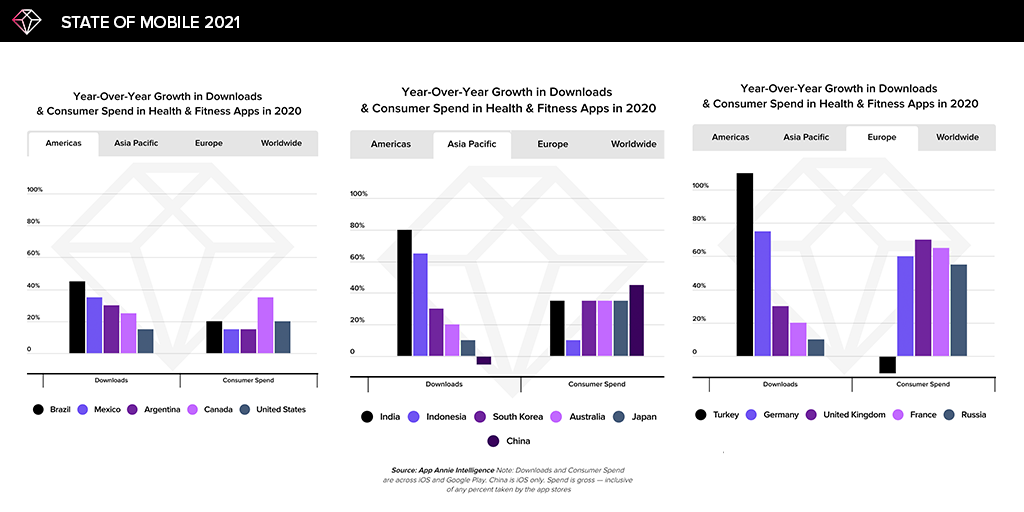 Annual Spending on Health and Fitness Apps Nears $2 Billion
And now our State Of Mobile 2021 report confirms that the health and fitness sustained its impressive performance across the full 12 months. Key data points include:
Health and Fitness – App Store Consumer Spend up 30%
2020: $2.0 billion
2019: $1.5 billion
Health and Fitness – App Downloads up 30%
2020: 2.6 billion
2019: 2.0 billion
Health and Fitness – Time Spent up 25%
2020: 5.4 billion hours 
2019: 4.3 billion hours
Note: Android phones
The high numbers applied across all regions we measure. That said, some countries experienced particularly remarkable growth. Downloads leapt by 80% in India, 75% in Germany and 110% in Turkey.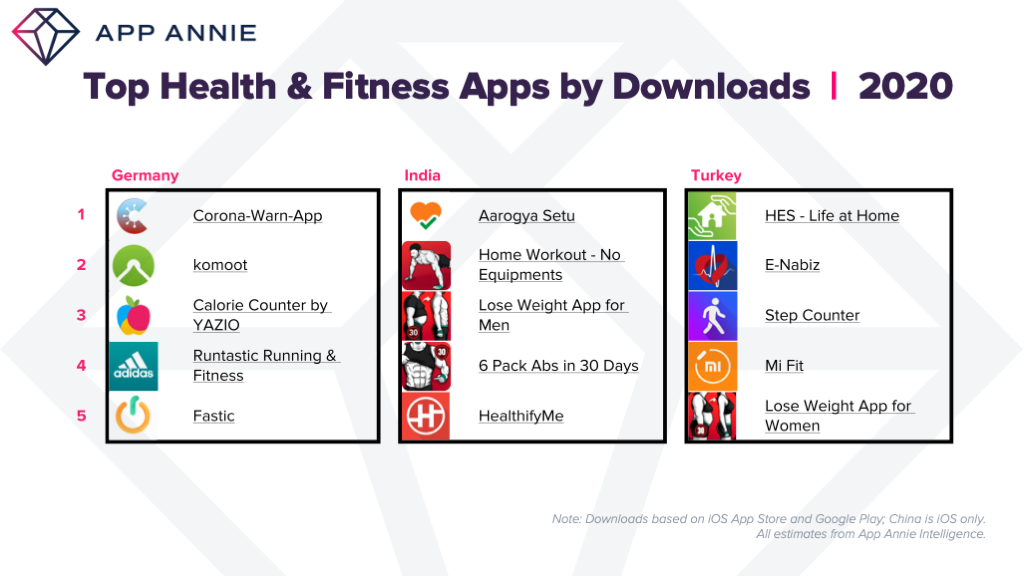 In terms of consumer spend the biggest spikes came in Germany (up 60% to $99.5 million), France (up 65% to $62.8 million) and the UK (up 70% to $172 million).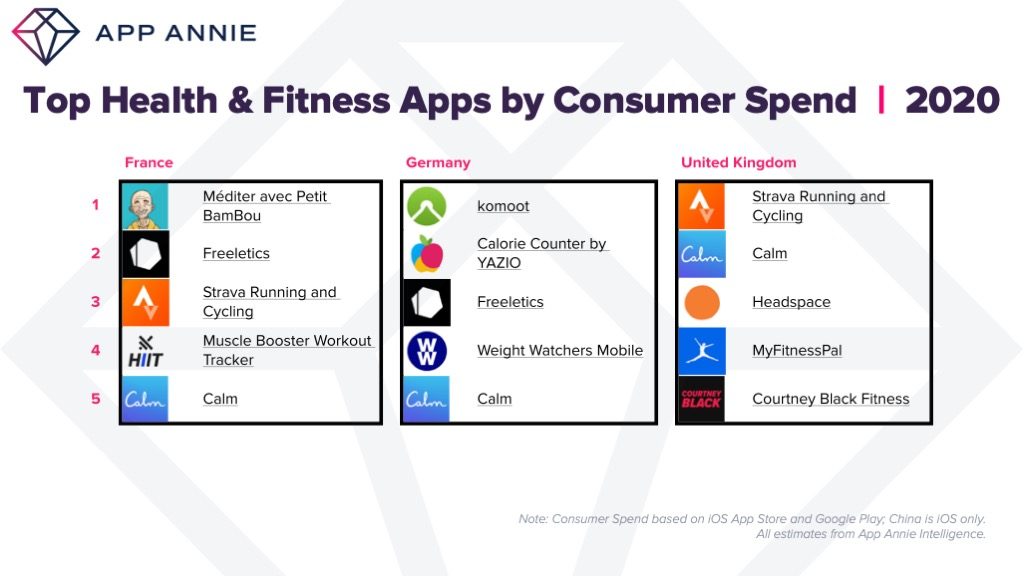 App Developers Launched More than 71,000 New Health and Fitness Products in 2020

Given the surge of demand for health and fitness apps, it's no surprise that developers rushed to provide consumers with a range of new products. We estimate that in 2020, more than 71,000 health and fitness apps were released globally. That's up 13% on 2019. On iOS, the number was 24,000. On Google Play it was 47,000.
There was a clear diversity in the top apps, which is revealed in the yearly charts. One of the main categories of contributors were workout and fitness apps. The standout performers in terms of worldwide downloads were Home Workout - No Equipment (# 2), Mi Fit (#3) and Lose Weight App for Women (#4).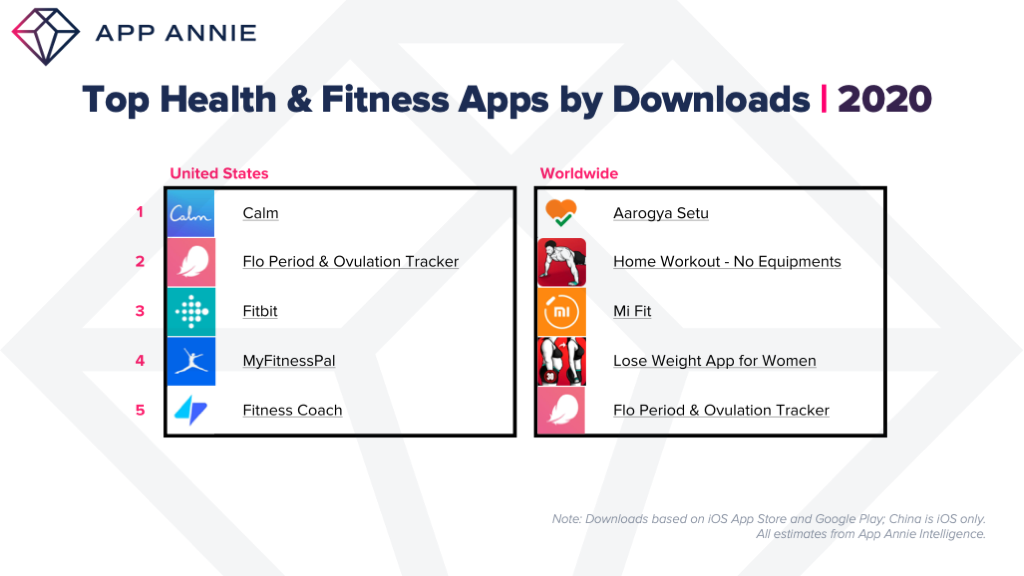 Sleeper Hit: Calm Helps People Cope with Anxiety – and Leads the Health and Fitness Category in Consumer Spend 
However, health and fitness is not just about physical exercise. The isolation and anxiety caused by lockdowns drove up demand for apps that improve mental wellbeing. Indeed, the top global product in terms of consumer spend for 2020 was the meditation/sleep app Calm. In 2020, Calm even moved into the corporate space. It sealed a partnership with American Express to give cardholders free access to Calm as a membership extra. In fourth place was another wellbeing and mindfulness product, Headspace.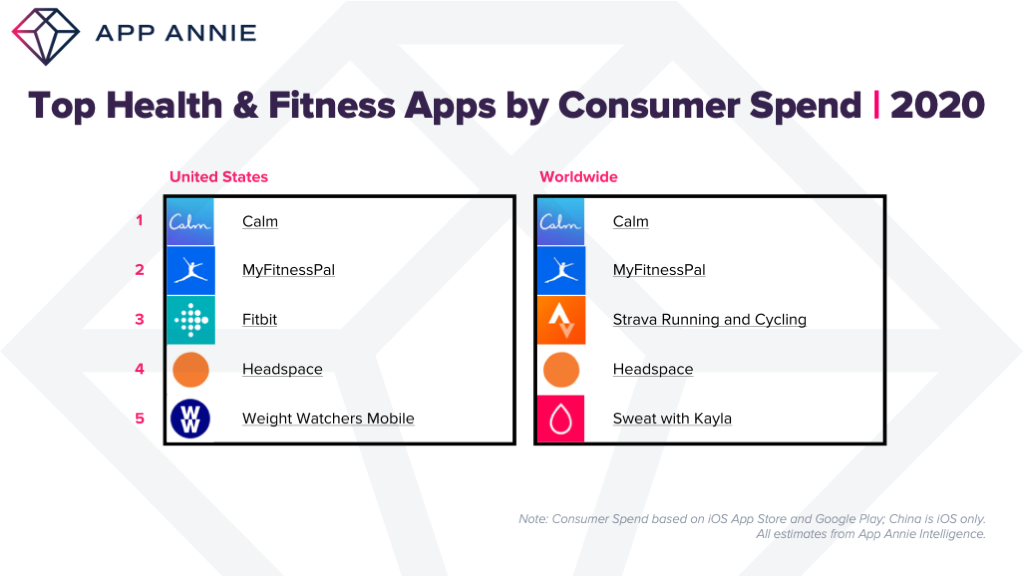 Consumer spend is not the only metric to measure the success of mindfulness and meditation apps — time spent can also be an important indicator for those that monetize outside the app stores. Among the top 5 meditation and mindfulness apps by time spent in the US, Insight Timer ranked #1 by average time spent per user — indicating strong engagement and value derived from its users. 
In 2020, there was one final group of products that appeared for the first time ever in the Health and Fitness category: COVID-19 contact-tracing apps. Most countries — or in the case of the US, states and cities — launched their own version of products designed to track positive COVID-19 cases. Unsurprisingly, these products had a significant impact in the category. Indeed, the world's most downloaded Health and Fitness app globally was India's Aarogya Setu.
This analysis of the health and fitness app market is drawn from App Annie's State of Mobile 2021 report. For more insights on the industry as a whole and other app categories, sign up for the full report:
DISCLAIMER
App Annie is a mobile market estimate service provider. App Annie is not registered in any investment advisory capacity in any jurisdiction globally, and does not offer any legal, financial, investment or business advice. Nothing contained in this communication, or in any App Annie products, services, communications, or other offerings, should be construed as an offer, recommendation, or solicitation to buy or sell any security or investment, or to make any investment decisions. Any reference to past or potential performance is not, and should not, be construed as a recommendation or as a guarantee of any specific outcome. You should always consult your own professional legal, financial, investment and business advisors. Additionally, by providing the information herein, App Annie does not make any representations or warranties and does not undertake any legal or contractual obligations whatsoever. No liability may accrue to App Annie as a result of providing this information to you.