Over the last five years, the trend in video streaming has skyrocketed. As technology has emerged both on the hardware and software side, more consumers have become accustomed to consuming media on-demand, across multiple devices.
Compared to the rapid switch to digital music, streaming video has had a slower transition. Historically, video was hard to successfully share due to large files sizes, and strict copyright laws. In 2007, Netflix changed the landscape by introducing streaming on PC, allowing customers to instantly watch shows. By 2010, Netflix video streaming became available on additional platforms, including iOS devices. Today, video streaming services Netflix and Hulu have a strong hold among combined iOS and Android Top US Apps. During June 2015, Netflix ranked #7 in downloads and Hulu ranked #6 in revenue.
These convenient apps have set the stage for a preferred entertainment delivery. A whole generation of consumers have grown up with video streaming, rather than (or in addition to) paying for cable television: cord cutters and cord nevers. Major premium cable networks, HBO and Showtime, are now after a piece of the pie Netflix and Hulu have carved out.
While HBO and Showtime are currently only offering their standalone apps to the US market, the cord-cutting trend is happening in other parts of the world. In China, video streaming apps took the top five spots of highest monthly active users in the iOS Entertainment category during Q2 2015.
The Premium Streaming Video Playing Field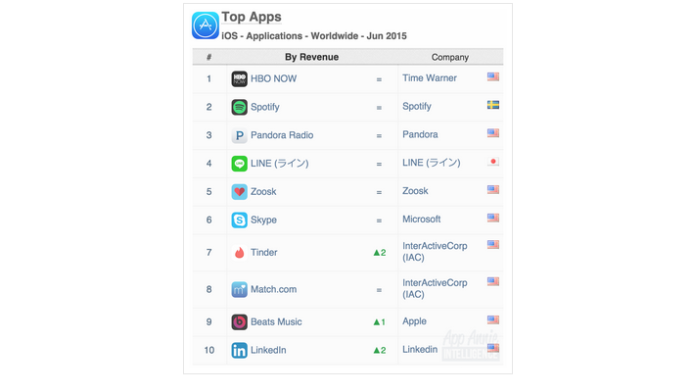 HBO NOW was the #1 top grossing iOS app Worldwide during both May and June.
In April, HBO released HBO NOW, a standalone subscription app for iOS. Thanks to a strong promotion from Apple, HBO NOW on iOS reached #1 on the Worldwide revenue charts for both May and June. An Android version of HBO NOW was released in mid-July but was not tied into any major show release.
In early July, Showtime released their own standalone subscription streaming app. However, Showtime is taking a different approach to its ecosystem. While consumers can subscribe directly through Showtime iOS apps (as well as through the PlayStation Vue app or on Roku devices), Showtime is also teaming up with Hulu's strong ecosystem. Existing Hulu users can add the Showtime channel, allowing access on a large list of devices including Android, iPhone, Kindle Fire, XBox One, and more.
HBO NOW Teams With Apple
HBO NOW started exclusively with Apple, from April 7th to July 16th. Part of HBO NOW's success included launching the same week as timely content, primarily the season 5 premiere of Game of Thrones on April 12th. This was an excellent incentive to non-subscribers to try HBO NOW, whom otherwise would have to wait until the season was finished before purchasing episodes. Likewise, new users could undergo a free 30-day trial, waiving the $14.99 subscription fee. All a great means of creating virality with a new user base.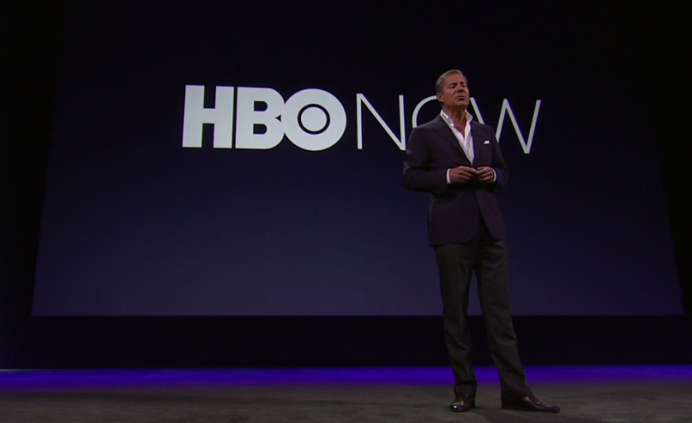 HBO CEO Richard Plepler was able to promote HBO NOW at Apple's March 2015 live event.
Being initially exclusive encouraged Apple to push HBO NOW through iTunes, a promotion that may have swayed some traditional Android users to test out the service. Meanwhile on the App Store, HBO NOW was repeatedly featured on the Homepage for several weeks during April and May. Even before the launch, HBO CEO Richard Plepler announced HBO NOW at Apple's March 2015 live event. All of this led to great industry buzz that helped HBO NOW stay within the top ten downloaded  iPad Entertainment apps in the US from April 7th until July 2nd.
The pairing of HBO and Apple is a smart play for both. Being featured by Apple is a key component for any successful mass market app launch. With exclusive deals, Apple minimizes the need to create their own subscription services.
Showtime Covers More Ground With Hulu
Showtime also released a standalone subscription app for iOS in July, starting with a 30-day free trial that becomes a $10.99 monthly subscription. Showtime is already cutting into HBO NOW with a lower iOS subscription cost but has even more incentive for existing Hulu customers. Rather than teaming up exclusively with Apple or Google, Showtime is heavily backed by Hulu.
At a reduced rate of $8.99 a month (along with the $7.99 Hulu Plus monthly fee), Showtime through Hulu is quite a deal. It opens up Showtime programs to users of not only Apple devices, but it is currently the only means of watching Showtime on Android, Kindle Fire HD, and Windows 8 Phones. Hit shows on Showtime, such as Masters of Sex and Ray Donovan, are also helping drive consumers to cord-cutting.
It will take time for Showtime to replicate HBO NOW's success on iOS. The Showtime iOS app peaked in the top 10 for US Entertainment on iPhone from July 17th to July 19th, and on iPad from July 7th to July 16th.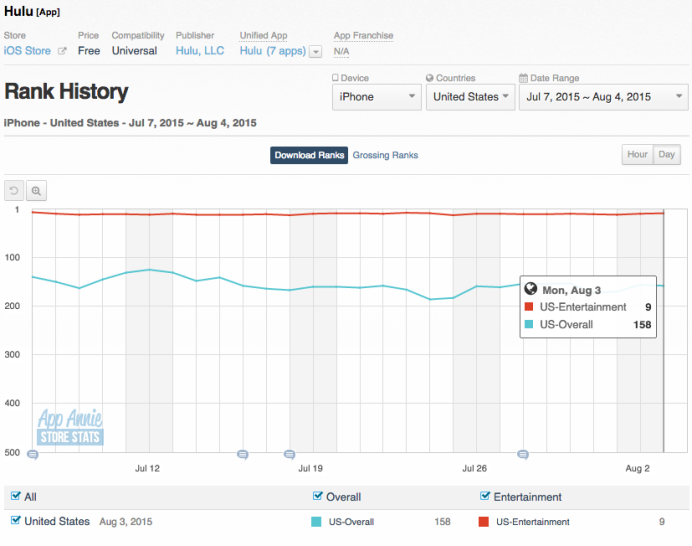 Since Showtime via Hulu launched, Hulu has remained among the top 15 downloaded US Entertainment iPhone apps.
The standalone Showtime app may not match HBO NOW's download ranks, but that is likely due to existing Hulu members sticking to the Hulu iOS app to consume Showtime's content.  Since Showtime's Hulu bundle released in July, Hulu has stayed among the top 15 downloaded US Entertainment apps on both iPhone and iPad, and top 6 on Android. However, with the 30-day trial, it won't be until August 7th at the earliest that subscription revenue will start to materialize.
Good Business All Around
Both HBO NOW and Showtime are taking different approaches to standalone streaming partnerships. HBO NOW has gotten more traction in part to a heavy promotion from Apple, resulting in positive metrics. Showtime's success is less clear, being married into Hulu's already strong performance.
Popular shows have helped with HBO NOW and Showtime's discovery. Both current and past television programs of those channels are included in their ASO strategy. Among the top six HBO NOW keywords include terms related to True Detective, The Sopranos, and Silicon Valley. For Showtime, keywords related to Homeland, Shameless, and Dexter are among the top.
Future Predictions for Streaming Video
Other major entertainment players are taking their own steps. Netflix isn't being left in the dust completely, kicking off their original film initiative with "Beasts of No Nation", which will launch both in theaters and streaming video on October 16th. HBO, Showtime, Netflix and Hulu will still need to compete with each other to retain users in a new "entertainment as a service" landscape where retention is not a given, but an earned currency.
Cable provider Comcast hasn't felt the heat from the cord-cutting trend, having its second best Q2 in nine years. Comcast is also in an advantageous place as a broadband provider, with 22.3 million total customers in Q2. Good quality video streaming relies on broadband internet, meaning cable providers that offer bundled internet service will still be valuable.
The entertainment landscape is changing thanks to the cord-cutting trend, but it has been gradual. As new services and means of distribution arise, old staples will still have time to adjust. However, if they are too slow they will miss the ever-accelerating train.
Want More? App Annie Has It
Subscribe to our blog to see more app industry reports, conference updates and product news. We love hearing from our readers, so share your questions and comments below or on Twitter.
Want to perform your own analysis? Create a free Store Stats account or request an Intelligence demo today.