Google is in the spotlight this week for Google I/O 2014 — their annual developers conference —  and to mark the beginning of worldwide developers conference, App Annie is releasing a special report highlighting the dramatic growth Google Play has seen over the past year.
Google Play has steadily made gains as one of the largest app stores and App Publishers are taking note. In fact, last year Google Play had nearly 800,000 apps and added 200,000 more in just six months.
Other key highlights include:
Worldwide downloads and revenue are increasing quarter-over-quarter on Google Play, representing a massive opportunity for app publishers.
The major Google Play market regions grew by downloads and revenue over the past year, and South Korea lost the #2 revenue position.
Games' share of Google Play revenue grew from 80% to 90% between Q1 2013 and Q1 2014.
Freemium app revenue now accounts for 98% of worldwide revenue on Google Play.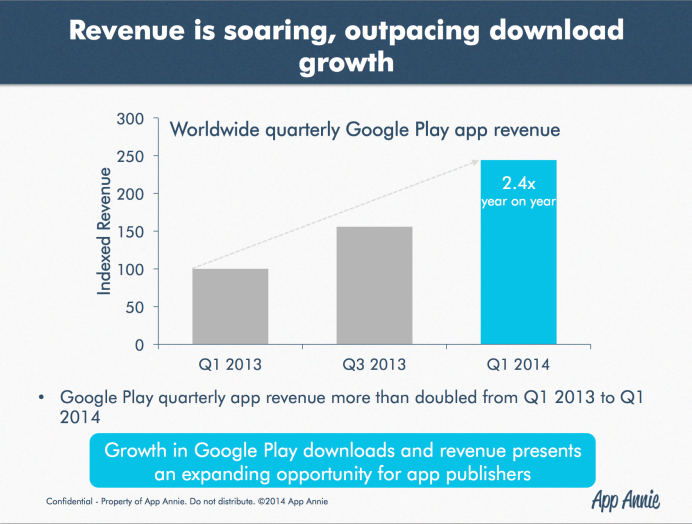 These facts barely scratch the surface of what's contained in our free 18-page report. Google Play is on the rise, and the data is there to prove it. The findings in this report — in addition to the new developments at Google I/O — will provide key business guidance for app publishers, marketers, advertisers and investors.
Download this free, comprehensive report by clicking the button below.
For more worldwide app market reports, conference updates and product releases, check out the rest of our blog. Share your questions and comments below, or on Twitter. Want to perform  your own analysis? Create a free App Annie Store Stats account or get set up with an App Annie Intelligence demo today.