We closed the books on a big Q2 that featured Google Play and iOS battling for worldwide download and consumer spend supremacy.
With Q2 2017 now in the books, we pored over our data for the last quarter, and that data once again shows an app economy booming in downloads and consumer spend. Most notably, Google Play and the iOS App Store continue to demonstrate their respective strengths in the app economy and together create a healthy market for robust growth.
Global app downloads reached nearly 25 billion downloads across iOS and Google Play in Q2 2017. With downloads growing at a rate of 15% year over year and spanning nearly every industry, it is clear that mobile apps are an indispensable part of consumers' lives.
In addition to downloading mobile apps, consumers are speaking with their wallets. Global consumer spend across iOS and Google Play was over $15 billion in Q2 2017, achieving a growth rate of 35% year over year. Apps provide an ease, convenience and a direct personal channel that consumers are clearly valuing.
The app economy is showing no signs of slowing down. This year we are on pace to see global iOS and Google Play consumer spend exceed $60 billion for 2017. By 2021, we predict iOS and Google Play consumer spend to exceed $100 billion.
Emerging Markets Drove Google Play Downloads Growth in Q2 2017
The lion's share of global downloads growth came from Google Play. Growing at 20% year over year in Q2 2017, Google Play maintained its download lead of 135% over iOS. The downloads gap between Google Play and iOS has been widening significantly in the past two years, predominantly driven by emerging markets as the price of Android smartphones decreases and network infrastructure increases around the world. We expect this downloads trend to continue in the quarters to come.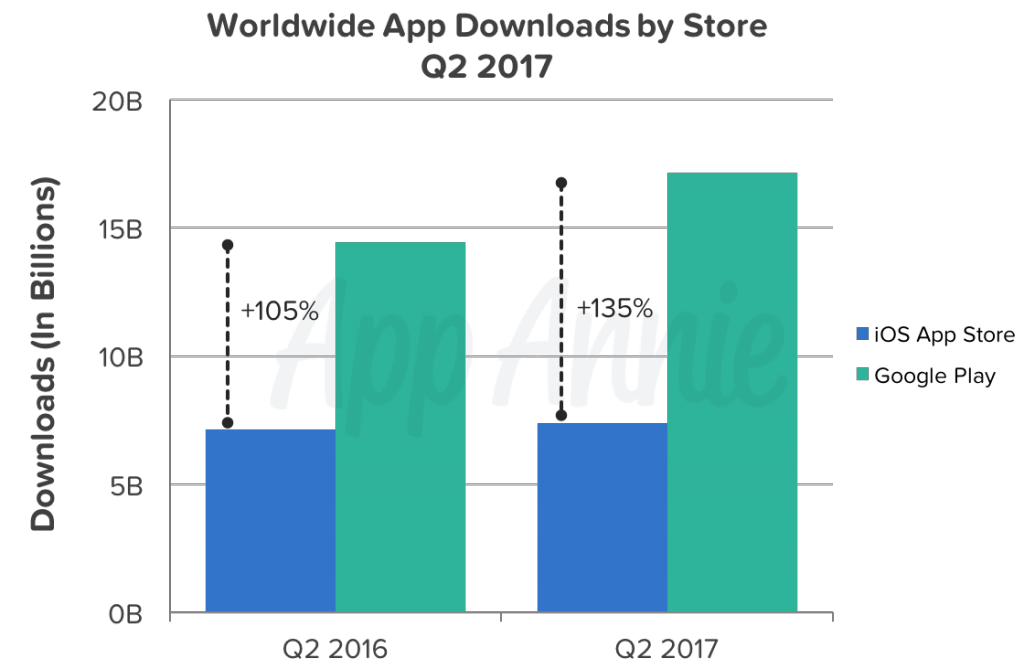 For the first time ever, Brazil passed the United States in quarterly Google Play downloads, becoming the second largest market after India. Games and Communication apps fueled much of this growth quarter over quarter.
For its part, India surpassed the US in 2016 to become the largest market for Google Play downloads. India not only held onto the top spot in Q2 2017, but it widened its lead as it experienced the quarter's largest year-over-year market share growth of Google Play downloads. Much of this growth in India came from Games and Entertainment apps, with video streaming apps like hotstar and JioPlay paving the way.
On iOS, downloads grew a healthy 5% year over year in Q2. While China continues to be a driving force of this growth, Russia saw the largest market share growth year over year with India coming in third.
Strong global downloads indicate a growing app economy fueled by increasing demand for apps that integrate into and solve problems in our daily lives.
iOS Continued to Outpace Google Play in Consumer Spend
While app downloads are an important indication of consumer demand and mobile growth, consumer spend demonstrates the billions of dollars of value that apps are providing users. Global smartphone and tablet owners continued to spend roughly twice as much money on iOS as they did on Google Play. That being said, both app stores saw significant growth in consumer spend year over year with iOS and Google Play growing 35% and 30%, respectively.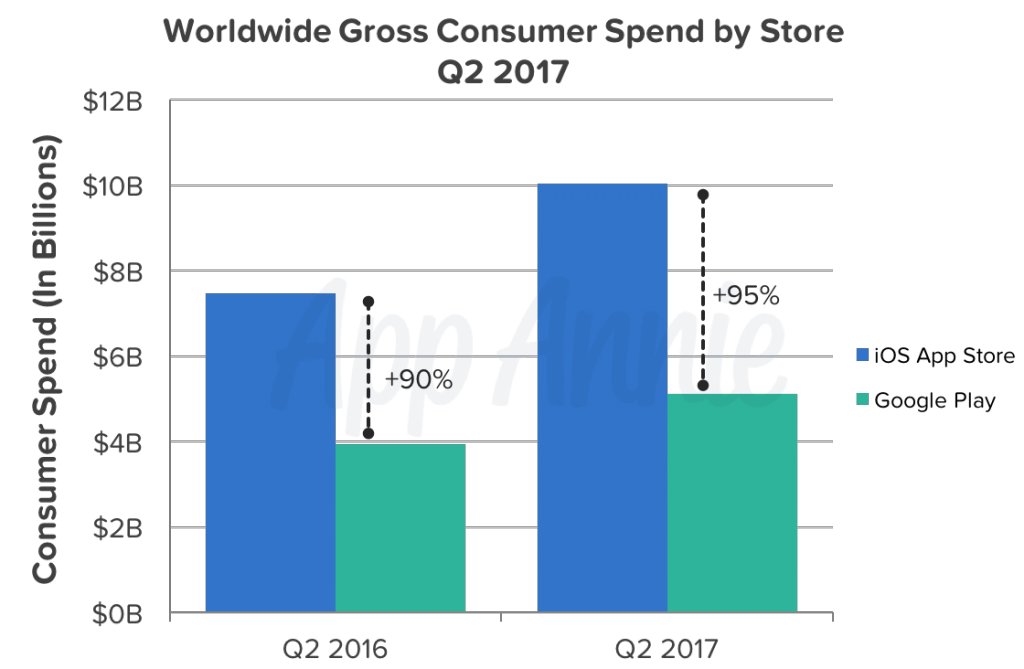 On iOS, China remains the largest market for growth in consumer spend. China is a tale of two countries: tier one cities, like Beijing and Shanghai, look like mature markets and tier two or three cities, such as Nanjing and Xi'an, behave more like emerging economies. Lower tier cities offer an opportunity for growth in China's app economy, even if is not at the same magnitude as tier one cities.
While Games remain the largest contributor to consumer spend, in-app subscriptions in non-gaming apps are increasingly driving more global revenue. Video and music streaming apps like Netflix, Spotify and iQIYI that monetize through in-app subscriptions have carved out top ranks among both apps and games for consumer spend.
Unlike downloads, growth in consumer spend is often fueled by mature markets, as seen in Google Play. While Japan, the US and South Korea remained the top three markets for Google Play consumer spend in Q2 2017, Germany rose one ranking to number four, fueled by strong quarter-over-quarter growth in Games and Health and Fitness apps.
Consumers have significantly integrated mobile apps into virtually every part of their lives. In Q2 2017 alone, apps have generated billions of downloads and billions of dollars. These figures again prove that there is massive opportunity for businesses in apps, but they'll need to move fast in order to capitalize.
For a closer look at mobile's growth in the next five years, download our App Economy Forecast report.
Q2 2017 Methodology:
Report methodology and updates are available here. Data in this report reflects App Annie's current estimates for all time periods as of the time of publication. This includes data restatements to improve the accuracy of our estimates, a practice standard for the industry.