People across the world continue to search for new apps and give apps valuable real estate on their phones
Compared with desktop, smartphone screens tend to be dynamic. They constantly change as users find, install, experiment with, and often come to rely on particular apps. The high rates at which users download apps gives insight into users' appetite for new apps that entertain and/or solve problems.
When it comes to install rates, here are a few things you should know, based on our recent Spotlight on Consumer App Usage.
The majority of users install at least one app per month
Examining data from users in the top countries in the Americas, EMEA and APAC, overall about 65 percent of users installed at least one app in May of 2017. Expanding that over the course of a year, that means well over half of users install at least 12 apps per year. That adds up to a lot of change in the "real estate" on their home screens — as well as opportunity for businesses to be among the chosen. Every app download represents increased opportunity to engage with a user, but also reinforcement of a brand simply because the app icon functions as a "mini-billboard" on the user's home screen.
In half of the countries analyzed, over half of all users installed two or more apps per month
In France, India, China, South Korea, and Brazil, half of users installed two or more apps in the same time frame of a month. It's worth noting that three of these five countries are in APAC, the fastest growing market overall. The mobile-first market there accounts somewhat for the vigorous installs — for many people in APAC, their smartphone represents their first-ever and only access to the internet, so it makes sense that they're eager to explore what their app options are in a mobile-first environment. Brazil's hearty download rate also makes sense given that inexpensive smartphones are selling at a brisk clip.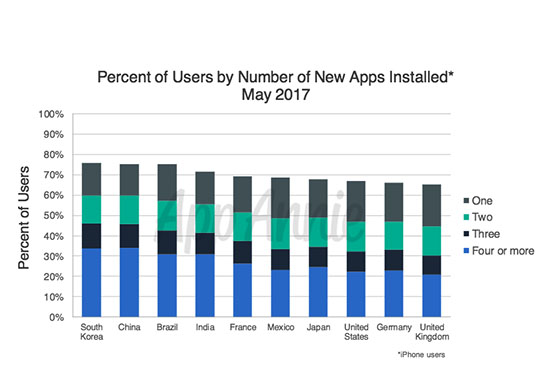 Finding and downloading new apps is integral to new daily life
We talk a lot about how smartphones and apps have dramatically altered how people spend their time, but it's worth calling out the fact that within that paradigm shift, finding and experimenting with new apps is akin to a hobby for many users. They discover apps through ads, by hearing about them from friends, by wondering, "Is there an app for that?" and then searching accordingly. Marketers need to tap into that fundamental enthusiasm and curiosity in order to compete for and capture the valuable real estate on users' phones. An appreciation of the spirit of exploration that drives many users should in part drive your app marketing strategies, including those for ASO, building your app store presence, and paid user acquisition.
Our data indicates that the majority of users have an appetite for new apps that isn't sated by an occasional download. They want to be delighted by new apps on a regular basis. Marketers should therefore give them just what they want. A well-designed app paired with sound marketing strategies that encourage downloads can do remarkable things for a business' presence and bottom line.
Read our full report on consumer app usage for more information on variations among countries and categories.