According to App Annie's State of Mobile 2022 report, the mobile dating market doubled in size between 2018 and 2021, proving that a global pandemic is not enough to hinder the pursuit of love.
What happens to the virtual dating market during a lockdown? On the one hand, with bars and clubs closed, people gravitate towards virtual meeting places. But on the other hand, what are these people to do when they find a suitable partner online but cannot take the next step and meet in person? 
This was the conundrum facing Tinder, Hinge, Bumble, Badoo and the rest for the past two years, although they were certainly not complacent about it. In May 2020, for example, Tinder announced plans to make its website and mobile app less of a place to organize meet-ups offline and more of a destination to hang out online. It started to trial virtual spaces and live events such as Swipe Nights and quizzes.
This proactivity seems to have paid off. According to our State of Mobile 2022 report, global consumer spend on dating apps hit $4.2 billion in 2021. That's a 95% increase in consumer spend since 2018 and a 30% increase since 2020.
Indonesia Leads a Worldwide Shift Towards Dating by App in Growth Rate
Meanwhile, consumer spending rose in every one of the 17 regions studied (except Argentina) with the growth in some countries indicating a huge behavioral shift in attitudes to dating.
Indonesia is a particularly noteworthy example. In 2018, its mobile dating market grossed just under $4 billion. By 2021, it had tripled to $11 million. There was also notable growth in the US, Japan, the UK, and China, the four largest markets in 2021.
In terms of products, the mobile dating market is an interesting split of global giants and local favorites. This is understandable since some consumers will seek out the safety and scale of a major international brand, while others will look for the app that better reflects local customs and cultural behaviors.
Mobile Dating Supports Dozens of Local Products – but Tinder is the Undisputed Global Powerhouse
In 2021, Tinder remained the clear market leader. It was #1 for downloads in all 8 Americas markets, 6 of 13 APAC markets, and 5 of 7 EMEA markets. In fact, just in advance of Valentine's Day, Tinder surpassed 500 million cumulative downloads worldwide.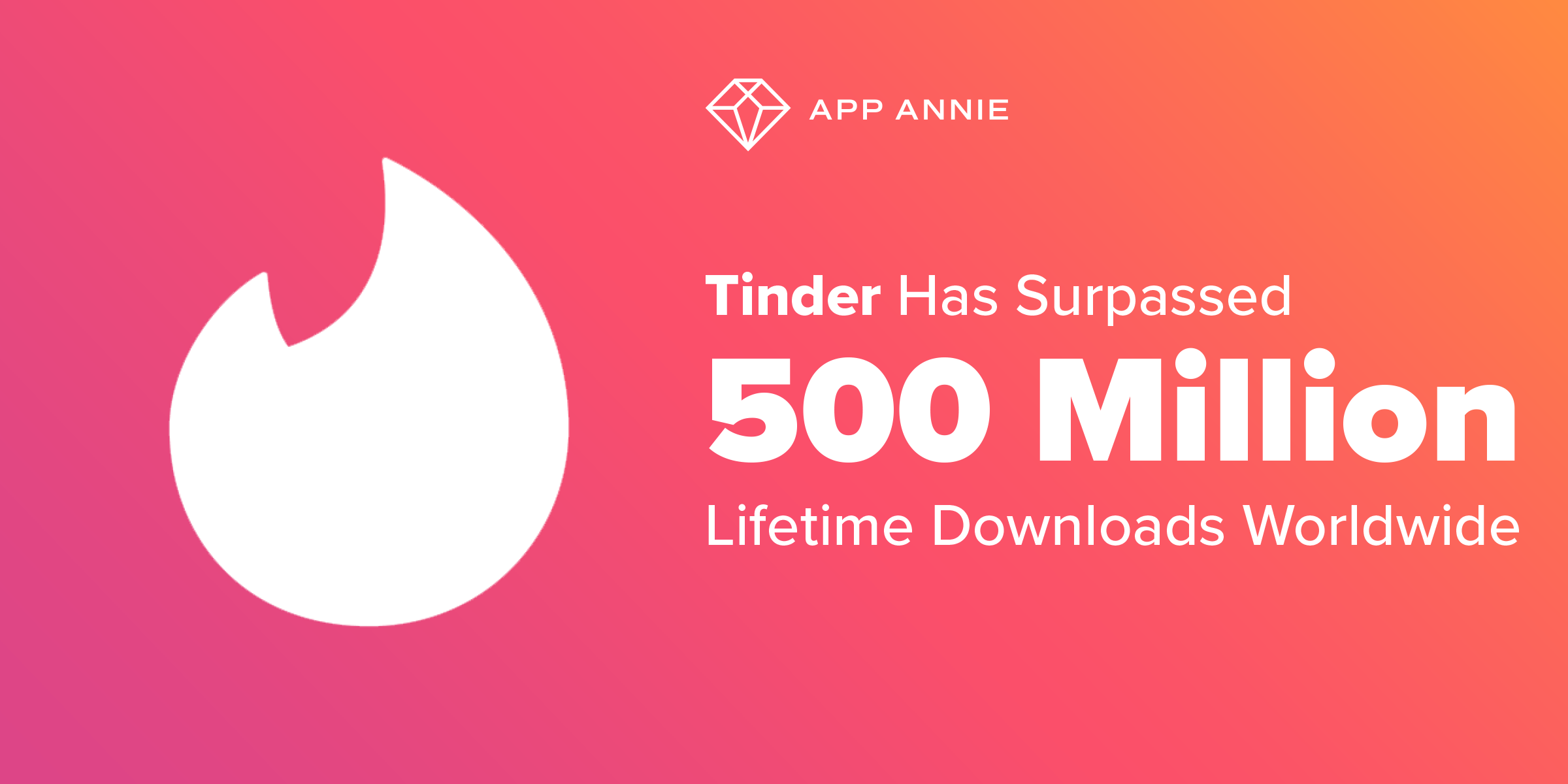 Tinder was similarly dominant in consumer spend. It has been creative with its pricing model, offering a free-to-use model but charging for extra features such as Boosts and Super Likes. It even dynamically adjusts its price based on the user's age. As a result, Tinder recorded a record-breaking $1.35 billion in consumer spend in 2021, a 35% increase YoY.
It's not the only major brand to record a significant milestone. The UK dating 'super app' eHarmony has just passed $100M in consumer spend as well, with the majority of the spend coming from its iOS app.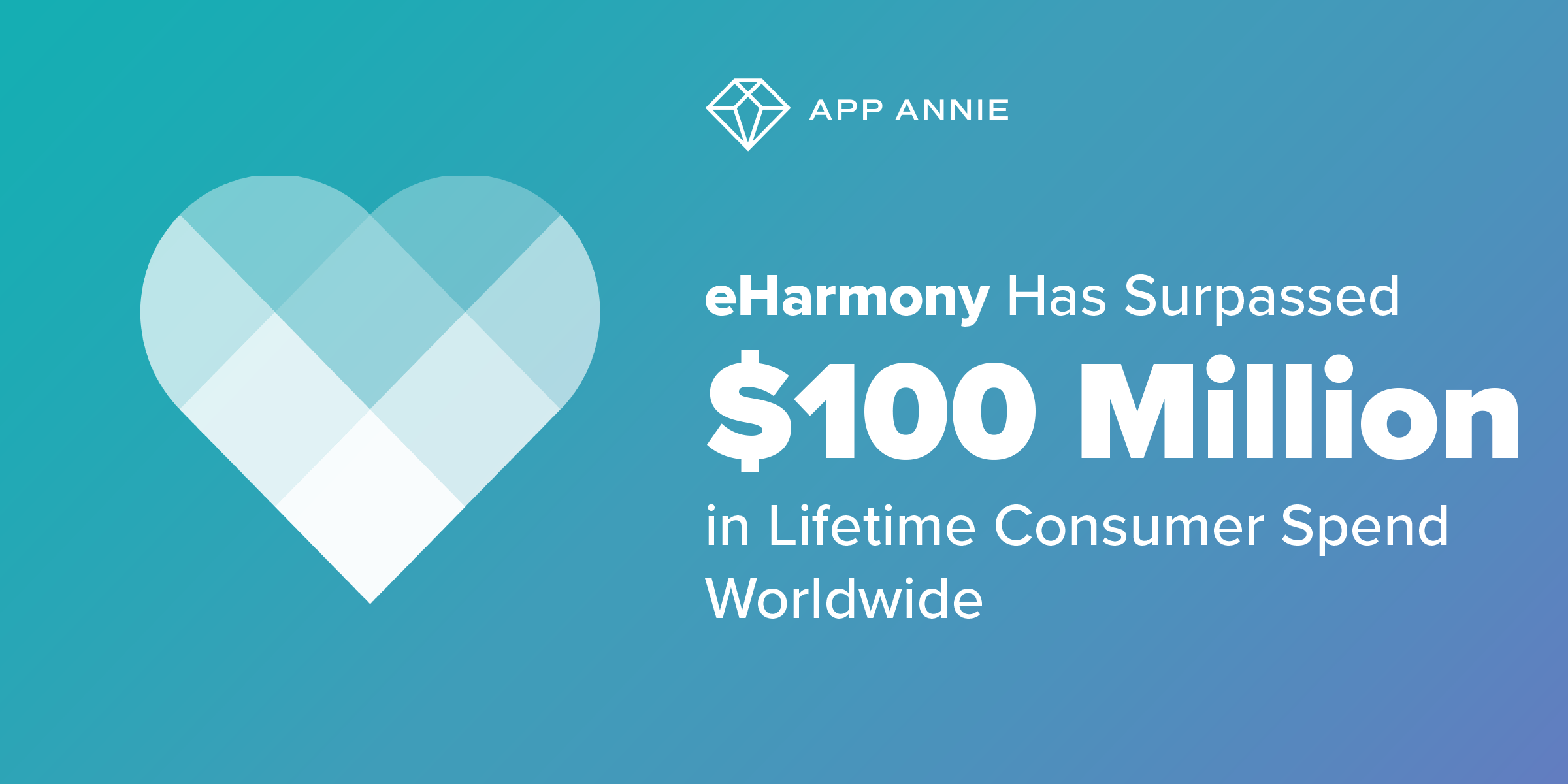 The other global dating brands to appear near the top of most country charts include female-oriented apps such as Bumble and Hinge along with other popular apps such as Badoo, Grindr, and Azar. Azar, a South Korean "social discovery" app, has been compared with the video chat phenomenon Chatroulette and matches users by video from anywhere in the world, instantly translating voice and text.
Since its launch in November 2013 on the Google Play store and June 2015 on the iOS stores, Azar has gathered 228 million cumulative downloads and more than $610M in total consumer spend as of Feb 5, 2022. This was enough to persuade Match Group (which owns Tinder, Hinge and OK Cupid) to acquire Azar's parent company Hyperconnect for $1.725 billion in 2021.
In general, users in the Americas and EMEA regions prefer big brands, while APAC consumers choose local products
In the download and spend charts for APAC above, most regions are filled with country-specific hits, aside from Tinder. Examples include CuteU in India, Soul in China, Tapple in Japan and Omi, Lemo, Lamour, MiChat, and TanDoo in Thailand, Taiwan, Vietnam, Indonesia, and Malaysia, respectively. 
Some of these regional differences might also be indicative of demographic factors. Our data shows that the demand for specific apps varies greatly by age.
As such, Gen X and Baby Boomers in North America and Australia tend to use apps that have their origin on the desktop, such as Zoosk and Match.com. By contrast, mobile-first products such as Taimi, Hily, and Tinder tend to be more popular among Gen Z users in the US.
Dating Giants Plan for a Future in the Metaverse
Needless to say, the teen daters of today will be tomorrow's more affluent 20- and 30-year olds. Dating app companies are obviously very mindful of this, which is why they are already planning the future evolution of their services.
2021 was filled with talk about the evolution of VR- and AR-based parallel worlds (such as the 'metaverse'), a concept that extends to dating as well.
In fact, Match Group is already experimenting with these ideas. It has launched a virtual goods-based economy, supported by its new in-app currency, Tinder Coins. And it has even developed a metaverse-like experience called Single Town, where users interact using real-time audio and meet each other in virtual spaces. Single Town is currently being tested on college campuses in South Korea.
It's not alone. China's Newborn Town's dating app Yumy, has also made big claims about the metaverse. It has launched a beta test of a world in which users can create avatars based on their photo, and use instant translation to have "barrier-free, immersive social experiences". The future is ripe for dating, both online and offline. 
As the dating scene expands into uncharted territory, both app publishers and consumers must adapt in order to find meaningful connections.
Looking for More Mobile Insights?
Sign up here to claim a copy of App Annie's industry-leading State of Mobile report:
Looking to make more of the mobile opportunity? Talk to an expert today.
DISCLAIMER: 
App Annie is a mobile market estimate service provider. App Annie is not registered in any investment advisory capacity in any jurisdiction globally, and does not offer any legal, financial, investment or business advice. Nothing contained in this communication, or in any App Annie products, services, communications, or other offerings, should be construed as an offer, recommendation, or solicitation to buy or sell any security or investment, or to make any investment decisions. Any reference to past or potential performance is not, and should not, be construed as a recommendation or as a guarantee of any specific outcome. You should always consult your own professional legal, financial, investment and business advisors. Additionally, by providing the information herein, App Annie does not make any representations or warranties and does not undertake any legal or contractual obligations whatsoever. No liability may accrue to App Annie as a result of providing this information to you.