What is this report about (and who might use it)?

This report utilizes App Annie Usage Intelligence for Operators & OEMs to provide visibility into how and when consumers around the world use their smartphones across mobile and Wi-Fi networks.

Understanding these trends is vital to the telecommunications industry, including Mobile Network Operators (MNOs) and telecommunications infrastructure suppliers.

You might also be interested in:
Introduction
Data demands just keep increasing. As the number of smartphone owners across the globe increases, so does data traffic caused by apps and the mobile web.
The percentage of people without mobile internet connectivity will keep decreasing. For mobile network operators and device manufacturers, understanding these trends will be key to keeping costs low, planning budgets strategically and staying ahead of regional usage patterns.
Read on to see how data usage differs in key markets. Get ahead of the game — and do it with solid data.
Users in South Korea and Singapore Lead in Data Demand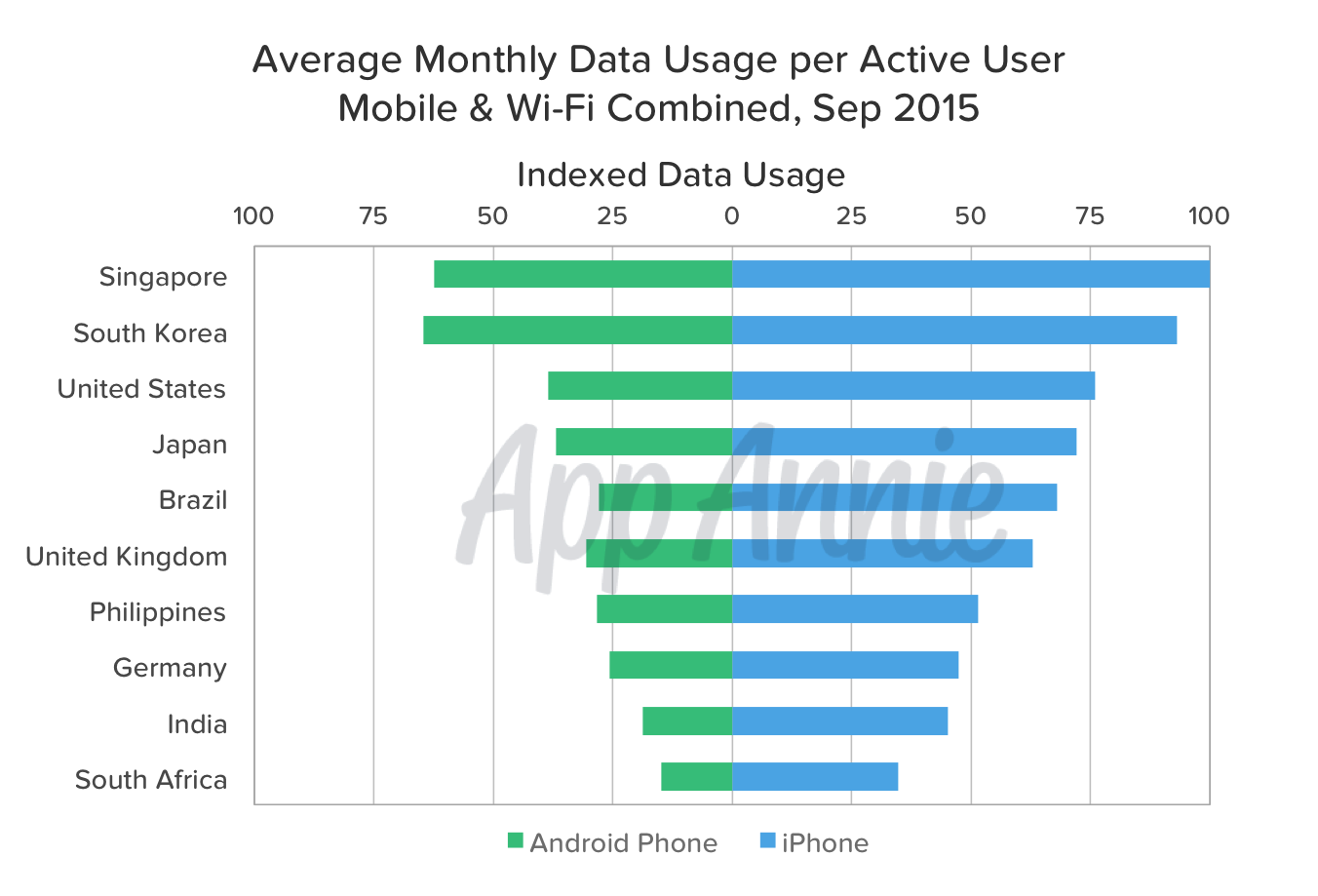 App Annie Usage Intelligence for Operators & OEMs data highlights important trends that can assist MNOs with planning for data provisioning and tariff setting. Although users in mature markets tended to use more data, two Asian markets stood out for extremely high usage: in September 2015, the average Android smartphone user in South Korea and Singapore consumed over 60% more data than one in the United States.
Asia Has a Huge Appetite for Mobile Data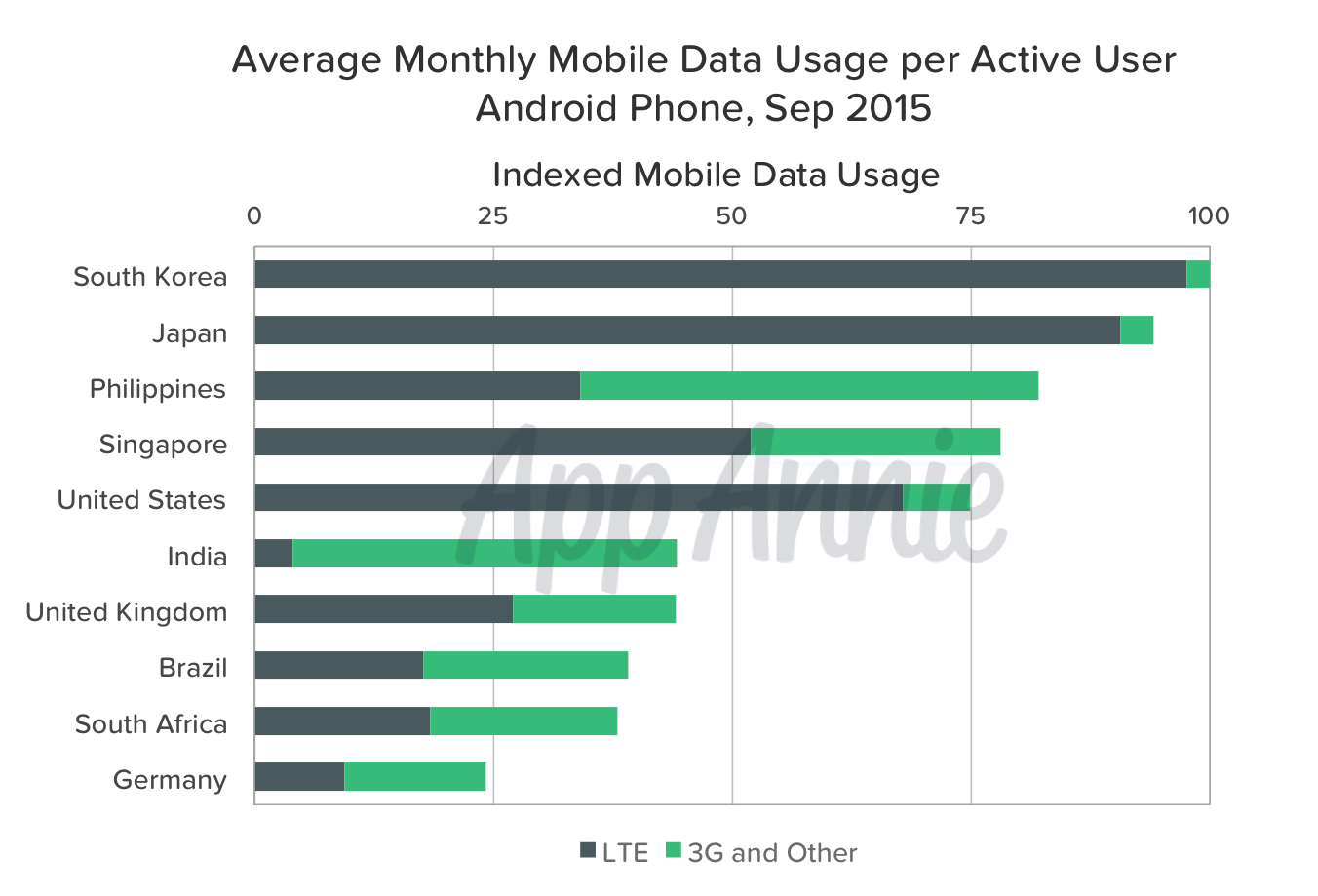 A closer look at data usage on mobile networks, broken down by 3G and LTE Android phones, further indicates that mature markets with more advanced network deployments tend to exhibit more data consumption. Japan, Singapore, South Korea and the US already have strong 4G coverage, so it was no shock to see a skew toward 4G device usage in those regions.
Surprisingly, the Philippines placed ahead of the US in terms of usage per person. This is because the Philippines is one of the fastest-growing countries in terms of mobile internet usage. Although internet connectivity there is among the slowest in the world, Filipinos are very heavy users of social networking and rely primarily on their smartphones to stay connected with friends and family at home — and even more so abroad. The frequent typhoons and earthquakes in the country make it difficult for MNOs to deploy physical telecommunications infrastructure, so mobile connectivity is their primary focus.
Beyond the Data Tower: Wi-Fi's Rise
With all the hype and attention that have been given to powerful technologies such as 3G and LTE as key drivers of internet adoption, it is easy to overlook the role of Wi-Fi. Beyond being one of the most ubiquitous technologies, it is also one of the most enduring.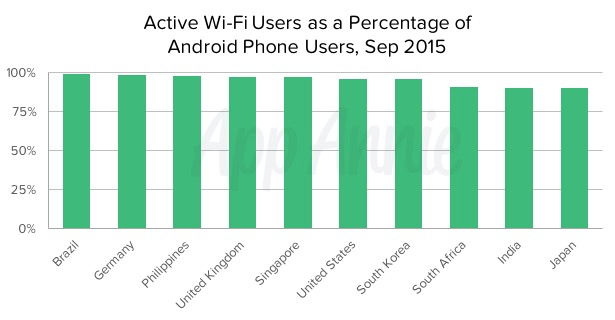 Today, the average smartphone user is simply happy to have Wi-Fi coexist with their existing 3G or 4G data plans, leveraging it whenever possible to save on data usage and prevent overage costs while browsing or playing Internet-connected mobile games. The business value of Wi-Fi in the form of cost savings and revenue growth also encourages service providers, device manufacturers and retailers to address the growing demand. For MNOs in particular, creating Wi-Fi hotspots has been one means of offloading mobile data traffic from their stressed networks, and provides additional income to boot.
But just how important is Wi-Fi, and how does that differ between countries and platforms? For each country in the chart above, 9 out of 10 Android smartphone users actively rely on Wi-Fi connectivity, and that dependence continues to grow even today, especially in emerging markets. Brazil shows near universal adoption of Wi-Fi, while India was able to post the strongest growth from the previous year, increasing the share of active Wi-Fi users by over 10 percentage points. These are the results of investments by operators and governments in emerging markets to boost internet penetration rates with support from public Wi-Fi deployments.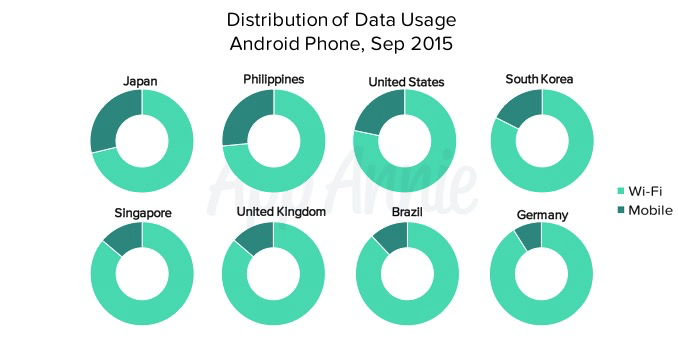 Data usage across major markets is also heavily skewed toward Wi-Fi, although the ratio varies somewhat between countries, which can be attributed to a number of factors. Getting access to free public Wi-Fi can be a challenge in Japan, which has a lower Wi-Fi-to-mobile ratio than other markets. The Philippines can expect to maintain a healthy share of mobile usage due to the aforementioned physical constraints, while the early adoption of mobile technology in the US has also lessened the need for Wi-Fi hotspots.
On the other end of the spectrum, Brazil's heavy investment into expanding Wi-Fi network coverage seems to be paying dividends by contributing to sustained increases in data usage.
Asia's Late-Night Mobile Users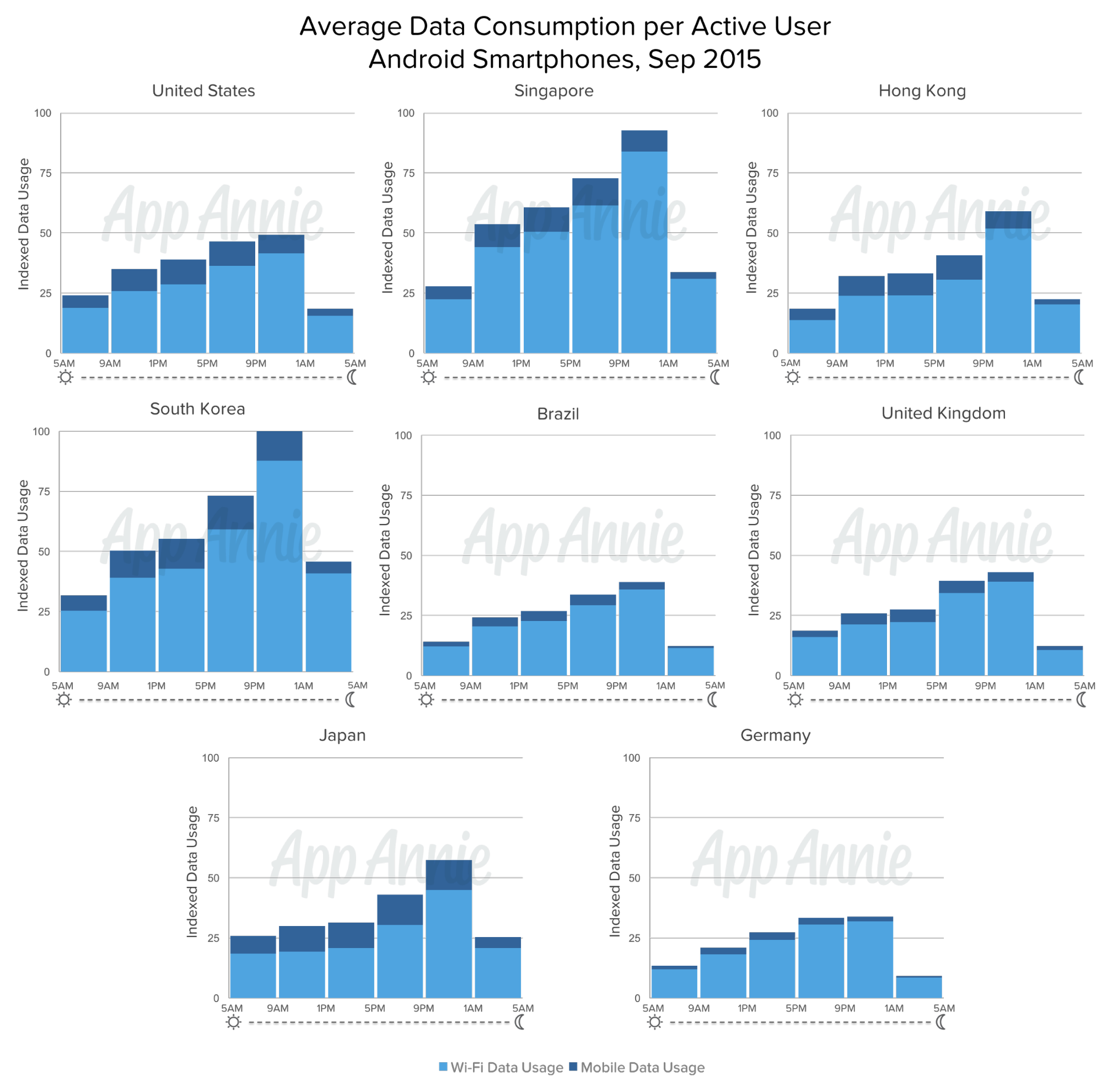 For an MNO, finding ways of optimizing routing to improve quality of service is a never-ending quest. One useful approach is to obtain a measure of when people are using data, and how heavy their usage is at different times of the day.
Usage Intelligence for Operators & OEMs reveals that, in terms of data consumption, the average user is most active at night. For nearly every country we looked at, the late night period from 9 PM to 1 AM contained more data usage than any other period. Data usage generally started low in the morning and steadily crept upward until hitting this late peak, when data-heavy activities like video streaming came into full swing.
Interestingly, the outsized share of late night data usage is even more pronounced in developed APAC countries. These countries tended to see a particularly large jump from evening (5 PM to 9 PM) to late night usage (see above figure). This was especially true in South Korea and Hong Kong, which saw usage increases of 35% and 45%, respectively, from evening to late night. Established APAC markets also saw relatively high usage in the late night period of 1 AM to 5 AM — in the case of Hong Kong, Singapore and South Korea, this period saw more usage than the morning period of 5 AM to 9 AM.
The reverse was generally true of the US and countries in Europe, where data usage was more evenly distributed. The underlying behavioral patterns that drive this trend will be of keen interest to MNOs that operate in both Asia and the West and face challenges with bandwidth allocation.
As the volume of data that mobile users consume continues to grow, having this information can help operators solve key issues in bandwidth allocation in high-traffic regions.
Want More? App Annie Has It
The information contained in this report is compiled from App Annie Intelligence, the leading market data solution for the app store economy. To see how our app store download, revenue, demographic and usage estimates can help guide your critical business decisions, request a demo today.
Subscribe to our blog to see more app industry reports, conference updates and product news. We love hearing from our readers, so share your questions and comments on Twitter!
---

---
Notes:
App Annie Usage Intelligence data for smartphones were derived from mobile usage data collected from a large sample of real-world users, combined with additional proprietary data sets.

App Annie tracks usage at the device level using a privacy-protective hashed device ID. Data is only reported to third parties in aggregated format.

Certain trademarks and/or images used in this report may belong to third parties and are the property of their respective owners. App Annie claims no rights to such trademarks or images.