Mobile shopping is poised to have its biggest year ever. To capitalize on this trend, retailers need to be equipped with mobile data.
The retail landscape has changed. We are now in the age of mobile apps, where smartphones offer an intimate, direct channel to consumers. This represents a massive opportunity for brands to reach, influence and convert shoppers. Now more than ever, a strong app strategy is necessary for success in retail. In our latest report, Retailers: Why Data Should Drive Your Mobile Strategy, we explore the many ways in which retailers can stay on top of the transition so many shoppers are making to mobile.
A key takeaway from the report is the fact that in today's retail industry, consumers are turning to mobile first when they're planning on making a purchase. For retailers, data is at the heart of a successful app strategy. Insightful metrics allow retailers to:
Make informed decisions to drive customers to their app.
Create features that increase the likelihood of purchase.
Accurately measure customer satisfaction and implement changes to reflect customer demand.
Benchmark against competitors and incorporate best practices that are proven to move the needle on critical engagement metrics affecting basket size and lifetime value.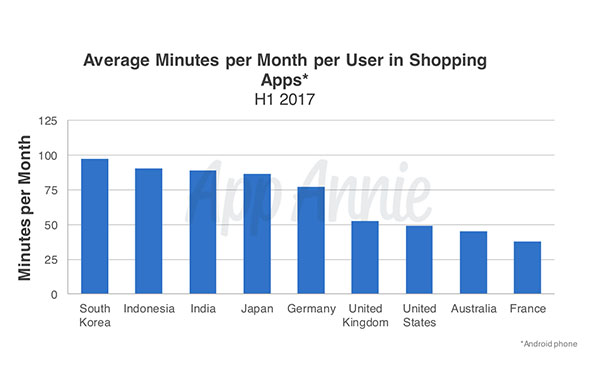 There is no denying it: mobile shopping is in high demand. Global downloads of Shopping apps grew 20% year over year in H1 2017 across both iOS and Google Play, and the average Android phone user spent a minimum of 35 minutes across Shopping apps each month in H1 2017 among countries analyzed. Retailers need to prioritize their app strategy in order to keep up with shifting shopping habits.
These are just a few of the insights you can find in Retailers: Why Data Should Drive Your Mobile Strategy. Download and you'll receive detailed information on how cross-app usage can shed light on your users' preferences and affinities, tips for competing with Digital-First retailers, and details on how particular companies have used mobile to expand their footprint globally. It also includes best practices for retailers, which drills down into the importance of a smooth checkout, loyalty programs and search functionality.
To download directly on the page, fill out the form below. Customers who log-in will be able to download immediately. And for our readers in EMEA, a specialized version of the report featuring EMEA-based companies and use cases can be downloaded here. Our readers in APAC can also find a specialized version of the report here.