Worldwide downloads continue to grow, particularly in emerging markets, as users downloaded 60% more apps in 2017 that in 2015
Following the release of our 2017 Retrospective Report, the industry's largest and most trusted analysis of the state of the app economy, we'll be highlighting some key areas of the report in an ongoing series. In our first post we looked at consumer spend in app stores and now we'll turn our attention to downloads.
Worldwide, users downloaded 60% more apps in 2017 than in 2015. This equates to nearly two apps downloaded every month per human being on the planet.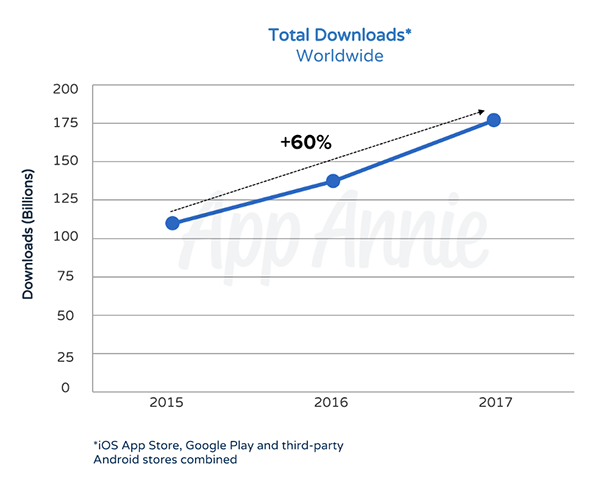 Four of the top five countries by downloads are emerging markets. In particular, app usage grew rapidly in India, driven by the introduction of subsidised, unlimited 4G access by Jio in September 2016.
Despite growth stabilizing, we're still seeing a significant volume of absolute downloads in mature markets. For example, in the United States, on average, users downloaded three apps per month, with over 70% of users downloading at least one app per month.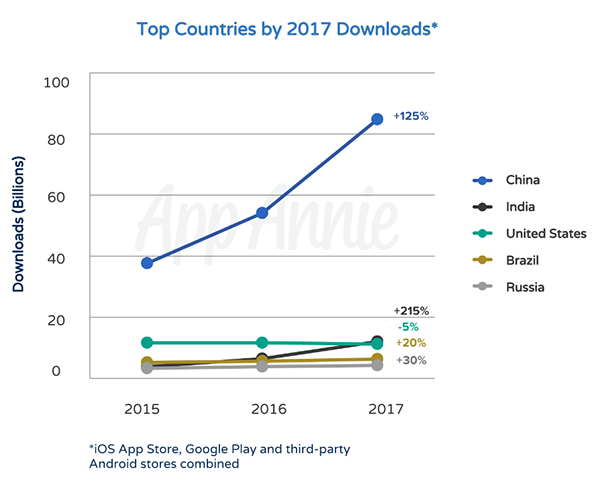 As apps become an increasingly critical channel for virtually all consumer businesses in all industries, we have seen the number of apps available across Google Play and the iOS App Store expand to more than six million.
In response, app marketing, particularly app store optimization and paid user acquisition, has become increasingly critical for those looking to stand out.
This focus on consumer spend is only a sliver of the total report. For much more, including in-depth analysis of the year's biggest apps and stories, download the App Annie 2017 Retrospective Report directly on the page by filling out the form below. Customers who log-in can download immediately.