New data from data.ai confirms Germany's gaming-centric market; 823 million gaming apps downloaded in 2021 – with games representing 70% of all app store spend in Germany
Overall, Germany saw 2.2 billion apps downloaded in 2021, a 14% increase from pre-pandemic levels in 2019. App store consumer spend saw even more impressive growth this past year, up more than 70% since 2019 to an impressive $4.0 billion annually — representing the second largest mobile economy in Europe (only the UK ranked higher than Germany). As the #16 market for downloads and #6 market for consumer spend on mobile, global app publishers should pay attention to this major mobile economy. Our latest spotlight report deep-dives into what makes the German mobile market unique.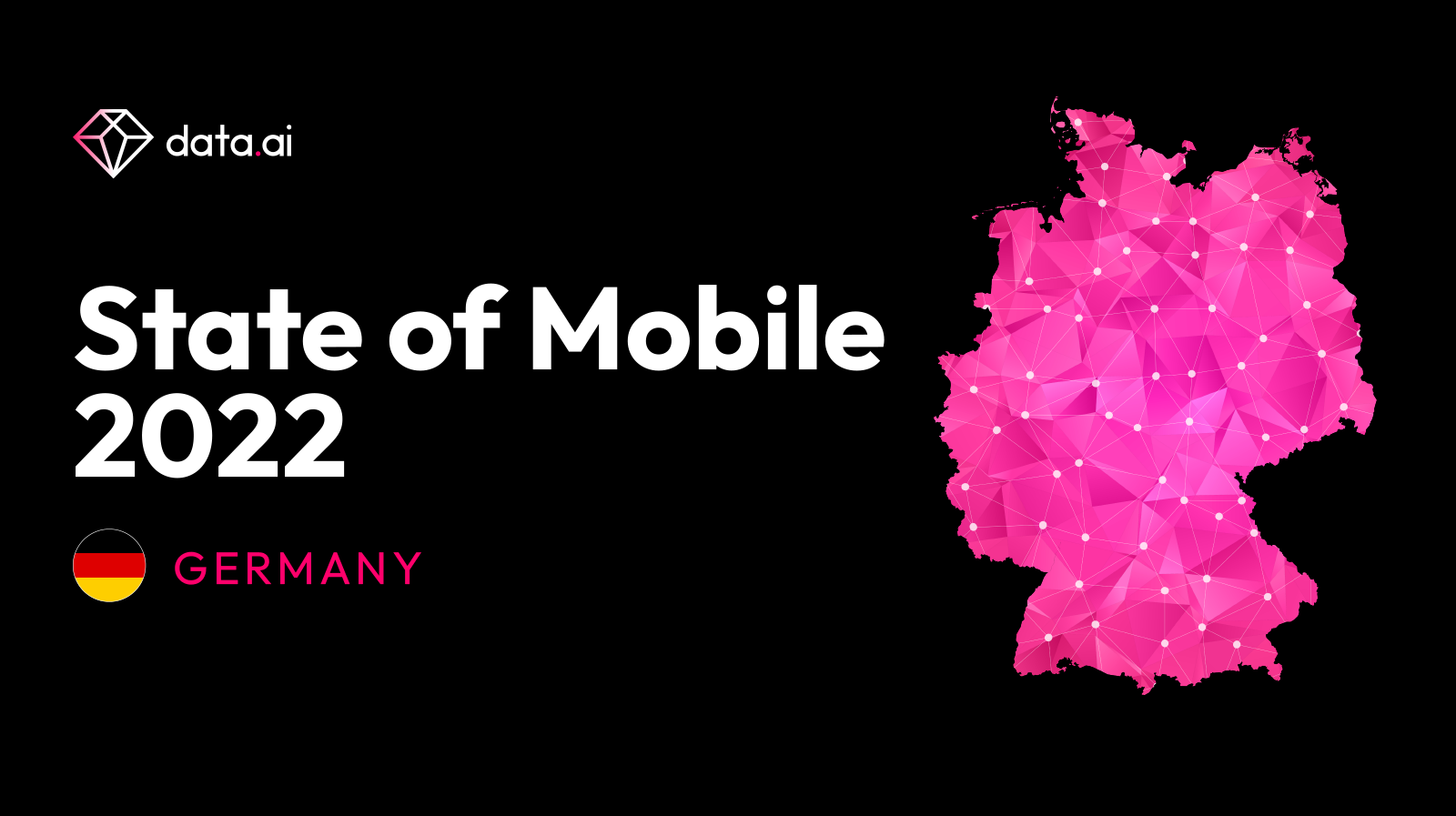 The Most Used Apps and Games in Germany Differ Across Generations
2021 has been a record-breaking year for Germany's mobile gaming market. In fact, the top games by year-over-year consumer spend growth in the market spanned different genres, signalling the diverse interests among German gamers. State of Survival (Strategy, 4X March-Battle) topped the chart, followed by Clash Royal (Strategy, Summon-Battle), Genshin Impact (RPG, Open World RPG), PUBG MOBILE (Shooting, Battle Royale), and ROBLOX (Simulation, Creative Sandbox).
With the vast number of games available on the mobile market, it's unsurprising that the top games by monthly active users (MAU) most likely to be played differ across age groups. Gen Z gamers in Germany are most likely to play Creative Sandbox (Simulation) games such as ROBLOX, Millennials are most likely to play M3-Saga (Match) games such as Candy Crush Saga, and Gen X and older gamers tend to prefer Quiz (Party) games such as New Quizduel. 
Each demographic cohort also uses vastly different apps in 2021 as well. The Gen Z population in Germany overwhelmingly used Photo & Video and Entertainment apps such as Spotify and TikTok.
Millennials tend to prefer shopping apps such as Amazon and eBay Kleinanzeigen, whereas Gen X and Baby Boomers lean more towards Health and Weather apps, such as the CovPass and Weather & Radar app. In fact, Shopping and Finance are two sub-categories of apps that tend to skew most towards Millennials in Germany, which is in-line with other markets in Europe, such as France and the UK.
Although Shopping and Finance app downloads in Germany grew 40% and 35%, respectively, in 2021 compared to 2019, these app categories haven't managed to reach a broad Gen Z audience yet. However, they represent a promising opportunity on mobile. Understanding demographics segmentation for a particular market can help marketers build out campaigns and partnerships to match their target audience.
Demographics is just one of the topics covered in the 74 page report. For a comprehensive view of the state of the mobile economy in Germany in 2022, read the full report.
Download the Report Today to Uncover What Makes Germany Unique in the EMEA Region Across Multiple Industries:
Germany is one of the world's largest mobile markets. To uncover deeper insights into what makes Germany unique, check out our latest report: State of Mobile 2022: Spotlight on Germany. Insights include:
Germany's Mobile Market Overview

Mobile Gaming Trends

Finance Trends

Social Networking & Video Streaming

Shopping & Food

Health & Fitness

Travel & Navigation

App Store Optimization

And More!