App Annie is excited to announce the launch of the Germany App Annie Index. The App Annie Index is a well-established resource providing mobile industry insights and can help app publishers with their business strategy. Looking at the top countries in mobile during August, Germany ranked #6 by mobile app revenue from both iOS and Google Play. With this Germany-focused report, we give you an in-depth look at mobile trends in one of Europe's largest economies, providing more local insights for your mobile strategy.
We also launched the France App Annie Index this month, and as we continue to look into more countries in detail, all local Index charts will be updated on a monthly basis going forward. To find out about mobile trends outside of Germany, see the full Index charts for August, including newly added charts for other countries.
TABLE OF CONTENTS
1. The Technology Behind the Index
The information contained in this report was compiled from App Annie Intelligence, the leading market data solution for the app store economy. To see how our app store download and revenue estimates can help guide your critical business decisions, take a tour or request a demo today.
---

---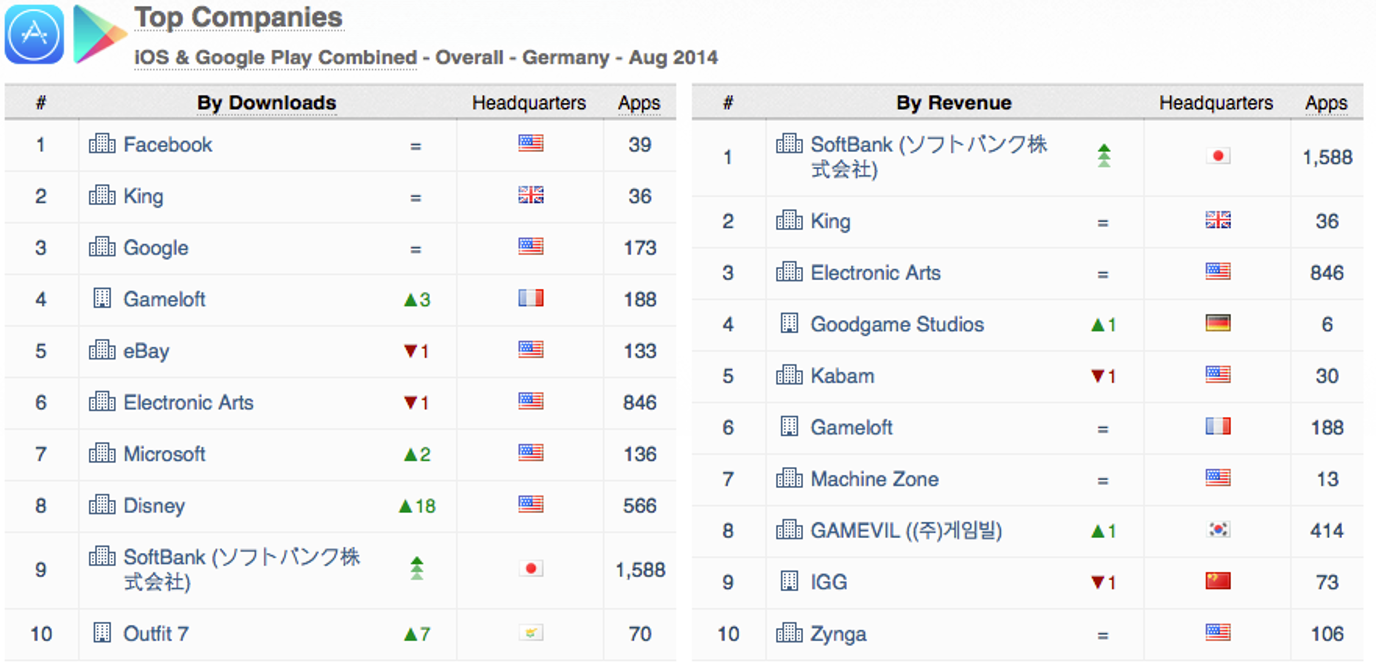 For the complete list of August's top apps and publishers in Germany, click the chart above.
2. This Month's Top Performers
Godus Rules in Germany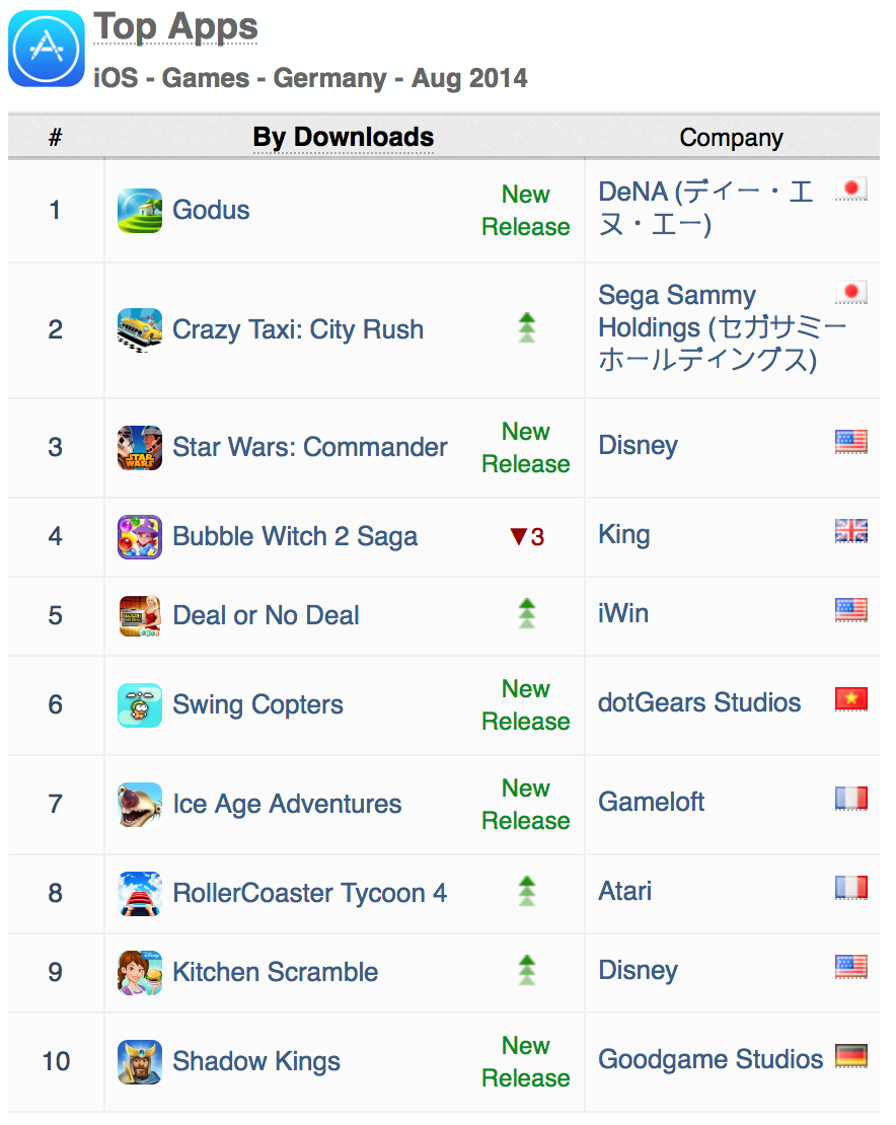 Starting with the games section, DeNA had a strong impact on August's iOS download rankings in Germany with its new release, Godus.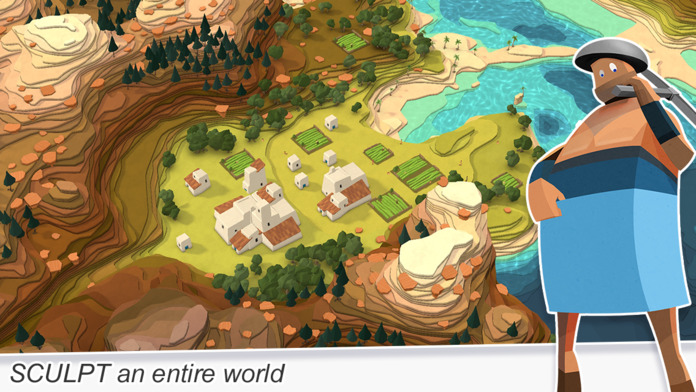 Players explore and create their own new worlds in god game Godus.
Released by 22Cans studio, Godus was the brainchild of famed Peter Molyneux, who is credited with the creation of the god game genre. His studio 22Cans raised just over £526,000 on crowdfunding platform Kickstarter before joining forces with DeNA to bestow Godus upon iOS devices. Renowned for designing popular PC and console games, Molyneux's decision to collaborate with DeNA signals the growing importance of large mobile distribution networks. The combined efforts resulted in the game ranking #1 in Germany's August iOS download charts, as well as entering the worldwide top 10 games download charts.
Two Disney Games Hit the Top 10 Download Charts
Disney also had a strong showing in Germany, landing two hits in the iOS top 10 by downloads. Disney publisher LucasArts released multiplayer game Star Wars: Commander, which finished August at #3 for iOS game downloads in Germany. Star Wars: Commander players confirmed the strategy game's explosive popularity with numerous positive reviews. The base-building strategy game also experienced similar success in other European countries such as France.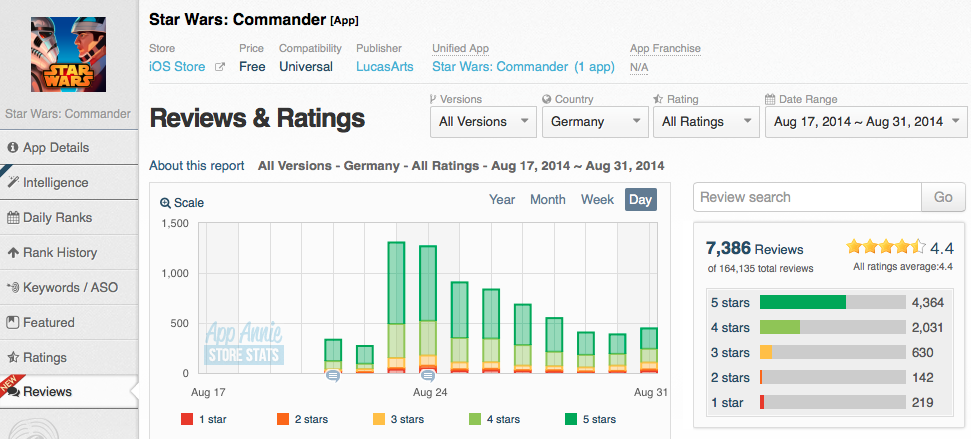 Star Wars: Commander saw overwhelmingly positive reviews in Germany, with over 85% of reviews 4 stars or above.
Just as we saw in other countries, Germans also took note of Disney's Kitchen Scramble. While the kitchen-themed arcade and puzzle game ranked a little lower in Germany at first, it quickly caught up with comparable rankings as in the United States during August. A reason behind this rise might be the July 31 update, where Disney added German translations, among other languages. Securing ranks within the top 10, these two games were also the major contributors in Disney's higher rank in the top company charts for Germany in August for iOS.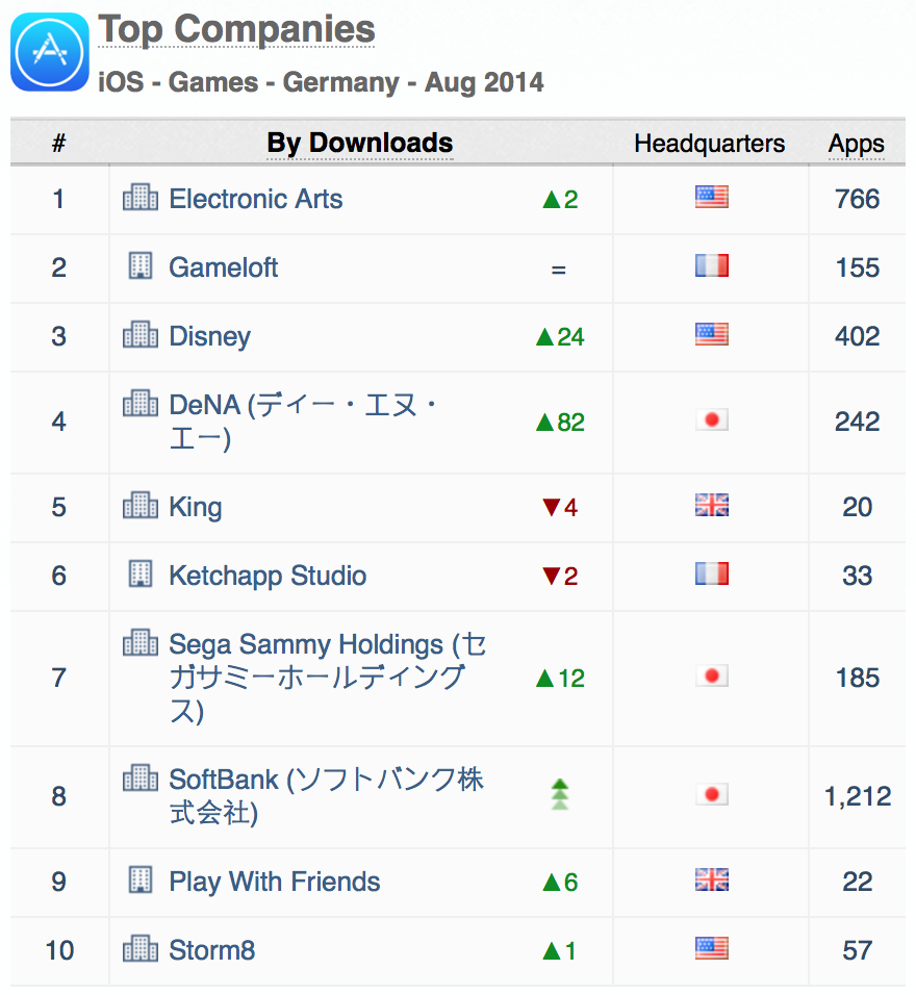 'Fussball' Fever Continues for World Cup Champion Germany
Glancing at Germany's Overall charts above, we see a high concentration of gaming companies. A look at the Top Apps charts outside of games, however, proves that Germans don't just play games on their mobile phones.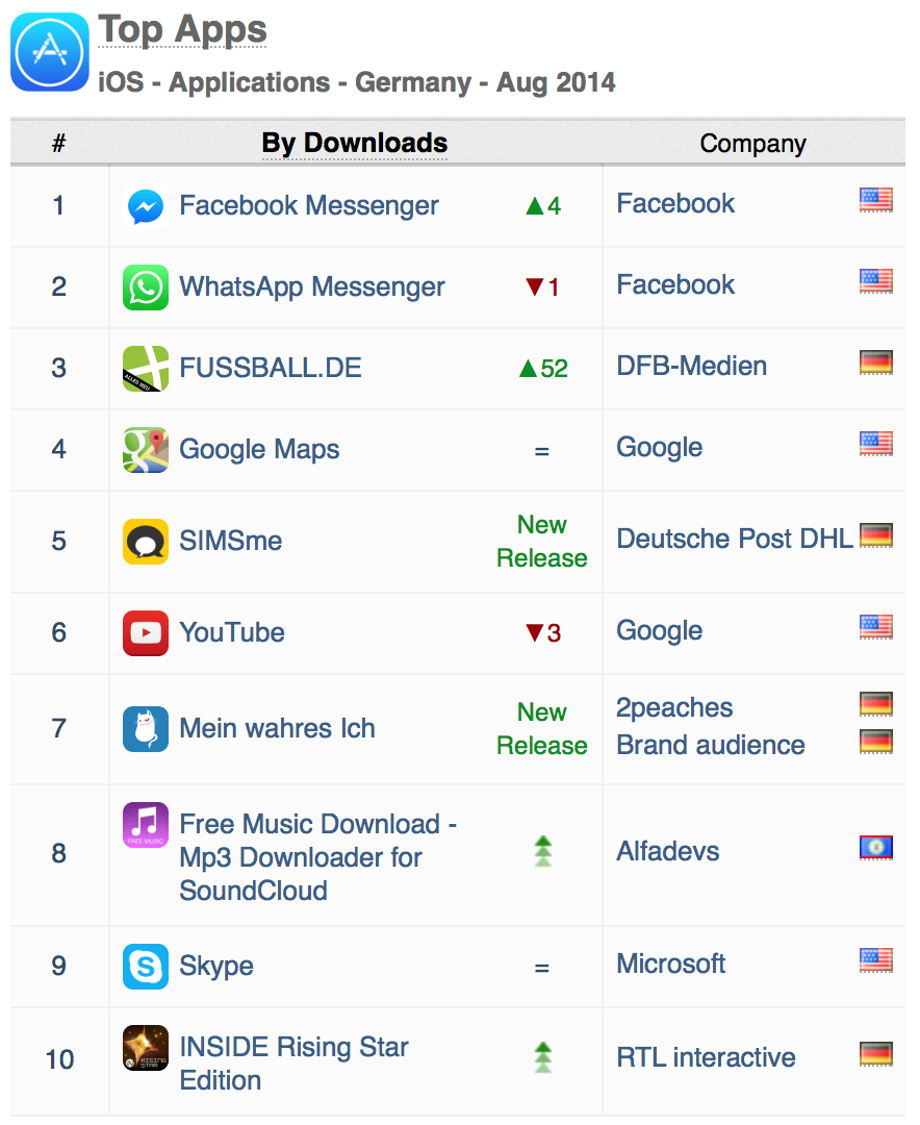 One of the most impressive movers in August was FUSSBALL.DE, moving up 52 ranks in the iOS download chart. The app was released just in time for the start of the national soccer season in Germany, providing fans with news, facts and scores for German matches. The app claims to update its users with in-depth information about everything around the latest soccer games in Germany, even including a spotlight for amateur clubs. It also includes interactive features for users, such as uploading photos or videos of a game to share the live experience with other fans. During August, FUSSBALL.DE scored top ranks in the sports category on both iOS and Google Play.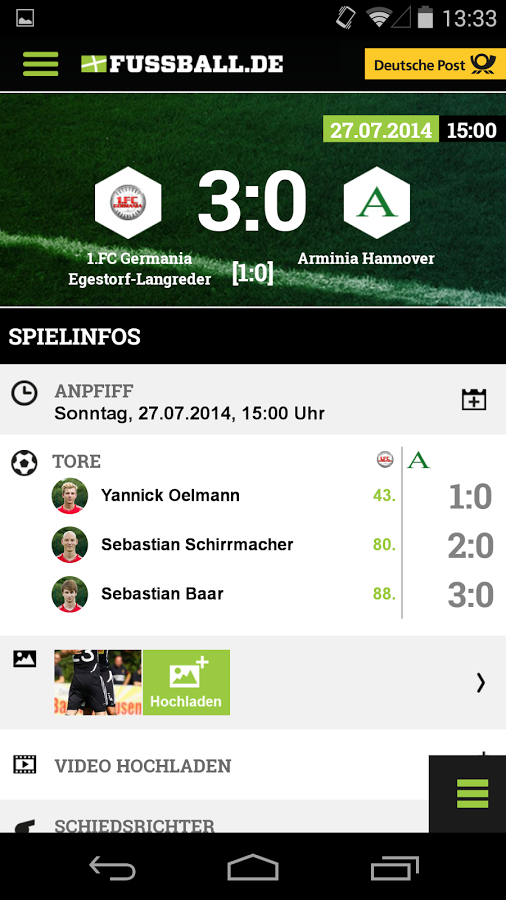 FUSSBALL.DE updates users with news, facts, times and scores for German matches.
Germans Latch Onto Secure Texting
In good company with major social messaging apps such as Facebook Messenger, WhatsApp Messenger and Skype, Deutsche Post DHL, Germany's major postal and courier service, also entered the messaging app market - or more precisely the secure messaging market. After controversy regarding secure messaging and encryption features, it became clear that particularly in Germany, mobile messaging users are particularly sensitive about surveillance. In this environment, Deutsche Post DHL launched SIMSme – Your secure messenger, which conquered the charts reaching #5 by iOS downloads for apps outside of games. Similar to Snapchat, the German app also offers a self-destruction feature along with real end-to-end encryption. The app generated a substantial amount of downloads on Google Play during August as well.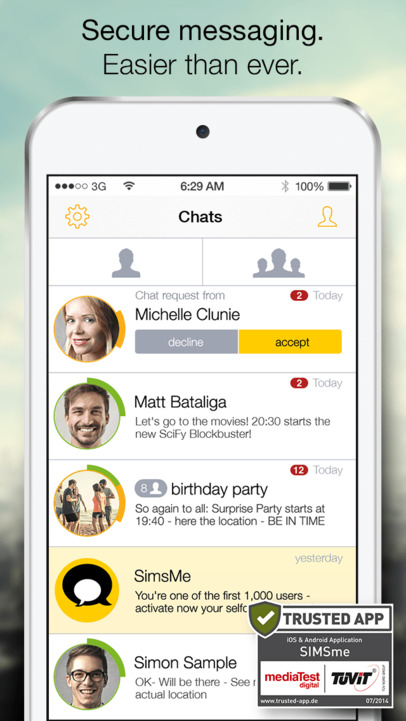 SIMSme launched to a privacy-hungry market on iOS and Google Play in Germany.
Tom Keeps Talking as New Outfit 7 Action Title Scores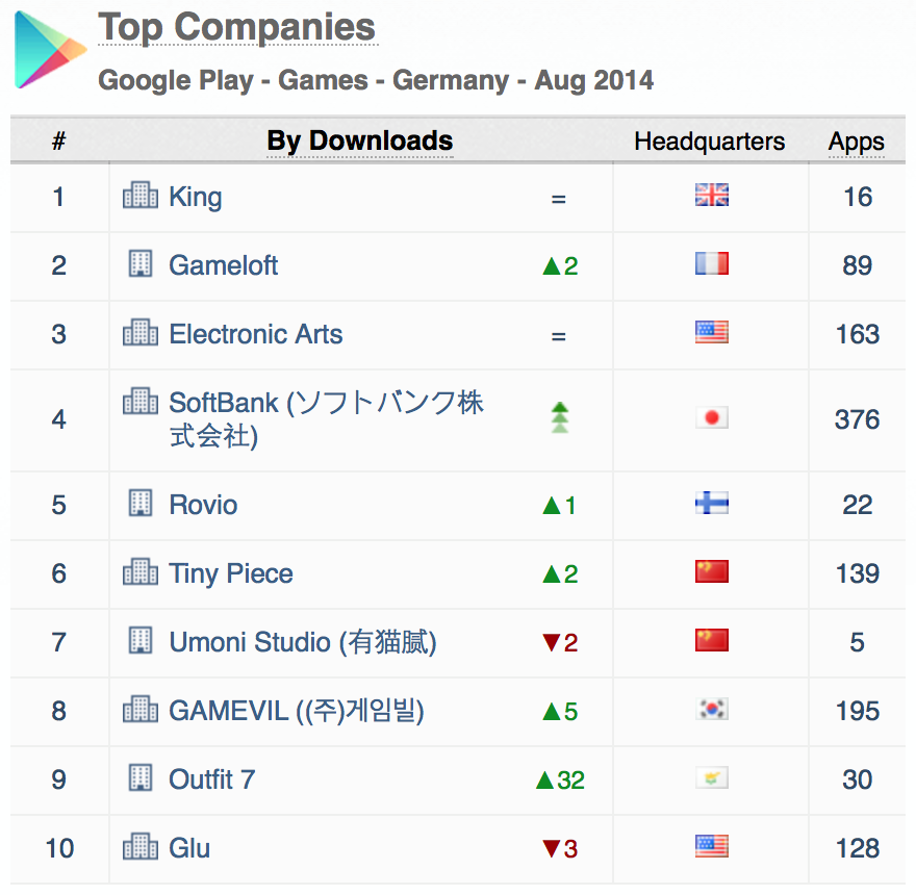 Shifting focus to Google Play, Outfit 7 showed big moves in Germany's Top Companies rankings by downloads. Known mainly for its apps featuring talking cats, Outfit 7 also proved to be successful in different game genres. While My Talking Tom continued to rake in additional downloads for Outfit 7, new action title Swamp Attack generated substantial downloads when it debuted in August, contributing to Outfit 7's overall gain in the company rankings.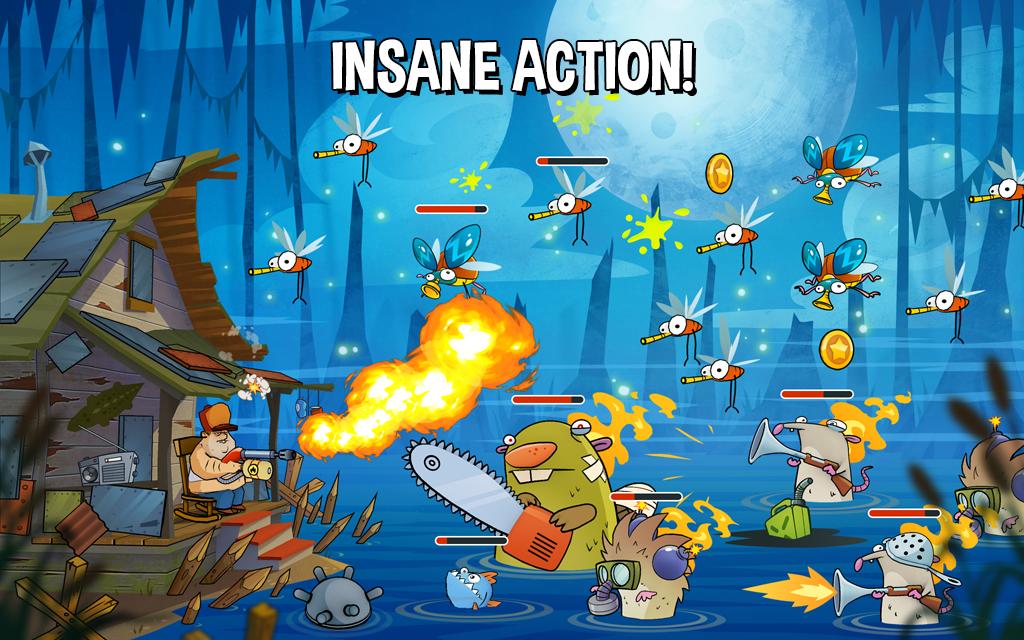 In Swamp Attack, players have to defend a cottage from an onslaught of various swamp creatures.
3. More Movers and Shakers
Swing Copters Touch Down in Germany
As noted in the Worldwide App Annie Index for Games, Flappy Bird creator Dong Nguyen's newest endless vertical scroller game Swing Copters also had an impact on Germany's charts. Its German fans helped Swing Copters finish the month at #6 by downloads.
Germans Embark on Ice Age Adventures
Following close behind Swing Copters, Gameloft's Ice Age Adventures entered the iOS monthly download chart in Germany at #7. While an update to Gameloft's main game Despicable Me brought the game into the top 10 worldwide charts, German gamers appeared to favor Ice Age Adventures during August.
Shadow Kings -- By Germans, for Germans
Facing strong international competition, the only German publisher who made it into the August top 10 game download charts in Germany was Goodgame Studios. In addition to the exceptional performance of other simulation games in Germany's download charts, such as Godus, new release Shadow Kings also received strong support from German simulation game enthusiasts. The demand for the local game was large enough for Shadow Kings to finish the month at #10 by downloads.
---
| | |
| --- | --- |
| | Want to get even more advanced with your app store market analysis? Check out our enterprise product App Annie Intelligence. |
---
For those of you who are also looking for an update on markets outside of Germany, check the Worldwide and France App Annie Index reports. To keep up-to-date with all the changes at the top of the app and publisher charts, check out the complete set of App Annie Index tables.
Notes:
The company and app rankings reported in the App Annie Index are based on the download and revenue estimates available through App Annie

Intelligence

. The daily rank history charts and the home page feature app data are available to all users through App Annie's app tracking solution,

Store Stats

.

Through September 2013, similar versions of the same app with different names (e.g., Deezer Music and Deezer HD) were ranked separately. Effective with October data, similar versions of the same app with different names will be unified (e.g., Deezer Music and Deezer Music HD are now aggregated and ranked as a single Deezer unified app).

Company and unified app rankings in the App Annie Index are based on individual apps that ranked in the Top 1,000.

In the first month in which an app becomes unified, its rank change in the Index will compare the unified app that month vs. its highest-ranking individual app in the month prior. As a result, rank changes for newly unified apps may overstate ranking increases from July 2014 to August 2014.

In the iOS App Store, an app can be categorized under a Primary Category as well as an optional Secondary Category. If an app has a Primary Category of Entertainment and a Secondary Category of Games, it is a candidate to be included in App Annie Index tables for Apps. If the app's Primary Category is Games and its Secondary Category is Entertainment, then it will not be included in the App Annie Index tables for Apps; it is a candidate for the Index for Games.

Note that the ranking approach used in the App Annie Index differs from that used in the iOS App Store. In the latter, app rankings for a given category will include all apps whose Primary Category or Secondary Category matches that given category. So an app can appear in the rankings for more than one category within the iOS App Store or in App Annie Store Stats rankings.

In Google Play, an app can be categorized under only one category, so there is no double-categorization.

Occasionally, a publisher may decide to shift an existing app from one category to another category. In these cases, the App Annie Index will rank that app based on how it is categorized in the subsequent month. Given that the App Annie Index has Games tables and Apps tables, the scenario where an app's recategorization could shift it from one Index table to another is if its category changes from the Games category to a category other than Games or vice versa.
In the App Annie Index, all apps and publishers are reported under their parent company, where available; for example, the Meetic app is reported under its parent company InterActiveCorp (IAC), rather than its direct publisher Meetic. Note that if you view the InterActiveCorp (IAC) parent company page on Store Stats, you will see the publishers under the parent company, including MeeticGroup. The Meetic app will be listed under the Meetic

publisher page.

Company and app rankings are based on the

App Annie DNA

relationships at the time of publications. App Annie DNA relationships are subject to change over time.

App Annie Index revenue rankings are based on revenue that the iOS App Store and Google Play earned from paid downloads and in-app purchases. They do not include revenue earned from in-app advertising.

Certain trademarks and/or images used in this report may belong to third parties and are the property of their respective owners. App Annie claims no rights in such trademarks or images.