GDC Europe, one of Europe's most high-profile gaming conferences, kicks off today in Cologne, Germany. As everyone from major publishers to indie developers trot out their upcoming titles on the showroom floor, we thought we'd take a look at what App Annie Intelligence data reveals about the types of games currently dominating the mobile gaming markets around the world, and how the European market compares to these trends.
If you're attending GDC Europe, we'd love to talk data. Feel free to stop by our booth to discuss this report or get a demonstration of our platform.
Booth: #169
Day 1: Monday, August 11, 9:30-17:30
Day 2: Tuesday, August 12, 10:30-19:00
GDC Europe Special Report Key Takeaways
Action was the leading game subcategory by revenue on iOS in Q2 2014, while the Role Playing subcategory led Google Play game revenue.
On iOS, growth in the Action, Role Playing and Simulation subcategories considerably outpaced growth in the Puzzle subcategory from Q2 2013-Q2 2014.
There were significant regional- and country-level differences in game subcategory performance which must be considered by game publishers aiming for expansion into new territories.
Consumers in Asia dominated the Role Playing subcategory, helping it rise to a prominent position in worldwide game revenue.
Games in the Action subcategory in China broke the dominance of the Role Playing subcategory in Asia, largely because of the success of Tencent's titles for its WeChat platform.
The Strategy subcategory led revenue generation for developed markets in the Americas and Europe.
Rapidly rising markets in the Americas demonstrated a preference for games outside of the Strategy subcategory. In particular, games in the Action subcategory were particularly effective revenue generators in these markets on iOS.
Top Game Subcategories Worldwide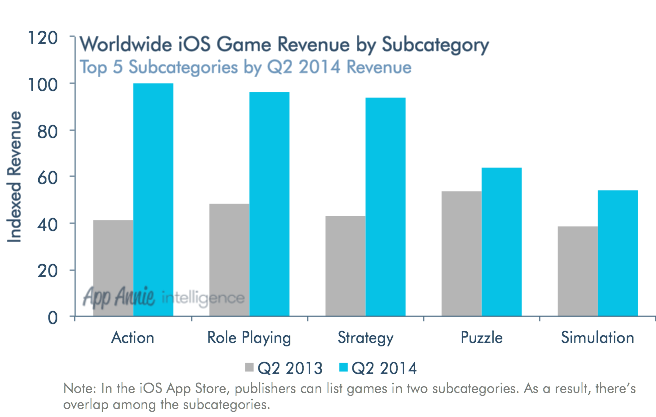 The Action, Role Playing and Strategy subcategories led iOS revenue in Q2 2014, blowing past revenue from the Puzzle subcategory.
In the iOS App Store, Action, Role Playing and Strategy subcategories led revenue generation in Q2 2014. Two of Supercell's smash hits — Clash of Clans and Boom Beach — were instrumental in helping the Action subcategory reach the top of the rankings, but a number of other titles also played a key role. Japanese publisher Mixi's rapidly growing Monster Strike (モンスターストライク) was a notable performer in the Action subcategory throughout Q2 2014. Monster Strike (モンスターストライク) demonstrated its potential to drive continued growth recently by surpassing Puzzle & Dragons (パズル&ドラゴンズ) as the top grossing iOS game in Japan on several days in late July. The rise of Tencent and its WeChat platform as a mobile gaming superpower also boosted the Action category in Q2 2014. Four of the Action subcategory's top 10 games by worldwide iOS revenue in Q2 2014 were published by Tencent, led by action fighting title We Fight (天天炫斗).
Overall, there has been substantial growth in iOS gaming revenue throughout the top subcategories from Q2 2013-Q2 2014. Action, Role Playing and Strategy all doubled their quarterly revenue in this time. Among the top five subcategories, however, it's evident the Puzzle subcategory had the lowest growth rate over the past year, dropping from its position as king of iOS game subcategories in Q2 2013. Despite featuring high-profile titles such as Candy Crush Saga and Puzzle & Dragons (パズル&ドラゴンズ), which maintained prominent positions, the subcategory dominated by match-three puzzlers didn't keep pace with other iOS game subcategories. It will be interesting to see whether this represents a long-term shift in the mobile gaming market toward the strategy and role-playing games frequently associated with core gaming.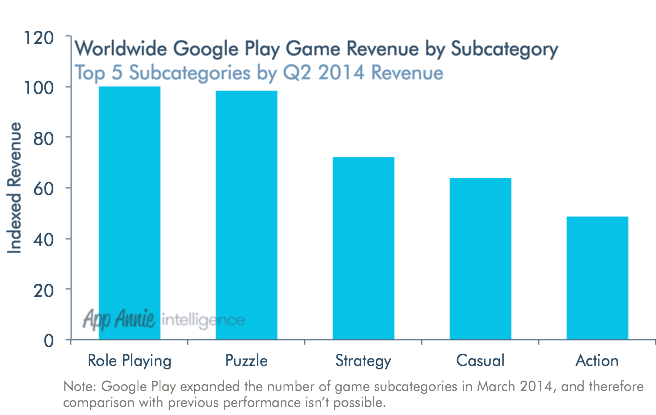 The Role Playing and Puzzle subcategories held a notable lead in worldwide Google Play game revenue in Q2 2014.
On Google Play, where publishers can only specify a single subcategory, revenue from the Action subcategory was considerably behind that of Role Playing and Puzzle. Puzzle & Dragons (パズル&ドラゴンズ), a revenue-generating hit in Japan, led the way for games in the Puzzle subcategory in Q2 2014. Although the Role Playing subcategory didn't have an individual game on par with Puzzle & Dragons (パズル&ドラゴンズ), a number of high-performing titles helped it claim the #1 spot for Google Play game revenue in Q2 2014. The Role Playing subcategory was led by COLOPL's The World of Mystic Wiz (魔法使いと黒猫のウィズ), but also featured successes such as Monster Taming (몬스터 길들이기) for Kakao and Brave Frontier (ブレイブフロンティア).
The top Google Play subcategories also matched those in the iOS App Store across the board, with four of the same subcategories in the top five. The solitary difference was the Casual subcategory on Google Play, which included titles such as King's Candy Crush Saga and Farm Heroes Saga, but doesn't exist on the iOS App Store.
Google Play expanded the number of game subcategories available to publishers in March 2014. It's therefore not possible to directly compare Q2 2014 results with previous quarters, but we'll follow the development of these new subcategories over time with interest.
Regional Variations in Game Subcategories
For publishers seeking to expand their gaming audience or deciding where to invest marketing budget, it's vital to understand regional gaming preferences. Therefore, we've selected five countries from three major regions for mobile gaming to examine the differences in how these subcategories perform globally.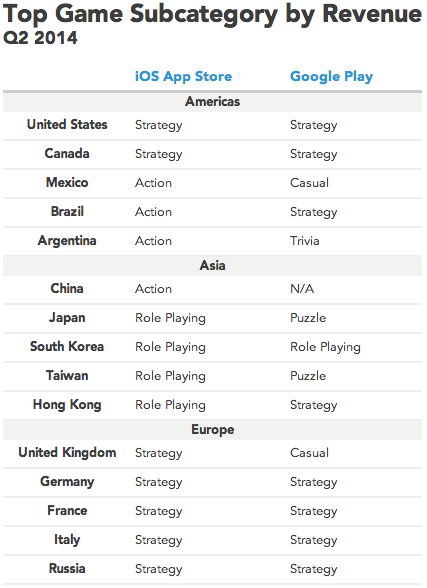 On iOS in Asia, Role Playing clearly dominated revenue, with the exception of China. Asian countries undoubtedly drove the worldwide success of the subcategory. This was evident in Role Playing's top games worldwide in Q2 2014, where 18 of the top 20 titles came from publishers headquartered in Asia.
In China's Action subcategory, five of the top six games in Q2 2014 were published by Tencent for the WeChat platform, indicating the extent to which the publisher has developed and dominated the casual gaming market. Consequently, publishers looking to break into this market may need to consider strategies that utilize the platform to maximize success.
The Americas and Europe told a different story, where Strategy was the major breadwinner in those markets. Supercell's Clash of Clans and Boom Beach made a big impact in these Western markets, as did United States-based publisher Machine Zone with Game of War - Fire Age.
When honing in on the Americas, there was a clear distinction between the more established markets (United States and Canada), which were dominated by Strategy games, and the rising markets of Mexico, Brazil and Argentina. On iOS, these emerging markets all exhibited a leaning toward Action, while the top game subcategory for Google Play revenue varied among all three.
Following in the footsteps of developed markets in the Americas, games in the Strategy subcategory had a stranglehold on revenue in both app stores in Europe. Google Play in the United Kingdom was the exception, which was where big hits from local publisher King helped the Casual subcategory to the top position.
App Annie Intelligence is the leading market data solution for the app store economy. To understand more about the types of games that are driving success for mobile game publishers at worldwide, regional and country level, take a tour or request a demo today.
Notes:
In the iOS App Store, an app can be categorized under a Primary Category as well as an optional Secondary Category. If an app has a Primary Category of Games and a Secondary Category of Entertainment, it is a candidate to be included in this report. If the app's Primary Category is Entertainment and its Secondary Category is Games, then it will not be included in this report.

In Google Play, an app can be categorized under only one category, so there is no double categorization.

In the iOS App Store, publishers can select up to two subcategories for apps listed in the Games category. As a result, revenue from a single game can be included twice when considering subcategory market sizes.

Certain trademarks and/or images used in this report may belong to third parties and are the property of their respective owners. App Annie claims no rights in such trademarks or images.