Discover the key trends and apps that influenced gaming apps' performance in 2016.
Gaming apps are continuing to dominate overall app store revenue. In 2016, games generated 75% of iOS App Store revenue, and 90% of Google Play revenue. For iOS in particular, the Role Playing Game (RPG) subcategory alone netted half of all gaming apps revenue growth in 2016. The Games category also helped contribute to China's leap to the #1 spot for iOS revenue, with the majority of money earned also coming from this category. Dive into the full analysis of app revenue trends and mobile growth in App Annie's 2016 App Annie's 2016 Retrospective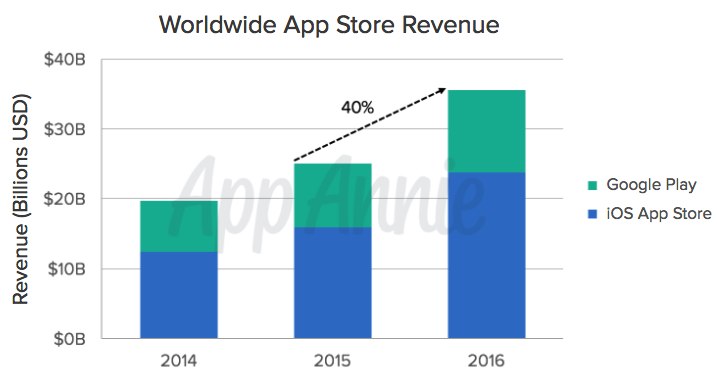 Benchmarking gaming apps revenue with ARPU
One of the most important metrics for mobile game publishers is average revenue per user (ARPU). Our proprietary insights reveal that ARPU has been significantly increasing in some of the world's biggest app markets. Japan was the standout of all countries analyzed, with the top 30 app games monetizing over twice as effectively as the top 30 in the United States. And roughly two-thirds of Japan's top 30 games almost exclusively belong to the RPG subcategory. China earned the title for most ARPU growth — increasing a staggering 10x from 2014 — with RPGs again being a driving force.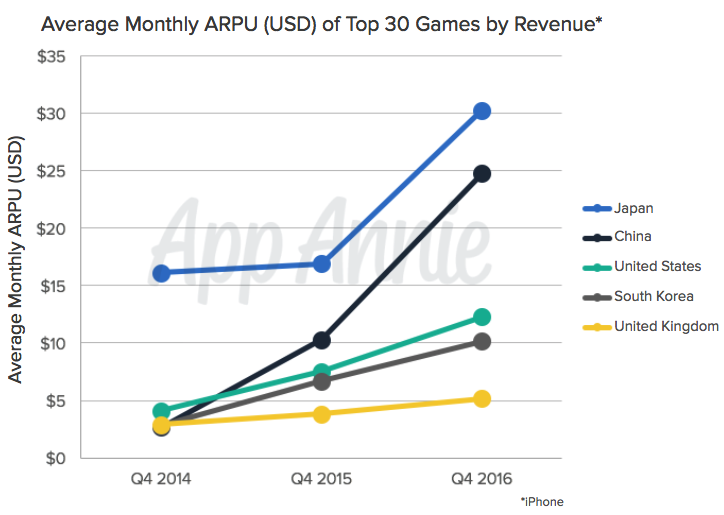 It's clear that building effective user engagement and monetization strategies impacts an app's revenue and overall market potential. Consider, for example, one of the most successful apps of the year - Pokémon GO.
Pokémon GO - Lessons learned for app engagement and revenue opportunities
Pokémon GO — whose groundbreaking success took players, publishers and the rest of the world by surprise — helped greatly shape the mobile gaming atmosphere in 2016. App gamers embraced it while non-gamers converted to become avid Pokémon trainers, and app publishers watched in awe as Pokémon GO continuously broke worldwide consumer spending efforts. Thanks to the app's well-loved IP, captivating augmented reality (AR) features and inherent offline social interaction, it was an unprecedented hit. Despite publishers' concerns, we also confirmed that the game was taking up non-gaming time — not affecting the revenue or usage of other apps.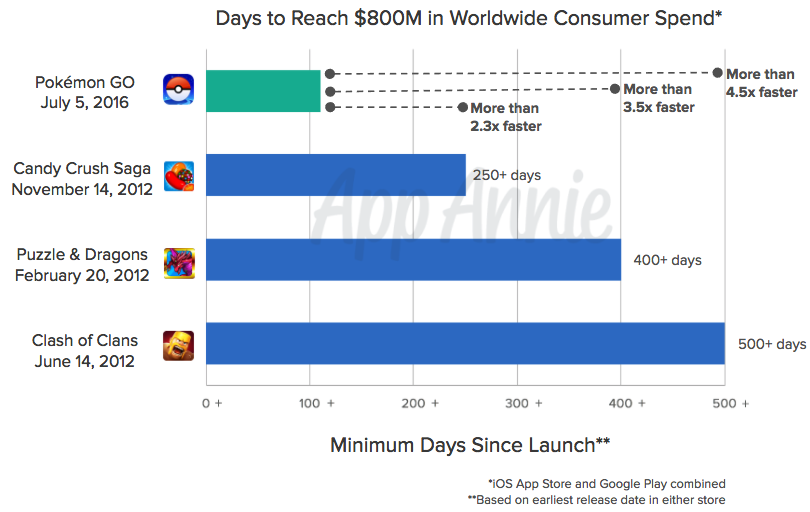 The game reached astonishing consumer spend levels quickly, outpacing other prominent gaming apps' road to growing app revenue. Pokémon GO earned $800 million in consumer spend in 110 days and totaled $950 million by the end of 2016. This unparalleled rise in the app's revenue demonstrates the viability of app gameplay and engagement strategies, opening up opportunities for other gaming apps to adopt similar elements in the future.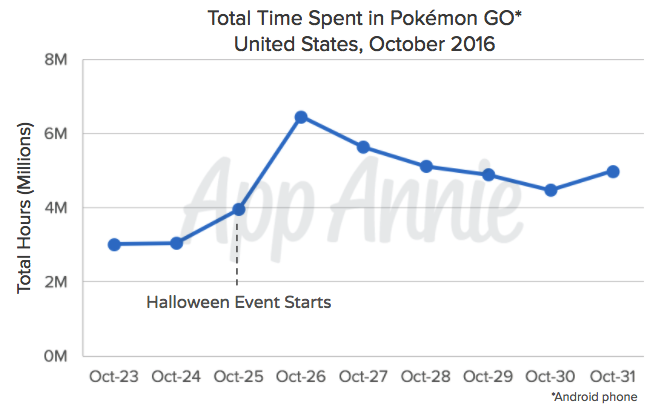 In our Q3 2016 Market Index, we noted that time spent in Pokémon GO amounted to nearly as high as that of the next 19 biggest games combined. It also leveraged timely holidays to re-engage users that might have dropped off, such at through an in-game Halloween event which boosted engagement to double what it was the day before the event. This game helped bring the concept of AR to users around the world, confirming that it is paving the way for future mobile implementations.
Learn more about how successful mobile apps like Pokémon GO drive app revenue by downloading the full report now.