Gaming, once thought to be the activity of choice for reclusive teenagers, is now mainstream enough to be embraced as a necessary component of a business' marketing strategy. In fact, there are some m-commerce brands that use games — or "gamification"— in their apps to obtain and retain their consumers' attention. Additionally, with retail giants like Amazon, Walgreens and Walmart publishing the top retail apps by downloads in the iOS App Store and Google Play, their competitors such as L Brands find that gamification can effectively boost the bottom line and engagement.

Engaging Games Prove Profitable for Retail Apps
L Brands' PINK Nation — a subsidiary of Victoria's Secret — is thinking outside the box when it comes to taking on competitors and gaining new and loyal users. PINK Nation found success by implementing engaging, creative marketing campaigns and games into their mobile user experience. A great example of this can be found in our App Annie & Internet Retailer Index.
The Index revealed that PINK Nation conducted a social in-app scavenger hunt and doled out promotions and freebies to their core demographics — college women — during Spring Break 2014. A previous PINK Nation campaign included an in-app game titled PINK-O that let users play daily for a chance to win prizes. This addition of gamification paid off for PINK Nation and its parent company. L Brands reported that PINK was one of the main contributors to its 2% growth in sales in May 2014, thanks in part to these innovative marketing strategies.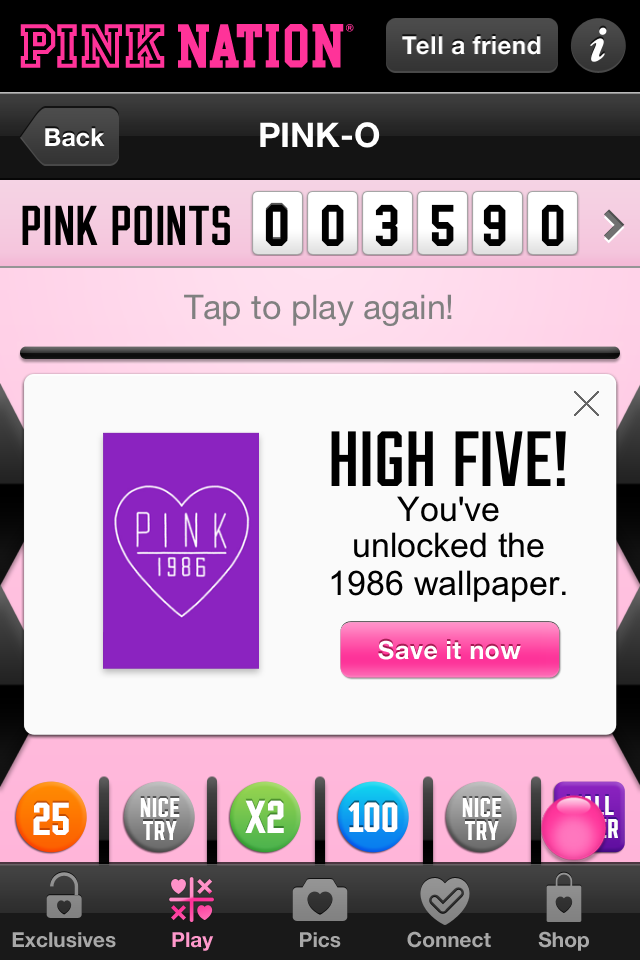 PINK-O incentivizes users to come back to the PINK Nation app — even when they're not shopping.

HSN Gets in the Game
The Home Shopping Network, the stalwart TV shopping channel, is also getting into gamification to help spur mobile engagement with their desired target audience of "young, affluent shoppers."
"We think of [!our!] business [!as!] mobile-first from the smartphone screen backwards," said Mindy Grossman, CEO of HSN Inc., in an IRCE report. "A lot of focus in our company is on the mobile experience, giving the customer a reason to check in with us in the morning, just like she would check the weather," she added.
In order to meet this goal, HSN added Spin to Win to its Shop App. The game features a colorful, slot machine-like interface that requires a three-of-a-kind match to win. Users can access Spin to Win through the Arcade tab on the app, giving them the chance to spin as many as 10 times a day to win a prize. The complimentary game is part of HSN's marketing strategy to meld shopping, games and entertainment to improve engagement, according to the IRCE report.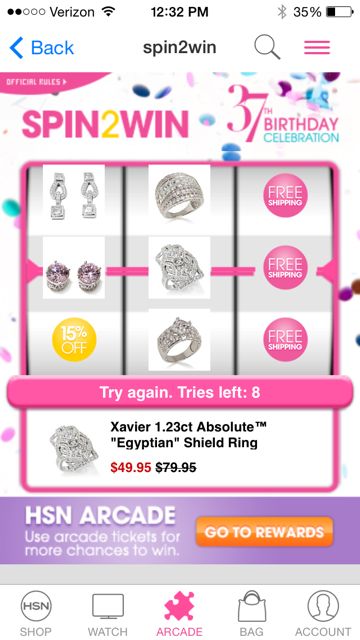 Spin to Win gives you 10 chances a day to win a prize.
Since HSN added gamification, they have registered 700,000 shoppers that have played 100 million games as of July 2013. "Everyone should be thinking about gamification," Grossman concluded.
Use App Annie Tools to Understand Your App Data
Gamification is just one business strategy retail app publishers and developers can adopt to help drive engagement and downloads. App Annie offers several free tools, such as Analytics, Advertising and Store Stats, as well as our premium Intelligence product, that can help publishers in the m-commerce space. Try our platform today to enhance your marketing strategy, make better business decisions, and benchmark your competition.
For more information on the state of mobile retail, read our latest App Annie & Internet Retailer Index.