Games accounted for nearly 40% of downloads, and over 70% of all consumer spend across both iOS and Google Play combined in Q3 2019.
Q3 2019 was the largest quarter yet for both downloads and consumer spend. Globally, there were over 31 billion downloads, up 10% year over year. Consumer spend also reached new heights at over $23 billion, a 20% growth year over year. Games accounted for nearly 40% of downloads, and over 70% of all consumer spend across both stores.
Consumers Downloaded Over 12B Games in Q3 2019
Google Play continued to lead the iOS App store in downloads by 175%. Google Play's download lead was much larger among Games at 260%, but down 5 percentage points compared to Q2 2019. Games accounted for a larger share of downloads on Google Play than on iOS at 40% and 30%, respectively.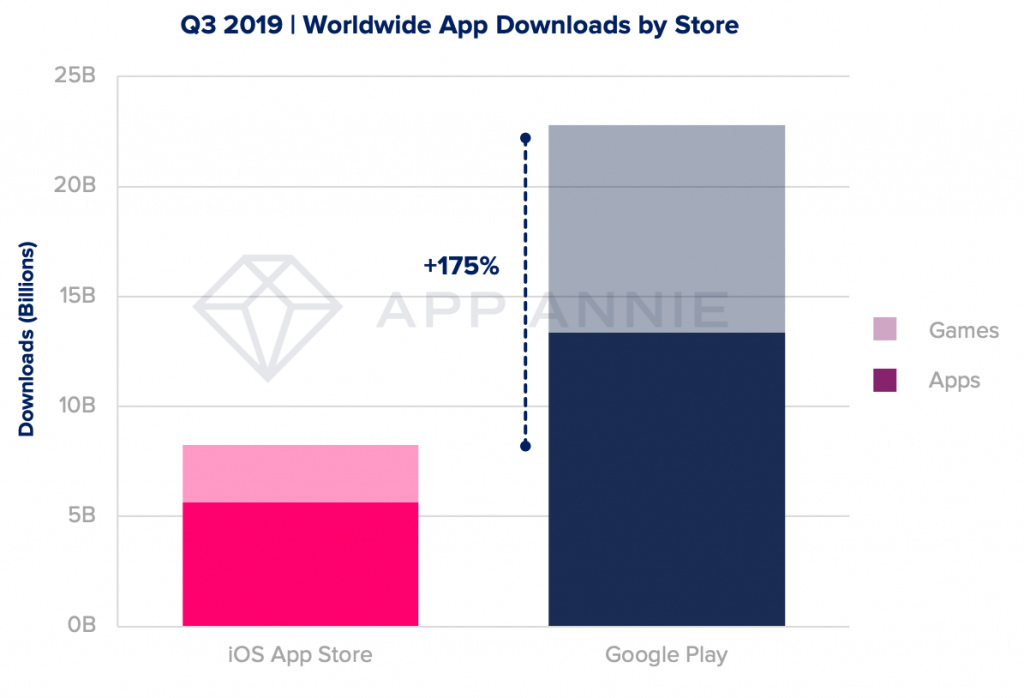 As we've reported in previous quarters, the markets of India, Brazil and the US had the most Game downloads for Google Play. During the same period, India, Russia and Egypt had the highest growth of absolute downloads. Among game genres worldwide, Simulation, Casual and Action Games drove most of the download growth on Google Play. Simulation Games (e.g. On Pipe, Battle Disc) had particularly strong growth of 65% year over year. It should be noted that there are also a number of Games being classified within the Comics category (e.g. Gun Strike: Shooting Games). Among the top 20 apps by downloads in the Comics category, 19 were actually Games — accounting for 95% of downloads. The same was true for the Auto & Vehicles category — 3rd fastest growing non-gaming category year over year — where the 19 of the 20 most downloaded Apps were also Games, indicating the prevalence of this phenomenon. 
The US, China and Japan were the largest markets for iOS downloads in Q3 2019. However, the US, Saudi Arabia, and the UK drove the largest absolute growth year over year. The Arcade, Puzzle and Simulation genres drove growth of the gaming category. In terms of absolute size, Arcade, Action and Puzzle genres remained the largest by total downloads in Q3 2019.
Consumers Spent Record $16B on Games in Q3 2019
Consumers spent 10% more on Games in Q3 2019 than one year prior, with consumer spending on iOS growing slightly faster than on Google Play — 20% growth on iOS and 10% growth on Google Play. On iOS, Games accounted for 65% of consumer spend compared to 80% on Google Play. The recent release of Apple Arcade and Google Play Pass subscription services could shake up these ratios in the coming quarter and are not included in our market sizing.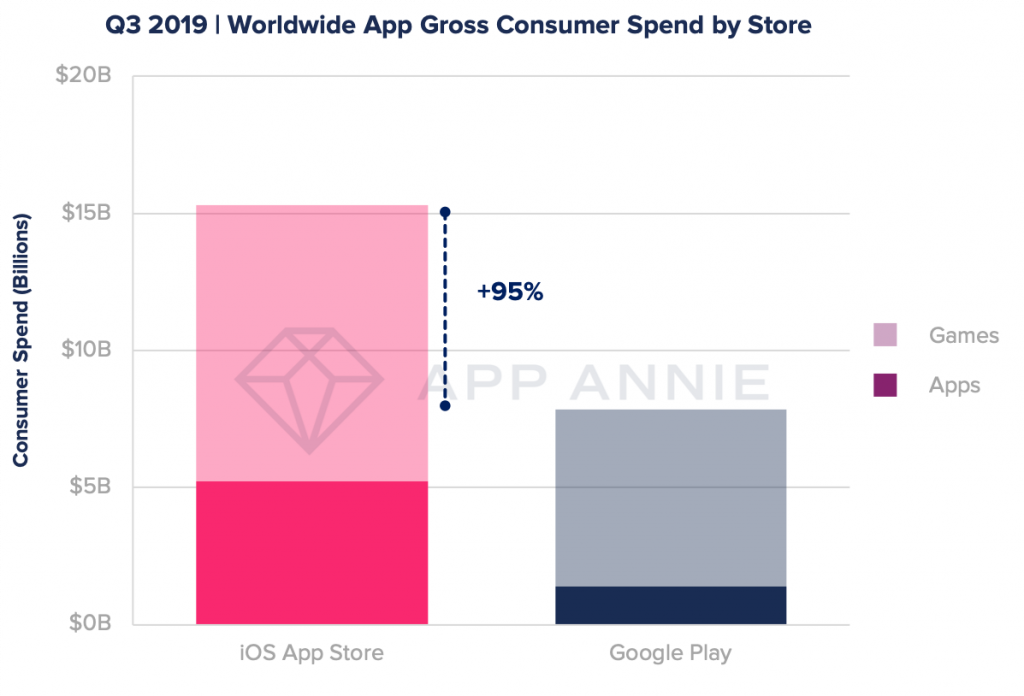 The key markets driving year-over-year growth in consumer spend for iOS Games were Japan, the US and China, with Japan growing 30% year over year. Within Games, Strategy, Action and Role Playing were the main genres, accounting for year-over-year absolute growth in consumer spend on iOS. Established favorites like Honour of Kings and Fate/Grand Order led these categories in terms of overall revenue, while newcomers like Dragon Raja and CrazyRacing KartRider saw strong growth in consumer spend.
For Google Play, the US, South Korea and Russia were the top contributors to year-over-year growth in consumer spend for Games. Top Game categories for year-over-year growth in consumer spend on Google Play were Casual, Role Playing and Action. BTS WORLD, which we've written about before, had the greatest absolute growth in revenue in Q3 2019 among Casual Games.
Breakout Games of Q3 2019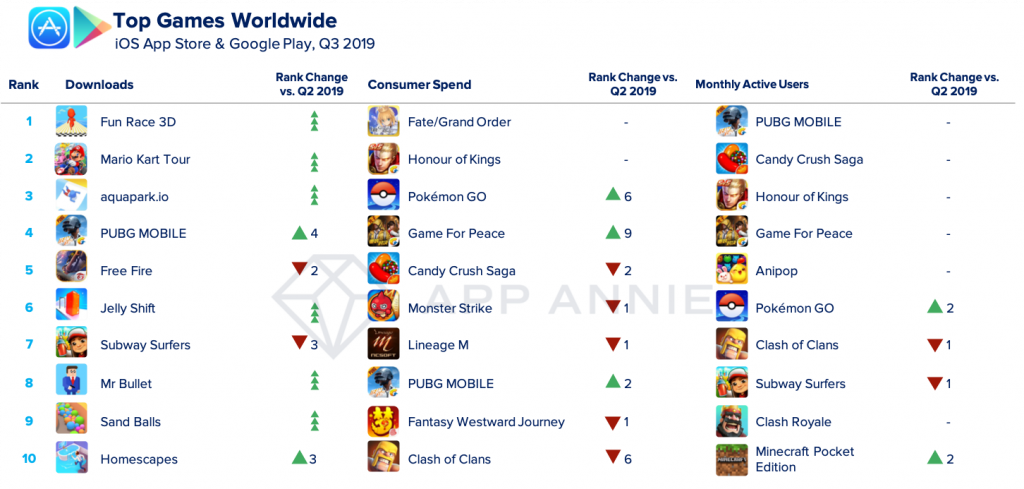 Mario Kart Tour launched on September 25th, 2019 and saw immediate traction among fans, reaching number 1 within 2 hours of release on iPhone in the US, and became the 2nd ranked game by downloads worldwide less than one week after release. As of September 30th, 2019 it was ranked #1 Overall by downloads in 80 markets on iOS and 57 markets on Google Play . The game is free-to-play, but offers in-app purchases and a subscription option for more dedicated players allowing them to collect gold gifts, badges and race in the 200cc mode. Mario Kart Tour is the latest game to leverage strong IP in a mobile environment, tapping into the fandom surrounding the console versions of the game as Nintendo has done with previous releases like Super Mario Run, and Dr. Mario World.
PUBG Mobile remained #1 in terms of monthly active users (MAU), but also moved up 4 places in the download rankings. This shows that PUBG Mobile maintained engagement with existing users, while also attracting a sizable cohort of new players. Publisher Tencent's other battle-royale game Game for Peace — built specifically for the Chinese market — jumped 9 ranks from the previous quarter to land in the top 10 Games by consumer spend.
Fun Race 3D and aquapark.io were the 2 most downloaded games in Q3 2019, proof of the sustained popularity of hyper-casual games. 6 of the top 10 games by downloads in Q3 2019 were hyper-casual. While the genre remains popular, the top games continue to shift. 80% of hyper-casual games in the top 10 by downloads were newly released this quarter or ranked outside the top 100 apps in Q2.
To uncover the key drivers of growth for non-gaming apps in Q3 2019, read our latest analysis. Check out our joint report with Google to learn more about International Expansion in Mobile Gaming, and our State of Mobile Gaming 2019 and Beyond for more insights into the mobile gaming industry.
#levelupwithappannie
This article was originally published on October 7th, and has now been edited with updated data.