Mobile game downloads in March grew 30% from Q4 2019 as people on lockdown look for more ways to stay entertained at home.
With governments and businesses across the world asking consumers to practice social distancing, people are spending more time than ever at home. These significant changes to people's day to day lives have resulted in novel behavior on mobile. In Q1 2020, Consumers spent over $23.4B through the app stores, the largest quarter ever in terms of consumer spend. There were also over 31B new app downloads, a 15% increase from Q4 2019, with games accounting for 40% of this. Downloads of mobile games have been growing, with weekly game downloads in March 2020 up 30% compared to Q4 2019.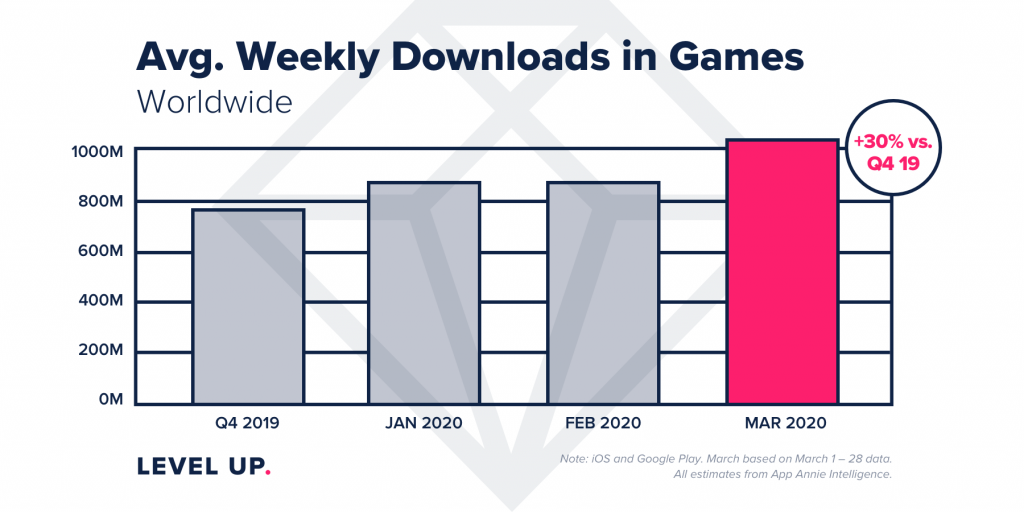 Consumers Downloaded Over 13 Billion Games in Q1 2020
Game downloads on Google Play grew 25% year over year, amounting to nearly 10B downloads in Q1 2020. On iOS, new game downloads grew 25% year over year topping 3B. Games account for a higher share of overall downloads on Google Play than on iOS, 45% and 35% respectively. For an analysis of the app market overall, check out our Q1 2020 app market index.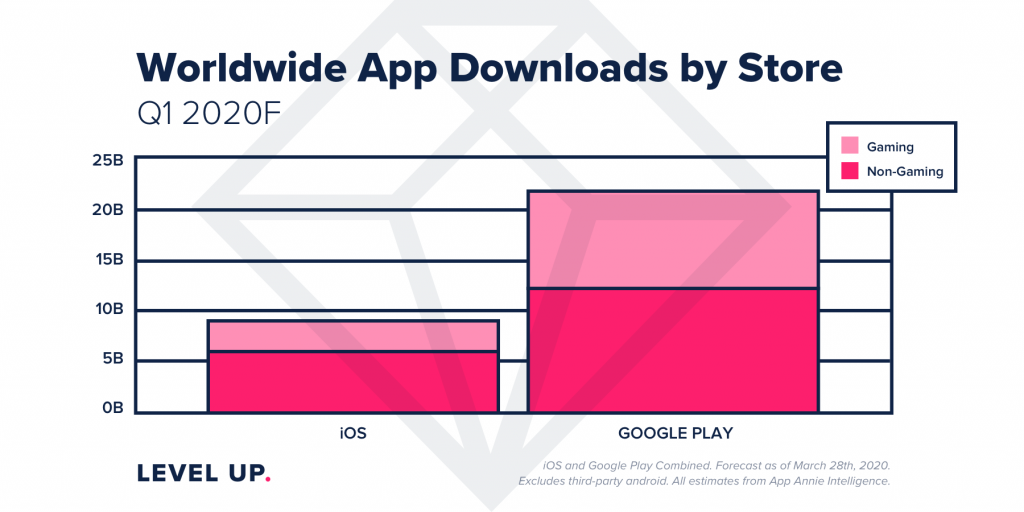 On Google Play India and Brazil were the largest markets by game downloads. India and Brazil also had the largest growth of absolute downloads year over year. From a genre perspective, Puzzle, Simulation and Action games drove the most year-over-year download growth. Growth in the Puzzle category was led by Brain Out, while the  Simulation category was led by Woodturning.
China and the United States were the largest markets on iOS by game downloads in Q1 2020, as well as the two largest drivers of growth year over year. The Arcade genre was the largest by downloads on iOS, followed by the Action and Simulation genres. Meanwhile, the largest drivers of year-over-year growth were the Arcade and Simulation genres.  
Consumers Spent Over $16.7 Billion  in Mobile Games in Q1 2020
Consumers spent 5% more on games in Q1 2020 than in Q4 2019, with similar growth rates on both iOS and Google Play. Games accounted for 65% of all consumer spend on iOS and 85% on Google Play.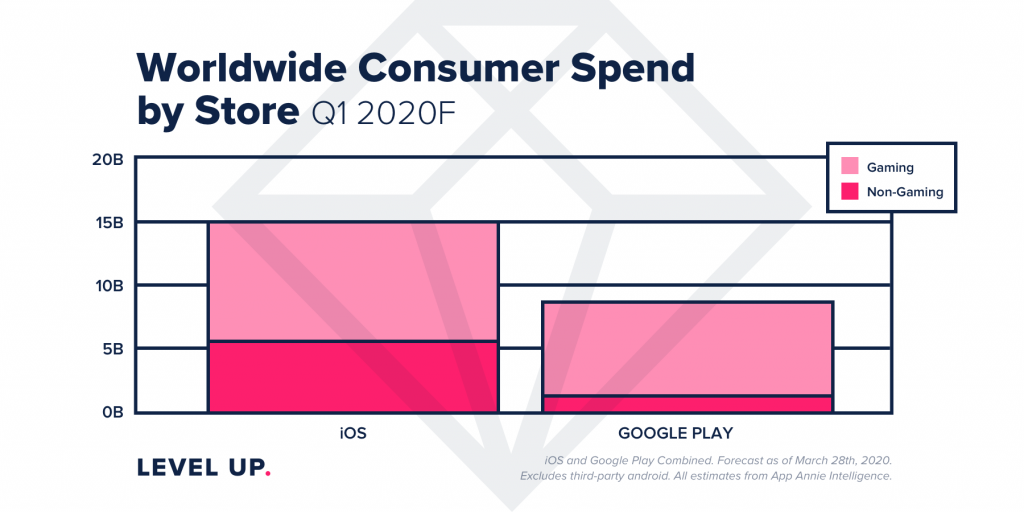 The United States, Japan and South Korea were the key contributors to consumer spend on Google Play in Q1 2020. Growth in consumer spend from Q4 2019 was led by the United States and South Korea. On iOS, China was the largest market by consumer spend, growing 15% from Q4 2019. In February 2020 average weekly game downloads in China in the iOS store were up 80% compared to 2019. This increase in downloads likely had a spillover effect, driving growth in consumer spend. As more markets around the world enact more stringent social distancing policies, we expect to see further growth in downloads and consumer spend on mobile games. 
On Google Play, Role Playing and Strategy games were the largest genres by consumer spend in Q1 2020. These genres often offer customization, competitive online play and social mechanics. These features work to cultivate stickiness which translates to consumer spend. Role Playing games were led by Lineage 2M, released in Q4 2019. Strategy and Puzzle games were the main drivers of quarter-over-quarter growth, with Arknights and Fishdom: Deep Dive leading growth in each category respectively. On iOS, Role Playing, Action and Strategy games were the largest genres, with Strategy games driving the most growth from Q4 2019. 
Top & Breakout Games of Q1 2020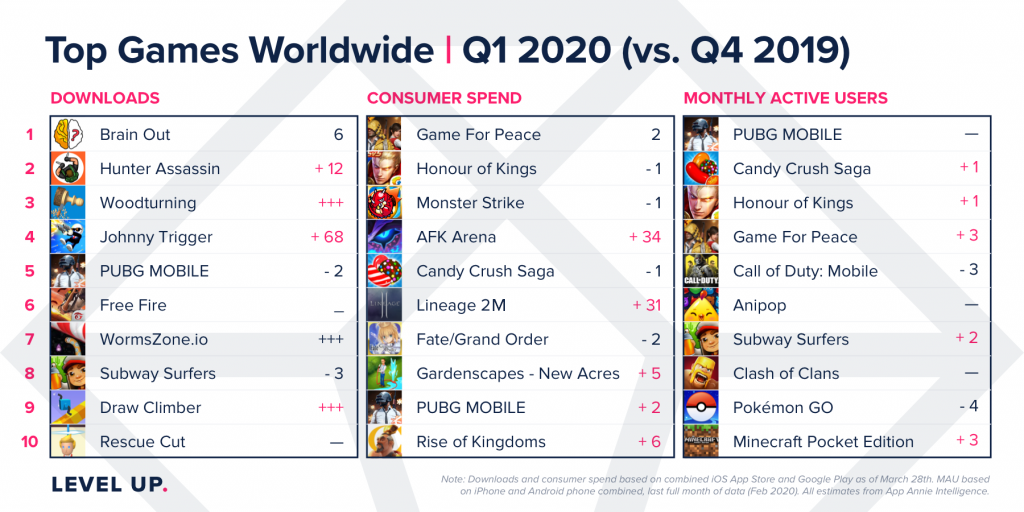 Woodturning from Voodoo launched in December 2019 and has shot up the charts to become the 3rd most downloaded game this quarter. Other games with similar mechanics like Wood Shop and Soap Cutting also launched towards the end of 2019 and have also seen strong growth in downloads during Q1. 
Lineage 2M launched in Q4 2019, and has quickly moved up the consumer spend charts to 6th place. As a port of the PC online MMORPG, Lineage 2M is yet another example of a console or PC game coming to mobile. Supported by larger screens, better hardware, and increased connectivity, Call of Duty: Mobile's successful launch in 2019 is further proof of the viability of console games on mobile. As we move further into 2020, we're excited to see more of our console favorites make the jump to mobile. 
Gardenscapes - New Acres from Playrix climbed 5 spots to become the 8th ranked game by consumer spend this quarter. Gardenscapes and Homescapes, both from Playrix, are puzzle games that also include a building mechanic. The use of meta layers, elements on top of the core gameplay, has become increasingly common across genres. 
Consumers are downloading more games as they seek to stay entertained at home. Sign up for our April 8th webinar, at 11 am PT/ 2 pm ET or 2pm BST / 3 pm CET for our European readers, where our analysts will discuss the changes we're seeing in consumer behavior in both gaming and non-gaming apps.
To stay up to date with the latest mobile trends that will help you win on mobile, sign up for a free App Annie account: