2018 was a massive year for video streaming on mobile. 2019 promises to be even more monumental.
At last Sunday's Oscars, history was made as Netflix had its first film, "Roma," nominated for Best Picture — and became the first film from a streaming service to win best director. While it was a breakthrough for the streaming service with the Academy Awards, Netflix and other streaming video platforms have long since won over consumers and continued to see widespread worldwide adoption in 2018, particularly on mobile.
Roma may not have won Best Picture, but Netflix is winning decisively on mobile. Netflix was the top overall app by consumer spend worldwide in 2018. They aren't the only ones seeing traction: HBO NOW, YouTube, and Tencent Video all ranked in the top 10 apps for worldwide consumer spend on iOS and Google Play, as well. YouTube, meanwhile, saw the most time spent in its app worldwide, just as it did in 2016 and 2017, accounting for 9 of every 10 minutes spent globally in the top 5 video streaming apps in 2018. Overall, spending in the top 5 video streaming apps worldwide grew 285% in 2018 verus 2016, with $2.2 billion being spent in these apps in 2018. No matter the metric, the conclusion is clear: video streaming on mobile is here to stay.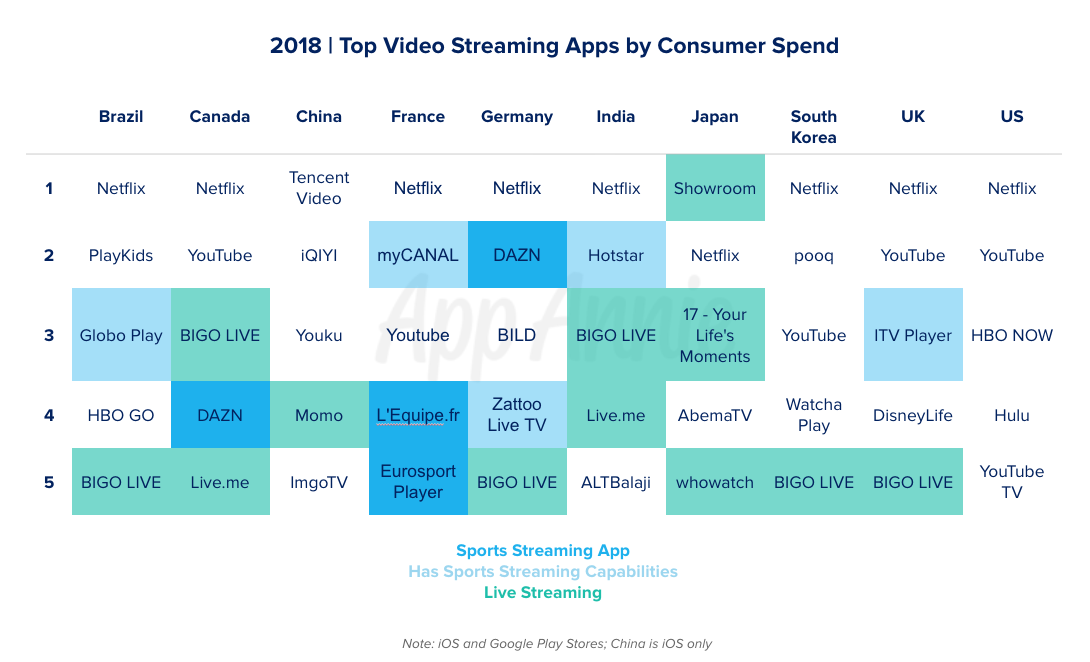 It's interesting to note that video streaming on mobile has thrived even as televisions and computers have vastly improved in quality and become significantly cheaper. Consumers are nevertheless shifting their viewing habits from these screens to mobile. It is forecast that in 2019 — for the first time — people will spend more time on their phones than watching television. Convenience and mobility is king for consumers, even if it means a smaller screen size.
This trend holds implications beyond television and video streaming industries, too. Mediapost reports that even as overall advertising will increase in 2019 by 5%, television advertising will go in the opposite direction, dropping an expected 4%. Companies that aren't even in the video streaming industry are still taking steps to vastly improve their video capabilities in app, as well, to ensure they effectively engage their key audiences. For example, banks created two-way video apps to conduct transactions normally performed by tellers, career and networking platform LinkedIn developed the capabilities for live broadcasting, while the Department of Veterans Affairs recently saw its millionth video interaction between vets and healthcare providers on its app.
Looking ahead to 2019, more and more companies will try to enter the video streaming market and grab a share of this massive, growing pie. Most notably Disney has announced the launch of their streaming service, Disney+, which is set to debut. Along with Disney+, Hulu, ESPN+ and ABC, Disney should have four of the top streaming apps in the space. We expect video streaming apps to continue to grow in 2019 and account for a remarkable 10 minutes of every hour spent consuming media across all channels — whether it be watching, reading or listening to content on TV, desktop or mobile.
This dramatic shift to mobile could re-shape the industry: we wouldn't be surprised to see a rise in piracy, as consumers try to get around the numerous required subscriptions. In the long run, we also expect the increased competition to lead to consolidation through partnerships, content bundling or acquisitions. As we've outlined, this trend will also have have a drastic impact on marketers, who will prioritize mobile campaigns, which now not only garner more eyeballs than television ads but also provide more backend data on viewers. It will likely even continue to impact the Academy Awards — so much so that we wouldn't be surprised to see several streaming service-produced films nominated and winning at the 2020 Oscars. Stay tuned!
For more on the state of video streaming on mobile in 2019, download our latest report: