France is home to some of the world's most prominent mobile publishers, including Gameloft, Ubisoft and Deezer. It is also currently in the top 10 app markets by combined iOS and Google Play revenue, and exhibits ample potential for growth as Europe's  second largest economy by GDP.
App Annie is excited to announce two new Europe-focused reports -- the France App Annie Index and the Germany App Annie Index. The France App Annie Index will provide you a detailed look at the top movers in one of Europe's largest economies. To find out what's hot outside of France and Germany, see our full list of August charts, now including Israel.
TABLE OF CONTENTS
1. The Technology Behind the Index
The information contained in this report was compiled from App Annie Intelligence, the leading market data solution for the app store economy. To see how our app store download and revenue estimates can help guide your critical business decisions, take a tour or request a demo today.
---

---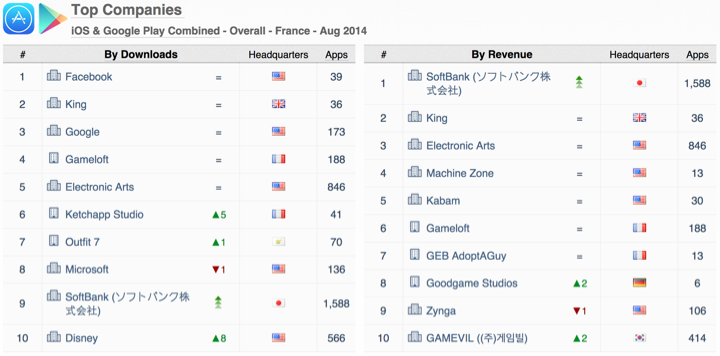 For the complete list of August's top apps and publishers in France, click the chart above.
2. This Month's Top Performers
Fitness Apps Flex Their Muscles on Google Play
Health and fitness are hot topics in the app world, particularly in combination with wearable devices. In August, Runtastic saw Google Play revenue gains for its Runtastic Running & Fitness GPS-based fitness tracking app. In contrast to the accelerating trend of freemium business models, the majority of the app's revenue in France came from the Pro paid version, rather than the free version with in-app purchases. Runtastic Running & Fitness features integration with Android Wear to take advantage of the incoming wave of wearable devices. Runtastic also launched its own fitness watch, Runtastic Orbit, in August to boost its presence in the fitness market.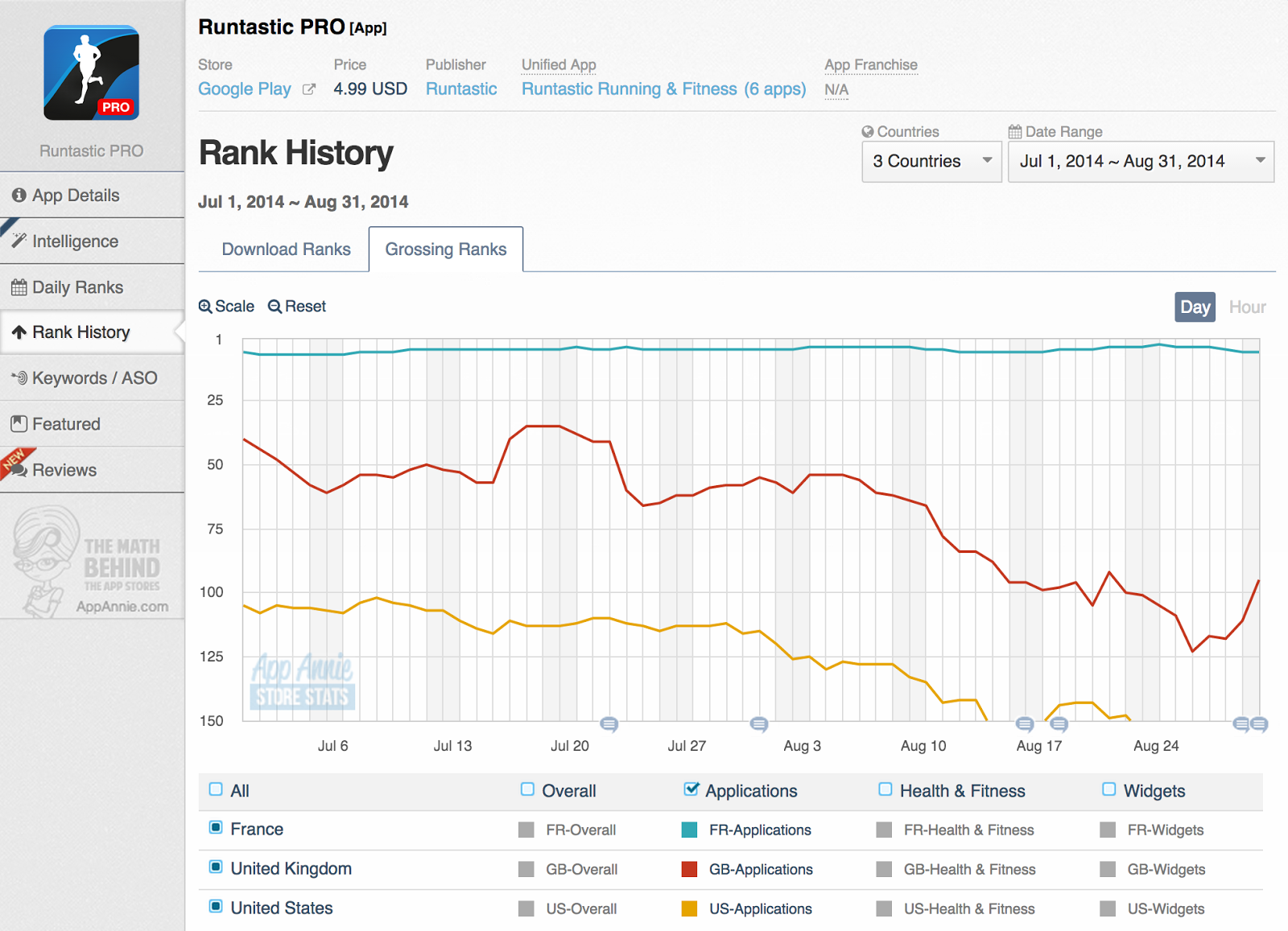 Runtastic's grossing rank remains notably higher in France than in other major markets such as the United States and United Kingdom.
Runtastic wasn't the only fitness publisher performing well in Google Play in France this August. Freeletics, another app generating revenue from paid downloads, claimed a spot within the top 10 grossing apps outside of games. The app provides video tutorials for high-intensity bodyweight workouts, along with personal tracking and gamification through social leaderboards.
Football Season Kick-Starts Subscription Video Services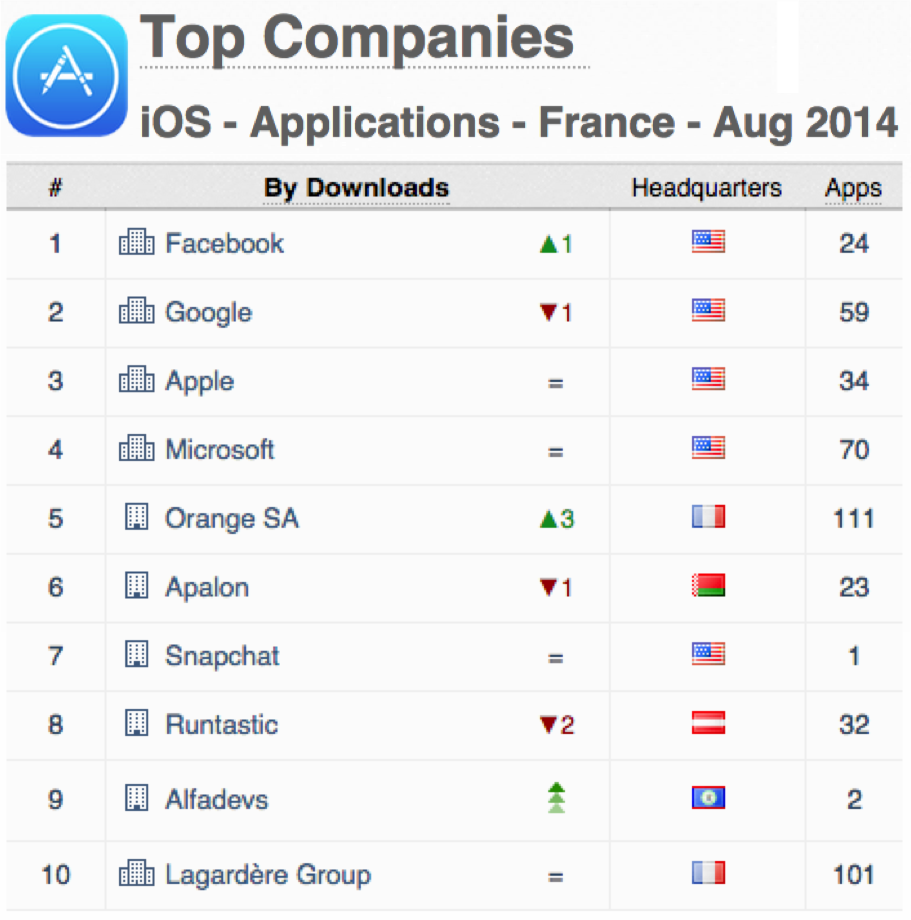 August saw French telecom service provider and app publisher Orange SA climb the iOS download ranks outside of games, primarily from its app Ligue 1. The app brings live video streaming of the top-tier French football league to users, and was updated in early August to remove restrictions on other carriers for the 2014-2015 season. The update coincided with the first week of matches, and resulted in a big rank jump in downloads. The app monetizes through in-app purchases of single matches and full season subscriptions.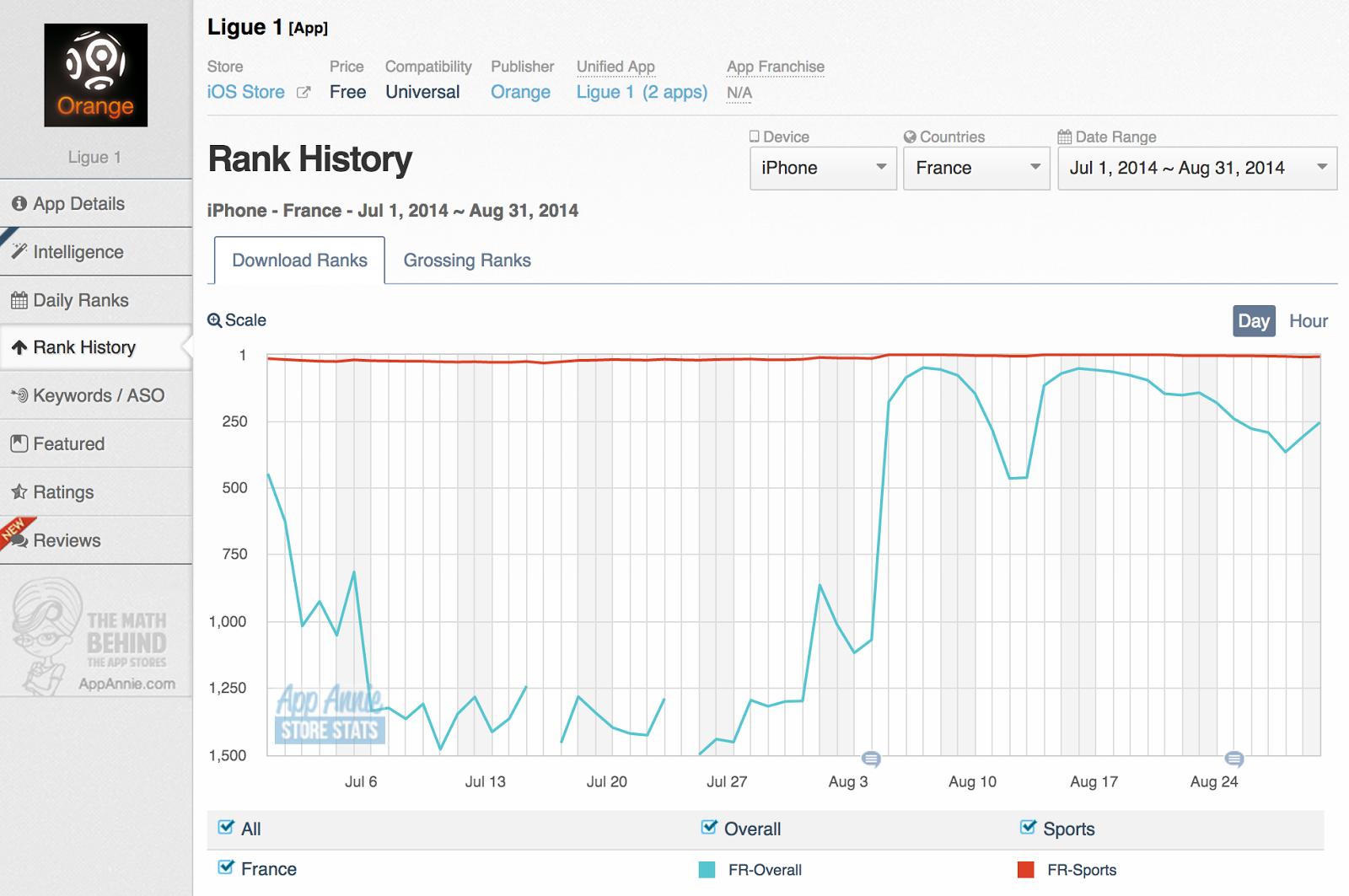 Ligue 1 leapt up the download ranks as the 2014-2015 football season got underway in France.
Another app that made significant gains from video subscriptions was Canalplay, which saw its rank in monthly Google Play revenue rise notably. The app offers on-demand streaming and downloads of a wide range of movies and television shows. Canalplay has been rising steadily in the grossing ranks since it launched in late June, supported by an extensive television advertising campaign. The latest advertisement in this campaign launched in August, and appears to have helped grow app revenue further. The gains are good news for publisher Vivendi, making moves in the market before the high-profile launch of Netflix in France.
Babbel Translates to Big Revenue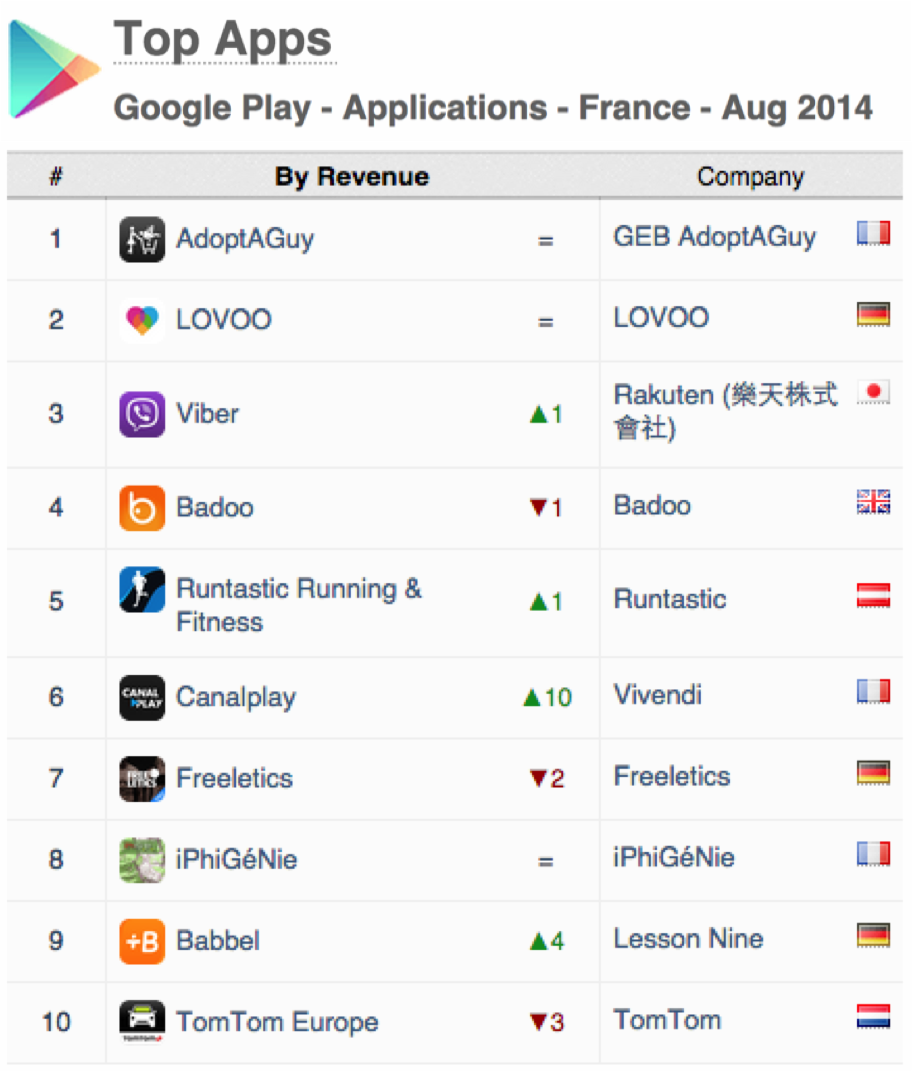 Education is a rapidly emerging sector of the app economy, and high-profile coverage for apps such as Edmodo, Remind and Duolingo are helping accelerate this growth. In France, language-learning app Babbel made significant gains in Google Play revenue in August. The app monetizes through recurring subscriptions available as in-app purchases - a business model generally appears to be gaining considerable traction among apps outside of games. In addition to the primary Babbel app for multiple languages, publisher Lesson Nine also offers a range of unbundled apps for learning individual languages. In August, Learn Spanish with Babbel saw considerable growth in Google Play revenue in France, pushing Lesson Nine further up the publisher revenue charts.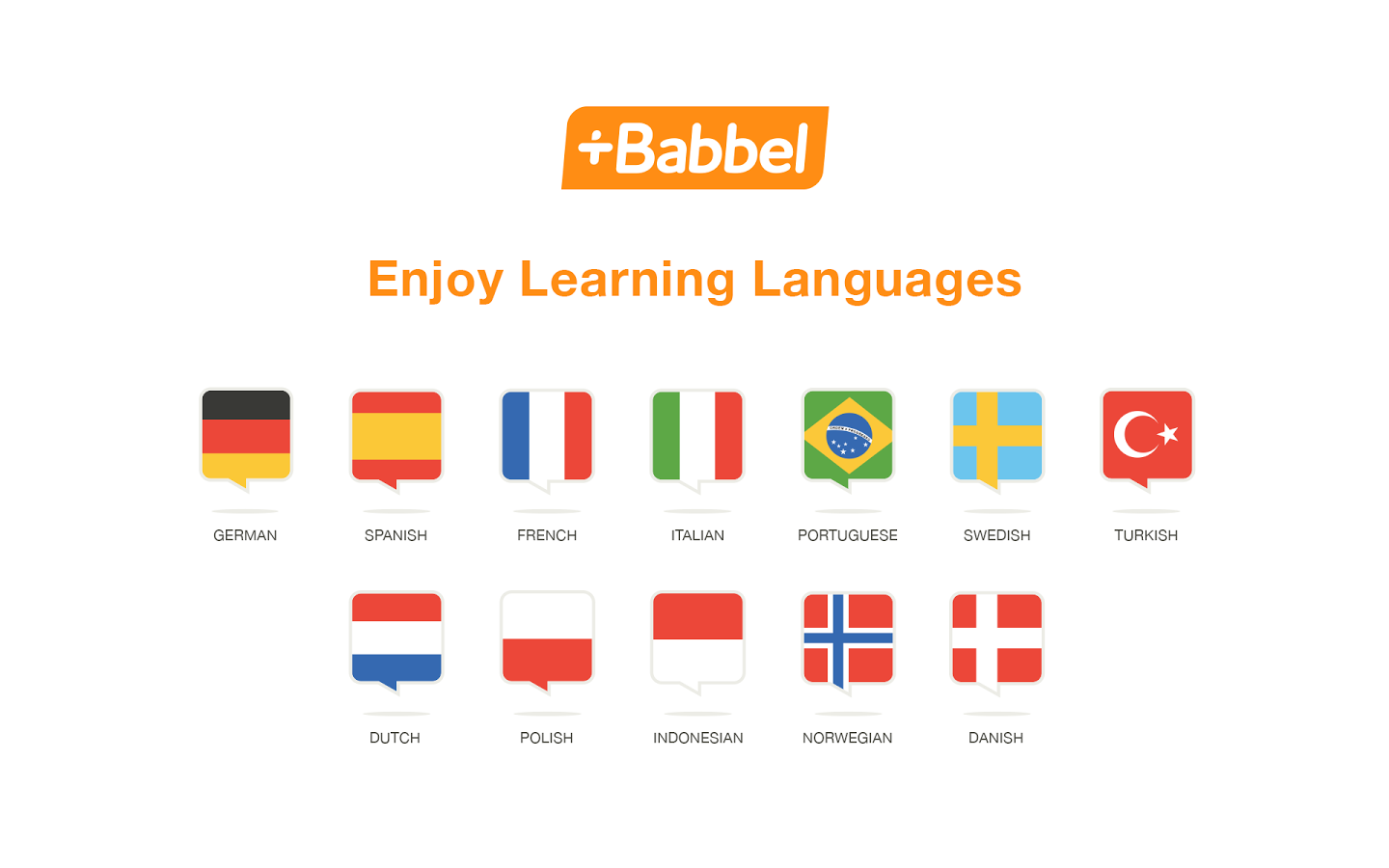 Education app Babbel offers a range of language learning courses through a subscription-based model.
Strategy Games Invade France's App Stores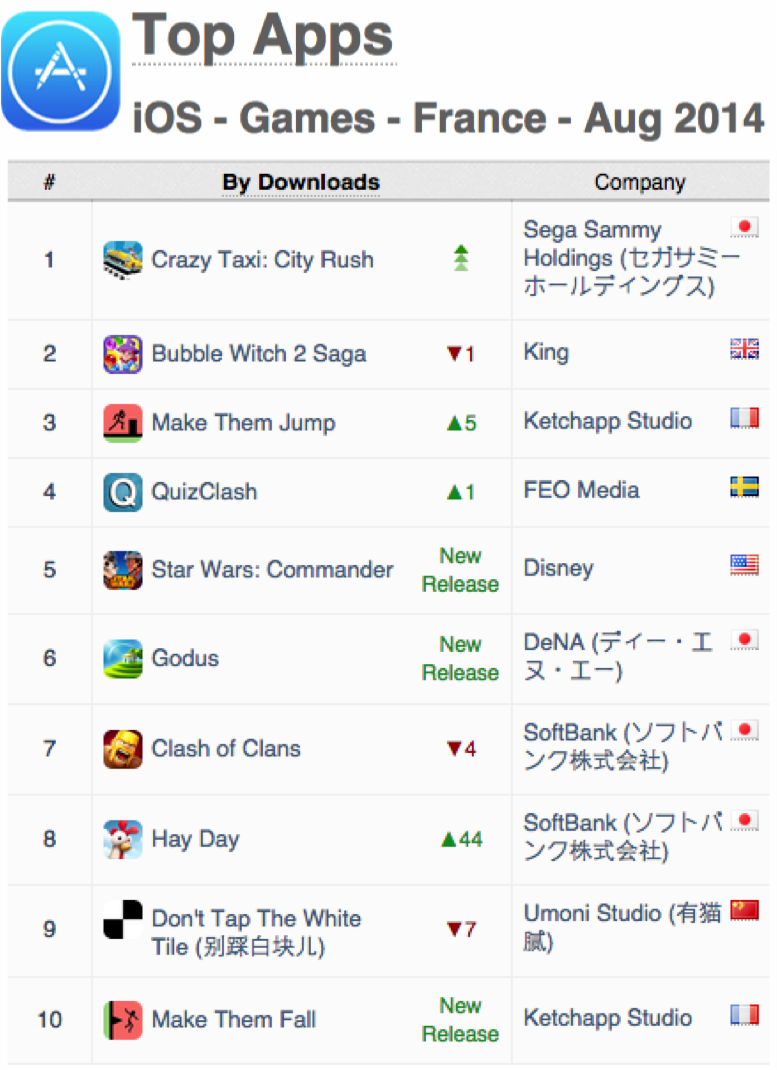 In contrast to the strategy-dominated top games in Russia, the top-earning games in France featured significantly more casual games, where games published by King held three of the top four positions by monthly Google Play revenue. However, as our recent subcategory analysis suggests, strategy titles still play a key role in revenue generation in France. In late August, Disney released Star Wars: Commander on iOS, an online multiplayer strategy game set in the Star Wars universe. It features gameplay elements reminiscent of smash hit Clash of Clans, and found considerable early success in France. Game downloads translated into revenue success, helping push publisher Disney up the iOS revenue rankings in August.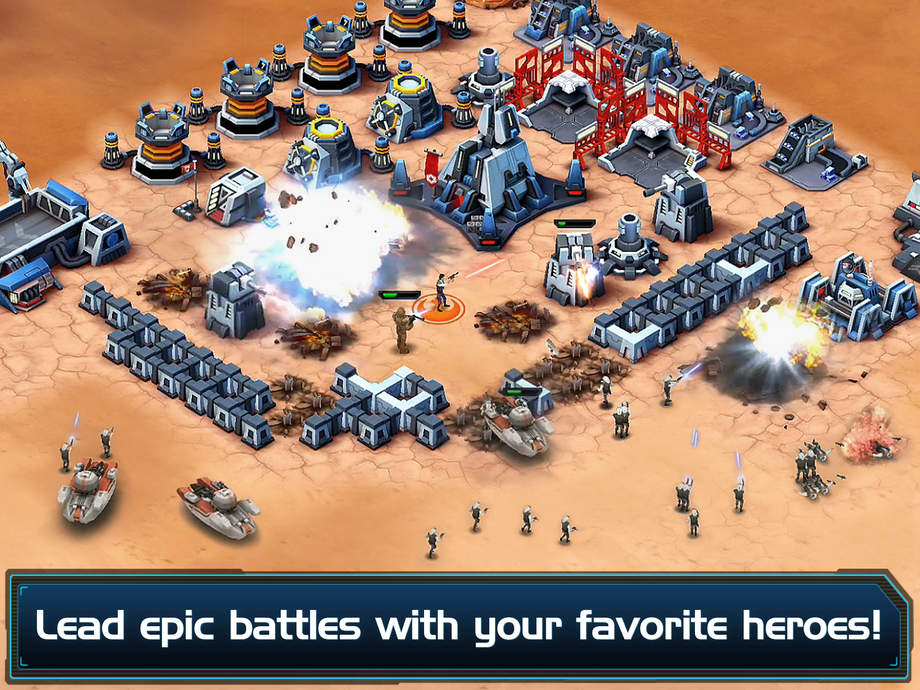 Star Wars: Commander brings player vs. player strategy battles to the Star Wars universe on iOS.
Clash of Clans' influence continues to spread throughout the top ranks of the app stores, with even EA's The Simpsons: Tapped Out™ adopting a few game elements. The Clash of Clones update added player vs. player (PvP) gameplay elements as a limited-time special event. The Simpsons: Tapped Out™ saw a boost in both download and grossing rankings following the update.
3. More Movers and Shakers
French Users Speak the Language of Love
Both iOS and Google Play in France are notable for the number of dating apps in the top grossing ranks outside of games. Dating apps occupied three of the top five positions on both iOS and Google Play. However, it was local favorite AdoptAGuy (AdoptUnMec) that came out on top for both stores in August. The app features a unique, female-focused twist on dating apps that has helped distinguish it from competitors in France.
Shazam Readies For an iOS Boost
France has been an important market for Shazam for a long time, and August showed further gains for the publisher in combined iOS and Google Play downloads. The rise came as Shazam passed 100 million monthly active users, and is preparing for further growth as Apple integrates it into iOS 8. Shazam is now leveraging this extensive and growing mobile presence with a sales platform for television advertisers. Companies can include a Shazam call to action, taking advantage of mobile devices as second screens for advertising and increasing engagement with their commercials.
Ketchapp Studio Emerges As a Local Favorite
Ketchapp Studio has churned out a number of worldwide hits in recent months, including 2048 and The Line. August continued that momentum for Ketchapp Studio on iOS in France. Make Them Jump, an endless runner with gameplay similar to No One Dies, climbed further up the charts, reaching the top three by monthly downloads. In addition, the publisher released sequel Make Them Fall in August, which also flew into the top 10. Instead of avoiding oncoming side-scrolling obstacles, Make Them Fall rotates gameplay by 90 degrees and sees players trying to save multiple characters from obstacles approaching from below.For those of you who are also looking for an update on markets outside of France, check the
For those of you who are also looking for an update on markets outside of France, check the App Annie Index reports for August. To keep up-to-date with all the changes at the top of the app and publisher charts, check out the complete set of App Annie Index tables.
---
| | |
| --- | --- |
| | Want to get even more advanced with your app store market analysis? Check out our enterprise product App Annie Intelligence. |
---
Notes:
The company and app rankings reported in the App Annie Index are based on the download and revenue estimates available through App Annie

Intelligence

. The daily rank history charts and the home page feature app data are available to all users through App Annie's app tracker solution,

Store Stats

.

Through September 2013, similar versions of the same app with different names (e.g., Deezer Music and Deezer HD) were ranked separately. Effective with October data, similar versions of the same app with different names will be unified (e.g., Deezer Music and Deezer Music HD are now aggregated and ranked as a single Deezer unified app).

Company and unified app rankings in the App Annie Index are based on individual apps that ranked in the Top 1,000.

In the first month in which an app becomes unified, its rank change in the Index will compare the unified app that month vs. its highest-ranking individual app in the month prior. As a result, rank changes for newly unified apps may overstate ranking changes from July 2014 to August 2014.

In the iOS App Store, an app can be categorized under a Primary Category as well as an optional Secondary Category. If an app has a Primary Category of Entertainment and a Secondary Category of Games, it is a candidate to be included in App Annie Index tables for Apps. If the app's Primary Category is Games and its Secondary Category is Entertainment, then it will not be included in the App Annie Index tables for Apps; it is a candidate for the Index for Games.

Note that the ranking approach used in the App Annie Index differs from that used in the iOS App Store. In the latter, app rankings for a given category will include all apps whose Primary Category or Secondary Category matches that given category. So an app can appear in the rankings for more than one category within the iOS App Store or in App Annie Store Stats rankings.

In Google Play, an app can be categorized under only one category, so there is no double-categorization.

Occasionally, a publisher may decide to shift an existing app from one category to another category. In these cases, the App Annie Index will rank that app based on how it is categorized in the subsequent month. Given that the App Annie Index has Games tables and Apps tables, the scenario where an app's recategorization could shift it from one Index table to another is if its category changes from the Games category to a category other than Games or vice versa.
In the App Annie Index, all apps and publishers are reported under their parent company, where available; for example, the Meetic app is reported under its parent company InterActiveCorp (IAC), rather than its direct publisher Meetic. Note that if you view the InterActiveCorp (IAC) parent company page on Store Stats, you will see the publishers under the parent company, including MeeticGroup. The Meetic app will be listed under the Meetic

publisher page.

Company and app rankings are based on the

App Annie DNA

relationships at the time of publications. App Annie DNA relationships are subject to change over time.

App Annie Index revenue rankings are based on revenue that the iOS App Store and Google Play earned from paid downloads and in-app purchases. They do not include revenue earned from in-app advertising.

Certain trademarks and/or images used in this report may belong to third parties and are the property of their respective owners. App Annie claims no rights in such trademarks or images.