Ahead of this weekend's Super Bowl LIV, we take a look at the state of the food delivery industry.
More food will be consumed this Sunday than any other day of the year except for Thanksgiving. That's because it's Super Bowl Sunday.
But unlike Thanksgiving — when the majority of dishes are homemade or store bought — Super Bowl Sunday marks a huge opportunity for the food delivery industry. In fact, the National Retail Foundation estimated that Americans spent nearly $15 billion on the Super Bowl last year, 79% of which went toward food and beverage. Many companies are therefore trying to get a piece of this massive pie by offering free food or promotions to attract customers. 
Food Delivery in the Super Bowl and Beyond 
But it's not just this Sunday that food delivery is in demand — it is year round. In fact, our State of Mobile 2020 found that global sessions in Food and Drink apps grew 240% from 2017 to 2019 and more than 105% year over year in 2019.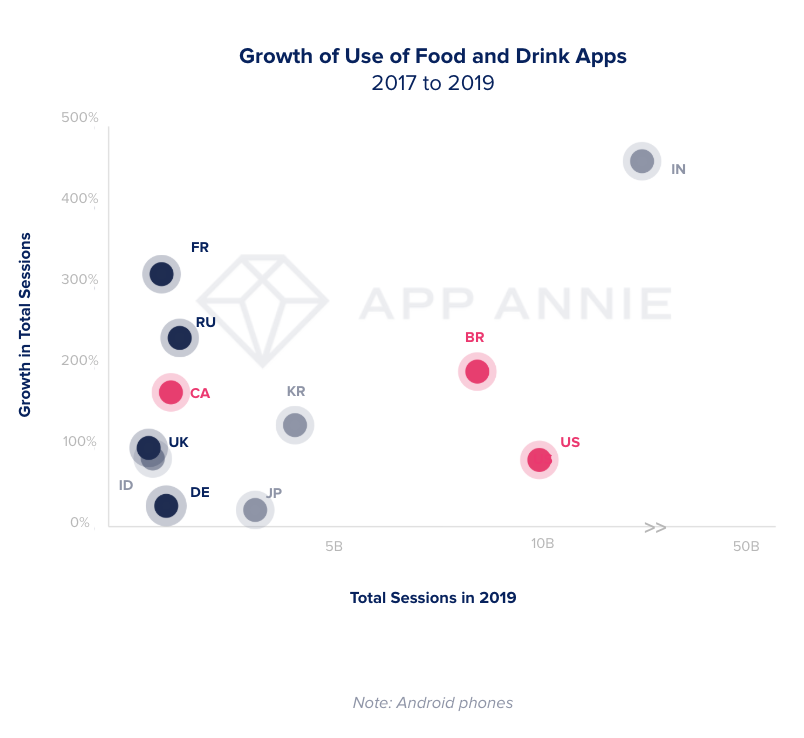 Restaurant Industry Adapts to Disruption by Food Delivery Apps
This shift toward mobile will have an impact on the restaurant and food delivery industry in 2020 and beyond. The US restaurant industry is forecast to hit $1.2 trillion in sales by 2030 — and already 60% of current restaurant sales are off-premise, through either drive-thru, delivery, or carry-out. The industry has seen the rise of "ghost kitchens," which are setup for delivery only.
In 2019, we also saw delivery companies adapt to the razor thin margins by trying to attract new users and larger orders. Uber Eats and Postmates, for example, both launched group ordering features. Meanwhile Grubhub, which saw a 55% increase in downloads in 2019, launched its "Perks" program in September 2019, to generate customer loyalty and mobile stickiness.
Internationally, we can expect as emerging markets come online, there will be more demand worldwide for food delivery. That was likely a motive in Germany's Delivery Hero acquisition of South Korea's Woowa in a $4 billion deal to fuel expansion in APAC. The deal likely signals more consolidation as the industry matures and expands worldwide. 
Winning on Mobile in the Era of Food Delivery Apps
That's for good reason: The food delivery market is highly competitive and consolidation may be an avenue to survive. But the companies that win on mobile will be the ones that thrive long-term. Just some food for thought if you're one of the nearly 100 million viewers tuning in — or ordering one of the 12.5 million pizzas — this Sunday.
Ready to transform your mobile strategy?