Food delivery apps enjoyed a stunning surge as the pandemic supercharged adoption of an already booming consumer habit
In 2018, investment bank UBS published an 82-page report titled "Is the kitchen dead?" It made a strong case for the rise of online food ordering. It estimated the market to be worth $35 Billion, but said it could grow 20% a year to $365 billion by 2030.
It even made the dramatic statement: "There could be a scenario whereby 2030 most meals currently cooked at home are instead ordered online and delivered from either restaurants or central kitchens."
Dramatic Acceleration in Food Delivery Apps As Consumers Sought Restaurant Quality Food While Stuck at Home 
Well, like everyone else, UBS didn't plan for COVID-19. The pandemic forced people indoors and supercharged the app-based food and drink delivery space. The market flew. Late in 2020 Will Shu, the CEO of food delivery company Deliveroo said at the Web Summit tech conference "Our initial analysis suggests that Covid-19 has accelerated consumer adoption of these delivery services by about two to three years." 
His observation is certainly backed up by what we have seen in our State of Mobile 2021 report. It shows that app sessions inside food and drink delivery apps grew up to 105% year-over-year in target markets. Specifically, Deliveroo had a standout year in 2020, and was the #2 and #3 breakout Food & Drink app in France and the UK, respectively, by growth in total sessions from 2019 to 2020. In the UK, Deliveroo saw total sessions in its app double year over year — indicating users placing orders, checking on the status of orders or browsing for future orders.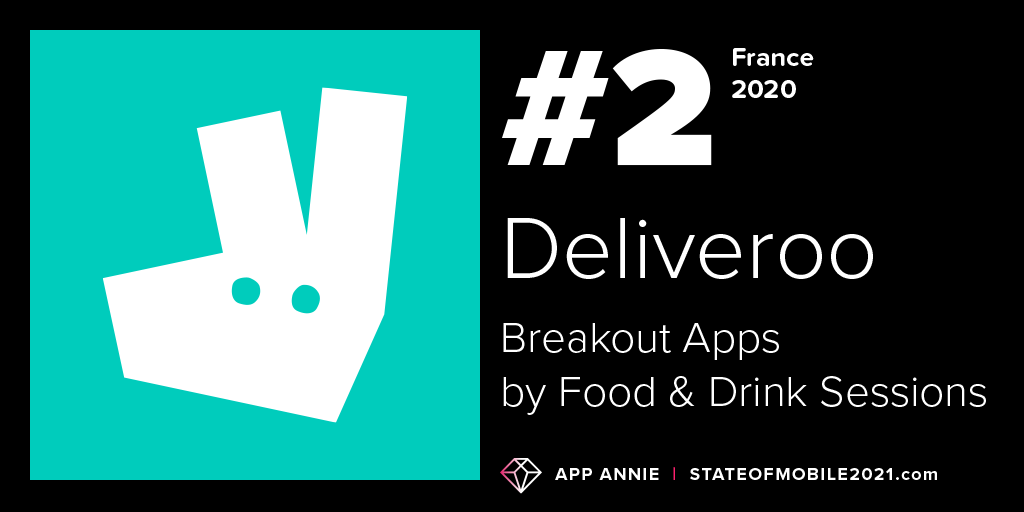 Looking more closely at the numbers, we can see the direct impact of lockdowns, which mostly started in March 2020. Global weekly app sessions actually fell during the first three months of 2020. At their lowest, on March 22, they were at 1.81 billion. But from then on they spiked upwards to reach 3.02 billion at the end of December.
In some regions the growth was even sharper. China's weekly sessions nearly tripled from 134 million to 368 million, while Russia's went from 29 million to 63 million. The exception was India, which actually saw a decline due to logistical impacts from 908 million in January to 660 million by December.
And there was a noticeable spike in Q4 too. Our research shows that YoY growth in the US, Argentina, the UK, Indonesia and Russia hit 60%, 65%, 70%, 80% and 105% respectively.
Food Delivery Apps Top Breakout Apps in 2020, But Recipe Apps and Grocery Delivery Show Consumers Innovated in the Kitchen  
The scale and potential of the food and drink delivery app space has made this a market dominated by a cohort of major global players. This is apparent in our list of breakout apps — comprised of apps with the greatest YoY session growth.
UberEats appeared in nine of the top fives across the 16 markets we measured. It was #1 in Canada, Mexico, Japan, Australia, France and the UK. Uber's own financials show just how good a year it was for the product. In a difficult year for Uber as a whole, the UberEats offering grew by 190%. It had $8.55 billion in gross bookings in Q4 alone. Deliveroo emphasized the importance of mobile strategies driving growth in 2020, and how consumer insights and market estimates were key to their performance.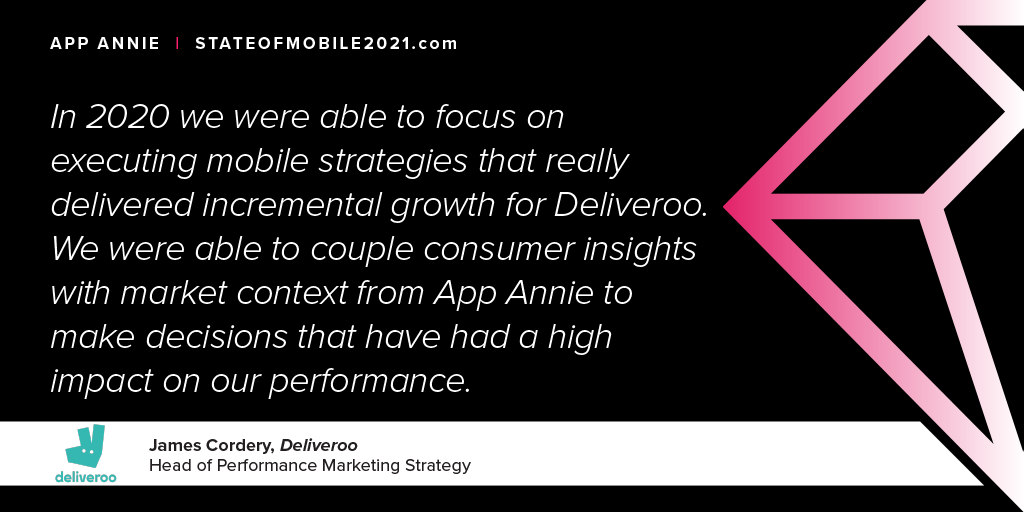 In other markets, the top-performing app had a local flavor. But dig deeper and you see that many of these products are actually owned by multinationals. For example, the top apps in Turkey (Yemeksepeti) and in Argentina (PedidosYa) and the #2 in the UK (Just Eat) are all owned by Germany's Delivery Hero.  
Looking ahead, most analysts expect further rapid growth for the food and drink delivery app space even after lockdowns end. There is huge investment going into 'ghost kitchens', which cook food only for delivery. A high-profile example came when ex-Uber CEO Travis Kalanick bought a controlling interest in CloudKitchens for $150 million in 2019. Now, there are many more of these specialists such as Kitchen United, Colony and others. We also saw YouTuber MrBeast launch a burger chain across the US on Dec 14, 2020 — comprised of 300 restaurants cooking from his menu, with orders flowing through his MrBeast Burger app or other food delivery apps in the US like DoorDash, Grubhub, Postmates or UberEats. By December 19, 2020, MrBeast Burger ranked #1 among all apps and games by iPhone downloads in the US. In just 2 weeks, the app had been downloaded nearly 750,000 times in the US.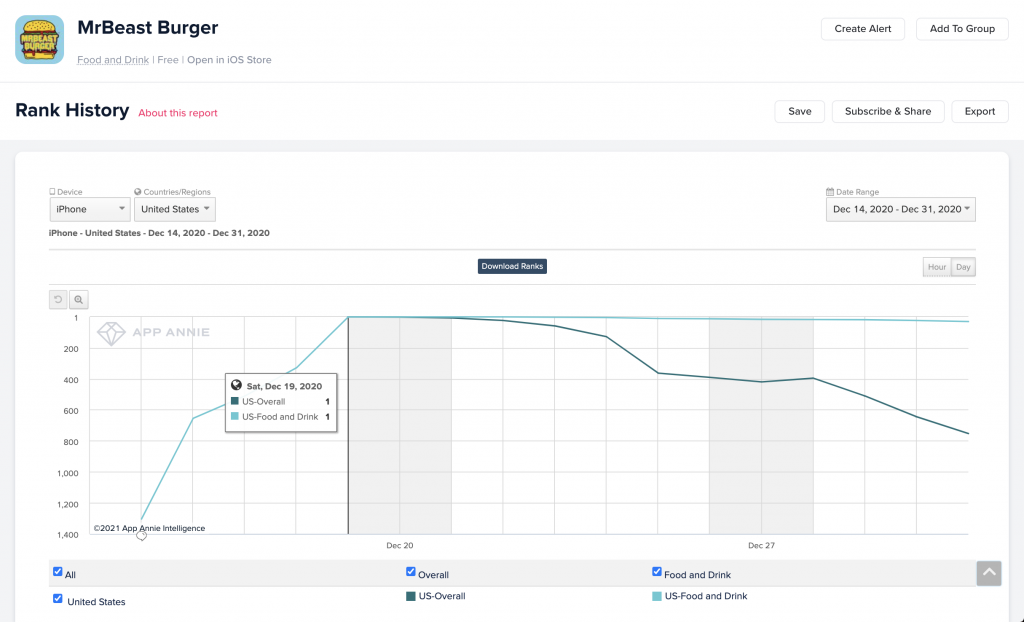 Another interesting development is the emergence of checkout-free grocery stores.  Amazon pioneered this concept with its Amazon Go outlets. Now, delivery specialists are looking at this too. Pyaterochka (the retailer which has the #1 food delivery app in Russia) launched its first staffless store in Moscow in October 2020. To use the store shoppers must download its #naletu app, which generates a dynamic QR code to enable entry. Pyaterochka now plans to launch several similar projects in the capital.
Recipe and cooking apps proved popular across the US, Canada, Indonesia, Japan, France and Germany — landing in the top 5 breakout apps in each market including Recipes Home and COOKPAD, among others.It is notable that Instacart ranked #4 for breakout apps in the US and #5 in Canada, growing 215% and 695%, respectively, year over year in total sessions, as consumers turned to mobile for their grocery shopping. 
This analysis of the mobile food and drink delivery market is drawn from App Annie's State of Mobile 2021 report. For more insights on the industry as a whole and other app categories, sign up for the full report:
DISCLAIMER
App Annie is a mobile market estimate service provider. App Annie is not registered in any investment advisory capacity in any jurisdiction globally, and does not offer any legal, financial, investment or business advice. Nothing contained in this communication, or in any App Annie products, services, communications, or other offerings, should be construed as an offer, recommendation, or solicitation to buy or sell any security or investment, or to make any investment decisions. Any reference to past or potential performance is not, and should not, be construed as a recommendation or as a guarantee of any specific outcome. You should always consult your own professional legal, financial, investment and business advisors. Additionally, by providing the information herein, App Annie does not make any representations or warranties and does not undertake any legal or contractual obligations whatsoever. No liability may accrue to App Annie as a result of providing this information to you.