Something interesting has happened with mobile app publishing in the past 12 months: the steady growth of TV advertising as a serious app marketing channel.
While many well-known developers have talked about the rising cost of CPI-based advertising, there was little change in approach until recently. This continuing rise in cost, plus a reappraisal of the value of brand-led marketing, has meant that developers are now looking at the role TV and other brand-based advertising can play.
Influential industry thinkers like Initial Capital's Kristian Segerstrale have already written about how companies need to look beyond existing UA approaches and embrace more comprehensive marketing strategies in order to capture a wider audience. The diagram below shows the incremental value marketers stand to gain by taking a brand-based advertising approach.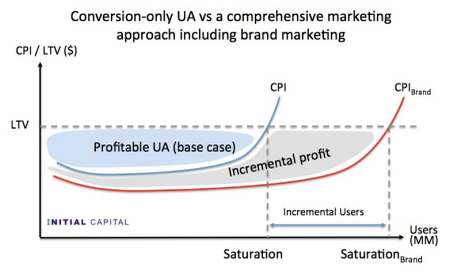 (Source: Initial Capital)
While TV has long been thought of as a traditional and cost-inefficient medium for mobile app developers, the fact that some really big publishers like Supercell and Machine Zone in the West and many Japanese publishers like GungHo and DeNA have begun to advertise on television is seriously challenging that perception.

Apps that took the field in 2015's Super Bowl.
The ROI Behind Traditional TV Ads
The simple truth is that the best approach in marketing any product is to use a mixture of channels and formats to better reach your audience segments with the right messages. In fact, some marketing heads that made the jump from console game companies to mobile-first ones suggest TV campaigns can have around a 20% positive impact on other channels. That isn't to say TV is the end-all for your advertising, but it can definitely enhance your media mix.
Where TV has always been strongest is in reach -- getting ads in front of large numbers of people in a short space of time. However, in the data-driven mobile industry, the fact that TV's effect is more difficult to quantify and measure means that it has been overlooked in favor of platforms where marketers can easily attribute clicks and installs.
Evening the Field for Brands, Mobile and Massive
TV has the ability to drive brand awareness in a unique way. The marriage of great creative and huge reach has been the foundation of building brands since the days when the advertising world really did look like an episode of Mad Men.
That's why companies like Supercell and Machine Zone hit the headlines with their Super Bowl spots, and for the first time, mobile games stood shoulder-to-shoulder with global super brands like Budweiser and Coca-Cola. This kind of brand-led advertising reinforces other forms of marketing and can influence behavior over a longer period of time than banner ads or other direct marketing methods.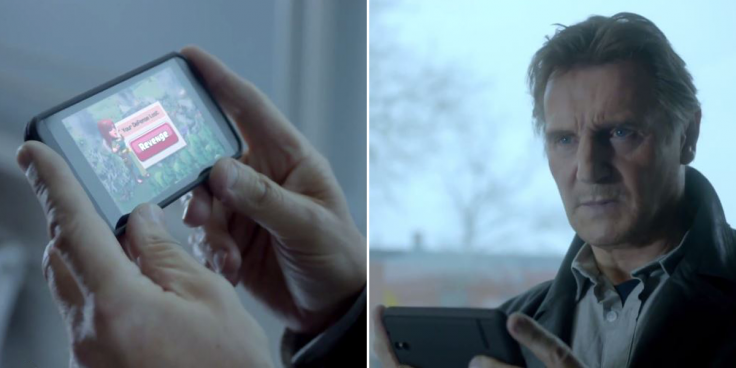 (Image Credit: IBTimes.co.uk)
In fact, tracking your app's rankings, organic installs, and share of voice on social media during and after the TV's live period can show additional impact from your campaign. By looking at the impact of a TV ad on an app's ranking in the store compared to a baseline ranking before and after, it's relatively straightforward to apportion the increase as a result.
Rovio is a company that's taking a serious look at TV advertising alongside other tried-and-tested user acquisition methods. Although best known for Angry Birds, Rovio continues to publish both first- and third-party titles. For Angry Birds Epic -- an RPG based in the Angry Birds universe -- Rovio created its first-ever TV ad to showcase the game and highlight the player-versus-player (PvP) game modes. The ad ran in smaller test markets, but delivered an impressive boost in store ranking for the game, with a corresponding increase in installs both during and afterward.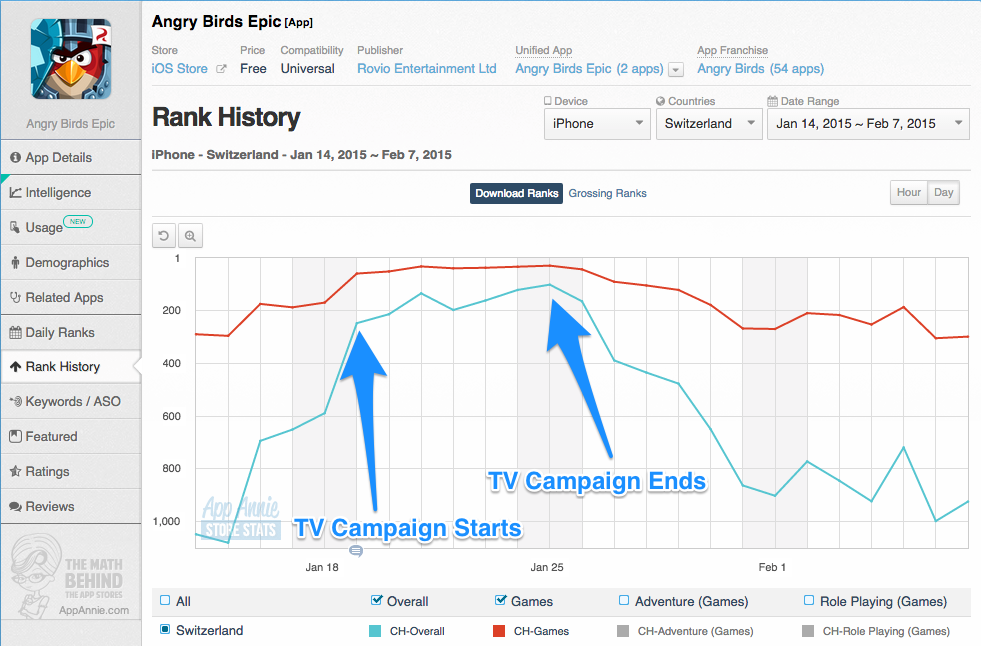 Angry Birds Epic saw a noticeable bump in downloads during its Switzerland TV campaign period in January 2015.
This is just one example of how new and established brands can benefit from the power of TV. TV is an excellent medium for reaching almost any kind of audience -- and large ones at that. In a market where increased pressure on mobile ad inventory is pushing up costs and apps becoming a mainstream consumer product, we expect to see many more companies and brands using TV alongside, or even instead of, existing mobile ad units. What we saw during January's Super Bowl is just the beginning.
Putting Together Your Playbook
If you are thinking about creating your own TV ad campaign, there are a few critical things to consider that Rovio went through as part of its planning and execution for these campaigns. Of course, specific KPIs, goals and scalability will vary from app to app, but these planning principles should still apply for TV:
Timing and Market Targeting is Key
With your first foray into TV, it's important to think through which country or broader territory will be both positive for the game's performance and where there is a good opportunity to efficiently reach your target audience through TV.
This may sound obvious, but the app will need to be available in the store by the time the commercial airs. "Coming Soon" messages can pique curiosity for some products, but marketers are missing out on the immediacy of the app ecosystem when a game is not yet available. If you are not yet in the app store, the ad impact will be lost.
In general, a market that has strong average revenue per user (ARPU) from your existing user base is a good place to start. If you don't have other major marketing initiatives in play, then it can also make sense to look for opportunistic TV pricing that typically comes after the bigger traditional sales events like Christmas.
Pick the Right Channel Allocation
This is often referred to as the "planning" stage. In the US and many western markets, there are dozens -- sometimes hundreds -- of channels to choose from that can reach your target audience, so it's important to not overextend in the beginning if you are unsure of how things will go.
With Rovio's campaign, the decisions around channel selection in smaller markets and the percentage of the overall media allocation were made by measuring potential reach against the demographics of the target audience. Where a country has broadcasters that run programs in multiple languages, stick with the predominant language.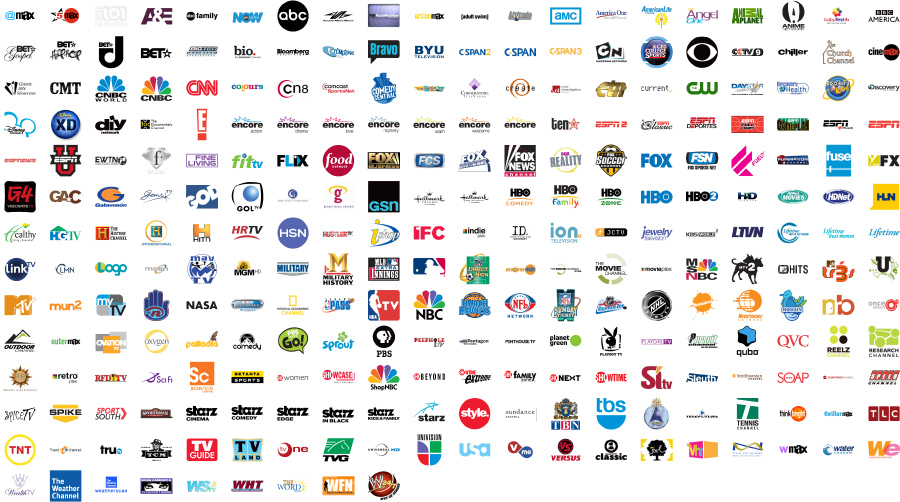 (Image Credit: guifx.com)
Allocate Enough Time for Approvals
Wherever possible, allow extra time for third-party approvals for the ad creative.
Unlike some digital media formats that can simply be checked against a set of brand guidelines, TV creative goes through a compliance phase with the stations and/or a governing regulatory body in the target country. Make sure to bake in enough time in your planning stage to allow for these approvals and signoff by all stakeholders. Depending on the country and stations, this initial process can take anywhere from 3 days up to 3 weeks.
Another point to consider: for TV, any content or creative that is licensed, trademarked or copyrighted will require review and approval in order to be broadcast.
Fight for Performance Pricing (Or Find a Partner Who Will)
Many TV channel sales houses and their parent companies divide their inventory between 'Brand and Performance' or 'Direct Response' advertisers.
Ads that include calls to action like toll-free numbers or push users to download an app are considered for Performance pricing. This requires a bit more flexibility on the advertiser's part, but allows for substantially lower pricing when it comes to the cost of the ad slots themselves. The flexibility implies that not all spots run at exact times.
Brand-led advertisers like Coca-Cola pay a higher fee for certain guarantees in their TV campaigns. For example, Coca-Cola may require a commercial to air at a specific point in prime time which means a higher cost-per-thousand impressions (CPM). Allowing for some flexibility in the time window (e.g., Fringe or Late Night instead of Primetime) will help you control costs.
Let's Get Your App on TV
For many developers, TV advertising and the processes involved will feel totally new -- but it's actually not dissimilar to most other forms of advertising. Armed with a good understanding of the kinds of users you want to reach, you can focus on optimizing your campaign's creative and targeting with your agency.
There are some complex elements like approvals and regulations, but your advertising or media planning agency will typically handle this.
No matter what, more and more app publishers are looking to TV to increase their apps' user counts. Don't let the unknowns keep you from getting on TV — now that you've read this, you're more informed than ever on what's necessary to get on the airwaves.
Quaid Media gives app marketers the opportunity to reach new audiences beyond existing user acquisition channels through the reach and brand-building power of TV and other traditional media outlets. Based in Los Angeles and Berlin, Quaid Media has over 10 years experience creating and executing traditional media campaigns for mobile-first companies with a team of mobile and TV experts, 25-strong and growing.

Quaid Media is a division of freenet digital, a part of freenet Group -- the largest network-independent telecommunications provider in Germany. Find out more at www.quaidmedia.com.