Consumers will spend 548 billion hours live streaming in top social apps this year. Our new report shows how this behavior is fueling the ongoing boom in social media – and sowing the seed for a new creator economy
Facebook or WeChat, for many, were one of the first interactions an average consumer may have had with a social media app, let alone social network. The landscape has evolved significantly over the last decade, as new social media apps have entered the market and existing stalwarts have implemented new features to keep people connected and engaged. The landscape has evolved from text and chat features to photo sharing, to video sharing and ultimately, to live streaming. 
While heavyweight social media apps like Facebook, WhatsApp, YouTube and Instagram still command a sizable portion of the social media landscape, particularly for global time spent outside of China, we are seeing new trends emerge that have the capacity to change the social media market forever. At the heart of these trends is the importance of video, live streaming and the creator economy. Our latest report: The Evolution of Social Media Apps takes us through the last 10 years of the social media landscape, the current changes at play and where the industry is headed next.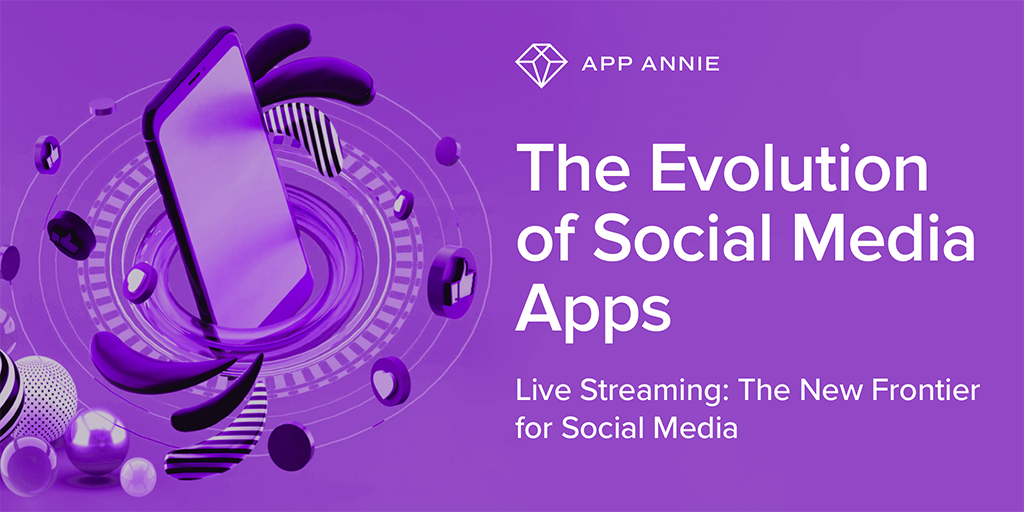 Live Streaming: The New Frontier for Social Media
The Twitch streamer ExoticChaotic could barely speak. Why? Because he had just received a donation of $75,000 during a live session on Fortnite. The gift is likely one of the largest ever made on the games streaming channel. But it is just one of millions that are made every year by Twitch viewers to their favorite stars. 
Similarly, broadcaster Beau Gevonne Strawder earned his first US$10,000 on Bigo Live, a top-ranking live streaming platform. Capitalizing on the stay-at-home orders during the COVID-19 pandemic, Beau opened an agency to help other hosts and broadcasters hone their talents and transformed it into a full-time career. In fact, through live streaming, Bigo Live broadcasters are able to leverage on the platform, with the potential to earn up to US$24,000 a month.
This is the social media 'creator economy' in action – and it simply would not have happened without one thing: video and live streaming.
In the last four years, video streaming has completely transformed the social media landscape. Our new report – The Evolution of Social Media Apps: Live Streaming: The New Frontier for Social Media – reveals the extent of this change.
In it, we show how the ability of social media users to communicate with each other using live video – or watch others' live broadcasts – has not only maintained the growth of a social media app market, but contributed to its exponential growth in engagement metrics like time spent, that might otherwise have saturated some time ago.
Live Streaming to Power the $78 Billion Creator Economy through 2025
One of the secondary effects of the live streaming boom has been to create a second-generation social economy. If the first was based primarily on one-off items like sticker packs, this one is all about "gifting" content creators during live streams. And this is driving growth in app store consumer spend in social apps.
Indeed, we estimate consumers will spend $6.78 billion via social apps this year – rising to $17.2 billion annually by 2025, an impressive 5-Year CAGR of 29% — bringing the lifetime total spent through social apps to $78 billion. And content creators are at the crux of this growth, as viewers purchase in-app gifts to support their favorite streamers. Two regions dominate this economy; US and Japanese consumers spent more than $1.5 billion in social apps in H1 2021. 
---
"The live streaming industry has seen massive growth over the past few years. Social live streaming apps such as Bigo Live have provided people with an alternative platform where talents and passions can be transformed into a full-time career. Our fundamental goal is to enable everyday people to livestream anytime and anywhere, and connect them to the world. Over the past year, we have helped over 500 Bigo Live broadcasters become superstars by surpassing one million fans globally. As we continue, we are committed to creating new opportunities for our users around the world."

— Mike Ong, Vice President, BIGO
---
44% of All Time Spent on Mobile Is in Social Apps 
Consumers downloaded 4.7 billion social media apps in H1 2021 alone (taking the lifetime total to 74 billion).
Total hours spent provides more evidence of the magnetic pull of social media. Social apps commanded 740 billion hours of consumer time in Q2 2021, which is equal to 44% of all time spent on mobile. Total time spent in the top 5 Social apps with an emphasis on live streaming are set to surpass half a trillion hours on Android phones alone, outside of China in 2021, 
a 3-Year CAGR of 25%. Live streaming is fueling the current boom in social apps engagement.
In fact, across all devices, the Twitch community watched over 1 trillion minutes in 2020.
---
"The core components that make up Twitch — livestreaming, real-time interactions, and a powerful sense of community— have driven our success over the last decade.We pioneered live streaming first within the gaming community, building our expertisearound creating immersive experiences, and now our content spans gaming,entertainment, sports, music, and more."

— Doug Scott, Chief Marketing Officer, Twitch
---
Beyond live streaming, creator-focused and video-first user experiences are the new must-haves for driving social engagement. Authentic experiences and creative innovation are at the top of consumers' lists. Snapchat applies this layer of the creator's economy to their AR lenses, which were a major disruptive feature in the industry. 
---
"More than 200 million Snapchatters engage with AR every day on average, and over 200,000 creators around the world use Lens Studio to build AR Lenses for our community. To support these amazing creators we launched the Creator Marketplace to connect AR creators with Brands. From building AR Shopping Lenses that enable try-ons to buy the next favorite outfit, to Connected Lenses that allow people in different locations to interact with each other through AR, Snapchat has a thriving community of AR innovation, usage, and creation."

— Skye Featherstone, Global Product Marketing Manager, Snapchat
---
For more insights on the evolution of the social media landscape and how the creator economy is fueling the next wave of growth, sign up for the full report here: