The app economy's story over the past 12 months is one of resilience and rapidly adapting to serve the "new normals" of consumers.
Forecasted estimates from data.ai Intelligence place worldwide spending on in-app content and consumables in 2022 at approximately $129 billion before Apple and Google's platform fees. Preliminary data projecting consumer expenditure through the end of this month confirms the mobile app market continues to flourish despite a global economic slowdown occupying headlines for most of the year. 
The top-line number represents a slight cooling of the market from 2021 as spending slowed 2% year-over-year from $131 billion amid macroeconomic pressures. Meanwhile, shifts in the types of apps showcasing breakout performance during the year provide insight into how consumer behavior has changed heading into 2023.
Apps Are Still Huge, But They Face Greater Competition for Consumer Dollars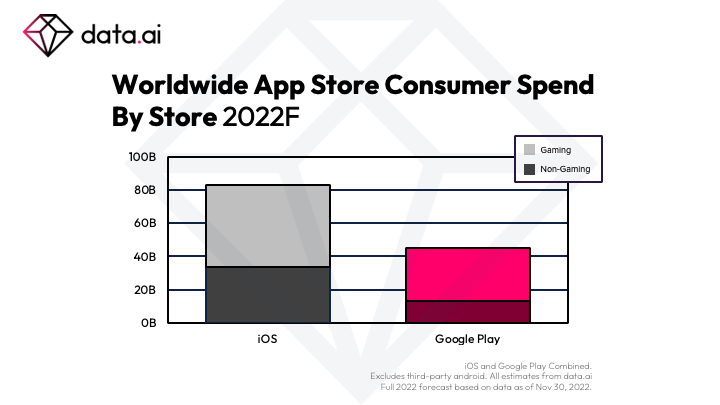 The deceleration of in-app spending has affected Apple's App Store and Google Play equally, with both platforms projected to see gross revenue down by 2% compared to 2021 totals. $83 billion of this year's sum across both mobile storefronts will be accounted for by iOS apps, while Android apps are on track to generate the remaining $46 billion. 
Apple's platform has retained its status as the market leader by revenue generation, but its advantage over Google's didn't grow any more significant in 2022. Like last year, data.ai expects that 65 cents of every dollar spent in-app during the past 12 months will have come from iOS users.
The market headed into the holiday season posting solid November numbers. More importantly, both overall spending and spending in mobile games were very close to the exact figures reached last year.
While the economic slowdown contributed to the app economy ending its annual revenue growth streak, it wasn't the only pressure affecting consumers' spending choices in the lead-up to the current climate. In many global markets, living in late 2022 better resembles that before 2020, meaning that, in part, more money is going toward experiences, travel, and other out-of-home leisure expenditures. (We will explore this topic in greater detail in data.ai's upcoming State of Mobile for 2023.)
Growth in App Adoption Surpasses 2021—Not By Much, But Growth Nonetheless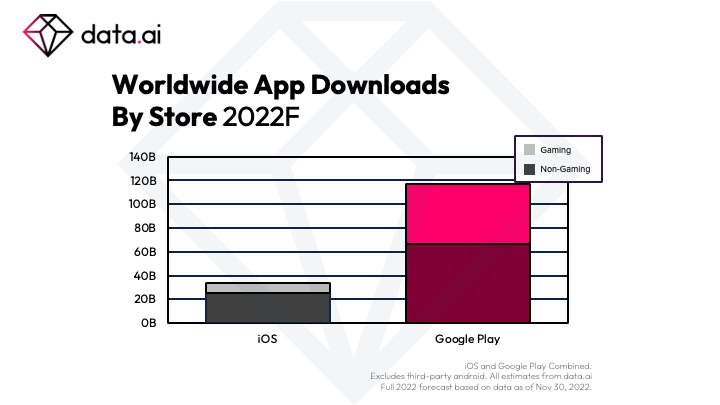 While spending in apps cools and finds its new baseline, adoption — i.e., downloads — of apps continues to climb each year, and the situation in 2022 was no different. Compared to the 8% growth for 140 billion downloads in 2021, this year saw first-time app installs up 9% YoY to nearly 151 billion, an addition of 11 billion downloads from the previous 12-month period.
Google Play in emerging markets continues to drive the velocity of app downloads up, accounting for 73% of this year's total, while spending through the platform amounts to just 28% of the global total for both stores.
The Alphabet-owned storefront saw new downloads up 12% from 2021, hitting about 117 billion. In contrast, Apple's platform grew installs by 1% YoY to nearly 34 billion.
2022's Breakout Apps Are a Social Bunch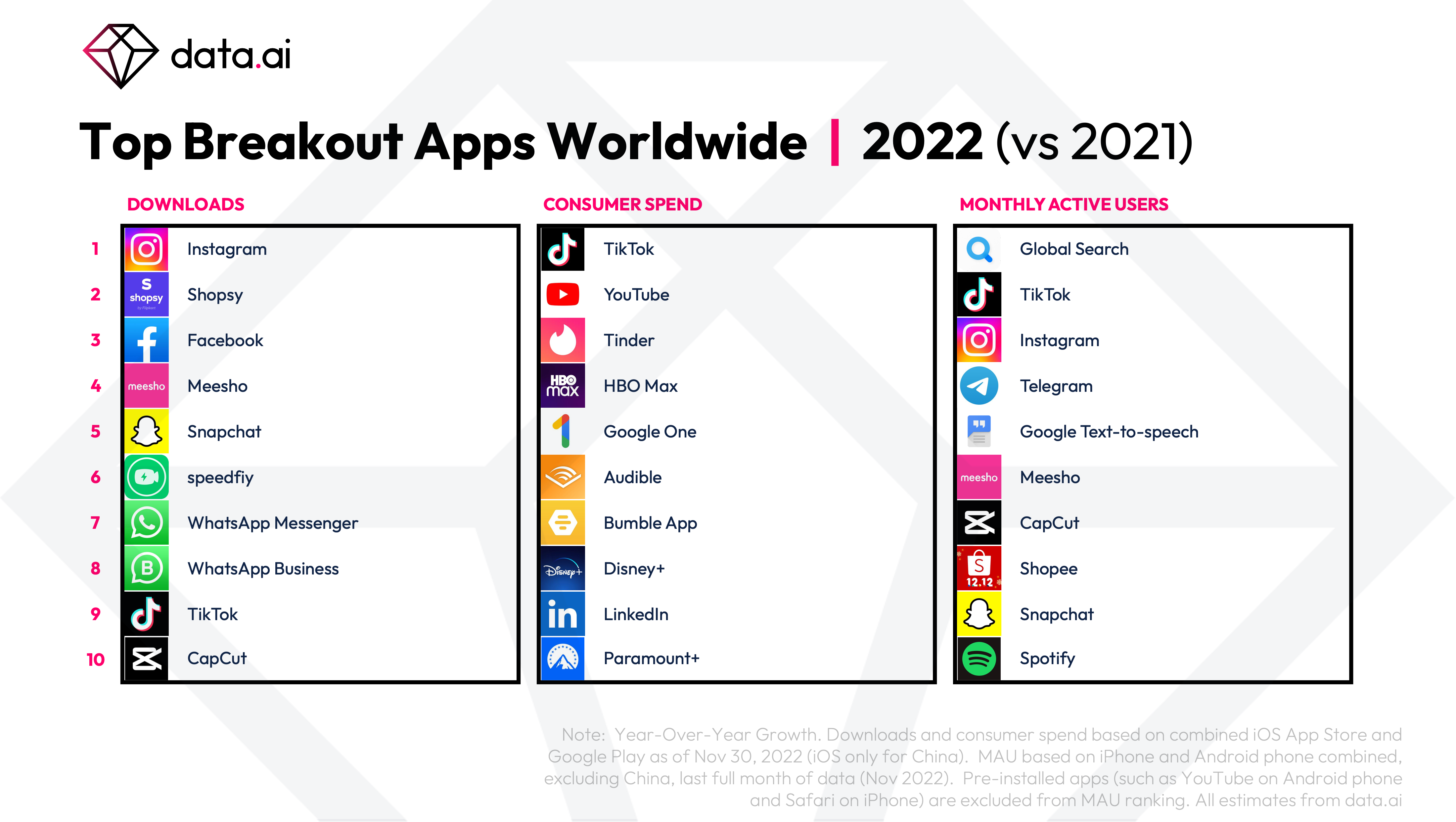 Driven in part by new users flocking to the apps to stay connected during global conflicts, social apps are back to being breakout stars.
These apps are led by Meta's flagship offerings, Instagram and Facebook, at #1 and #3, respectively, closely followed by Snapchat at #5. Meanwhile, both flavors of WhatsApp, the consumer and business versions, placed #7 and #8, respectively. TikTok, which didn't make data.ai's top 10 breakout apps by downloads in 2021, is back, albeit at #9. Flipkart's Shopsy nearly reached the top but achieved #3 as the Indian resale platform skyrocketed in popularity.
The breakout apps by consumer spending have seen less turnover, with TikTok climbing to #1 and surpassing 2021's top app, YouTube, in the process. Streaming apps remained similarly high on the ranking, but 2022 has seen dating apps surge in terms of breakout consumer spending. Specifically, the year saw Tinder climbing from #6 to #3 and Bumble appearing at #7 when Tinder was the only top 10 breakout app from the dating category in 2021.
The story around 2022's top breakout apps by monthly active users (MAU) is more about what's not among them: Zoom and Microsoft Teams, owing to the lesser need for these services on mobile devices as more workers return to the office. Social is seeing an opposite trend, with the ever-present TikTok rising from #4 in 2021 to #2 this year after Global Search.
Mobile Gaming's Breakout Stars Are Mostly Familiar, But New Titles In Massive IPs Did Very Well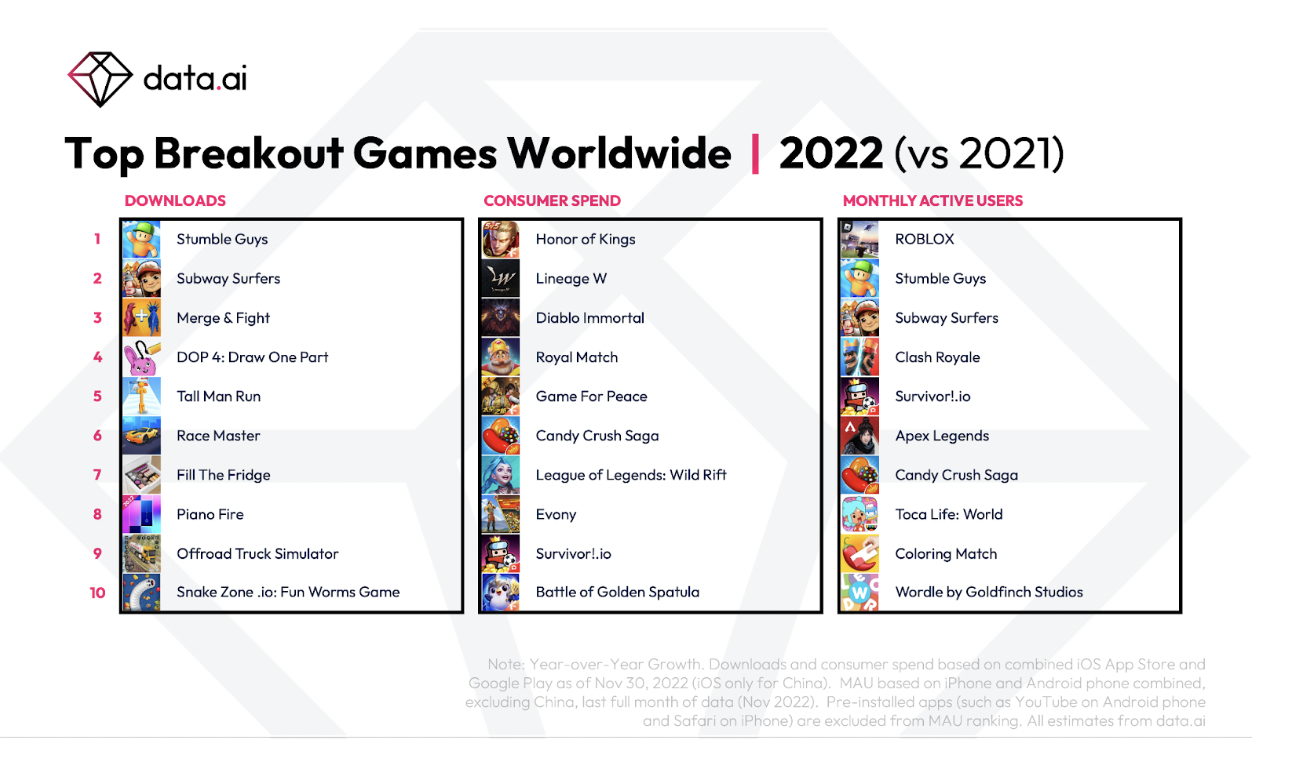 An initial glance at the breakout mobile games for 2022 might make it seem like the status quo — which is dominated mainly by hypercasual titles in downloads, the big forever franchises in spend and, likewise, MAU — but look closer and three games stand out.
Breakout games for downloads this year were, as just indicated, largely hypercasual, with a notable standout in the #2 ranked title, Subway Surfers. Initially released in 2012 from SYBO, the game offers one of the absolute best examples of how live operations are vital to maintaining a perennially popular title like this. Subway Surfers was the #1 downloaded game globally in Q2 2022 — marking its 10th anniversary. The surge in downloads helped to prove our 2022 prediction accurate — pushing the game over the 2 billion download milestone in April 2022. 
The world's all-time highest-earning mobile game, Tencent's Honor of Kings, tops the breakout consumer spend ranking for games, which isn't surprising. However, the identities of the titles at #3 and #7 are. Those are Diablo Immortal and League of Legends: Wild Rift, respectively, and while their IPs might make them seem unbeatable, both initially spurred concern over their ability to thrive on mobile, but the data proves otherwise. 
It's also unsurprising that ROBLOX dominates MAU among the breakout games by this measure. What had industry watchers perched on the edges of their seats was the performance of #6 on the list, Apex Legends from Electronic Arts.
A blockbuster hit on console and PC, the title's mobile ambitions did elicit some concern despite the success of similar offerings, including Call of Duty: Mobile and PUBG Mobile. Its strong showing among the breakout titles by active users should help ease any concerns around its long-term viability in the market. We covered a deep dive into its initial mobile success here.
Want More Insights Into the State of Mobile in 2022 and 2023?
Pre-register to be among the first to receive the industry's leading mobile report: data.ai's State of Mobile 2023:
DISCLAIMER:
data.ai is a mobile market estimate service provider. data.ai is not registered in any investment advisory capacity in any jurisdiction globally, and does not offer any legal, financial, investment or business advice. Nothing contained in this communication, or in any data.ai products, services, communications, or other offerings, should be construed as an offer, recommendation, or solicitation to buy or sell any security or investment, or to make any investment decisions. Any reference to past or potential performance is not, and should not, be construed as a recommendation or as a guarantee of any specific outcome. You should always consult your own professional legal, financial, investment and business advisors. Additionally, by providing the information herein, data.ai does not make any representations or warranties and does not undertake any legal or contractual obligations whatsoever. No liability may accrue to data.ai as a result of providing this information to you.