TABLE OF CONTENTS
*CW Network is a joint venture between CBS Corporation and Time Warner.
1. The Emmys: New Stars and Old Favorites
AMC's final season of Breaking Bad and ABC's Modern Family won the top honors at the 66th Annual Primetime Emmy Awards on August 25. HBO was the top network in nominations for the 14th consecutive year, and also led with 19 wins in 2014. Netflix and ESPN both won Emmys for documentaries -- Netflix for Egyptian revolution film The Square and ESPN for its 30 for 30 series.
Meanwhile, in mobile, Netflix and ESPN pulled ahead and ranked as two of the top most-downloaded video streaming apps for Emmy nominated networks for the 12-month period ending July 2014 in the United States.
From frequent travelers and commuters, to cord cutters, to those who simply enjoy streaming content from the comfort of their own laps, people are increasingly turning to video streaming apps to watch their favorite shows on-demand. eMarketer estimated that US adults in 2014 will spend more time watching digital media on mobile devices than on desktops and laptops combined.
There are very big distinctions between the types of networks nominated for Emmys, and these differences manifest themselves throughout our app store trends. The top ranked apps span from traditional broadcasters CBS and WATCH ABC, to sports specialties WatchESPN and NBC Sports Live Extra, to video streaming sites Netflix and Crackle.
2. The Technology Behind the Index
The information contained in this report was compiled from App Annie Intelligence, the leading market data solution for the app store economy. To see how our app store download and revenue estimates can help guide your critical business decisions, take a tour or request a demo today.

3. Key Trends
New Wave of Partnerships Improve Content Availability
As the television landscape shifts over to streaming, traditional broadcasters are taking note and exploring new methods of reaching viewers. Video streaming sites have long been popular with consumers as they can pull content from multiple networks and provide a larger selection of entertainment. Traditional broadcasters are ramping up partnerships with video streaming sites in order to broaden their distribution.
In April, HBO opened up its library of critically acclaimed original programming for the first time exclusively to Amazon Prime Instant Video subscribers. Some current shows like Veep will be available for streaming on Amazon three years after airing on HBO, while classics like The Sopranos and Band of Brothers are live now.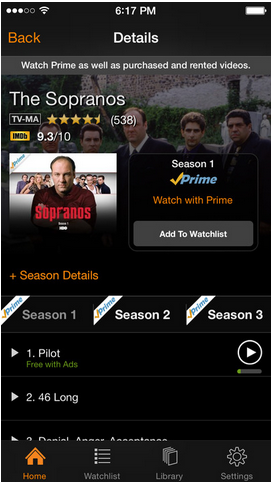 Amazon Instant Video added HBO content for Prime users in April.

While it may seem counterintuitive to stream original content on another network for binge-watching, Breaking Bad creator Vince Gilligan understood the value of this approach.  He stated the common industry belief that "I think Netflix kept us on the air" -- likely fueled at least in part by today's phenomenon of binge watching. CBS also made a deal with Amazon and provided Prime Instant Video with episodes of Stephen King's Under the Dome four days after the original air date for each of the first two seasons.
Video streaming sites have shown an interest in reviving canceled shows as in-house content.  Netflix took over for AMC in reviving The Killing for its fourth and final season. Later in 2014, Yahoo! will revive Dan Harmon's Community for a sixth season and bring the former NBC show to Yahoo! Screen.
Considering how video streaming sites are producing more content like traditional TV networks, it will be interesting to see how these partnerships evolve over time.
Seasonality Varies Across Networks
Video streaming apps see various forms of seasonality that are frequently aligned with popular broadcasts. Smash fantasy hit Game of Thrones has been HBO's most popular show, and HBO GO's increase in downloads coincided with the debut of the show's fourth season on April 6.  While other network apps showed some variance during the week, HBO GO consistently peaked on Sundays and Mondays following the release of original content on Sunday nights.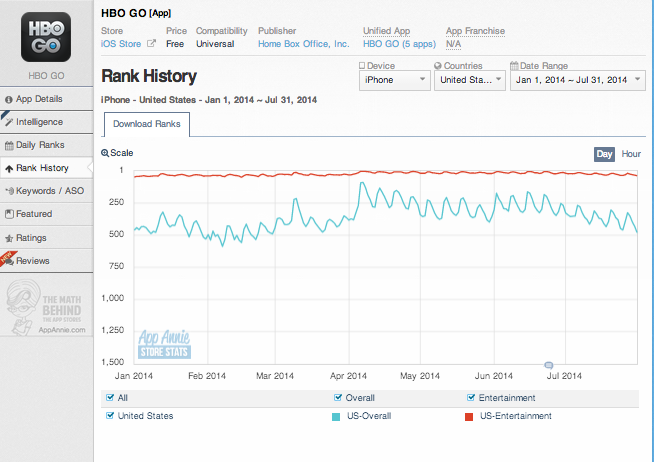 HBO GO's downloads increased leading up to the season premiere of Game of Thrones and consistently spiked on Sundays and Mondays.

Other apps showed similar trends. WATCH ABC experienced a spike in its downloads coinciding with the app's live stream of the 86th Academy Awards on March 2, and WatchESPN saw major increases in downloads during the 2014 FIFA World Cup.
Network Apps Leverage Mobile Capabilities
Netflix optimizes for multi-screen usage, keeping track of where viewers are in a show so that people can switch from streaming on Smart TVs to tablets and instantly pick up where they left off.
CBS has the My CBS feature, which sends push notifications when episodes for favorite shows are added to the app. CBS also targets user engagement by offering exclusive interactive in-app content.  The app also supports exclusive content from the CBS website.  This includes a series of live video chats in which viewers can tweet questions to stars of CBS shows, and the actress/actor will respond on camera in real time.
Nickelodeon's Nick encourages kids to immerse themselves in the app by zooming in on interesting content and playing games featuring their favorite characters. There are also hidden surprises throughout the app like slime that keep kids on their toes and actively engaged.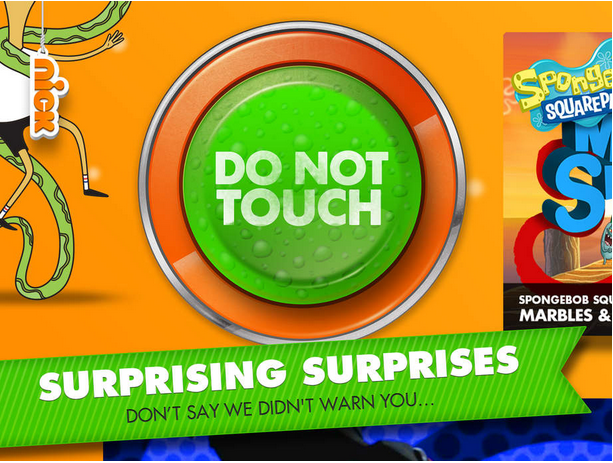 In addition to full episodes, Nick includes games and hidden slime.
Tablets Play a Critical Role
iOS downloads in the United States from the top streaming apps from Emmy-nominated networks were about 2x as likely to come from iPads when looking at apps outside of games for the 12-month period ending July 2014.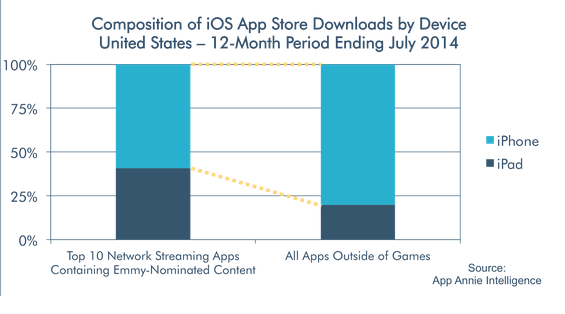 With the number of digital TV viewers set to reach 145 million by the end of 2017, creating a fluid iPad experience is an essential part of developing a successful video streaming app.
The Future is Now
Video streaming networks are leading the industry in new forms of online distribution, and are catching up in terms of original content. We expect to see even more in-house content from players like Netflix and Amazon Instant Video. Partnerships with these video streaming networks are also likely to increase, as they provide additional revenue sources and can expose shows to new viewers between seasons.
For content, the lines between traditional television and video streaming networks continue to blur. In 2015, Netflix plans to launch a talk show hosted by Chelsea Handler.  Netflix is also getting involved with the superhero trend by teaming with Disney's Marvel to produce a live-action series based on the comic book character Daredevil.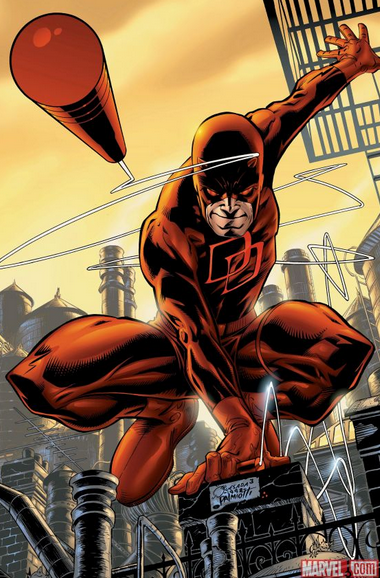 Netflix and Marvel are developing a series based on Daredevil. (Image Credit: Marvel.com)
The industry is also seeing interesting strategic trends.  Amazon engages users by letting them vote on pilots and determine which shows make it to series.  Other networks have shows going straight-to-series and attracting top industry talent with single season arcs like Fargo.  Netflix is even launching in-store gift cards in 2014 to help build and extend its brand.
With rapid growth and innovation, it will be interesting to see what new arrivals will be at the Primetime Emmy Awards in 2015.
To find out about current trends in other markets and app categories, please check out the Russia Index, the Japan Index for Apps, the Worldwide Index for Apps, and the Index for General & Business News. To see more app market reports, conference updates and product releases, check the rest of our blog. Share your questions or comments below or on Twitter.
---
| | |
| --- | --- |
| | Want to get even more advanced with your app store market analysis? Check out our enterprise product App Annie Intelligence. |
---
For those of you who are also looking for an update on top apps outside of games, please check out the July 2014 App Annie Worldwide Index for Apps. To keep up-to-date with all the changes at the top of the app and publisher charts, check out the complete set of App Annie Index tables.
Notes:
The app rankings reported in the report are based on the download and revenue estimates available through App Annie

Intelligence

. The daily rank history charts and the home page feature app data are available to all users through App Annie's app tracker solution,

Store Stats

.

The apps in this Index are ranked based on unified apps made possible by App Annie's exclusive

DNA

. In unified apps, similar versions of the same app with different names and on different platforms are unified. For example,

CNN Breaking US & World News

on Google Play,

CNN App for iPhone

on iOS and

CNN App for iPad

on iOS are aggregated and ranked as a single

CNN News

unified app.

In the App Annie Index, all apps and publishers are reported under their parent company, where available; for example, the

HBO GO

app is reported under its parent company Time Warner, rather than its direct publisher Home Box Office, Inc. Note that if you view the Time Warner parent company page on Store Stats, you will see the publishers under the parent company

Time Warner

, including Home Box Office Inc. The

HBO GO

app will be listed under t

he

Home Box Office Inc.

publisher page.

App rankings are based on the App Annie DNA relationships at the time of publications. App Annie DNA relationships are subject to change over time.

Certain trademarks and/or images used in this report may belong to third parties and are the property of their respective owners. App Annie claims no rights in such trademarks or images.