Q3 2019 saw strong growth in downloads and consumer spend, building towards the holiday season in Q4 2019.
Q3 2019 saw strong growth in downloads and consumer spend, building towards the holiday season in Q4. The start of the school year, and beginning of soccer and football leagues globally also supported this growth, making Q3 2019 the strongest quarter for mobile yet. Globally, there were over 31 billion app downloads in Q3 2019, up 10% year-over-year. Consumer spend also reached new heights at over $23 billion — 20% growth from the same period in 2018.
Google Play and iOS Downloads Grew Over 10% in Q3 2019 Year-Over-Year
Google Play downloads grew 10% year over year in Q3 2019 to nearly 23 billion, while iOS downloads remained stable. Google Play continues to lead iOS in downloads by 175%. Non-gaming apps accounted for over 60% of downloads across both stores with the percentage slightly higher on iOS than Google Play, at 70% and 60%, respectively.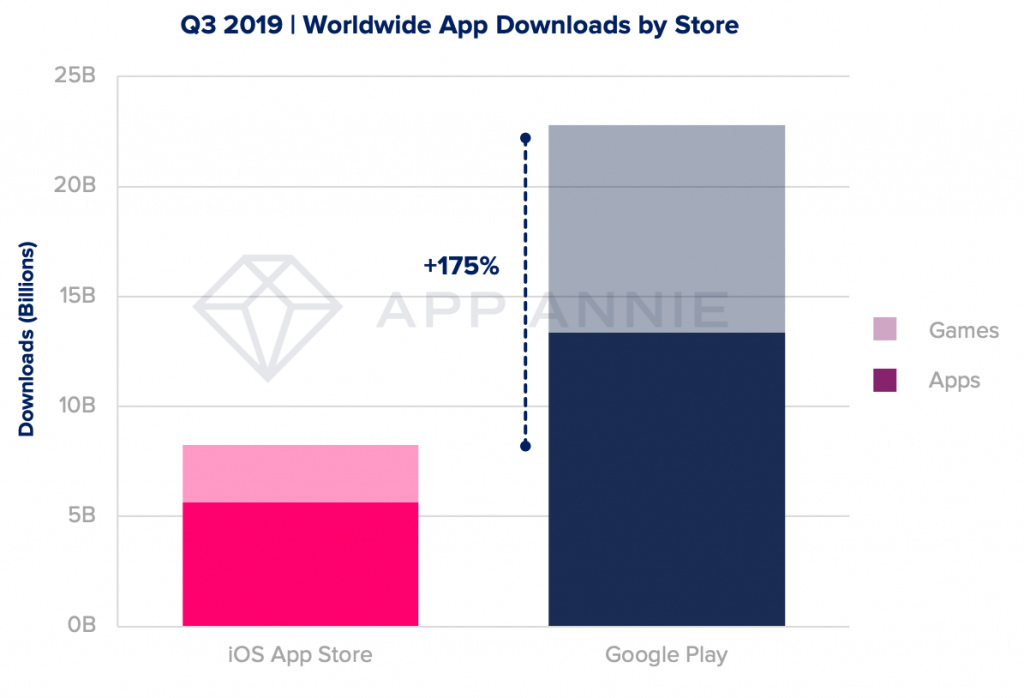 Emerging markets of India and Brazil were once again the top 2 for Google Play absolute downloads in Q3 2019. In terms of year-over-year download growth, India, Brazil and Russia were the 3 biggest contributors. Among non-gaming apps on Google Play, the growth of downloads was driven largely by Comics, Finance and Auto & Vehicles. However, among the top 20 downloaded apps in Comics, 19 were actually Games (e.g. Gun Strike: Shooting Games) — these Games accounted for 95% of downloads among the top 20. However, the top Comic Apps by consumer spend were traditional Comic Apps such as LINE Manga, piccoma, LINE Webtoon. The same is true for the Auto & Vehicles category, where the most downloaded apps also functioned as Games. 
China, the US and Japan were the largest markets for iOS downloads in Q3 2019. However, the US, Saudi Arabia, and Brazil drove the largest absolute growth year over year. Among non-gaming apps, Shopping, Food and Drink, and Health and Fitness were the top categories contributing to year-over-year growth of downloads in the quarter. Food and Drink apps saw particularly strong year-over-year download growth at 10%. This was driven by continued strong growth from apps like FamilyMart, McDonald's App and Postmates.
iOS Grew Its Lead in Consumer Spend over Google Play to 95% in Q3 2019
Consumer spend across both app stores grew by 20%. Non-gaming apps accounted for 35% of consumer spend on iOS compared to 20% on Google Play. This represents  nearly growth 10% quarter over quarter for Google Play.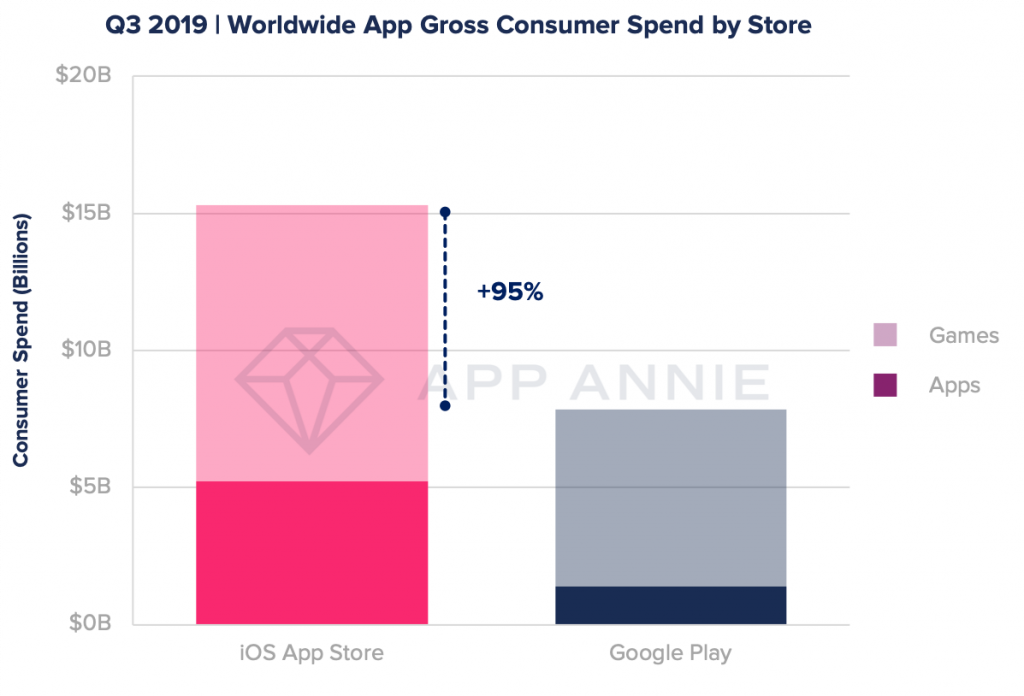 The key markets driving year-over-year growth in iOS consumer spend remained the same as last quarter: the US, Japan and China, with Japan growing over 30% year over year. Outside of Games, key contributors to consumer spend growth on iOS were Photo & Video, Entertainment, and Music, respectively. Photo & Video, Music and Education outpaced overall growth among non-gaming apps. Duolingo: Learn Languages had particularly strong consumer spend growth in Q3 2019. In addition to increasing consumer spend, we've also previously identified an increase in downloads of Education apps during the back-to-school period.
On Google Play, the US, South Korea and Germany were the top contributors to year-over-year growth in consumer spend, with Germany replacing Japan from Q2 2019. In terms of year-over-year growth of market share, the top 3 markets were the US, Russia, and Germany. Top non-gaming categories for growth in consumer spend on Google Play were Social, Productivity, and Entertainment. Among Productivity apps, a number of cloud storage solutions (e.g. Google One, Dropbox) were the key segments behind the growth of consumer spend.
Breakout Apps of Q3 2019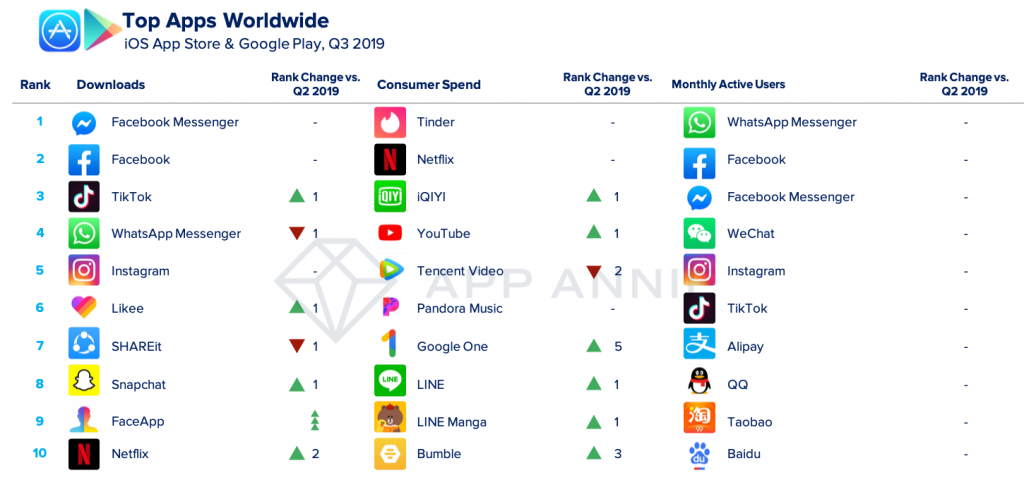 FaceApp, the Photo and Video app which initially went viral in 2017, surged in popularity again early in the quarter. The app allows users to edit portraits, and gained renewed attention due to its aging filter, garnering significant media attention. Social sharing contributed to its virality, notably from celebrities sharing their results. 
Google One, a membership app for increased storage exclusive to Google Play, broke into the top 10 non-gaming apps by global consumer spend. The subscriptions service offers 15GB free cloud storage across Google Drive, Gmail and Google Photos, with subscription packages for larger amounts of storage including other benefits such as premium customer support.
Netflix moved into the top 10 non-gaming apps by downloads, while also continuing to rank highly for consumer spend. The launch of the third season of Stranger Things, likely supported Netflix's resurgence into the top 10, as we've seen the release of new seasons do so previously. The upcoming launches of streaming services such as Disney+ and Apple TV Plus are set to intensify competition in the streaming market in the coming months. We expect to see strong downloads and usage, as consumers try out these services and spend is likely to follow as free-trial periods expire and consumers decide if the breadth and quality of the content earn a share of their wallet.
To understand what drove growth among Games, read our latest analysis, and to learn about mobile's growth and market disruption, check out App Annie's State of Mobile 2019: