In this report commissioned by Facebook we explore messaging app trends over the past five years to understand how privacy features have influenced messaging app usage.
What's Happening: 
Mobile messaging apps provide a compelling platform for consumers to engage and connect. They have become an ever more important part of our new normal lives, helping us stay connected during the global pandemic. While download rates have decreased by 4% since 2015, active engagement continues to grow; messaging app usage is up by 13% (4-year CAGR). In addition to this, users consistently spend more time in messaging apps than in social media apps; 67% more time on average. 
Mobile market data is incredibly important to monitor the messaging and communication industry as it evolves from a first-mover to a mobile stronghold — often the baseline of any mobile experience. With more apps and games than ever before leveraging messaging features within their user experience or as a way to evangelize and connect, the messaging market is a critical landscape for businesses to monitor. Have you leveraged social integrations with the most popular messaging apps in your target market? How do these vary by country? Have you included the latest — and fastest-growing — competitors? Mobile market data can help you navigate this landscape to make the most strategic decisions for your company. 
Messaging apps that provide privacy features have seen the greatest engagement growth. These apps see on average 30% more active users than the alternatives. Apps like Signal, Telegram, Wickr, and WhatsApp offer privacy features ranging from end-to-end encrypted data transfer to "self-destructing messages".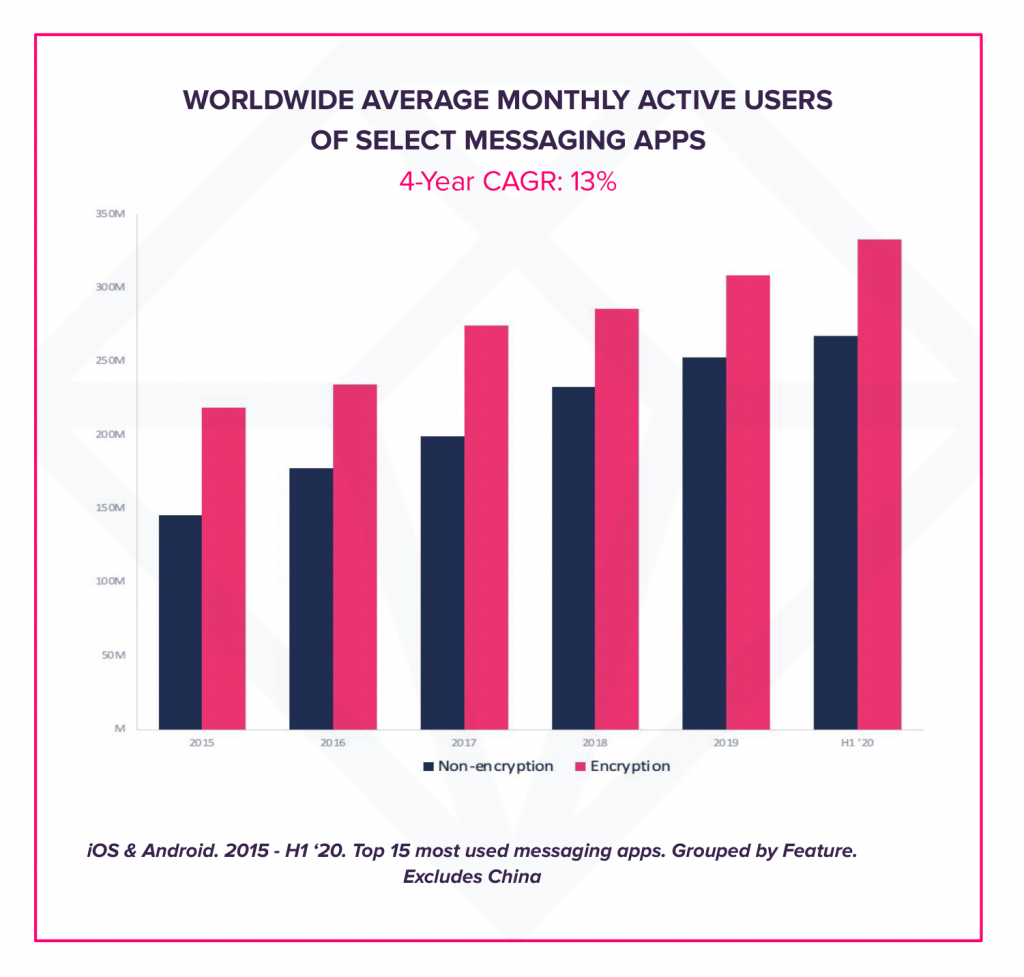 While user bases of messaging apps with privacy features such as encryption are increasing, the total amount of time users are spending in top messaging apps has decreased by 3.5%. Time spent is an important indicator of the communications industry overall, but messaging apps also consider frequent app sessions to be a good indicator of overall depth of engagement. The average number of monthly sessions conducted by each user in messaging apps was 273 in 2019. The decrease in time spent with a stable or increasing average number of sessions may indicate increasing efficiency and reliance on the network effect of back-and-forth communication with contacts in text messaging apps. Both metrics are important to consider as you monitor the mobile communication landscape over time. 
Why It Matters: 
Consumer preferences for apps offering privacy features are evident across the globe, including in countries such as Brazil, Australia, India and the United Kingdom. Total time spent and the number of sessions per user within messaging apps with encryption features has been increasing at a faster rate than non-encrypted alternatives worldwide.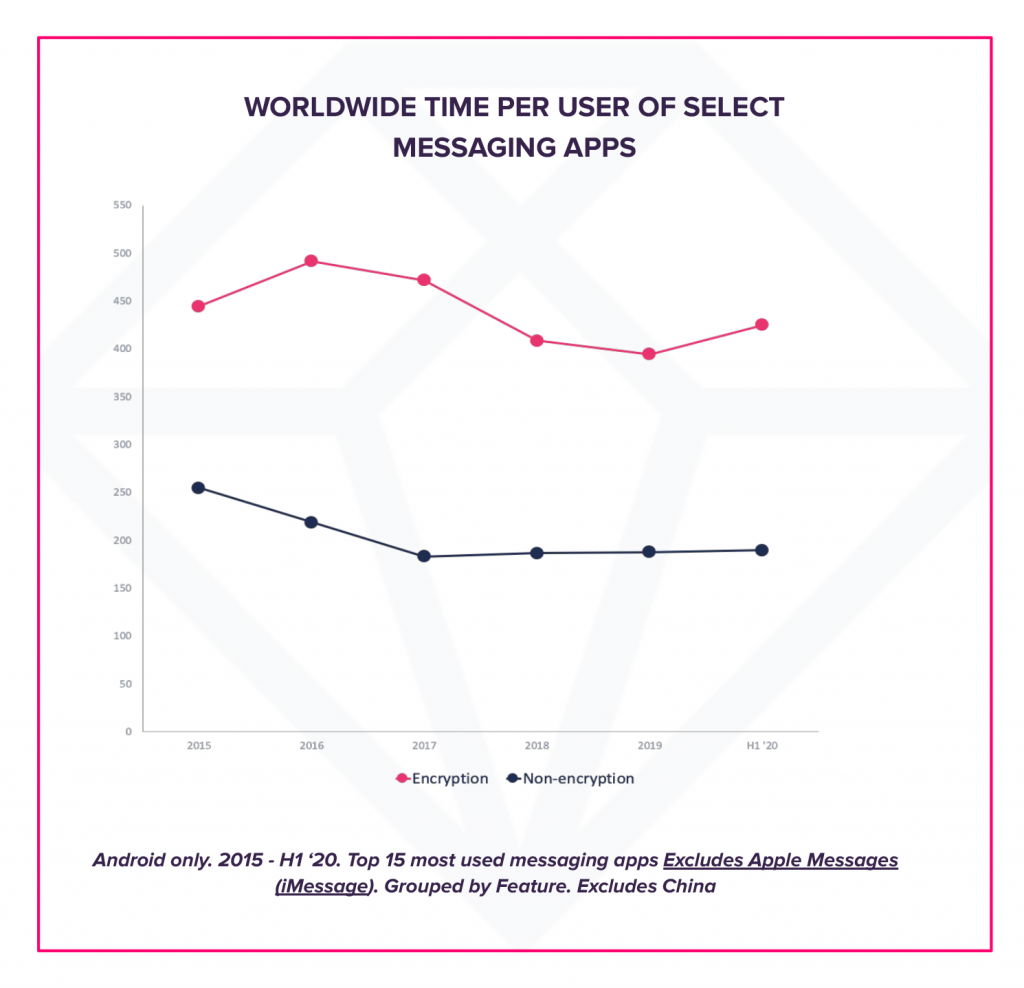 How users are communicating through messaging apps with encryption is also changing. The growth of data usage in messaging apps with encryption features is stark, especially compared to those without encryption features. The amount of data (MB) used in each session has increased by 55% from 2015 to H1 2020 — suggesting that messages are more frequently being used to share rich media content like videos, songs and high-resolution pictures.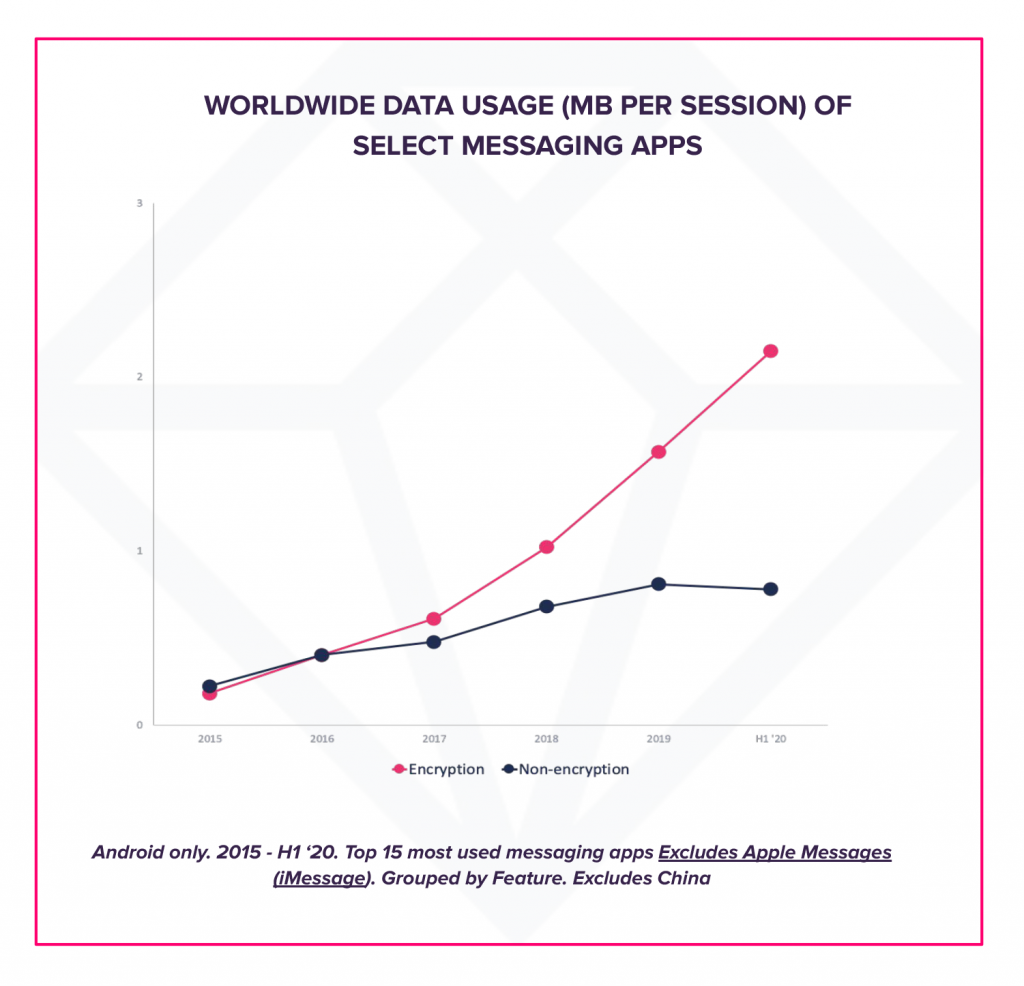 Go Deeper:
With 50% of time spent on mobile spent in social and messaging apps, consumers around the world are increasingly using those with privacy to stay connected. 
Join our panel of mobile experts on Dec 9, 2020 to hear a deeper dive on these key predictions and how you can prepare to win on mobile in 2021.
This post is the latest in a Mobile Minute series that features App Annie's perspective on how mobile is impacting current events and consumer trends. Check in weekly for our take on the latest news cycles and how mobile transformation is shaping industries around the world.
DISCLAIMER
App Annie is a mobile market estimate service provider. App Annie is not registered in any investment advisory capacity in any jurisdiction globally, and does not offer any legal, financial, investment or business advice. Nothing contained in this communication, or in any App Annie products, services or other offerings, should be construed as an offer, recommendation, or solicitation to buy or sell any security or investment, or to make any investment decisions. Any reference to past or potential performance is not, and should not, be construed as a recommendation or as a guarantee of any specific outcome. You should always consult your own professional legal, financial, investment and business advisors.