Mobile commerce is set to generate multiple trillions of dollars as mobile-first rises
When you look at the big picture in terms of monetization in the app economy, mobile commerce is the single largest driver of growth. Smartphones and apps have transformed daily life, including how people people shop for goods and services, manage their banking, buy tickets, and even pull the trigger on the vacation of their dreams. A few short years ago shopping for an expensive sofa on a smartphone or depositing a check from home would have been unthinkable, but now consumers commonly turn to apps like Wayfair for big ticket items, and uploading an image of a check via apps like Wells Fargo is the norm.
At App Annie, keeping an eye on growth in mobile commerce is a top priority. We recently published a forecast on the app economy that offers projections between now and 2021 and covers mobile commerce, and here are a few key takeaways:
Commerce is outpacing other forms of monetization in the mobile and app economy
Among the various forms of monetization on mobile, including advertising, subscriptions, app store sales, and in-app purchases, commerce has the highest growth rate: 38% CAGR globally. Mobile commerce per user is set to nearly triple by 2021, to reach $946 per user. Consumers are becoming increasingly comfortable buying goods and services on mobile, so marketers should focus on getting in front of users who will spend (via ASO, user acquisition, etc.) and ensuring that the mobile payment process is streamlined.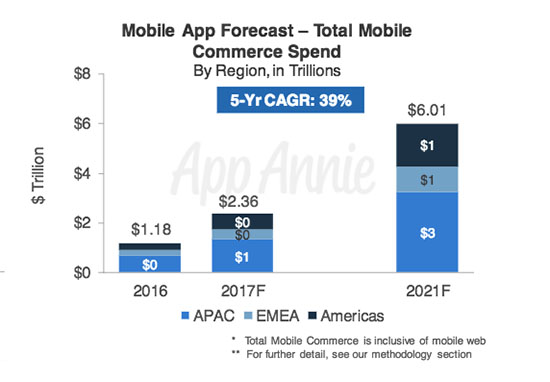 How much people spending on mobile commerce depends on the region
As the data so often shows, APAC is where it's at — with respect to mobile commerce revenue, it's the single largest region and will reach $3.2 trillion by 2021. When you stop to think about it, this makes sense not just because of how the massive population alone in China fuels growth, but because of how exactly mobile adoption has unfolded there compared with other regions. In much of APAC, when a user buys their first smartphone, they're gaining access to a mobile market that is already quite mature — they can download multiple apps immediately and make purchases — and because they typically don't have desktop access to the internet, all of their attention is focused on mobile. Compare that with the US, where our first smartphones couldn't do much (if anything) in terms of mobile commerce, and most users have desktop access as well so they're shopping via both platforms, in essence fracturing commerce revenues among platforms.
But none of this means that there isn't astonishing mobile commerce growth in areas outside of APAC. In the Americas, where users are transitioning to the mobile-first mentality and reaching more and more for their phones when they need goods or services, mobile commerce spend is projected to grow at a rate of 44% to hit $1.7 trillion by 2021. In EMEA, users are also embracing mobile-first, and the region will see mobile commerce spend rise from $210 billion today to $1.0 trillion by 2021 — a five-fold increase.  
Over time, mobile conversion rates will continue to climb as mobile-first becomes the global mentality
We estimate that the global conversion rate currently stands at 32% across all basket sizes (meaning no matter what the cost of an item or service, typically users pull the trigger and buy 32% of the time on mobile); that will grow to 40% by 2021. In APAC, conversion rates are relatively high at 32% (again because it's a largely mobile-first market) and will reach 39% by 2021. Mobile conversion rates in the Americas are slightly below the global average at 31% but will increase to 39% in the next four years. In EMEA, users convert at a rate of 35%, and we'll see an increase to 39% by 2021.
You might ask why in EMEA conversion rates aren't growing at the pace they are elsewhere, and the answer lies in the diversity of economies in the region. Basically the strength of mobile commerce conversion growth in Western European markets (particularly in the 25-34 demographic in major urban centers) is counterbalanced by the weakness of economies and a relatively lower rates of smartphone adoption elsewhere in the region — mostly in sub-Saharan Africa.
Mobile is transforming how consumers learn about, access, and pay for goods and services, and we're in a dramatic phase where a "mobile-first" approach to life is on the rise. Some regions are at different places in the curve in terms of how much consumers use mobile for commerce, but it looks like every region is headed in the same direction: toward consumers picking up their smartphones the moment they need to purchase goods or services. The challenge then is for those selling goods and services to be right there the moment the search begins.

Read our full report on the the exploding app economy, where you'll find information on growth of annual spend per user, forecasts covering in-app advertising and mobile commerce, and data on regional markets.