Media and entertainment apps are attracting massive audiences, prompting publishers to invest heavily in original content
Following the release of our 2017 Retrospective Report, the industry's largest and most trusted analysis of the state of the app economy, we'll be highlighting some key areas of the report in an ongoing series. In our previous posts we looked at consumer spend, downloads, engagement and China's massive app economy. Now we'll turn our attention to the exploding world of video streaming in apps.
Revenue in Entertainment apps has been growing at a staggering rate. In fact, all markets analyzed have seen triple digit consumer spend growth over the last two years as new apps, new users and new monetization methods emerge.
Subscriptions are still a primary revenue source, but increasingly media apps are incorporating microtransactions that enhance the viewing experience by removing ads, allowing playback of live TV or enabling offline viewing. In Asia, viewers sending cash gifts to live streamers is a rapidly growing segment of the market.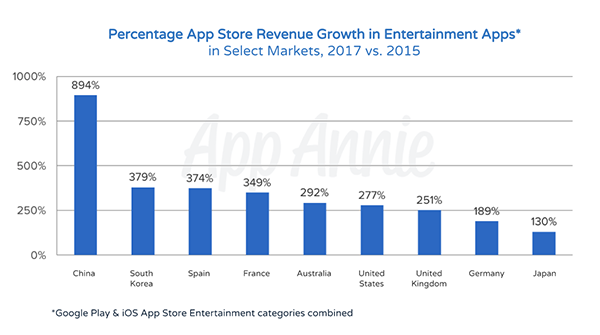 Understandably given this revenue potential, competition remains fierce in the video streaming industry. Increasingly, services are investing in original, exclusive content to attract users, reduce licensing costs and reduce dependence on third-party providers.
Big releases, like Stranger Things 2 on Netflix, drive significant numbers of users to the streaming service. This is seen in DAU increases in the Netflix app, suggesting this strategy is driving success.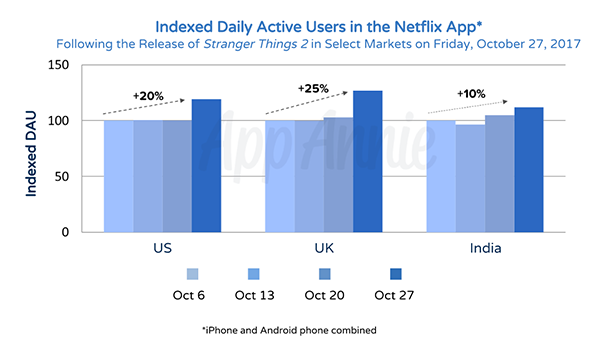 With investment in content now ranging into billions of dollars, app performance following a release will come under even closer scrutiny.
This focus on video streaming is only a sliver of the total report. For much more, including in-depth analysis of the year's biggest apps and stories, download the App Annie 2017 Retrospective Report directly on the page by filling out the form below. Customers who log-in can download immediately.