Driven by growth in developing economies and share of wallet, consumer spend in app stores moved even closer to the $100 billion mark
Following the release of our 2017 Retrospective Report, the industry's largest and most trusted analysis of the state of the app economy, we'll be highlighting some key areas of the report in an ongoing series, beginning with consumer spend in the app stores.
Impressively, total consumer spend through Google Play, the iOS App Store and third-party Android stores has more than doubled over the past two years, from approximately $40B to over $86B.
Consumer spend was driven in large part by strong smartphone and app adoption in developing economies and apps' ability to capture greater share of wallet in mature economies.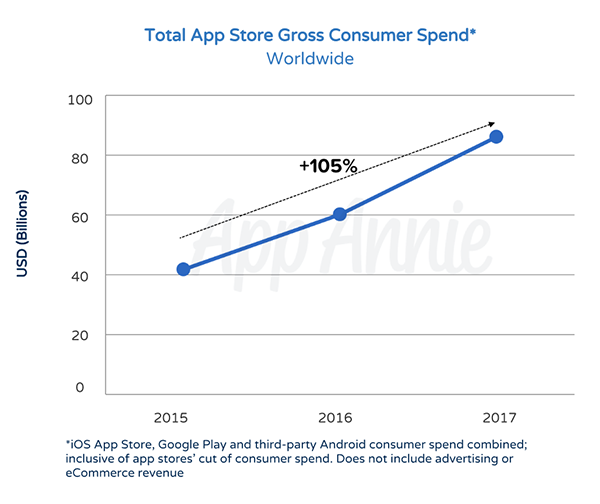 Notably, this means that consumer spend in app stores has now exceeded, by a significant margin, a number of mainstream consumer entertainment industries including:
This rate of growth isn't projected to slow down anytime soon. In fact, we predict that by the end of 2018, worldwide consumer spend across all mobile app stores will grow approximately 30% year over year to exceed $110 billion.
This focus on consumer spend is only a sliver of the total report. For much more, including in-depth analysis of the year's biggest apps and stories, download the App Annie 2017 Retrospective Report directly on the page by filling out the form below. Customers who log-in can download immediately.