The music industry is becoming increasingly mobile as fans look to apps at concerts, at home and on the go.
On April 13-15, Coachella hosted the first of its two weekends, effectively marking the beginning of 2018's music festival season, which will run deep into the fall.
The event is expected to have a combined audience of 250,000 people across its two weekends and many of them will be using the Coachella 2018 Official app. As apps become an ever increasingly important part of people's lives, it's no surprise that Coachella and many other festivals have embraced them too. Music has been a prominent part of the app economy since it took off a decade ago and it continues to be an important driver, as we saw in Q1 2018.
Furthermore, the amount of data consumed by music apps continues to grow at a healthy pace, even in mature markets. For example, in Q1 2018, data consumption for the Music & Audio Category on Android phone saw double digit year-over-year growth in South Korea, the United States and the United Kingdom.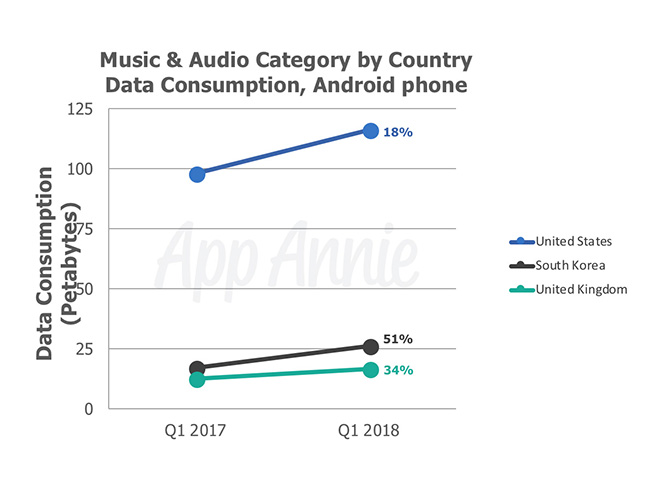 It's not just a broad connection to music that makes apps an excellent fit for festivals and an increasingly essential resource for attendees. Coachella is just one of countless music festivals across the globe, and the format of these events spans a range of genres as vast as the music industry itself. These include the eclectic New Orleans Jazz & Heritage Festival, the rock heavy Download Festival in the United Kingdom and the electronic music-centric ULTRA Korea in Seoul. Despite their wide differences in genres and locations, one thing that all of these festivals have in common is massive lineups that play across numerous stages over multiple days. In addition, they all have official apps which provide a host features that help festival goers navigate the massive size and scope of these events.
For example, this year's Coachella features more than 150 acts during both of its 3-day weekends. At its busiest times, there are eight different artists playing across its various stages and tents. The Coachella 2018 Official app helps attendees select among this dizzying array of choices by allowing users to scroll through the event's complete lineup, bookmark a list of favorites and make a personalized schedule which they can share with friends. In addition, the app helps with other parts of the festival-going experience including providing maps, listings of food and beverage options and the ability to activate wristbands. Furthermore, this year's app added the Coachella Camera feature, which provides a number of augmented reality (AR) experiences and filters.
Dive into all new augmented reality experiences and exclusive filters with the Coachella Camera in the updated mobile app. Aim the camera at the Welcome Box to unveil a surprise, plus unlock more AR on-site. (iOS 11 only) pic.twitter.com/DlPtyNL8nL

— Coachella (@coachella) March 21, 2018
Coachella App Integrates Music Streaming
The more than 150 acts playing each weekend of Coachella span a wide spectrum of the music industry including mainstream juggernauts (e.g., The Weeknd, Beyoncé, and Eminem) to lesser known indie bands (e.g., St. Vincent, Fleet Foxes and Bleachers) to even lesser known underground techno artists (e.g., Maceo Plex, Chris Liebing and Joseph Capriati). Most attendees will likely only be familiar with a fraction of the acts before attending the event. Conveniently, music streaming services give festival goers a convenient and seamless way to listen to the artists that they already know, as well as discover new ones, when they make plans about who to see. The Coachella app has embraced this trend by providing curated and custom playlists, featuring the festival's acts, that directly connect to Spotify or Apple Music.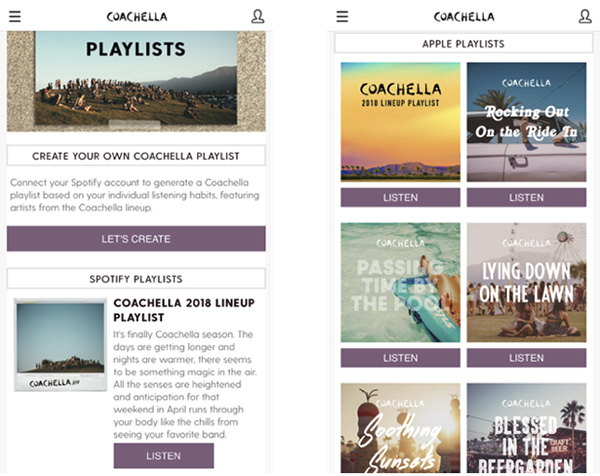 Music Streaming Continues to Drive the App Economy
As previously discussed, music streaming is a massive part of the app economy, so the Coachella app's integration with these services is a natural fit. Taking a closer look at the apps that drive this space shows a wide range diversity. For example, the top 10 music streaming apps by monthly active users (MAU) in South Korea, the US and UK each have a mix of different kinds of publishers — including global digital-first players (e.g., Spotify and SoundCloud), regionally popular digital-first players (e.g., Slacker Radio and MelOn) and traditional radio broadcasters (e.g., iHeartRadio and Capital FM).
The latter group reinforces that apps are an effective, complementary channel for industry incumbents to serve existing customers and expand their reach.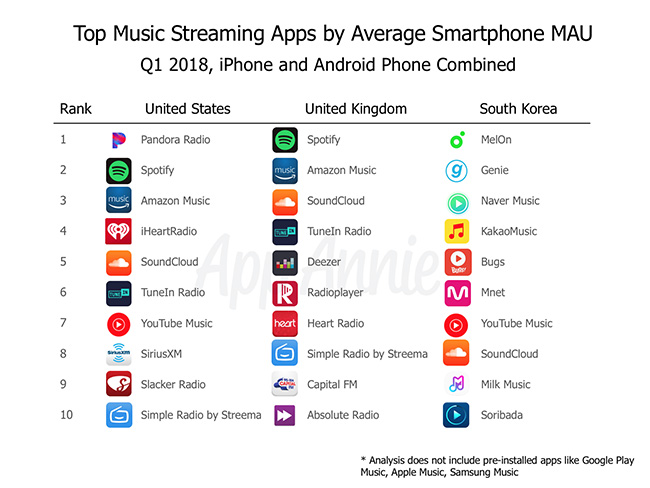 There's every indication that music-related apps, particularly streaming services, will continue to flourish and remain a huge part of the app economy. In Q1 2018, the year-over-year growth for global consumer spend was 120% for Music & Audio on Google Play and 45% for Music on the iOS App Store.
These categories also provide a powerful example of how the app economy has and will continue evolve. Initially, apps allowed users to play digital music files, that they owned, on their mobile devices. The rise of music streaming services transformed their consumption behavior and delivered a seemingly limitless library of music that can be consumed virtually anywhere at anytime. Now, apps are further bridging the digital and physical worlds as we have seen with music festival apps. This particular trend is also expanding as more people continue to adopt in-home voice agents — like Amazon Echo devices, Google Home devices and Apple's HomePod — in 2018 and beyond. Though it is hard to predict exactly where future innovation and technology will lead, one thing is clear — apps will remain at the center of the music experience.
To hear more of App Annie's insights into the mobile app economy, check out our free 2017 App Market Retrospective report — the industry's largest and most trusted analysis of the state of the app economy. If you're interested in looking into some of the data behind the app market yourself, sign up for our free product here and get started today.