China has been #2 in iOS downloads for a while, but just last quarter, it took the top spot. In our recent Q1 2015 Market Index, we noted this landmark event. However, we feel the news is big enough to deserve its own report. This deep-dive investigates the numerous dynamics related to China's rise to the top.
Just in time for GMIC Beijing (taking place April 28-30, 2015), we're excited to announce our latest free report, China Surges Ahead of the United States in iOS App Store Downloads. Inside you can find the market forces, categories, apps and publishers that played a role in this major shift. And you can bet we'll be on the expo floor at GMIC ready to answer your questions about how this can impact your mobile app business in this fast-growing country.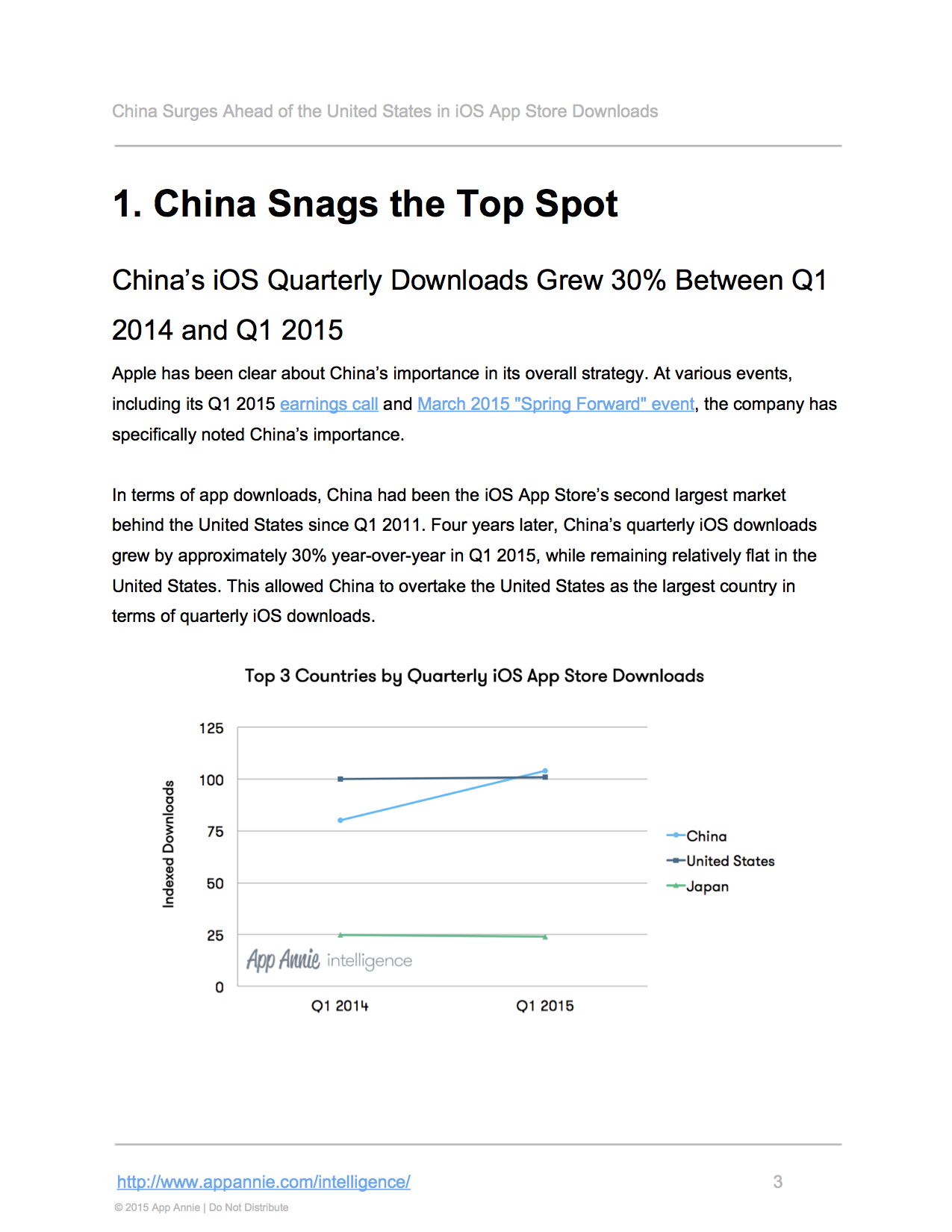 China overtook the United States by iOS App Store downloads in Q1 2015. Learn about the factors involved in this massive growth.
Below is what you can learn from our free report:
China's iOS Quarterly Downloads Grew 30% in Just One Year
China's iOS App Store downloads exploded, growing 30% year-over-year in Q1 2015. It's now the largest country in the world in terms of iOS downloads, overtaking the United States.
How China Snagged the #1 Spot
From growing installed base to larger iPhone screen sizes, we explore the factors related to China's staggering download growth. Get a looking glass into the underlying cultural reasons — as well as app store trends — that led to this event.
iOS' Bright Future in China
History has shown us that explosive download growth is a sign of good things to come. Learn about potential opportunities in a country that's still yet to show its full potential.
To gain access to the full report, click the download button below:
Want More? App Annie Has It
Subscribe to our blog to see more app industry reports, conference updates and product news. We love hearing from our readers, so share your questions and comments below or on Twitter.
Want to perform your own analysis? Create a free Store Stats account or request an Intelligence demo today.